Email marketing is a way to promote products or services through email. Email marketing is a top digital media channel, and it is important for customers' acquisition and retention. SendPulse offers its email marketing platform with a free plan. 
In this video, Caleb Smith, a digital marketer at SendPulse, explains how to create an effective email marketing strategy.
Why is email marketing essential?
It shows a high ROI
It's an active channel to acquire new customers
It's easily integrated with other communication channels
It helps your SEO
Apart from being the primary source of marketing communication, here are some other benefits of email marketing:
To start an email marketing business, you'll need to know how it works. Here is a quick walk through the core concepts of email marketing. 
Email Marketing Objectives
A well-designed email marketing strategy allows you to reach lots of different long-term and short-term goals. Take a look at the most popular objectives.
Increase brand awareness. An email campaign is a great opportunity to remind clients about your brand. The more often they see relevant emails from your brand in their inbox, the more likely they are to choose your company when looking for a product. Keep in mind that sales-focused emails alone won't help you create the right brand image in your clients' minds. So, combine sales emails with educational content.
Boost sales. This is probably the A-list objective of every marketer. If your brand is credible, it won't take much stress for your clients to purchase right from your email. You can inform subscribers about upcoming sales, hot deals, and even provide them with personalized offers.
Build credibility. If you haven't earned credibility yet, use emails. Be honest and straightforward — customers appreciate this. Add reviews and testimonials to your campaigns so subscribers have the proof in front of them. You can also provide a link to your site page containing customer feedback. At least, your product cards should have a review section.
Drive traffic to your site. It doesn't take a ton of effort to reach this goal. Every email campaign includes links to several site pages, so if you manage to create an eye-catching subject line and relevant offer, clients will follow the links. This way, you can either boost traffic to your popular pages or promote those which lack user engagement.
Reduce long sales cycles. If you sell services or complex products, it takes much more time for your leads to make a buying decision. Here email campaigns come into play. You can share step-by-step guides, useful checklists, and video instructions to help customers clearly see the benefits of using your product.
Automate routine tasks. That is all about trigger and transactional emails. With their help, you can send campaigns automatically in response to your clients' actions. Such emails include the following: welcome and onboarding series, registration confirmation, abandoned cart email, order confirmation, password reset email, and reactivation campaigns. This way, you will cut costs by handling these processes manually and focus on more important things.
Check out hot email marketing trends: «9 Fresh Email Marketing Trends for 2022 ».
Email Marketing Tools
There are many great email marketing services out there today. The basic principles of their service do not differ much among all of them. They all provide a drag and drop editor for designing campaigns, subscription form functionality, A/B testing, personalization tools, etc.
One of the fundamental differences between them is pricing. Some tools provide 7 or 14-day free trials while others offer a full-fledged free plan. Take a look at the comparison of the most popular email marketing services below.
| | | | | |
| --- | --- | --- | --- | --- |
| | SendPulse | MailChimp | GetResponse | Constant Contact |
| Free plan/trial limitations | 500 subscribers, up to 15,000 emails per month | 2,000 subscribers, up to 12,000 emails per month | 30-day free trial | 30-day free trial |
| Automation | ✔ (+ SMS and web push notifications) | ✔ | ✔ | ✔ |
| Click map | ✔ | ✘ | ✔ | ✘ |
| 24/7 technical support | ✔ | ✘ | ✘ | ✘ |
In addition, SendPulse is a multichannel marketing platform. You can combine sending emails, SMS, and web push notifications to increase sales. GetResponse also supports sending SMS. Other tools are focused on email marketing alone.
Send an email campaign for free!
Design a beautiful email in an hour — for totally free and without knowing HTML. Personalize, segment, and schedule it to get the best results with SendPulse.
How to Do Email Marketing
Choose an email service
Collect a mailing list
Create your email marketing campaign
Analyze the effectiveness of your email campaign
If you decided to integrate email into your marketing strategy, follow this guide. We'll walk you through creating your first email campaign and share some effective tips to build long-lasting relationships with your customers.
1. Choose an email service
You may be wondering why you need an email service if you're just getting started. The answer is simple — because of the limitations of inbox providers. It doesn't matter which email provider you use — Gmail, Zoho, AOL, Outlook, etc. — they are not intended for email marketing. So, they have certain limitations regarding email sending volume and design.
For example, Gmail allows you to send up to 500 emails within 24 hours. It's almost impossible to create an email template that will match your brand's style if you have no design skills. There are no features to manage your mailing lists, personalize emails, and segment subscribers. Besides, you won't get any reports to understand the performance of your email campaigns. In addition, you won't be able to automate sending emails since email clients do not support this feature.
That's why a professional email marketing service is a must. A service with a good reputation will make sure your emails land right in the inbox; with such a platform, you can choose the necessary plan according to the size of your mailing list; all the services provide a functional drag-and-drop editor which makes it possible to create professional campaigns without HTML knowledge. And this is just the tip of an iceberg!
You can use personalization, segmentation, A/B testing to craft relevant and valuable campaigns. Email automation functionality will allow you to put everyday tasks on autopilot and focus on more important issues.
To save time researching popular email services, we compared the free plan limits of 10 most popular services. Some of them allow marketers to send emails for free on a regular basis while others provide a free trial to test the service. Check out the comparison.
According to this little research, it came out that SendPulse offers the highest email sending limit on a free plan. You can send up to 15,000 emails to 500 subscribers every month for free. With this plan, you can use almost all professional marketing features like pre-designed email templates, subscription forms, marketing automation, A/B testing, email analytics, personalization, segmentation, email authentication, and many more. Find out the differences between free and paid plans in this table.
2. Collect a mailing list
This is one of the most important steps. Your mailing list quality influences the performance of your email strategy. You will only succeed if you communicate with people who are interested in your brand. So, to speak to the right audience, you need to collect a mailing list. It can include not only email addresses, but subscribers' names, location, date of joining your list, and any other information. Further on, you'll create personalized and relevant campaigns based on this data.
While collecting a list of subscribers the main rule is to get their permission. Never buy mailing lists. These people have never agreed to receive emails from you. They're neither engaged nor interested in your brand. So, they may damage your sender reputation by marking your campaigns as spam.
To play fair, create a subscription form, place it anywhere on your site, and collect subscribers legally. With SendPulse you can create a unique form without knowing HTML in less than 30 minutes and totally for free. If you don't want to design it from scratch, use a pre-made form, and edit it to your liking. Check out how creating a form looks below.
Follow this step-by-step guide to creating a subscription form with SendPulse.
After a user fills it in, they will be automatically added to a mailing list specified when creating a form. All the SendPulse forms follow GDPR rules. It means that users need to confirm their desire to receive emails from you twice. This results in a more engaged mailing list.
To make your form more effective, provide users with an enticing lead magnet. This is a special offer subscribers get in return for giving you their email address. It can be a short checklist, an ebook, guide, first-purchase discount — something valuable for your audience. It will help you improve your lead generation strategy.
Zendesk encourages its site visitors to subscribe to receive a live product demo. Those who really need their product will definitely go for such a trick.
3. Create your email marketing campaign
In fact, this step includes several other steps. Firstly, we strongly recommend you to create an email marketing plan to schedule email sending. It will allow you to make your strategy consistent, not to attack subscribers with random emails, effectively track your performance, and improve tactics on the go.
Email marketing plan
In this plan, we'll outline the approximate email sending frequency. Why approximate? It would be better if you let your subscribers choose how often they want to hear from you. You can ask this question right in the subscription form or add the corresponding option to your email campaigns.
Look below to see how Feedfeed allows its site visitors to choose their desired email frequency.
After that, decide on the type of emails you are going to send during the next month. This is important so you don't bombard subscribers with promotions. Find the right balance between promotional and non-sales emails. Everything depends on your niche, still no subscriber wants to receive hot deals and sales reminders every day. Combine them with trigger and transactional emails.
Trigger emails are follow-ups. Marketers send them in response to users' actions. Look below.
A user subscribes — receives a welcome email or an onboarding email series.
The user adds an item to their shopping cart without buying — receives an abandoned cart email.
The user makes a purchase — receives an order confirmation email and shipment status emails.
The user registers for a webinar — receives a webinar confirmation email.
The user viewed a particular product on your site — receives a discount for it.
The user's plan has expired — receives a free plan upgrade email.
The user hasn't opened your emails for three months — receives a re-engagement email.
Almost all of these emails tend to have a high CTR since users initiated sending them, so they expect to receive this or that campaign. Some of the above-listed emails belong to the transactional category at the same time.
Transactional emails are sent to subscribers based on their actions as well. The difference between any marketing or triggered email and a transactional email is that the latter is not about converting a client. Its aim is to build trust and increase customer retention. Transactional emails include order confirmation emails, shipment status emails, password reset emails, pricing plan upgrade emails, and more.
Since you can't plan to send triggered and transactional emails, just take them into account. If you're going to send three emails a week, and your client will view some products, add them to the cart, make an order, and register for a webinar — these are at least 4 extra emails, bringing you to a total of 7 emails for a particular week.
Now, when you know what you plan to send and how often, it's time to get started. Here's one more extremely important thing. If you have never sent emails before from this particular IP address, you need to warm it up. This means that you have no reputation yet, and if you send 5,000 emails once to a new mailing list, you run the risk of being considered a spammer.
Email service providers need to understand that you're a legitimate sender. Only after that will your emails land in the inbox. So, building your sending reputation may take 4-8 weeks. In this article, we outlined an IP warming schedule that you can use.
Now, let's jump to the most interesting part — creating an email marketing campaign.
We advise you to create an email template that will match your brand's style. Then, you can use it every time when sending a campaign. Still, if you don't want to create one from scratch, you can choose a pre-designed template for free from the SendPulse library. Here you'll find a template for any event.
Now let's take a look at the most important elements that make users decide whether your email is worth opening. They include your sender name and email subject line. These are the first things subscribers see after receiving your campaign.
Sender email address and name
There are several best practices to follow but firstly, we want you to remember that using a "noreply@ABC.com" address is a no-no. Addresses like this look robotic, impersonal, unfriendly and it won't assist you in building relationships with your audience.
Instead, use your company name in the sender address. You can accompany it with the department the email is sent from or a person responsible for email communications. This implies an opportunity for your clients to interact with your business.
Take your sender name seriously as it allows you to increase brand awareness and recognition. There are several effective options. The first and safest one is to use your company name. This way, your subscribers will understand who the sender is at first sight.
Victoria's Secret, Chanel, MAC Cosmetics, and other brands use this kind of a sender name.

Some brands use "team" in their sender name to sound more friendly. It can be simply your brand's team or any department, for example, a marketing team. Check out the corresponding examples below.

Another option is to use the name of a representative or a person responsible for email communication. Sometime later, your customer will associate your brand with this person. This will help them interact with you and communicate with your company.

To provide a personal touch and get close to your subscribers, we recommend that you use a photo of your representative. This will help you produce an impression as if subscribers know your email sender in person.
Email subject line
Now let's move on to the second element subscribers see in their inbox — the subject line. It provides users with some basic information regarding the email. So. your subject should reflect your email content. Your goal should not only be to inform but also to engage subscribers and motivate them to open your campaign.
Below you can see an informative subject line. This is a webinar announcement. The company used its subject line to get right to the point. After reading it, subscribers already know the topic and can decide immediately whether they're interested in this event.
Personalize your email subject line. You can add the "Name" field to your subscription form and then address your customers by name. This will help you provide each client with an individual approach.
Look at the email below. Burberry sent an abandoned cart email to remind a user about the item they left, and they started with the client's name to attract attention and sound more personal.
Another way to draw subscribers' attention to your email is to use emoji. Make sure they're to the point and that they match your brand's tone of voice. Petco managed to use emoji to announce their new items. Look below.
For better performance, experiment, and try other methods, for example, questions, numbers, a sense of urgency, allusion, and more. Find out more about subject line hacks on our blog.
Now let's consider the most interesting part — creating an email copy.
Email copy
The first rule you should remember when creating an email copy — write for your readers, not for yourself. Do not use email as a channel to tell subscribers how great your brand is and don't simply list your achievements. People are not interested in a brand itself — they're looking for the easiest solutions to their problems. So, provide them with your solution, explain how it addresses their pain points.
To cope with this task effectively, keep your copy short and concise. Readers have many things to do other than read your email, so respect their time. Brevity is the best choice. Make your email easy to digest, stick to an inverted pyramid design. This means that you should put the most essential information on top and finish by adding an eye-grabbing CTA.
Grammarly uses this structure in their email campaigns. Look below.
Minimalistic emails like the Grammarly's tend to perform better. Stick to a single-column design, because an average user's attention span is only eight seconds, so they won't read your message from A to Z. Use white space around some important elements, for example, titles, headings, CTA. It will help subscribers easily concentrate on these essential things and your email copy will "breathe."
Use one CTA button per email. The CTA is the action you want your subscribers to perform after reading your campaign. That's why they may be confused if you use three CTAs in one campaign — all these buttons will distract your customers' attention from your main message. To create an effective CTA, be straightforward. Use as little text as possible. It should be unambiguous and clearly tell users what to do next. Let the button contrast with your email background — it will allow users to notice it at first sight.
Make your email images clickable. Almost every user clicks images when reading an email. Redirect them to the relevant site page. Write alt text for all of the images you include because they may fail to display with some email clients. This way, the users will see the text describing them.
Mind that your email should be clear for both professionals in your field and the newbies. So, don't use an excessive amount of specific terms or slang. Everybody should understand what you're talking about.
Create a proper email footer. Although an email footer is not about your main message, you should pay special attention to it, since it contributes to your brand's identity and helps build trust. This element is also called an email signature and it contains the following information: an explanation of a reason why the subscriber received the email, an unsubscribe link, a link to email preferences management center, your company's logo and physical address, copyright data, social sharing buttons, and contact information.
Below you can see several examples of email footers.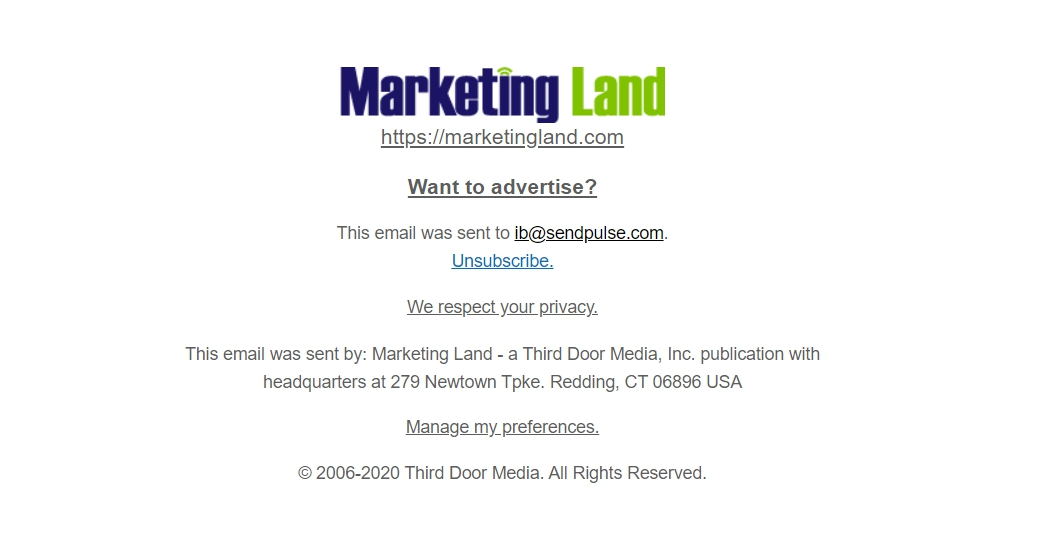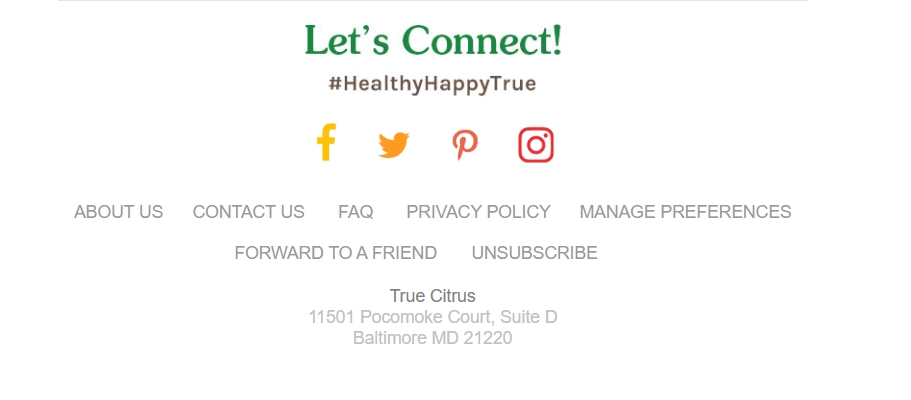 These email signatures are great since they provide all the necessary information. Remember that your unsubscribe link should be visible — don't hide it in the text and don't use a small font. It should be easy for a user to click and the unsubscribe process shouldn't take more than one step. This will keep your mailing list healthy. Professional email marketing services like SendPulse automatically add an unsubscribe link to each email to abide by the CAN-SPAM Act.
Discover more tips on how to write a killer email copy on our blog.
To make your email campaign more relevant, use segmentation. Segmentation allows marketers to send different emails to customers depending on their gender, age, location, purchase history, interests, etc. Segmented emails have higher open rates and their recipients are more engaged. To provide clients with an exceptional individual approach, send emails based on their actions: opened and clicked a link from the email, didn't open an email, clicked several links from the email. Follow this step-by-step guide to send an email campaign using segmentation with SendPulse.
4. Analyze the effectiveness of your email campaign
A professional email marketing service allows you to track the performance of your campaign right after sending it. SendPulse provides detailed reports for you to have a clear understanding of the success of your strategy.
The basic report covers the number of emails sent, delivered, open rate, clicks, emails marked as spam, and percentage of users who unsubscribed. Check it out below.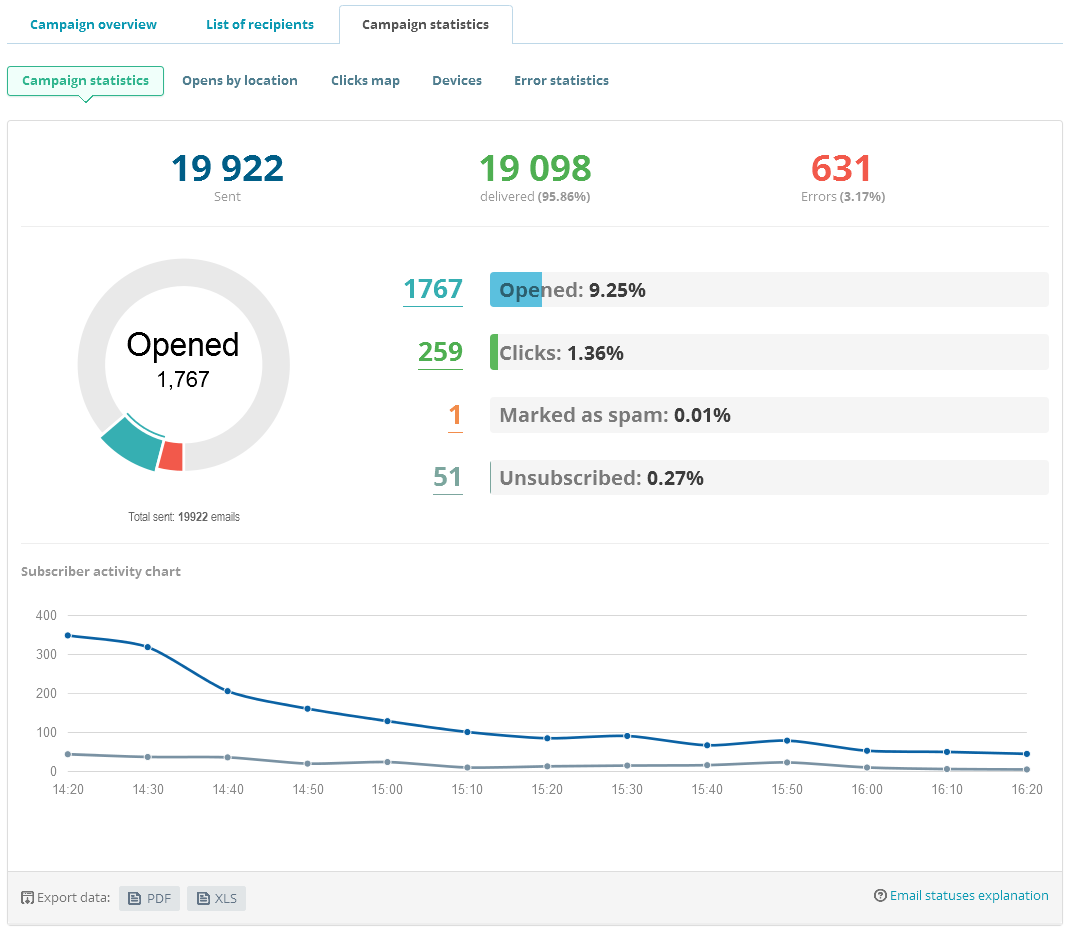 The report "Opens by location" allows you to analyze which country or region is the most interested in your emails in terms of email open rate.
The clicks map shows the number of clicks on each link and image in your email.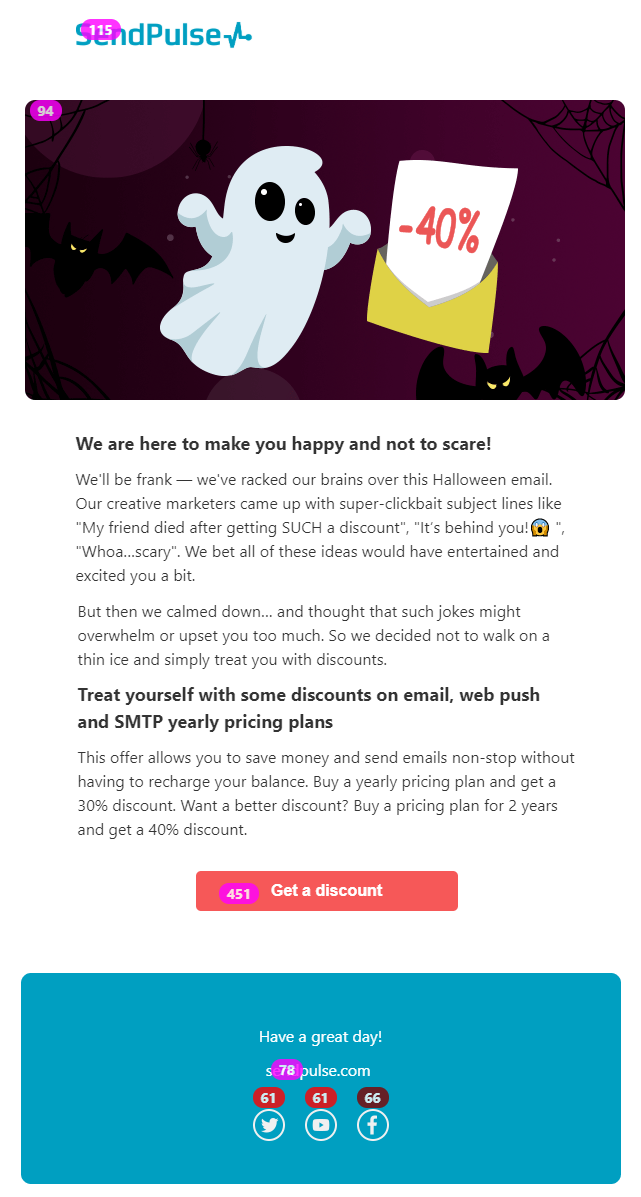 The "Devices" report shows the number of emails opened on the desktop or mobile, platforms, and browsers used.
The "Error statistics" report shows all the errors that prevented your email from being delivered.
With such deep reports, you can analyze your audience, understand whether you managed to reach your goal, and identify the most effective techniques.
How to Set Email Marketing Goals
Make sure you understand why you're going to market your business using email. Your goals need to be:
Clear — identify the target audience and how you can benefit from each campaign.
Achievable — Keep your budget, resources, time, and skills in mind.
Timely — set a deadline for completing your goals.
Measurable — specify which KPIs will track the success of your campaign.
How to Create a Mailing List
Register with SendPulse
Create a subscription form
Place your subscription form in high-traffic areas of your website
Make it easy to subscribe
The moment you understand your email marketing goals, you need to build a database of contacts to email. Follow these four steps to attract new subscribers easily:
Register with SendPulse. Promote your email campaign through your website, use subscription forms. Put forms in high-traffic areas of your website — the footer, sidebar, or at the end of your blog posts.
Create a subscription form. Choose between embedded, pop-up, floating, or fixed subscription forms. SendPulse allows you to create all four types of subscription forms to meet your needs. You can create multichannel forms to let users contact your brand via chatbots in Facebook Messenger and Telegram.
Place your subscription form in high-traffic areas of your website. Decide whether the best place is in your footer, sidebar, or at the end of your blog post.
Make it easy to subscribe. Make sure the user can type in their email address easily and provide an excellent reason to subscribe — a discount on the first order or free shipping work well.
With SendPulse, you can create a subscription form with our drop-down form: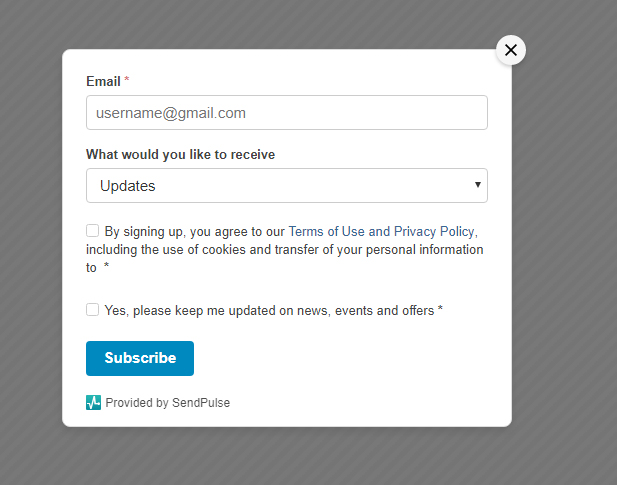 To be a GDPR compliant marketer, send confirmation emails asking users to verify their subscription. Provide the users with a clear explanation of what is going to happen after they subscribe, what content they are going to get, and how often they are going to hear from you. 
If you upload an existing mailing list, we recommend you check it with our Email Verifier. It will detect and remove invalid email addresses from your list. This way, you'll increase email deliverability and your sender reputation.
How to Create an Email Marketing Campaign
Choose your mailing list. 
Create your email based on an available template or make your own. 
Check campaign settings and tracking.
Send a test email. 
Check out a more detailed plan for an email marketing campaign on our knowledge base.
Make use of the following types of emails in your campaigns:
Triggered emails 
These emails are automated and based on users' behavior or their stage in the customers' lifecycle: welcome emails, anniversary emails, abandoned cart emails, transactional emails, and re-engagement emails.
Business-as-usual emails (BAU)
These emails make up the primary dialogue with your audience. These are promotional emails with special offers, sales, discounts, educational information, or announcements.
No matter which type of emails you choose to send, there are some standard rules on how to make an email copy your subscribers will open.
How to Write a Marketing Email
While creating your email, stick to the following tips:
Create a catchy subject line. Limit it to 20 characters and make sure it makes sense with the preheader text. This way, your subscribers will fish out as much information as possible about your email while checking their inbox.
Bring in relevant content and personalize it. Segment your audience according to their age, location, gender, and preferences to come up with relevant and useful emails in the future. 
Keep it short. On average, it takes 11 seconds to read an email, so you want your email to be informative without getting boring. 
Make an actionable CTA button. This button should contain a clear call to action, for example, "Buy now" or "Yes, I want to subscribe."
How Often to Send Email Marketing Campaigns
According to statistics, companies send 2-4 emails a day. How often should you email your customers? Here's a list of tips on how to set the email frequency:
Cover this question in the subscription form. Provide the users with an option to get your email daily, weekly, or monthly. You can do this when users subscribe to your email campaigns.
Monitor the number of open rates and unsubscribes. Change the frequency of your emails according to these figures.
Study the roots of users' engagement. Some subscribers might not be interested in receiving only promotional emails. Others, however, are interested in your sales and will ignore your newsletters with the best blog posts. Let users specify their content preferences and plan the frequency of your emails based on their answers. 
Run an A/B test. Send emails to two equal groups of your mailing list at the same time, check the open rate, and choose the winning frequency.
Email Marketing Ideas
Welcome emails
Curated newsletters
Email digests
Product launch emails
Event or webinar invitation emails
Promotional emails
Anniversary and birthday emails
Customer success emails
Abandoned cart emails
Re-engagement emails
Feedback request emails
Survey emails
Follow-up emails

Giveaway emails
In this section, we are going to share a list of ideas for your email marketing campaigns. After subscribers join your mailing list they expect to receive valuable content from your brand. With all these ideas in front, you'll manage to build relationships with your audience, blow up sales, increase customer engagement and loyalty. Get inspired!
Welcome emails. The first impression is the last impression since it's very important in any sphere of communication. A welcome email is the first campaign a brand sends to its new leads. Its goal is to give a warm welcome, introduce your team or products, and tell subscribers about the benefits of working with your company. To make it easier for a customer to get started, provide some introductory guide or video instructions. You may also record a video with your CEO to make your readers smile.
Curated newsletters. This is a kind of a weekly or monthly round-up of high-quality content. The goal of this campaign is to boost your readers' engagement. You can share not only your own content but collect material from other brands. You'll have to study tons of articles to find the best material. This way, you'll manage to show expertise in your field, build trust and authority towards your brand.
Email digests. This email is similar to a curated newsletter, the only difference is that you're supposed to share your own materials. An email digest is a round-up of news, articles, or updates of a particular brand sent during a certain period of time. It allows marketers to nurture and educate their leads, increase site traffic, and boost sales. We strongly recommend dividing your digest material into primary and secondary information according to its importance for your clients to perceive it better. Use white space, images, colors, alignment and different sizes for this purpose.
Product launch emails. A new product release is something you can't stay silent about. This is your chance to build hype and anticipation for your new feature or service. It will help you re-engage passive users and increase the number of loyal clients. Still, your task is not to say that your team of geniuses has finally launched a product but to inform people about the innovation that will help solve their particular problems. Focus on your clients' needs and the way you can satisfy them.
Event or webinar invitation emails. Marketers send this email to announce an upcoming event or webinar. Your aim is to persuade subscribers that this meeting is really worth their time. Outline its benefits and explain what skills or knowledge they'll get after joining you. With this email, you can increase engagement, brand awareness, and build hype for your event.
Promotional emails. The name speaks for itself. Marketers send this kind of email to increase sales. They announce hot deals, end of season reminders, last-chance sales reminders, new items in stock, and limited editions of products. Very often promotional emails are personalized. This means that customers receive particular offers which they're most likely interested in. Marketers use clients' purchase history and take into account visitors' behavior on a site to product relevant offers.
Anniversary and birthday emails. This kind of email is sent to subscribers to celebrate a special date or occasion, for example, a birthday, newsletter sign-up anniversary or first-purchase anniversary. Marketers pursue two main goals: increasing customer retention and boosting sales. Holiday emails have a high CTR since they're personalized and provide a unique experience. In addition, they positively influence the brand reputation.
Customer success emails. People adore these emails. They definitely help marketers build strong relationships with their clients, provide each user with a personalized approach, boost engagement, and increase loyalty. People want to know about their progress and they're really pleased when you track it. It may be ten purchases from a brand, the first site created with this platform or the first email campaign sent, or recording progress users make when studying a language. If you have ever used Grammarly, you received a customer success email.
Abandoned cart emails. Users leave your site without buying for several reasons that include long checkout, unexpected additional costs, needing to register or create an account, delivery time, lack of payment options, deficient return policy, etc. Still, you can increase sales by sending them an abandoned cart email. To create a killer campaign, include the item users left in their shopping cart, add a CTA that links to the cart, provide the total price along with the shipping costs. To add more value, use FOMO, and offer a special time-limited discount.
Re-engagement emails. Your email subscribers won't be interested in your campaigns forever. They may have already solved their problem with the help of your brand, they may consider your sending frequency or email content irritating — salesy, or subscribers may simply lose interest in your brand. Nevertheless, you still have a chance to win them back. Send a re-engagement campaign to users who haven't opened your emails for at least three months. This way, you'll reactivate some passive clients, keep your mailing list healthy, and IP reputation high.
Feedback request emails. Brands send this email after customers buy their products and services, or visit an event. It helps them realize which problems their users face when using their products, improve their service, discover new opportunities, and build customer loyalty. Besides, there's no need to send each feedback request email manually — you can send it automatically using marketing automation tools.
Giveaway emails. Giveaways help accelerate your mailing list growth, increase brand awareness, engage with an existing audience, and create hype about your product. Send this email to re-engage passive users and keep existing customers engaged.
Survey emails. This email is similar to a feedback request campaign. Marketers often add a form for users to share their thoughts about the brand. They can tell about the things they like and don't like in the brand's products, as well as share ideas to improve it. Besides, companies always offer a discount or something valuable in return for completing such a survey. It allows brands to increase customer retention and loyalty.
Follow-up emails. These emails are sent in response to customers' actions. They include transactional and trigger messages. The main goal of follow-ups is to automate email sending. They also help marketers segment their audience according to their site behavior, increase email engagement and conversions, build trust, and customer loyalty. With the SendPulse Automation 360, you can set follow-up email sending for free.
Email Marketing Automation
Email marketing automation allows marketers to work more effectively without using a lot of resources. It implies delegating everyday tasks such as handling orders, sending welcome email series, and follow-up email, to an email service.
Email marketing automation allows you to save time and money, deal with high-level tasks, devote much more time to improving your strategy, maximize sales, increase customer retention and loyalty, better understand your clients and provide them with a personalized experience.
Services like SendPulse provide automation functionality. With our Automation 360, you can send both promotional and transactional campaigns automatically in response to subscribers' actions. Send confirmation emails after users register, make an order, or book a ticket; reminders — to let subscribers know they left something in their shopping cart or don't forget about an upcoming event; collect feedback after clients buy something or visit your event; re-engage passive clients with a special offer. There are no limitations — you can create any custom event that will trigger email sending.
How email marketing automation works
You create an event. This is an event that will trigger email sending. For example, a purchase.
You design an automation flow. Use filters and conditions to create highly-relevant messages. You can combine email, SMS, and web push notifications in one flow for better engagement. For example, send an order confirmation email and keep users informed about their shipping status via SMS. Use variables from your mailing list for better personalization.
The event is triggered and your automation flow starts. After a user makes a purchase, the event is triggered and they receive an order confirmation or a thank-you email.
Your goal is reached. Now you can track conversions.
Follow this step-by-step guide to sending automated emails with SendPulse.
How much email marketing automation costs
With SendPulse, you can start totally for free. If you have up to 500 subscribers, send 15,000 emails for free every month. With a free plan, you can create up to 5 events. If you want to send to a larger list, consider upgrading to a paid plan which costs from $6.4 per month. Visit our pricing page.
How to Measure Email Marketing Results
Choose the corresponding KPIs to track if your campaigns have any success:
How much does email marketing cost?
On average, email marketing costs between $9-$1000 per month, depending on the platform you use and your database size.
SendPulse provides its users with a free 15k email plan for a 500 subscriber mailing list. This plan allows you to use the most popular and beneficial marketing instruments: personalization, segmentation, subscription forms, A/B testing, convenient email editor, resend to unopened, and many more. A more significant database of contacts won't leave you penniless either — paid plans start from $8. 
Email Marketing Tips
Collect email addresses legally
Abide by the CAN-SPAM Act
Follow GDPR
Use a familiar sender name
Warm-up your IP address
Welcome new subscribers within 24 hours
Write an attractive subject line
Create a short and concise email copy
Check your email for spam
Promote your social media accounts via emails
Optimize your emails for mobile devices
Run A/B testing
Re-engage passive subscribers
Keep track of your email marketing performance
Clean your mailing list regularly
Automate your email campaign sending
1. Collect email addresses legally
Never buy mailing lists. This is forbidden. You risk not only being fined but also damaging your brand reputation. People who have never subscribed to your campaigns, won't be interested in your products.
To play fair, create a subscription form and place it anywhere on your site. With the SendPulse functional form builder, you can create four types of forms without any special technical skills for free. Set display options, choose specific pages to place a form on, edit it to match your brand style, add an enticing lead magnet to get more subscribers. Choose a pre-designed form to save your time. All the forms are responsive by default. Write a confirmation email and it will be sent automatically right after subscription.
Below is a subscription form created with SendPulse. Using our service, you can collect not only users' email addresses but let them join your community on Facebook and Telegram.
Follow this guide to create a subscription form with SendPulse.
You can build an email list with the help of online and offline events, contests, landing pages, surveys, quizzes, social media accounts, and partner' websites. To make users subscribe, you can not only use lead magnets but provide social proof and let people set preferences regarding the desired email frequency and content.
2. Abide by the CAN-SPAM Act
This act regulates sending commercial emails and punishes those who violate it. The main rules require senders to clearly state who the sender is, add a valid physical address to every campaign, provide users with an obvious and easy-to-tap unsubscribe button in each email and use relevant and straightforward subject lines. According to this set of rules, marketers are not allowed to sell or transfer users' email addresses to any third parties.
3. Follow GDPR
The GDPR is a set of standards the goal of which is to protect users' data. This regulation works in the European Union. According to it, websites must tell users that they are in control of their personal information. You, as a marketer, should use a double opt-in subscription form so users confirm their desire to subscribe twice. In addition, you should review your privacy policy — receive consent to collect clients' personal data, explain the way you store and transfer it and ensure that no other third parties will have access to it.
With this GDPR compliant form our subscribers can change their personal information or request to have it removed from the database.
4. Use a familiar sender name
This will help you increase your brand recognition and build trust in your company. Do not send emails from "No-reply" or "Marketing Team". The former sender name hints that the brand is not interested in user feedback and communicating with the clients. The latter sender name won't help you build trust because people tend to believe people, not brands. Customers always want to see who stands behind great products. So, personalize your approach.
If the person responsible for email communication with the clients is not popular yet, you can add the name of your company to the sender name. For example, "Kate Miller from SendPulse".
If you send the first email to a newcomer, it's a great idea to introduce yourself. Tell them who you are, what you do at the company, and what a subscriber should expect from communicating with you. This will help you set a friendly tone.
Below you can see several different variants of a sender name from the inbox.

5. Warm-up your IP address
If you are going to send emails from a new IP address, warming it up is a must. It implies a gradual increase in your email sending volume to tell ESPs that you are a legit player. When ESPs notice high email sending volume from a new IP address, they suspect that the unknown sender is spamming. As a result, emails can either bounce or land in the spam folder.
To build a good sender reputation and increase email deliverability, increase the number of emails consistently, and send emails to your most engaged users. Such a warm-up process usually takes 4-8 weeks. After that, ESPs see that you're an authoritative sender and your email deliverability will improve.
Read this article to see a two-week IP warming schedule.
6. Welcome new subscribers within 24 hours
Do your best to provide a new contact on your list a warm welcome. After users subscribe, they expect to hear something from you. Otherwise, they can forget or quickly lose interest in your brand. Then, it will be much more difficult to engage them again.
Explain what benefits subscribers will get communicating with your company. To set a friendly atmosphere, you can add your photo or even record a short welcome video. Make sure that subscribers know what to expect from you in the future. Let them manage their email preferences following the corresponding link from a welcome email.
For better engagement, you can create a series of onboarding emails which is called an onboarding email campaign. It means sending several emails during a couple of days to educate your clients about your product. An onboarding email series allows marketers to communicate their message consistently without being nagging.
With SendPulse's Automation 360, you can create an email workflow in advance and it will be sent automatically right after a user subscribes. Add as many emails as you need, use filters and conditions to add subscribers to different mailing lists. This will help you send relevant emails to every segment. Track conversions to see how your welcome series performs and improve it on the go.
Here you will find more detailed instructions on sending an onboarding email campaign.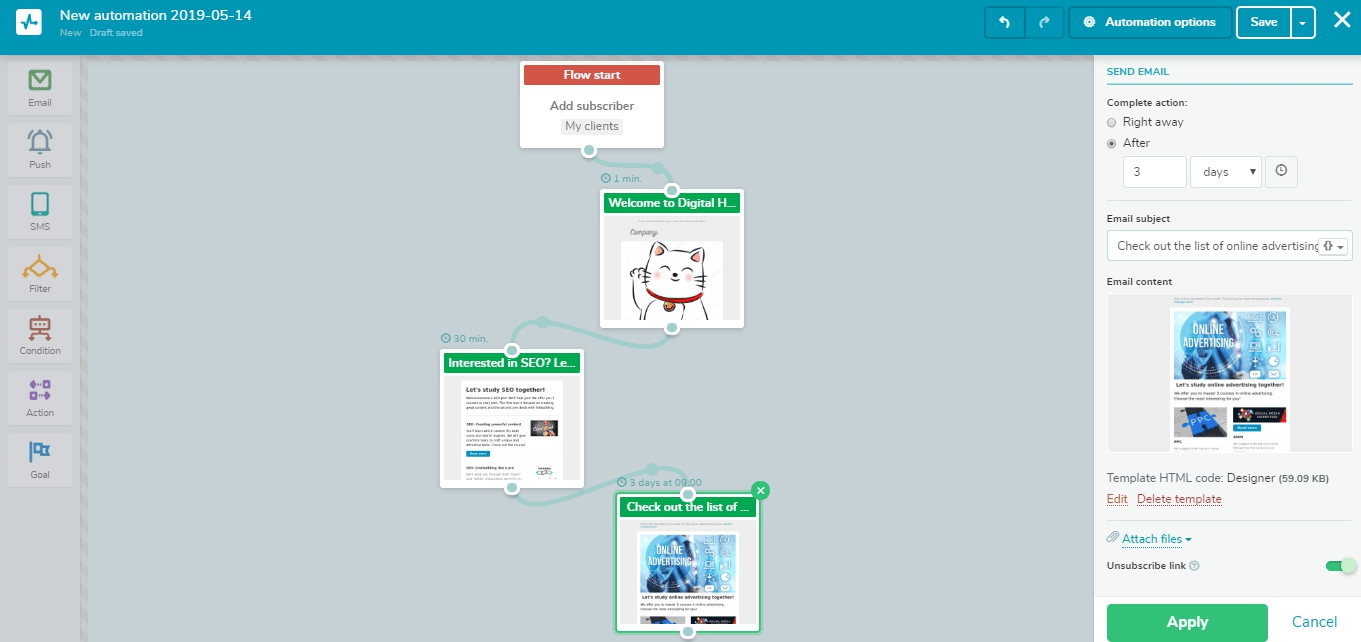 7. Write an attractive subject line
Your sender name and subject line are the first things subscribers see in their inbox. Therefore, they use them to judge whether your message is worth reading. Make your subject reflect the main idea of the email. Keep it short for users who check their inbox from their mobile devices. Make sure that you don't use any spammy words, excessive exclamation marks, or capital letters.
To add a personal touch, add emoji to your subject line. Remember that they should be to the point. Another powerful instrument is personalization. It's always a pleasure to receive a personalized email rather than a mass campaign.
Emoji in this subject line attract readers' attention at first sight. In the email below, you don't even have to read the subject to understand that MAC is promoting a new lipstick. MAC also uses a preheader to provide an additional incentive to buy.

8. Create a short and concise email copy
When creating an email campaign, you should take into account the fact that readers' attention span is about eight seconds. Moreover, they never read emails from A to Z — they scan the message looking for the most important information.
To create an effective campaign we strongly recommend marketers stick to the inverted pyramid design. It means putting the most important information at the top of the message and finishing it with a prominent CTA.
To make your email breathe, add enough whitespace. Using it between paragraphs will help you emphasize the necessary information. Putting whitespace before a CTA will make readers focus on the action you want them to perform.
To design a perfect CTA, make sure it contrasts with the email's background. It should be eye-catching. The CTA text should tell users what they are supposed to do next, so make it clear and brief. Make the button easy to tap from mobile devices. We suggest using only one CTA button per email so as not to distract readers' attention from your main message.
The email from InVision below is created in accordance with the email copy best practices. Its structure resembles a pyramid so it's easy to skim. There's plenty of whitespace which allows subscribers to easily concentrate on the message. The CTA button grabs attention because it contrasts with the white background.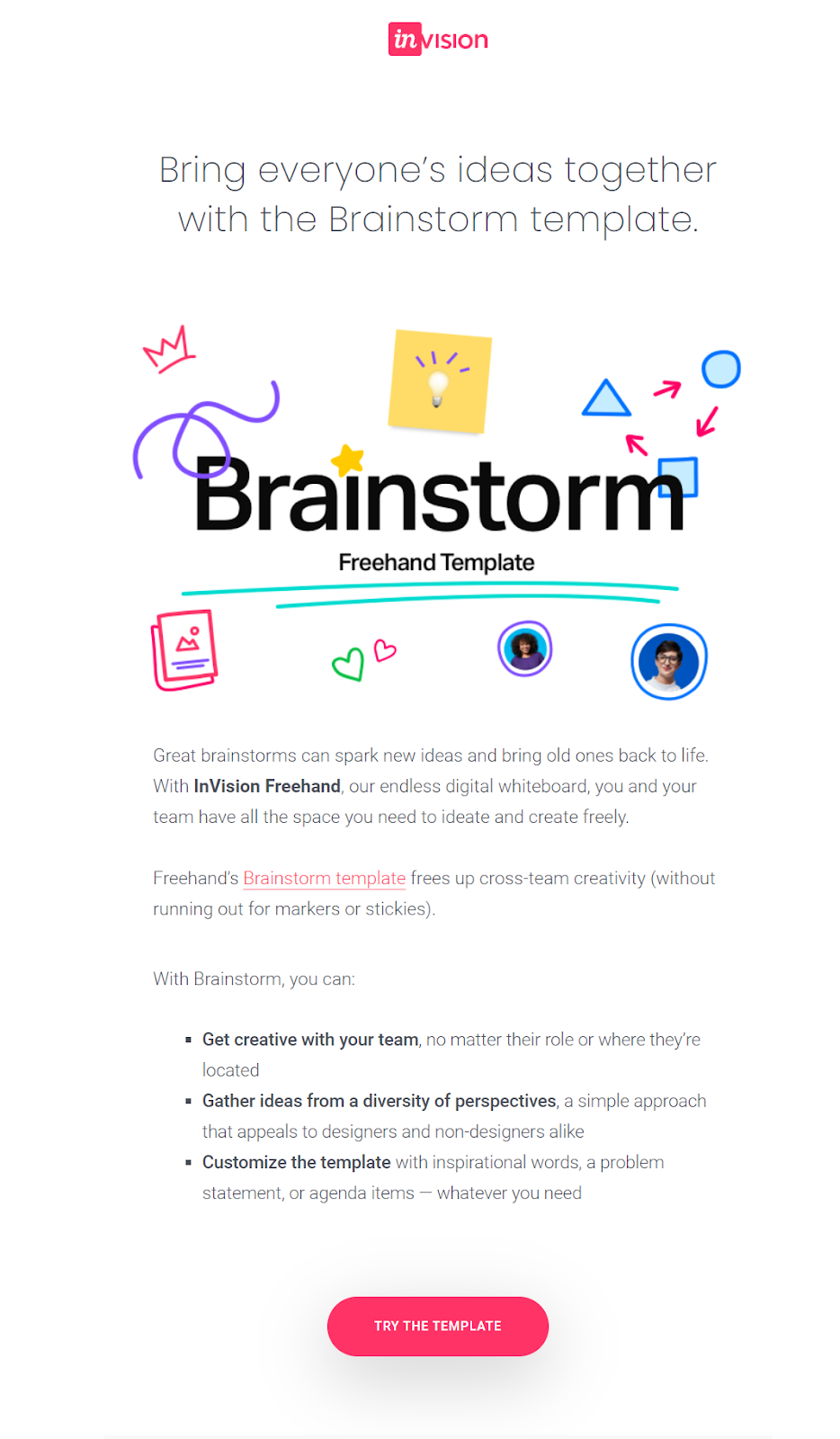 To increase brand recognition and awareness, make your emails reflect your brand's style. Stick to the same color and font across all campaigns. You can create a master template and edit it before sending each campaign. With SendPulse, you can either choose a pre-designed template from our library or create a unique one from scratch with our drag and drop editor. You don't need to code or have any HTML knowledge.
9. Check your email for spam
Get into the habit of checking every email for spam before sending it. If you use spammy words or excessive exclamation marks by mistake in the subject, your email deliverability will be very poor. To stay on the safe side, you can either choose a third-party service or run an email spam check with SendPulse at the last stage of creating a campaign.
Our email spam checker provides recommendations to improve your email's deliverability and avoid sending spam. Check it out below.
10. Promote your social media accounts via emails
Combine emails with other marketing channels to better approach your customers. With SendPulse, you can use web push notifications, SMS, and chatbots in one strategy. Welcome new subscribers with an onboarding email series, tell them about sales and new content via push notifications, inform them about their order status via SMS, and consult using chatbots.
With SendPulse's chatbot builder, you can create a chatbot for Facebook Messenger and Telegram. Automation 360 allows automatic sending of emails, push notifications, and SMS according to users' actions.
You can add social media buttons to your email campaign to let users join you on Facebook and YouTube. This way, you'll increase both your outreach and traffic to your profiles.
11. Optimize your emails for mobile devices
The entire world has gone mobile. You can't ignore this fact when developing your email marketing strategy. Do your best to meet the needs of your mobile users.
Create responsive email campaigns. Responsive email design means your message looks perfect both on a desktop and mobile device. Users shouldn't have to scroll, zoom in and out to read it. If your email is not optimized for mobile, subscribers won't take the effort to read your message.
To create responsive emails, you don't need HTML knowledge or any technical skills. Professional marketing services like SendPulse provide this functionality. When creating a campaign with our service, you don't need to worry about its responsiveness — all emails are responsive by default, so they will look perfect at any screen resolution.
Pay special attention to several elements of your campaign: the email layout, the CTA button, and your unsubscribe link. We recommend using a single-column layout since it's easy to read and subscribers don't need to use horizontal scroll bars. Considering a CTA button, make sure that it's easy to tap with a finger. Make it larger than 45px. Last but not least is your unsubscribe link. Do not try to deceive your readers and hide it somewhere in the footer making it impossible to click on. In this case, they will mark your email as spam. Make your unsubscribe button easy to find and tap.
12. Run A/B testing
Practice makes perfect. If you don't have much email marketing experience yet, run A/B testing. This is a type of marketing research that makes it possible to compare several elements of the email to discover this one that performs better. You can test your email subject line, preheader, sender data, CTA buttons, images, videos, links, colors, fonts, etc.
With SendPulse, you can easily create a split-testing campaign to test the element you need. Set the criteria that will determine the winning email and choose the necessary mailing list segments. The more detailed instructions you'll find in this guide.
13. Re-engage passive subscribers
Sooner or later your subscribers may lose interest in your brand and that's OK. Send them re-engagement email campaigns if they don't open your emails for at least three months. Remind them about the benefits of your brand and offer an incentive to win them back. If they're no longer interested in your service, just let them go. Keep your mailing list healthy. The only thing we recommend is to ask them about the reasons why they left your mailing list. Their answers will help you improve your future performance.
14. Keep track of your email marketing performance
Sending emails without analyzing their effectiveness is a waste of time. You should know how your strategy works and which tactics bring the most results. To analyze your performance, monitor the KPIs. They include email deliverability, open rate, CTR, bounce rate, unsubscribes, conversions, etc. These metrics shed light on the way subscribers perceive your campaigns.
You don't need any third-party services to track the basic email marketing KPIs. SendPulse provides detailed reports after sending each email campaign.
Below is a report that shows not only these basic KPIs but opens by location, a click map, and error stats for you to gain more insight into your work.
15. Clean your mailing list regularly
A good email list is the guarantee of healthy email marketing performance. It all starts with getting clients' email addresses legally. Then, you should regularly review the quality of your list. Check out how subscribers interact with your emails — whether they're engaged. If they ignore your emails for 3-6 months and re-engagement campaigns don't bring them back, remove their addresses from your list. There's no point in talking to people who're not interested in your brand. This will help you maintain your sender reputation and keep your deliverability rates high because email service providers are suspicious about senders whose emails are never read by recipients.
16. Automate your email campaign sending
Email marketing automation is a must today. It allows brands to save time and resources and spend time on more important tasks. With services like SendPulse, you can send automated emails in response to clients' actions on your site. Delegate welcoming new users, handling orders, re-engaging passive clients, and much more to email automation.
Create events that will trigger automated email sending. Use filters and conditions to send highly relevant campaigns. Monitor conversions and improve your workflows. You can automate your email marketing for free with SendPulse. Follow this step-by-step guide to get started.
References
The article "Email Marketing Made Simple: A Step by Step Guide [+ Examples]" on OptinMonster defines email marketing, covers its importance, explains how to get started from scratch.
The article "19 Examples of Brilliant Email Marketing Campaigns [Template]" on HubSpot blog explains what email marketing is and provides examples to follow.
The article "A Beginner's Guide to Successful Email Marketing" on Neil Patel's blog offers useful tips to get started.
FAQ
Last Updated: 21.06.2022