Automation 360 allows to send emails, SMS and web push notifications triggered by actions performed by the users. This feature makes it possible to configure sending emails according to the events, for example, registration, purchase, abandoned cart, custom event. Creating an automation flow, you will be able to monitor every subscriber's path.
So, how to send automated series?
Step 1. Create an event
Go to "Automations", select "Events manager".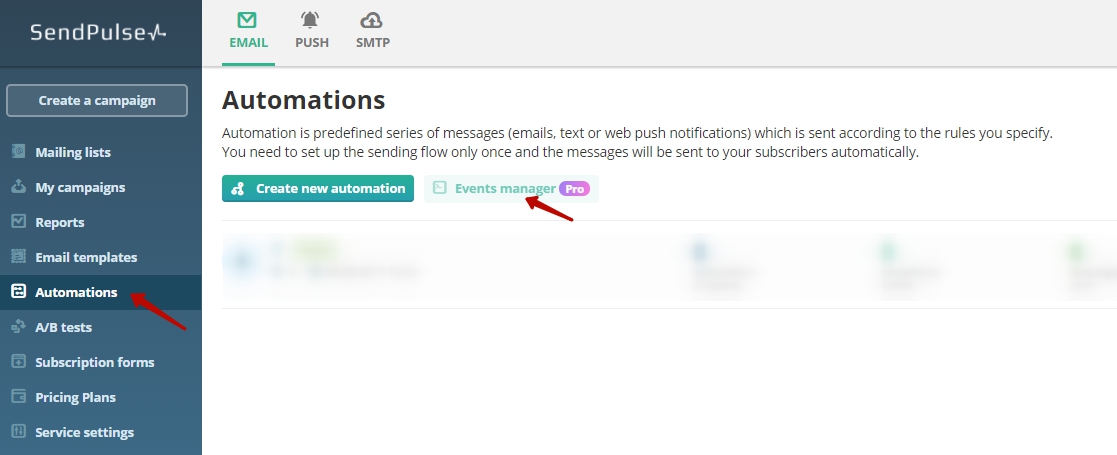 There are 4 events, you can add, edit and delete variables within each of them.
After creating an event, a unique URL will be generated. Request it to send your event.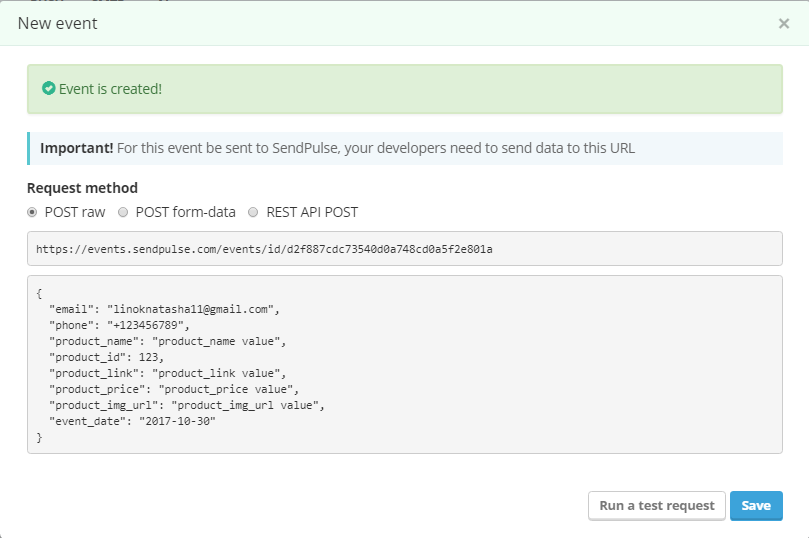 Learn more about sending events
Step 2. Create an email automation flow
Select Automation 360 in the Automations tab.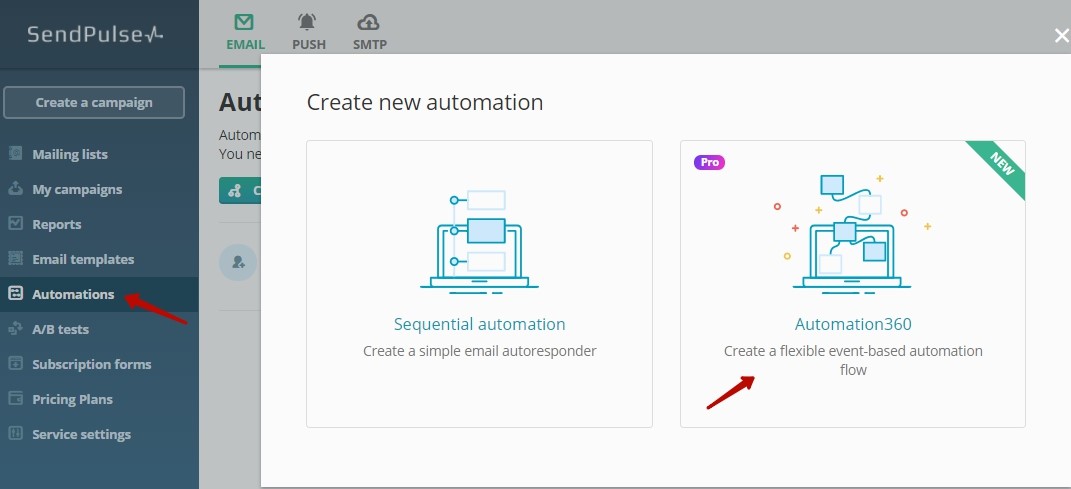 Create an automation flow that starts with the event you created before.
You will see the settings panel where you need to specify the general information about your automation flow.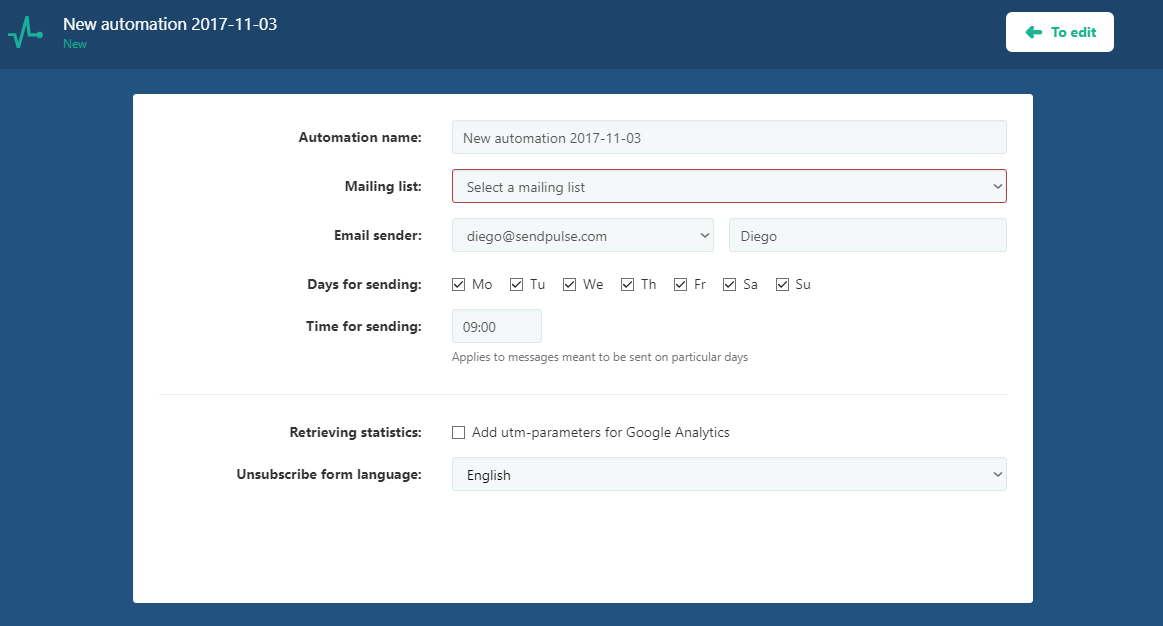 Now start creating the automation flow.
There are 7 elements to drag to the working field:
Email
Push
SMS
Filter
Condition
Action
Goal
You can combine 3 communication channels within one automation flow. For example, send SMS if a subscriber has not opened your email or give the information about the order via SMS. Notify about new arrivals with the help of push notifications, if your client allowed to receive them.
Using a filter, you can send personalized emails for men and women, for customers who live in different countries/cities. It depends on your sphere of activity.
Condition determines further actions of the clients at the next step of the automation flow. For example, if a subscriber has not opened your email, send them SMS, if they have – offer a discount.
Use action to manage mailing lists. You can move, copy, delete subscribers from the mailing list, change the variable for the contact or send email to your address. For example, if a client changed preferences, move them to the other mailing list.
Specify your goal to track conversions. Goal allows to stop your automation flow as well. If the goal is reached, for example, a purchase is made by the client, you get a conversion and the client receives a thank you email.
You can create up to 50 blocks.
Read more about the elements of the automation flow
Step 3. Track conversions
Conversion is the achievement of your goal, it can be expressed as an email open rate, clicks, purchase – any goal created by you.
Event is your goal, in case it is achieved – you get a conversion. Besides, you can stop automation flow by a particular event.
After sending an email, add "Condition" and choose the necessary event, for example, purchase. Under the option "Yes" in "Condition", add the block "Goal" and name it as your goal – purchase. Thus, every client who purchased will bring you a conversion.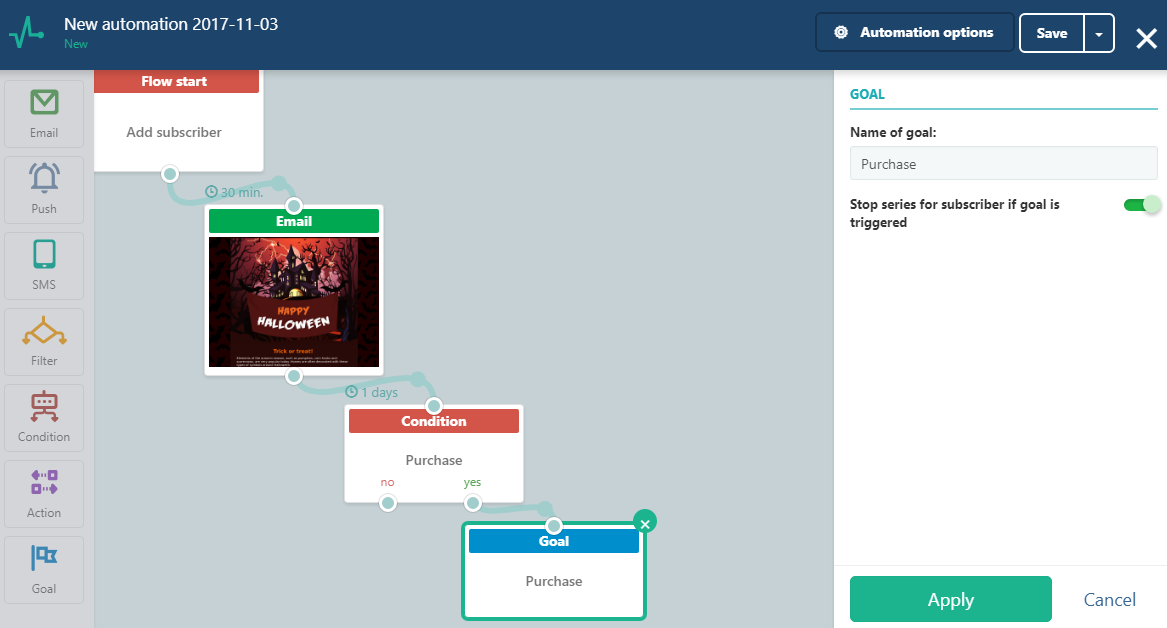 Get more details on how to calculate conversions
So, Automation 360 allows to create advanced automation flows with the help of which you can monitor every single client's path and get a better idea about what can be optimized in your email marketing.
Get to know how to create and send an email about an abandoned cart
Learn how to create and send a "thank you" email after registration
Last Updated: 2019-11-14