To automatically send your customer a reminder about their abandoned cart, you need to create an event and an automation flow.
Step 1.
Create an event. You can do that in the "Automations" section - click on Events Manager
Add a new event
Out of the 4 predefined types, choose Abandoned cart for your event.
Here you can add, delete or edit variables. You can insert all the variables into the message template or SMS, filter by them, and so on. 
After you set variables and add an event, the unique URL or ID will be generated for you.
To send your event - request this URL.
Step 2.
Create an automation flow. You can do that in the "Automations" section.
Click the "Automation360" button.
This will open the automation settings panel.
Name the automation flow, select the sender name and address, specify time and day for sending, then determine the unsubscribe form language. 
Click "Apply" when you're done with the automation setup.
You will be redirected to the constructor page. The first thing to do is to select the event that will start the flow. In our case, this is "Abandoned cart."
Then, you create the automation flow you need. Let's say an email will be sent first. To do this, drag the Email icon from the left part of the screen to the center. 
You will be asked to set the email campaign:
Specify how soon the email will be sent after the event triggers.
Think over the subject line.
Choose the email template.
You can use the variables that you specified when creating the event in the template.
Attach files (if necessary).
After data is entered, click "Apply."
Let's imagine we need to send an SMS reminder if the client did not open this email. But if the email was opened, the next email should be sent (for example with a discount offer).
To do this, select the "Condition" block and drag it under the "Email" block. Do not forget to connect blocks with connectors:
After adding the "Condition" block, you should set it up: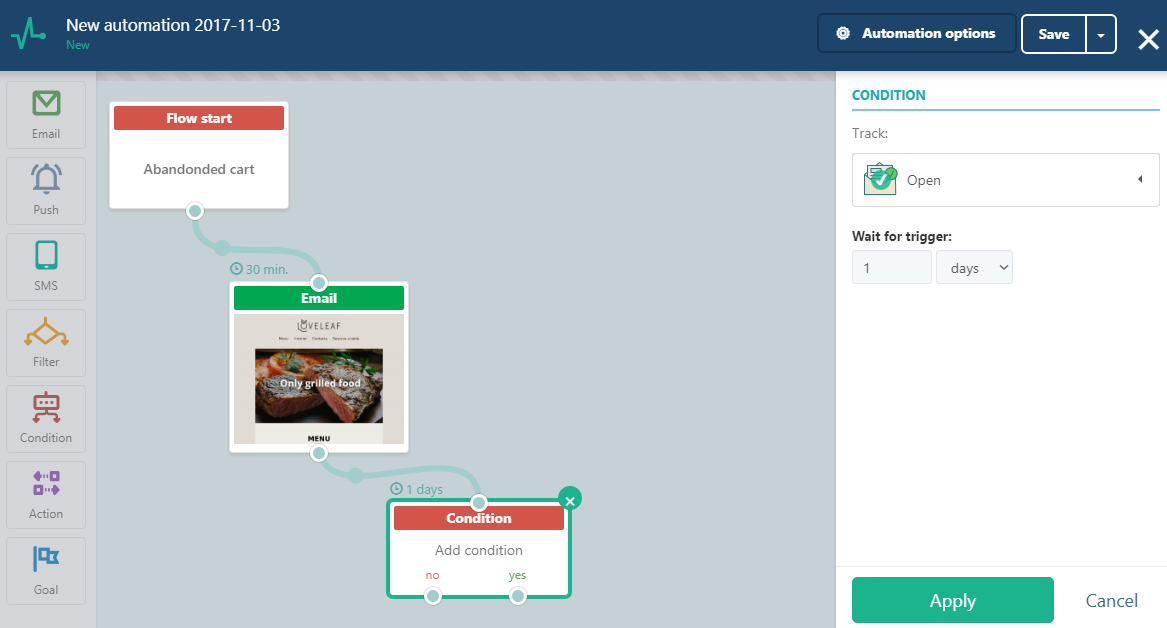 Specify the condition itself — in this case, it is "Open." And also, the period of time between the email sending and event triggering should be specified. We will choose one day. This means that if after one day the client received but did not open the email (or vice versa opened it), the "Condition" triggers and another message will be sent to him.
Add the "Email" block under "yes," and "SMS" under "no."
Next, fill in the SMS and email blocks.
You can construct an unlimited number of such blocks.
If you have finished the automation flow construction and are ready to launch it, click "Save and launch." If you want to leave it not launched, click "Save and exit."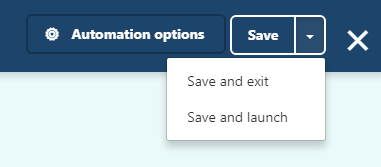 Published: 03 Nov 2017 Last Updated: 03 Apr 2019
Rate this article about "How to send an email about an abandoned cart"