Why is email verification important?
Email address verification helps you keep your mailing lists clean, stay out of the spam folder, maintain a high sender reputation, and save on campaigns by ensuring that you only send emails to valid email addresses.
Features to keep your mailing lists clean
Remove non-existent email addresses and addresses with typos from your mailing list. Then, send email campaigns!
Mailing list verification
Upload a mailing list and start verifying it. Every email address on your list will be verified automatically.
Single email verification
Have you noticed a strange email address on your list? Verify it using a single email address verification.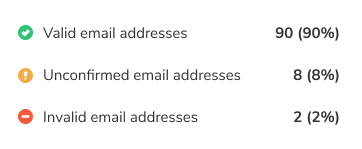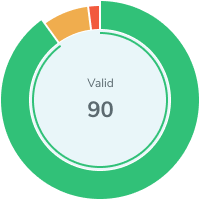 Accurate verification results
Assess the health of your mailing list with our detailed verification report.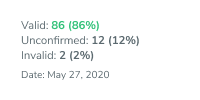 Launch email campaigns to verified lists
You can send a campaign to the verified list. Think over the text and design of your email, and we will take care of the technical side.
How to verify your mailing list
Navigate to verifier section

Log in to your SendPulse account and choose "Email Verification." If you don't have an account, create one now.

Upload your mailing list

Upload your mailing list or choose an existing one and click "Verify." You can also validate a single email address.

Get a detailed report

After verifying your mailing list, you will get a report with not only "valid" and "invalid" addresses on your list, but the system will create a separate mailing list containing all of the valid email addresses. You can add custom variables and segments to your new mailing list.
Verification ensures that you only email quality addresses
Even if you collect subscribers' email addresses legally, your mailing list may contain invalid email addresses. Verify the addresses on your mailing list before sending an email campaign. Especially if any of the following cases apply to you:
I haven't sent emails in a long time
Remove outdated addresses as they may have become invalid. Some people may have changed their email provider, their place of work, or abandoned their email address.
I collected email addresses using single opt-in
If your subscribers haven't verified their email addresses through a link in an opt-in confirmation email, there's a chance that non-existent addresses with spelling errors or typos ended up on your mailing list.
My campaigns have a low delivery rate
If you see a lot of "Delivery failed" or "Email address doesn't exist" messages it's time to verify your list.
I added email addresses to my mailing list manually
When manually adding contacts, typos may occur — spaces or invalid characters, missing "at" sign, and so on.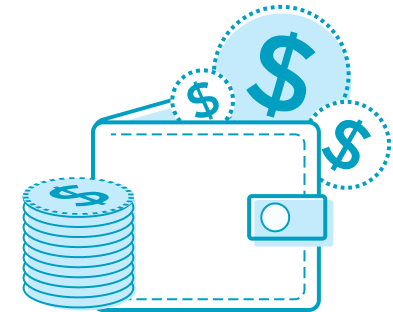 Get 100 free verifications every month
If you want to check more than 100 email addresses, choose a paid pricing plan. With our flexible pricing plans, you can find a solution that suits your needs: the price of verification depends on the number of email addresses on your mailing list. The more email addresses you have, the less you pay for each verification.