What is a spam checker
SendPulse specialists have recently released a new tool that allows you to improve your email deliverability. At the last step of creating an email, the spam checker analyzes your campaign and gives tips on which element to improve.
How the system works
First, you need to create an email campaign and then improve it according to the provided recommendations for better deliverability. Let's have a look at how it works step by step.
Fill in the information about an email campaign

Select a mailing list, specify a sender name, your email address, and create a subject line.

Choose a template

At this stage, you need to choose a template. You can create it with the help of a template builder or an HTML editor. When you've chosen the template, add a preheader to your email.

Set the campaign parameters

Choose the statistics to collect, an unsubscribe page, its language, and other parameters.

Get recommendations

The spam checker analyzes your campaign and warns if there is a probability that your email will get into a spam folder.
Example of spam checker recommendations
The system analyzes each element of your email campaign and gives recommendations. Follow them to minimize the chances of your email to get into spam. Here is an example.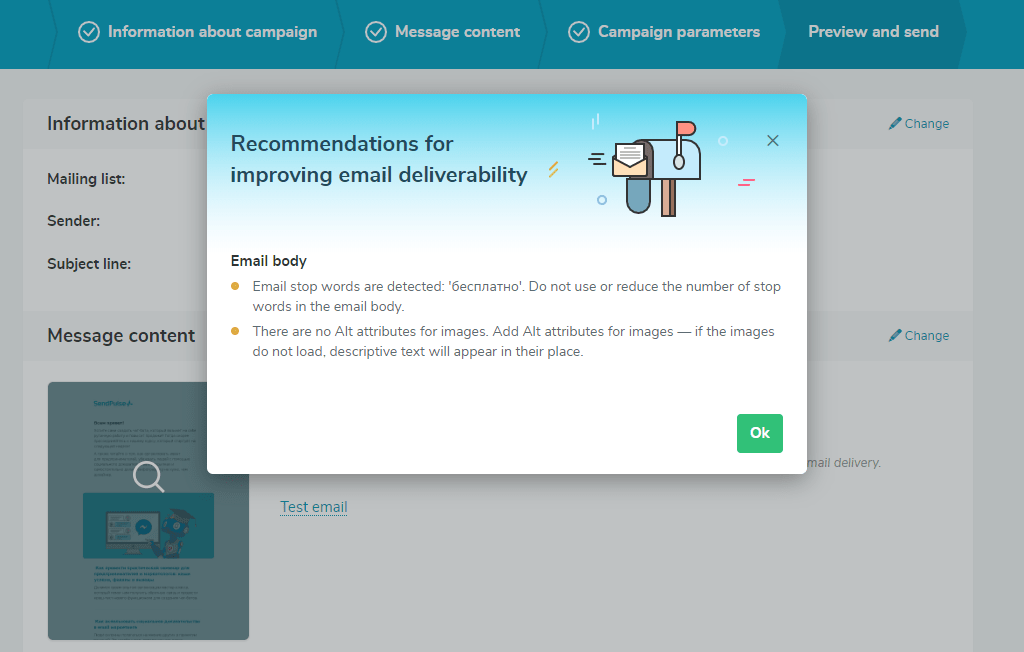 The list of mistakes the spam checker indicates
There are different types of mistakes that may be a reason why your email isn't delivered to the inbox. These mistakes can be grouped into 4 categories: "Sender data", "Subject line", "Preheader", "Email body". Let's see the spam checker tips on how to correct these mistakes.
1. Incomplete or incorrect sender details
These mistakes mainly appear because of incorrect authentication. Authentication parameters help to identify whether you're a trustworthy sender and whether your emails can be placed to the inbox folder. The mistakes in this category include:
You send your email campaign from a free domain address.
You haven't set SPF, DKIM or DMARC records.
The sender name is shorter than 5 characters.
2. Incorrect subject line
This type of mistakes may be the reason of low open rates and poor deliverability.
The subject line is too short or long. The recommended length is from 6 to 100 characters.
The subject line contains stop words, like "Free gift", "Bonus", "$$$", "Discount" etc. Reduce the number of stop words in the subject line or avoid them at all.
Too many capital letters in a row. Use no more than 15 capital letters.
Using more than 2 exclamation marks in a row.
3. Incorrect preheader
Preheader is a short text which follows the subject line when viewing an email from the inbox. Add it to your email to improve email open rate. Which preheader issues may appear?
Too many capital letters in email preheader. Use no more than 15 capital letters.
The preheader contains stop words. Try to reduce the number of stop words in the preheader.
4. Mistakes in email body
The email body consists of images, text, headers, buttons, and a call to action. Let's see what mistakes may appear in email body.
It contains stop words. Reduce the number of stop words in the email body.
There's too little text. Type more than 60 characters of text.
Too many capital letters. Use no more than 15 capital letters in a row.
Using many exclamation marks in a row. Use no more than 3 exclamation marks in a row.
No Alt text for images. Add alt attributes for images — this text will be shown for those recipients who blocked image display in their inbox.
The unsubscribe link is less than 6 characters. Rewrite it with more characters.
You can use the spam checker for better deliverability of your email campaigns on a free plan in SendPulse.