Automated emails are carefully planned emails and sent to subscribers at specific time intervals or as a response to the actions of the recipients on a particular website. These emails can be sent either individually or as part of a drip email campaign.
Marketers set the conditions which trigger automated email sending. After that, each time a subscriber fulfills the trigger, they receive the pre-written email. Automated emails shine in onboarding new customers. For instance, instead of sending a single email to a new customer, marketers send an entire series, thus guiding them effectively as they interact with a brand.
Email marketing services allow to send emails based subscribers' actions according to the events such as an abandoned cart, registration, purchase, or any other custom event. Besides, these platforms take care of the technical side of things, thus, marketers don't need to hire a developer.
SendPulse brings your most challenging ideas to life — don't hesitate!
Automate email sending!
You can automate user onboarding, handling orders, and reengaging passive clients without much sweat. Increase engagement and blow up sales with triggered emails.
Why are automated emails important
They are automatic. Marketers do not need to hire someone who will click "send" every time they have to send specific emails. Instead, they only have to specify the criteria to trigger the emails and leave the rest to email automation.
Automated emails shine in nurturing leads. These emails nurture leads by sending them useful information at the right time. If the messages are relevant and engaging, the recipients will reach out to learn more about a business, its products or services. Hence, they will be closer to the last sales funnel stage.
They help in sales. Automated emails assist sales teams in determining the content that leads engage with. In turn, this enables salespeople to reach out to these prospects with appropriate products or services.
Automated email types
For effective marketing, every business should consider adding automated emails that respond to customer actions. There are more than 30 types of automated emails that marketers can use to engage with target customers. Some of these include:
Welcome email. It is usually the first direct contact a business makes with a customer. It makes the recipient feel special and is excellent for boosting engagement. Brands usually tell the newcomers about the benefits they will get while cooperating with that particular company.
Thank you email. It is sent to users automatically after they subscribe, convert, download something or attend an event. It is an excellent way of establishing and nurturing customer relationships.
Abandoned cart email. An abandoned cart email is sent as a follow up to a customer who has left items in the shopping cart during checkout. Abandoned carts account for the biggest leaks in the sales funnel. So, sending this automated email helps to recover lost revenue and drive traffic back to a website.
Order confirmation email. Once a customer orders something, it is always good to send an order confirmation to their email. The email should communicate the shipping details and payment receipt. It's a nice way to show that you deserve trust.
Customer feedback request email. The way to find out how to improve a service is to get feedback from the actual users. An automated email survey or feedback form can do just that.
Other types of automated emails include product review emails, product recommendation emails, blog updates, event reminders, reactivation emails, follow-up emails, birthday emails, and so many more.
How to send an automated email in SendPulse
Step 1: Go to Automation 360
In your SendPulse account, go to "Automations" tab. Click "Create new automation".
<h3">Step 2: Specify general information about your flow
Fill in all the fields.
Step 3: Create your automation flow
Firstly, choose the event which will start the flow. You can create your own event and add variables for it in the Events manager. Follow this guide to do that.
You're welcome to combine email, SMS, web push notification within one flow. Thus, you will increase your outreach and subscriber engagement.
Use filter to send different content to your mailing list segments, for example to men and women, users from different cities, etc.
Condition allows to send a message depending on user behavior. For example, if a subscriber hasn't opened your emails for 3 months, send them a reactivation email.
With action, you can perform various operations regarding recipients: move to another list, delete, copy, etc.
You can stop your automation flow right after your goal is reached.
Now, when you are ready, click "Save" or "Save and launch".
After your automation flow starts, track statistics.
Automated email examples
Below are some excellent examples of automated emails:
A welcome email from Nira Rubens. The brand gives a discount to engage new subscriber to buy.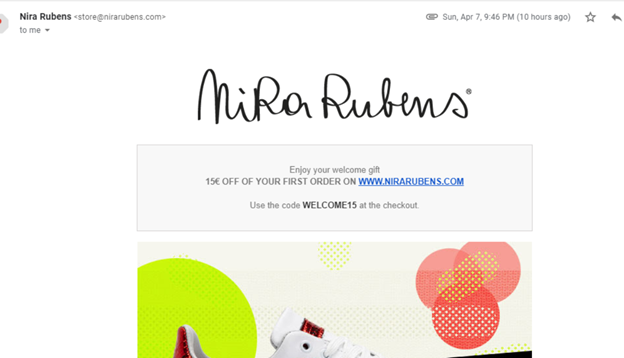 A thank you email. With this email, marketers drive visitors back to their website.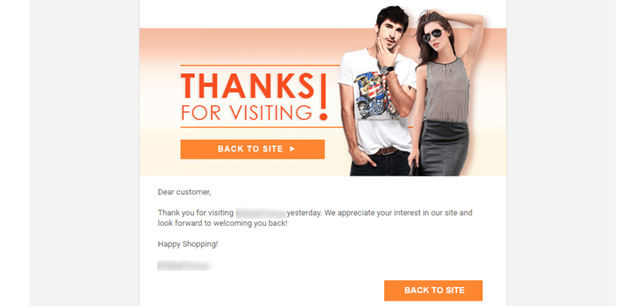 Feedback request email. The brand asks clients to estimate their buying experience.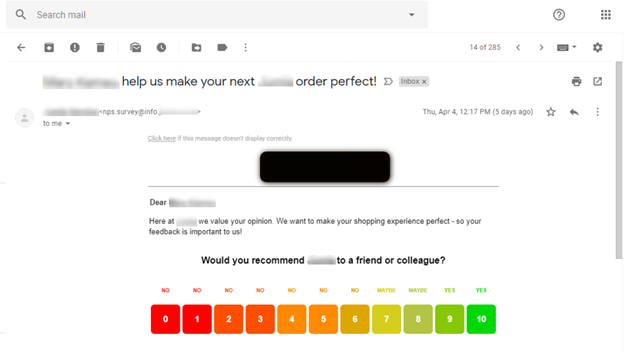 Automated email best practices
To take full advantage of automated emails, here are some best practices:
Never miss a welcome email in the automation flow.
Have a loyalty program for VIP customers.
Segment the mailing list based on buying behavior.
Initiate re-engagement with inactive customers.
Focus your automation strategy on building relationships and improving customer experience.
References
The article "Email Automation" on Campaign Monitor defines email automation, offers email ideas, and provides best practices to succeed.
The article "7 Automated Email Campaigns That Win Customers and Keep Them Coming Back" on Shopify blog offers trigger ideas for these campaigns.
The article "What is Email Automation and Why You Should Use it in Your Campaigns" on SendGrid defines email automation, explains why it is important and provides useful tips to follow.
Last Updated: 2019-10-07