Drip email campaign
Drip email campaign
Drip email campaign is a communication strategy tactics, the main rule of which is regular email sending  to the client. The result of this kind of communication is the recognition of your name, the brand of your company.
These messages are sent to the clients via email, RSS subscriptions, push notifications. This method assumes that systematic persuasion dispels the client's doubts, and he becomes compliant to the cooperation.
The emphasis in the email strategy of "drip marketing" is made on the following:
Provide relevant content;
Use email distribution as a tool for communication with subscribers;
Orientation is not on how much time has passed since the first contact with a potential client, but on his actions.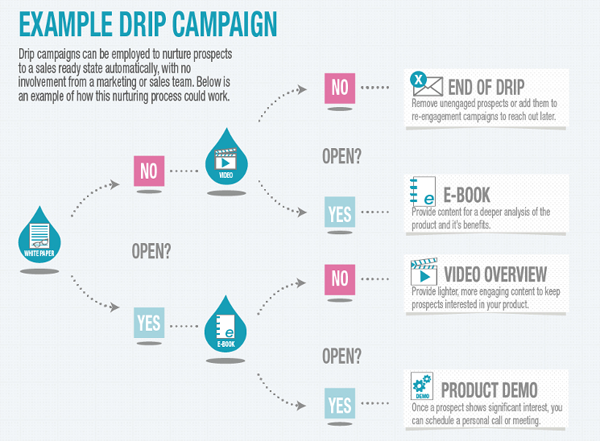 There are several types of drip campaigns:
Top-of-mind drips. This campaign is aimed at forming in the minds of people associations with your goods. As an example, we can cite the situation when many people associate soda water with the Coca-Cola. Content elements aimed at the formation of such links can be implemented at all stages of interaction with a potential client.
Educational drips. Provides a gradual infusion of various kinds of information about the characteristics and benefits of the goods with the purpose of preparing a potential customer for the upcoming purchase.
Re-engagement drips. Within the framework of this campaign, different methods can be used, aimed at winning back  interest of your leads.
Competitive drips. It is designed to turn those people who buy goods or services from your competitors into your customers. Alternatively, this version of the information campaign can be used for those people who are at the stage of comparing the characteristics of similar products from different manufacturers. In this case, of course, the main goal is to provide information about the advantages of your product in comparison with the competitors' one. 
Promotional drips.  At the heart of this campaign lies the application of various time-limited shares and price offers.
Training drips. Most often this variant involves conducting various mini-trainings or courses, usually a series of consecutive e-mails, each of which can be completed with a specific task for the recipient with the announcement of the subsequent message. It is also expected that a certain final result will be achieved after completing such online courses. This model is applicable both for beginners, and for involving in more active interaction of existing readers of the mailing.
The best ways to achieve great results are illustrated below:

Also searched with "Drip email campaign"
Responsive email - Responsive email is the effective way to increase email open rate...
Triggered email - Triggered email is an email sent to the authorized  person, depending on his behaviour on your website...
Hard Bounce - Hard bounce is a term that indicates that email delivery to a certain recipient fails on a permanent basis...
Newsletter - Newsletter is one of the forms of email marketing, performed as an informative email, which includes up-to-date information on promotions, new products, events, commercial offers...
Abuse Complaint - Abuse complaints can occur when someone marks your mailing as spam...
Rate this article about "Drip email campaign"
Try SendPulse today for free
If you are interested in "Drip email campaign" you might be interested in our bulk email service.
Sign Up