A drip email campaign is a sequence of emails sent during set periods to optimize an email marketing strategy and provide subscribers with more value automatically.
The video produced by IgniteVisibility explains what a drip email campaign is, the way it works, provides practical examples to use for your business and sheds light on measuring the success of drip campaigns.
Trigger Email vs. Drip Email
Drip email campaigns are often confused with trigger emails because both can be sent as a response to the user's action. The difference is that a drip email campaign always stands for a series of emails, while a trigger email consists of one email only.
If there are a couple or more emails sent to respond to a user's action, consider them as a drip campaign. Each drip email campaign with SendPulse's Automation 360 includes a trigger email as a start.
Why are drip email campaigns important?
Increases revenue
Improves click-through rate
It helps with lead nurturing
Informs well
Saves time
Convenient to create
Increases revenue. Relevant drip email campaigns drive 18 times more revenue than mass emails.
Improves click-through rate. Drip email campaigns result in 119% higher CTR comparing with regular email marketing campaigns.
It helps with lead nurturing. High-quality content in the emails within a drip email campaign helps to build trusting relationships with the subscribers, warm up leads and gradually turn them into customers, loyal ones, ideally.
Informs well. Drip email campaigns are useful for giving people all the necessary information about a product or service, uncovering their properties, and igniting customers' curiosity step by step. For instance, the first email contains essential information, like product features, price, and its purpose, the second — a how-to-use video, and the third — customers' testimonials.
Saves time. Developing a drip email campaign takes time, but after that, it works automatically without constant control. Drip email campaigns save time on various email marketing processes, like onboarding, promotions, invitations, etc., which run on their own.
Convenient to create. Email templates for a drip email campaign, whether created from scratch or pre-designed, can be built once and used multiple times. SendPulse's feature for trigger emails "Automation 360" is also convenient for users, as it helps automate different processes of email marketing — welcome emails, birthday emails, promotions, etc.
How to Create a Drip Email Campaign
Create a mailing list
Build email templates for your drip email campaign
Set the start of the flow
Add emails to the flow
Launch your drip email campaign
Step 1: Create a mailing list
Register with SendPulse. Select the category "Email" and choose "Mailing lists." Click on "New mailing lists." Name your mailing list. Leave it empty until the launch of a drip email campaign. After the launch, you can add your existing subscribers to this mailing list, and they will all get this drip email campaign as well as new subscribers that you can gather from subscription forms.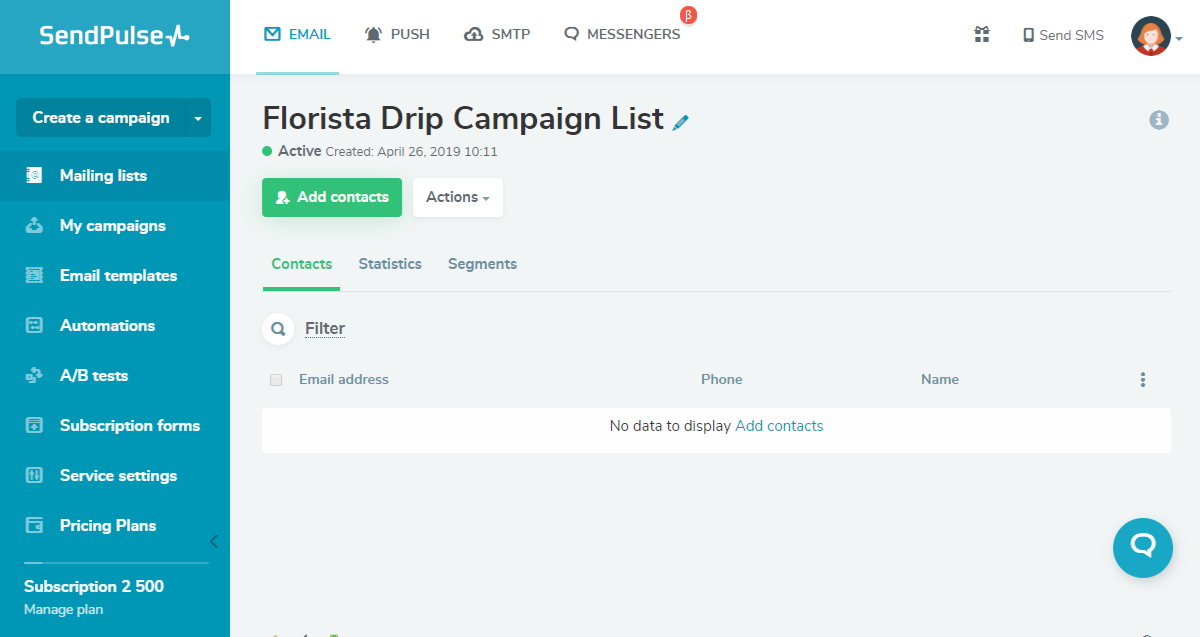 Step 2: Build email templates for your drip email campaign
Go to "Email templates." Choose a template from the previously created ones or the library of pre-designed templates. If you want to create a new one, click on "Add a template." Choose between "Layout template editor," "HTML editor," or "Template import." If you choose the first option, select the style of your template: empty, basic, news, commerce, text.
Try out our user-friendly drag-and-drop editor. Drag elements from the left-hand side into the working field and set the elements to your liking on the right-hand side. Here's how to create an email campaign.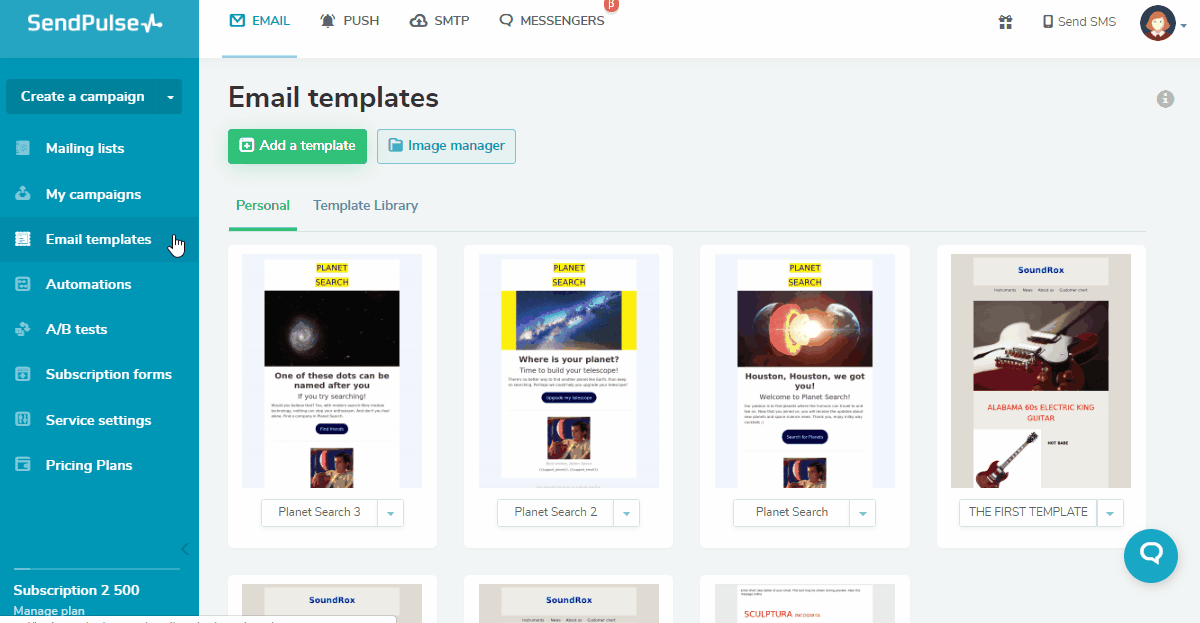 Step 3: Set the start of the flow
Go to "Automations." Click on "Automation360." Name your drip email campaign. Select the sender and type in the sender's name. Choose the preferable days and time for sending emails. Click "Apply" to continue.
Select the trigger action on the right-hand side. Choose the "Add subscriber" event to trigger the drip email campaign. Click on "Apply."
Step 4: Add emails to the flow
Drag elements from the left-hand side and connect them with the flow start. On the right, choose the time for email sending, create a subject line, and select one of the templates you've designed for this drip email campaign. Click "Apply." Repeat these actions to add as many emails as you need. Add filters, conditions, goals, and actions to increase the coverage and efficiency of your drip email campaigns.
Step 5: Launch your drip email campaign
If everything is up and running, click "Save and launch" at the right upper corner. On this page, you will be able to monitor the campaign's progress in the automation flow, check detailed messages list, and examine statistics and conversions.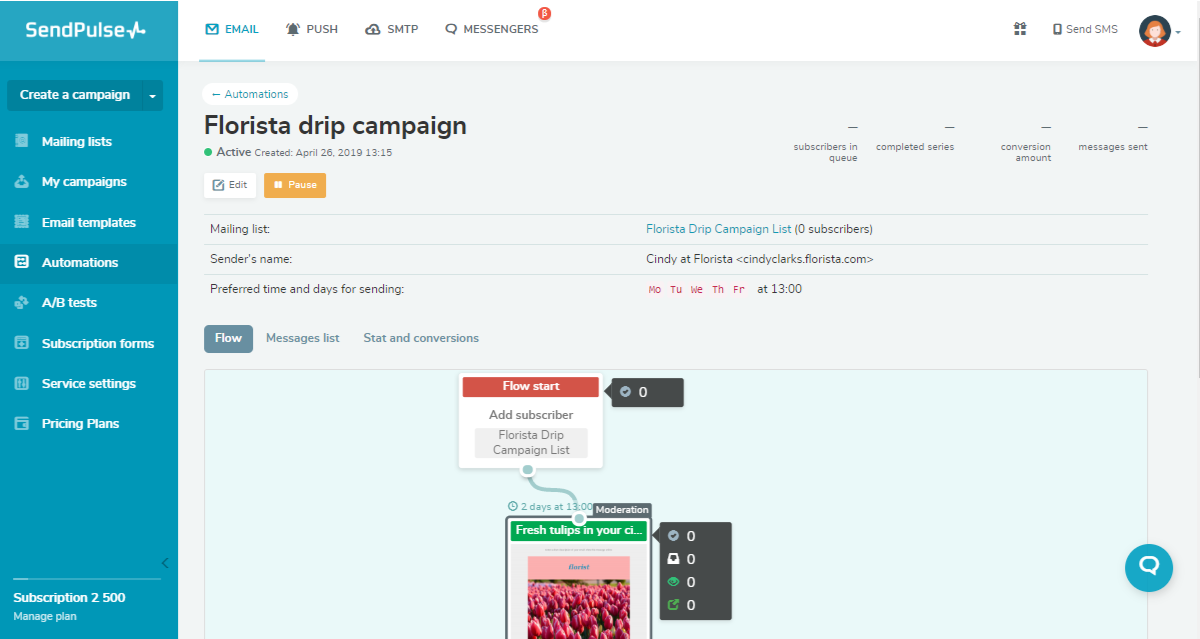 Drip Email Campaign Best Practices
Create a logical automation flow
Automate more processes
Personalize subject lines
Monitor your success
Create a logical automation flow. Develop a consistent sequence of emails for your drip email campaign. Leave time gaps long enough between emails so that the automation flow won't be overwhelming for your subscribers. Provide customers with different benefits in each email, dropping to their inboxes.
Automate more processes. If you seek to optimize your email marketing strategy, start sending different drip email campaigns to various groups of people. With a drip email campaign, you will spend less time and effort creating separate campaigns.
Personalize subject lines. Send personalized emails, using data that subscribers give you when opting in. A personalized subject line increases trust among your subscribers, so they are more likely to open an email of yours.
Monitor your success. Examine the data that you can observe after you started a drip email campaign. If some emails show lower open rates than you expected, try to change the subject line. If the CTR is low — change the call-to-actions and work more on email content.
Drip Email Campaign Examples
Bear on my Ear. This drip email campaign is suitable for a popular music blog or review website. You can use a drip email campaign to send exciting articles about musicians, their bios, and the most popular album reviews.
Homeboy Travel Agency. A drip email campaign is terrific for keeping constant contact with your audience and inform them of the most interesting facts about the world's most famous sights.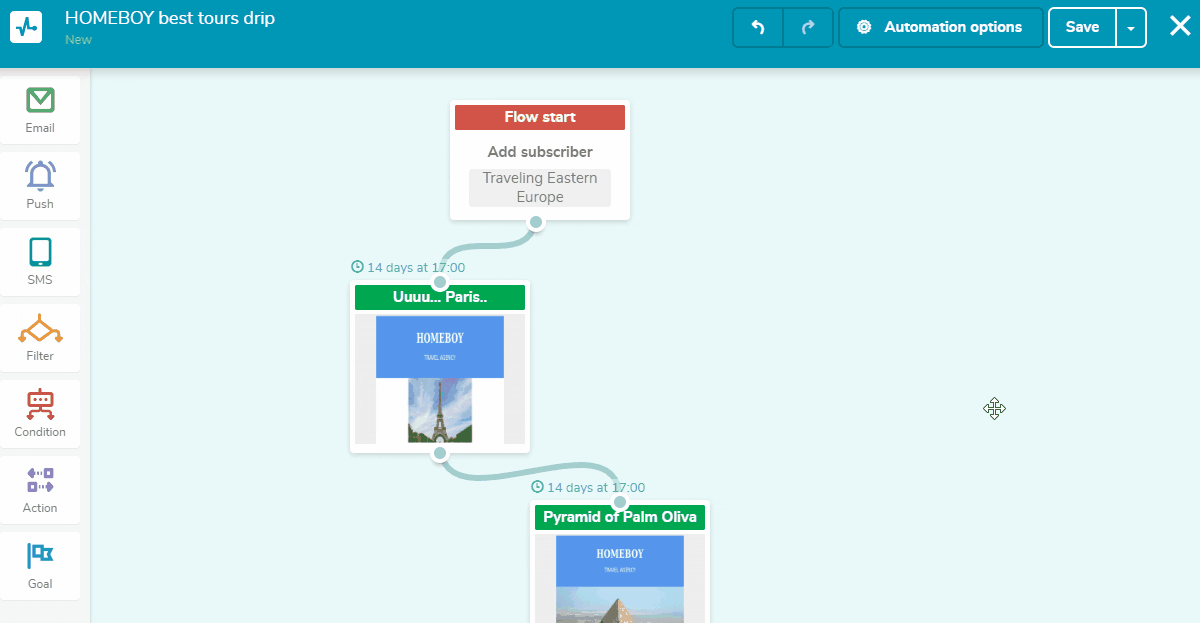 Booker T. With a drip email campaign, you can send promotions on the best selling literature for competitive prices once a month to bookshops and libraries representatives, stimulating them to order.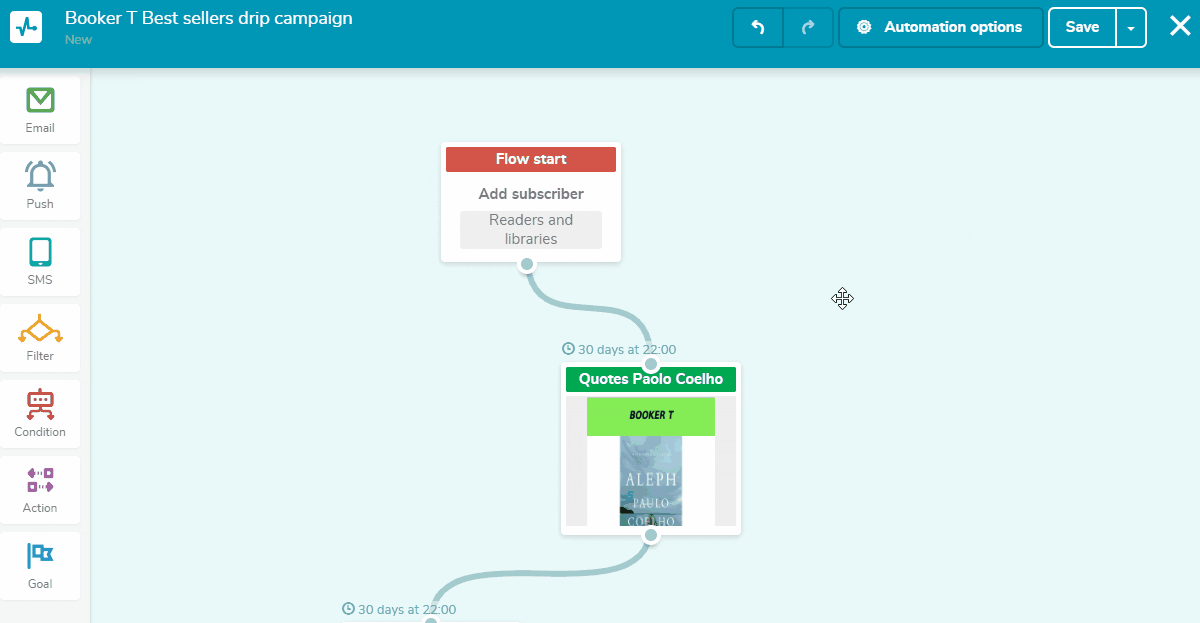 References
The article "7 Lessons from Top-Performing Drip Email Campaigns" on Neil Patel blog offers examples of effective drip email campaigns that any business may follow.
The article "The Basics of Email Drip Campaigns, Main Benefits & 5 Best Practices to Do Them Right" on Instapage defines the term, highlights the main benefits of drip campaigns, offers examples, and provides best practices.
Check out ten drip email campaign examples.
Last Updated: 06.02.2020