A subject line is the first thing subscribers see when your email lands in their inbox. They can use it to judge whether an email is worth opening. After registration with SendPulse, you're welcome to use instruments that will boost your open rate.
The SendPulse marketer in this video suggests 10 best practices for creating strong subject lines that make subscribers want to open your emails.
Tips for Effective Subject Lines
Personalize Your Subject Line
Keep It Short
Have a Balance Between the Subject Line and Preheader
Fill in the Sender's Field Correctly
Make it Intriguing
Ask Questions
Use Numbers
Create a Sense of Urgency
Use Split-testing
Use emoji
Personalize Your Subject Line
Marketers have found that emails with personalized subject lines are 26% more likely to be opened. Why? A person's name is the sweetest sound for everyone. Fortunately, email marketing is constantly developing and a user's name is not the only variable for personalization, it depends on your creativity. If you want to personalize your email campaign, but don't have all the necessary data, SendPulse offers a great solution — smart personalization.
Keep It Short
More than 40% of newsletter subscribers open emails on their mobile devices first. That's why it's better to make the subject line short, so it isn't cut off automatically. Besides, not all the users tend to read them up to the end, moreover, if it does not grab attention. Make the first words the most powerful and informative.

Have a Balance Between the Subject Line and Preheader
Don't forget about the preheader text that is displayed near the subject line. It's like a preview of your email content explained in several words. Don't make it the same as the subject line.
Fill in the Sender's Field Correctly
If you address your email from yourself, then enter your first and last name. 

If you address your email from a company, then enter the name of the company.
Make it Intriguing
People are curious, and secrets and mysteries will arouse the most interest.
Ask Questions
Questions in the subject line will make the recipient feel genuine personal communication from you. They will answer it or find the answer in your email.

Use Numbers
We like numbers because they provide us with something concrete, not abstract information. Numbers give us a better idea about a new topic.
Create a Sense of Urgency
Urgency is a great trick played by all the marketers during sales, discounts, especially on Black Friday. Due to the sense of urgency, many people make impulse purchases. 

Use Split-testing
If you are choosing between several interesting subject lines or you're not sure whether it is appropriate to use some elements in your subject line (like a GIF, emoji, new fonts), create an A/B test. It will help you to discover the best practices for specific segments of your mailing list. Read here how to create and send an A/B test in SendPulse.
Use emoji
Do you remember the last time you smiled after reading a subject line? emoji will not only make your subscribers smile but make your email more pleasant and friendly. Emoji appeal to emotions and this greatly benefits marketers. Read our article to discover the reasons why you should use emoji. You can add emoji to your emails in our service.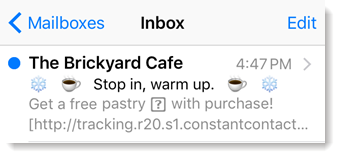 There are more methods to create an original subject line. Use humor, special values — like a free download of an e-book, some stylistic devices — rhyme, alliteration, metaphors. Be creative in your choice and do testing!
To learn more about personalization in subject lines, read this article.
Remember, you can always test all your crazy ideas to see what sticks!
Increase subscriber engagement!
SendPulse allows you to craft personalized subject lines and A/B test them to increase your email open rates. 
SendPulse instruments for high-performing subject lines
We offer several professional instruments to increase your subject line performance totally for free.
Personalization and Smart Personalization
These instruments involve inserting personal information about subscribers into a subject line, for example, name, gender and location. This makes an email relevant for each recipient and increases their engagement.
Smart personalization is useful when you don't have the same information about all of your subscribers, for example, their name. In this case, you can specify the text for those users. Thus, every subscriber receives a personalized message.
Split-testing
This is a form of research that helps determine the most effective variant of the element being tested. Create different versions and test each one to see which one performs better.
Our free pricing plan will help you enjoy all the benefits of email marketing. Have less than 2500 subscribers? Send 15,000 emails for free every month!
References
Last Updated: 2020-02-13