47% of recipients decide to open emails based soley on the email's subject line. In this article, we'll walk you through 11 effective approaches you can take to help your emails break the ice, engage with your subscribers, boost their curiosity, and encourage the open your emails.
1. Use allusions
An allusion is a literary device that refers to a historical, mythological, political, or any other well-known fact that is relevant in a particular culture or language. Marketers often use this figure of speech with naming, but you can also successfully use it for email headings and subject lines.
Here are three simple steps you can follow to create an allusion-based subject line:
Choose the keywords for your email, i.e. the words that represent its content.
Use these sources to find content to reference: think of advertisements, movies, songs, pop-culture, or proverbs.
Once you've found a perfect proverb or a phrase, replace the irrelevant words with your desired the keywords.
Choose only words, slogans, and proverbs that relate to your target audience do not sound confusing. Banana Republic, for example, plays with the name of the brand and the idiom "going bananas," which comes from American slang, to make the email relevant to the audience the company is targeting.
2. Promise value
If your email brings perceptible value to the user, tell them about it in the subject line to stimulate curiosity. For instance, Clinique promises a free makeup item and a foundation trick right in the email subject so that a recipient can see what perks are waiting for them with half an eye: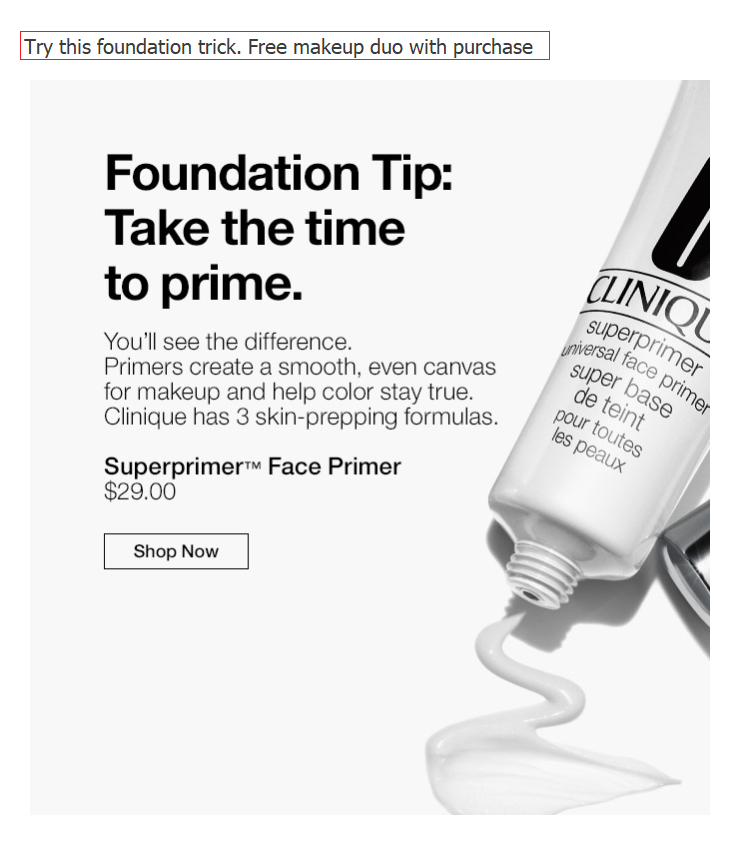 3. Appeal to pain points
If you have a clear vision of your target audience, then you might understand the problems they're struggling with. Personalize your subject line to meet the recipient's pain points and try to solve them with relevant content. Just look at the example from Buzzfeed; the brand created a subject line thay definitely appeals to their female audience: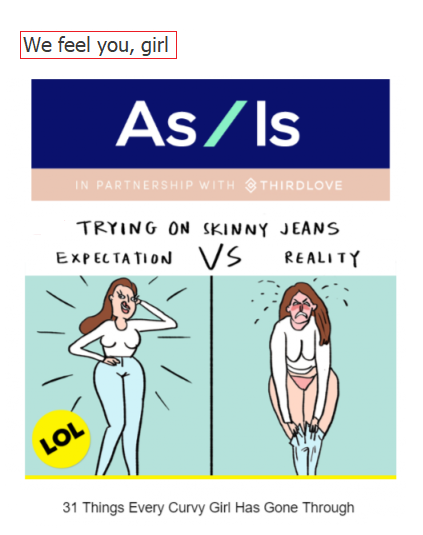 4. Stay up to date
The trick of this approach is to be just in time with the latest events, trends, or even the weather. For instance, Fashionista made a digest about the royal wedding for those who've missed it. If they had sent out this email even a week later, it wouldn't be relevant anymore.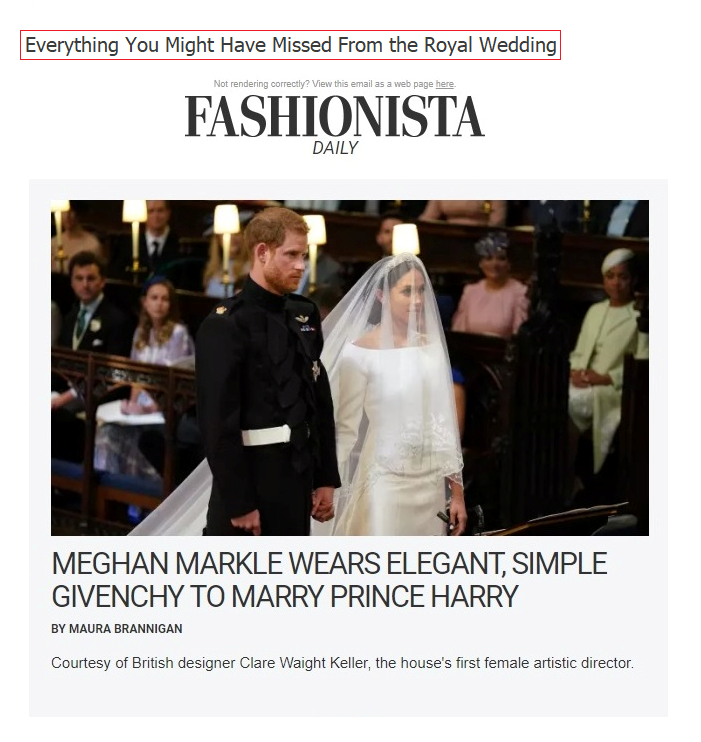 5. Show off big brands
Mentioning the brands popular with your subscribers will help you attract extra attention. Multi-brand stores often use this trick, but they are not alone. For example, in one of their subject lines, The Paper Store promoted Pura Vida brand, which was a bestseller among their audience.
6. List the benefits
If your offer has multiple advantages, show them off in the subject line of your email. You can also use this approach with welcome emails, where you describe the benefits of being your subscriber or club member — just like Vueling Club does:
7. Talk numbers
The human brain is receptive to numbers because digits help organize information in a logical order. Moreover, numbers are more believable and thus, convincing for people. Using them in your subject lines, you will not only attract users' attention, but also create the feeling that the information you are going to provide in the email is unique and will work as a real lifehack for them. For example, TopShop used this approach to talk about three different styles to wear one blouse.
8. Create a sense of urgency
This technique is not new, but it still works perfectly, bringing up to 22% higher open rates. Just sprinkle some words your that threaten scarcity or urgency into your subject line to motivate people to open your email and make the purchase. Urban Outfitters, for example, show up saying that the discount for an entire order is valid for one day only, so a recipient knows straight away what the email stores.
9. Mention the timeframe
If the timeframe is one of the benefits of your offer, state it in your subject line. It will only add value it. Skillshare, for instance, promoted their new course with 99designs, indicating its duration in the subject line of their email.
10. Create an intrigue
Create tension or leave the subject unfinished to shock your subscribers or wake up their curiosity. For instance, Messy Nessy made their email subject line sound confusing so that the users can't resist the mystery and open the email.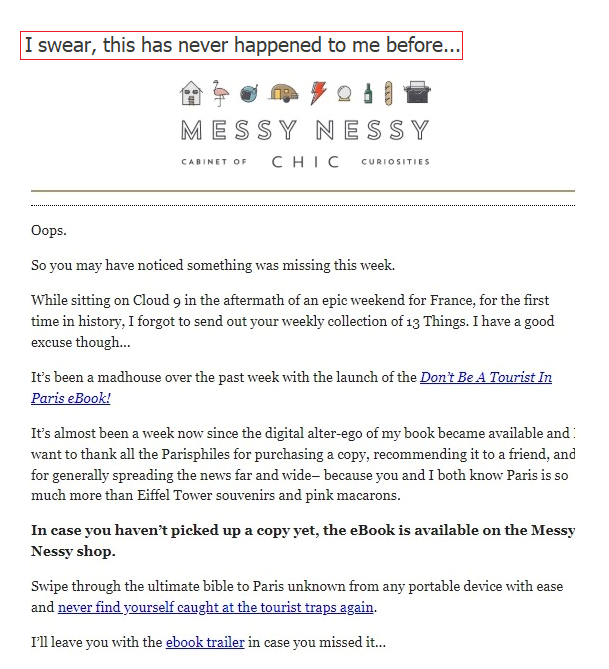 11. Fool around
Humour helps to set a friendly mood and build strong relationship with your subscribers. Do not hesitate to include jokes in your subject lines — just be careful about controversial or sensitive issues. Take a look at the example from Urban Decay. The brand is "flirting" with their subscribers saying that the offer inside the email is even hotter than a summer fling, and it's absolutely appropriate considering that their audience is mostly ladies.
Best email subject lines for holidays
They make people smile and laugh, arouse curiosity, address real-life problems, and, most importantly, make everyone want to click. Get inspired by our collection of holiday subject lines and think how you can implement these ideas in your emails.
Halloween subject line examples
Sometimes interesting insights can be found in regular things. Every year after Halloween, people throw away their Jack-o'-lantern. Cook company paid attention to this simple fact and based their email subject line on it. They asked subscribers not to throw away their pumpkins and offered pumpkin recipes in their Halloween email campaign.
"Trick or Treat" is a famous Halloween phrase that you can play around with. Spirit Airlines used an allusion to it in their email subject line — "Trips and Treat" — to offer "unboolivable" deals.
Thanksgiving subject line examples
When you know that your audience has some special needs or preferences, use that information to make relevant and valuable offers in your Thanksgiving emails.
The Feedfeed prepared an entire gluten free menu for those who feel frustrated by a traditional Thanksgiving table full of dishes, that are usually outside of their diet.
Double your sales with a fun offer to share your products with friends. Starbucks invited everyone to celebrate Friendsgiving and order breakfast sandwiches for two: a customer themselves and their friend. They noticed that when their customers come to Starbucks with friends, they tend to buy matching drinks or dishes, and organically incorporated this insight into their holiday emails.
Black Friday & Cyber Monday subject line examples
Use popular song lyrics or well-known quotes from movies to build a unique subject line. Cyber Monday happens every year, but Ace Hotel Shop found a way to bring a little more attention to it by changing the "Have yourself a merry little Christmas" line up to their context.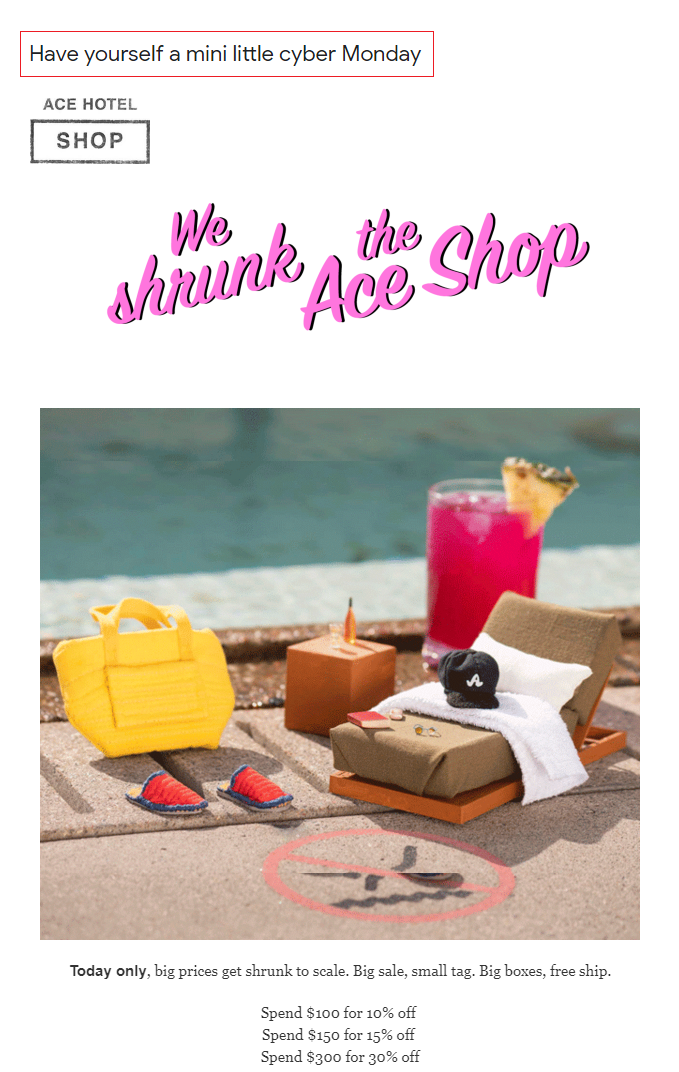 If your subscribers missed out on Black Friday deals, it's time to send out one more email and extend your offer. In their Black Friday email, MAC called all the "procrastinators" out there to enjoy extended 25% off.
Christmas subject line examples
Every Christmas, users receive tons of emails, offers, and discounts. How can you stand out? Look at the name of your company and products or simply play with the words, as BlissWorld did. Their Christmas email celebrates "Blissmas" as a fun alternative to a well-known holiday.
AirBaltic took a childhood tradition and applied it in their subject line to announce that all of their subscribers "were good" this year offering them to play a game and win presents.
To sum it up
You may choose any technique you like and use it in your email subject lines, but don't forget about testing. Each audience and each segment of the brand's subscribers is different, and your goal is to find your way to reach them.
To test different subject lines, you need to follow two simple steps:
Create two emails with the same content but different subject lines. Send one variation to 20% of your subscribers and the second one to the other 20%.
Track analytics and use the most successful option for the rest 60% of your mailing list.
To watch a video on the best practices for email subject lines, welcome to the SendPulse YouTube channel.