Mobile Marketing
Mobile marketing is a way of promoting products or services through mobile devices. With this strategy, target consumers access location and time-sensitive customized content that promotes certain products, services, or ideas. After the registration in SendPulse, you can start your mobile marketing.
According to Andreas Marcus Kaplan, Marketing Professor at the ESCP Europe School of Business, mobile marketing refers to all marketing endeavors done via a far-reaching network to which target customers are ever-connected via their mobile devices.
As from late 2015, mobile web traffic had exceeded desktop internet use, and the situation has been like so ever since. To reiterate this: a 2018 survey by Statista concluded that 52.2 percent of online traffic around the globe was generated through smartphones.
Why is mobile marketing important
Types of mobile marketing
There is a variety of mobile marketing techniques to try for a business. Such factors as budget, industry, and customer segment determine the success of the strategy. That said, below are some mobile marketing options:
How to do mobile marketing
Research your target customers. A marketer should conduct thorough research on their consumer demographic to gather useful information such as what they like, the sites they visit, the apps they use, and so forth. This information enables the marketer to create effective ads.
Leverage opportunities on social media. To effectively push a brand, marketers should create great ads that appeal to large numbers of social media users.
Set goals. Measuring the results and progress of a particular mobile marketing strategy is only possible if the purposes of the campaign are set beforehand.
Create mobile-friendly campaigns. Since the aim is to push a brand via mobile devices, it makes sense to create content, apps, or websites that are fit for mobile usage.
Perform location-based marketing. One of the most effective ways of minimizing bounce rate is by providing ads that are relevant to the target audience. Use tools such as Google Trends, GPS, and apps like Google Local inventory to send out campaigns that resonate with the target demographic.
Consider the unique features of mobile devices. Create ads that can be manipulated by different mobile device features to make the user's experience quite memorable. For instance, rather than creating video ads that cannot be paused, one can put up an advertisement that can be paused, rewound, forwarded, and so forth to enable customers to get a clearer picture regarding a product.
Offer incentives. Providing some sort of rewards or offers will encourage prospective customers to take action.
Now all this can be quite a task. But do not worry. SendPulse helps promote a brand via mobile marketing strategies. On that note, let's look at how you can create SMS marketing campaigns with SendPulse.
How to send an SMS campaign in SendPulse
SendPulse SMS service allows marketers to send out SMS to over 800 networks no matter their location on the globe. Potential customers can try the service for free by signing up after providing their name, email address, and phone number. SendPulse uses effective SMS marketing instruments to make the campaign a success. These are:
Below is a guide on how to send out effective SMS campaigns using SendPulse:
Register in SendPulse. Sign up at SendPulse by filling the SMS service subscription form.
Create a contact list. Add numbers of recipients you want to advertise to. Use SendPulse subscription form builder to grow your contact list for free. There are 4 types of forms available. Edit their style, fonts, colours to fit your brand design. It takes no more than 10 minutes to create an original subscription form.
Create SMS campaign. Provide a compelling advertisement message with relevant content, calls to action, and so forth.
Fill in all the fields. Complete all the remaining fields on the SMS campaign creation form.
Preview SMS. Look through the project to ensure it meets all preset parameters.
Send SMS campaign. Lastly, launch your SMS marketing strategy.
Mobile marketing strategy
Whether one's goal is to increase brand visibility or boost customer engagement, a business marketing campaign should include mobile marketing knowledge. Over the years, several brands and companies have invested a lot in creating effective mobile marketing strategies that reach their target audience. Mobile marketing strategies utilize the following channels:
Mobile marketing automation
Mobile marketing automation is a way to deal with repetitive marketing tasks. A top-quality mobile marketing automation tool helps businesses engage with their customers and subscribers in real time. SendPulse allows users to send targeted and segmented content at the right time with no sweat.
How to automate mobile marketing with SendPulse
SendPulse helps users send emails, SMS, and push notifications. With SendPulse Automation 360, one can send personalized and segmented mass messages to users. To automate mobile marketing:
Register in SendPulse. Sign up with a name and email to set up an account at SendPulse.
Go to Automation 360. Automation 360 is a tool that helps create and send automated emails, push messages and SMS. To proceed, choose Automation 360 in the Automations tab.
Set up events and conditions for your SMS campaign. Add as many events as you wish by selecting the "Events Manager" and add, edit or delete variables. Create an automation flow for the event and add SMS as an element. At this point, one can combine with other elements too.
Start your campaign. Begin your mobile marketing campaign and keep track of conversions. A conversion occurs when the goal of an event is met.
Send bulk SMS to subscribers with SendPulse at speed of 200-500 SMS every second!
Good mobile marketing examples
A Marketing SMS Example about a Discount Offer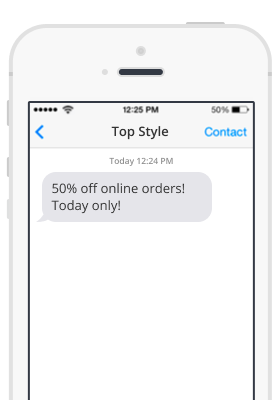 A personalized Starbucks discount message offer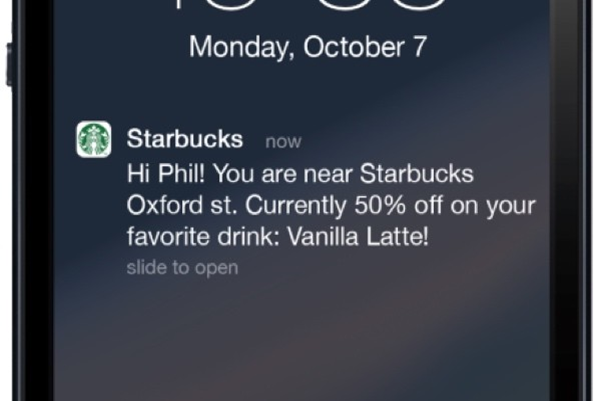 Mobile marketing best practices
What makes a good mobile marketing strategy? Here are some tips for creating one that is effective:
Also searched with "Mobile Marketing"
Rate this article about "Mobile Marketing"
Try SendPulse today for free
If you are interested in "Mobile Marketing" you might be interested in our bulk email service.
Sign Up