Business to customer marketing, commonly known as B2C marketing, is a set of strategies, practices, and tactics that a company uses to push its products or services to customers. B2C campaigns don't just focus on the benefit or value that a product offers, but also on invoking an emotional response from the customer.
B2C marketing works on the basis that customers look for goods or services to meet an immediate need. Therefore, they tend to purchase without doing much research on the product or service. With B2C purchases, users typically complete their purchase within the first hours or days of becoming aware of a product or service. For a successful B2C campaign, a business owner should understand their customers' buying habits, trends in the market, and what strategies the competitors use.
B2C promotions should be bright, easy for consumers to understand, and focused on solving the precise problem faced by their customers. With this information and the right tools, it is easy to create a campaign that triggers the right reactions from customers and as a result, drives sales.
Why is B2C marketing important?
Boosts website visits
Helps brands grow their subscriber list
Offers more refined interactions with customers
Gives businesses better rankings on search engines
Increases conversion and brand awareness
B2C marketing is vital for all businesses that sell consumer-based products or services. These include restaurants, drug stores, car companies, fashion businesses, software companies, grocery stores, and so forth. Today, however, the internet has become the most preferred channel for B2C brands to promote their goods or services and for conducting market research. Almost every B2C company wants to get a share of the $2.3 trillion e-commerce industry and shift its marketing outreach online.
B2C e-commerce sales stood at $1.5 billion in 2013, with forecasts showing steady growth to 2.35 billion in 2018. These figures show that B2C marketing is worth the investment for higher ROI and business growth. B2C marketing is beneficial in the following ways, it:
Boosts website visits: B2C campaigns are created to woo prospective customers into visiting your brand's website to earn more about your brand. 
Helps brands grow their subscriber list: when the number of leads that visit a business's website increases, the number of new subscribers also goes up.
Offers more refined interactions with customers: with knowledge about your target audience, B2C companies can send more specific messages at strategic times. Here segmentation proves to be useful.
Gives businesses better rankings on search engines: by using targeted keywords, a website can increase its position in search results. As a result, there are more chances for users to find YOUR company.
Increases conversion and brand awareness: B2C marketing strategies enable businesses to reach and connect with large audiences through bulk emailing, social media outreach, and other channels. As a result, a brand becomes popular, and conversion rates increase.
B2C Marketing vs. B2B Marketing
B2C and B2B marketing differ significantly; therefore, understanding these differences can make a brand's marketing campaigns more relevant and successful. The following is a comprehensive comparison of the two:
| | |
| --- | --- |
| B2C Marketing | B2B Marketing |
| Sells to the final customer directly. | Targets a company or business. |
| Customers are impulsive and want to see all the information about the product at once. They will rarely do more research to understand the product. | Customers are likely to do more research before purchasing and compare the product with competing options. |
| Targets the emotional drive associated with purchasing a product. | Focuses on the features and value of a product. |
| Works around benefits and desires. | Is more about the characteristics and logic. |
| The goal of customers is a personal improvement. | The aim of target customers is to power their business. |
| Makes small-scale sales for personal use. These are low-volume sales spread across many consumers. | Sales are large-scale. The customers are limited, but the purchasing volume is large. |
| Consumers make purchases instantly after seeing the product ad or within a very short time. They look for immediate results. | Customers typically go through a much longer buying process. They want to fulfill long-term goals. |
B2C Marketing Channels
Email marketing
Mobile marketing
Web push marketing
Social media marketing
SEO
Paid Search Advertising
B2C marketing has been in existence for a long time and relies on various communication channels to reach the final customer. Just like other types of marketing, growth in technology has also increased the number of marketing channels in B2C.
The most important channels for B2C marketers include the following:
Email marketing
Email marketing is a popular and effective way for consumer brands looking to increase their sales to reach the target audience. It primarily involves sending out email blasts or personalized promotional emails to new leads or loyal customers. Email marketing, however, is only useful if it is relevant to the recipients.
Mobile marketing
It is estimated that over half of all internet shoppers buy things from their mobile devices. Therefore, successful B2C companies should work on reaching mobile users through interactive and mobile-optimized promotions. Mobile marketing aims to reach mobile users through websites, apps, SMS, MMS, and social media.
Web push marketing
Push notifications are a way to deliver messages about sales, discounts, or offers to customers in real-time when they visit a website. Push notifications usually pop up on users' computers or mobile screens and help elicit an immediate response from the viewer.
Social media marketing (SMM)
SMM is the use of social media networks like Facebook, Instagram, and Twitter to promote goods or services directly to customers. It entails creating and sharing marketing content on social media platforms. Usually, B2C businesses use social media as a channel to market their brands' potential target customers, loyal clients, and the general public.
SEO
Search Engine Optimization is a natural or organic marketing process for increasing the visibility of a site or webpage on a search engine's non-paid results. Good SEO practices and tools help businesses drive more traffic to their websites and consequently increase sales.
Paid Search Advertising
This form of marketing is a type of pay-per-click advertising where brands pay for their digital advertisements to appear on the results page of a search engine like Google or Yahoo. The placement and frequency of these ads depend on one's quality score and bid.
B2C Marketing Tools
Email marketing
SMS marketing
Web push marketing
Messenger marketing
B2C marketers, sales executives, and business owners can benefit from marketing tools offered by services such as SendPulse. Here are the most prominent services:
Email marketing
Email marketing tools with SendPulse can be used to build and segment mailing lists, create and send personalized email campaigns, automate email sending, analyze subscriber activity, and monitor results. This channel assists marketers with user onboarding and moves users down the sales funnel.
Let's increase your income!
Send segmented email campaigns to convert leads to clients. We offer a free plan, ready-made templates, marketing automation, and even more.
SMS marketing
SMS marketing tools enable brands to reach prospects and loyal customers on their mobile devices. With SendPulse, brands can send bulk promotional or non-commercial SMS messages to 800 mobile networks in more than 190 countries worldwide. You can schedule SMS sending to a specific date and time or choose gradual sending at defined times. You can perform B2C marketing with SendPulse at speeds of up to 500 SMS messages per second.
Web push marketing
SendPulse helps brands send browser push notifications about sales, exciting updates, new content, and products that get the attention of visitors and drive traffic back to websites. They are easy to set up and work on most browsers, including Chrome, Opera, and Firefox.
Messenger marketing
You can promote your products via messengers as well as answer users' frequently asked questions, help them order, and register for events using a chatbot. With SendPulse you can create a chatbot for Facebook Messenger and Telegram and send up to 10,000 messages every month at no cost.
How to Start B2C Marketing with SendPulse
Register in SendPulse
Choose the optimal channel or mix them
Upload a mailing list or grow your current list
Send your marketing campaign
Monitor results and improve strategy
Consumer-based companies can achieve B2C marketing success with SendPulse for free. Follow these steps to create and send B2C campaigns.
B2C Marketing Automation
Marketing Automation is essential, especially for B2C companies, as it simplifies and optimizes most marketing tasks. With SendPulse Automation 360, you can automate marketing campaigns across multiple channels. This automation tool lets you send triggered messages after customers perform actions such as making a purchase, registering on the website, abandoning products in their carts, or any other event you specify.
To get started with Automation 360:
Sign up. Add an event to be tracked, such as a «Add subscriber,» when a visitor joins your mailing list.
Create an email, SMS, or web push message to send when the event is triggered.
Start the automation flow.
Track conversions.
B2C Marketing Examples
See how Habitat tempts its customers to buy the products at reduced prices.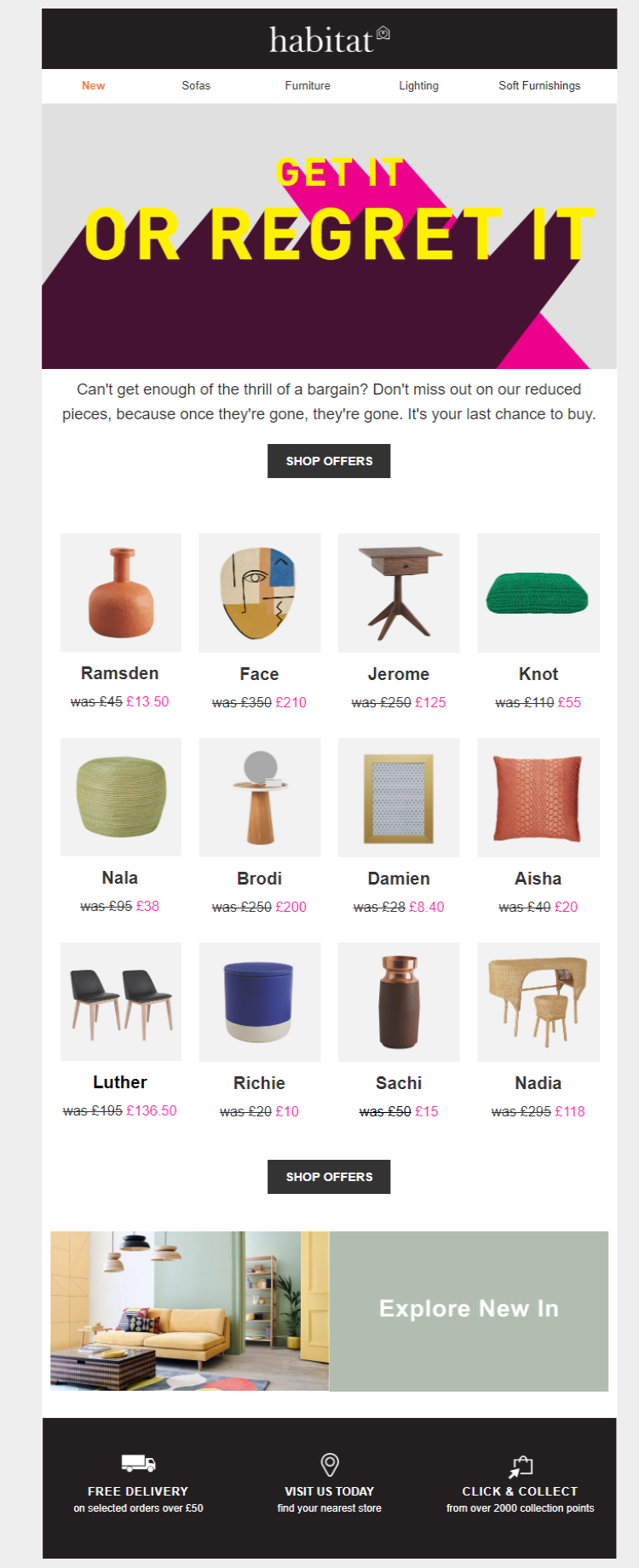 Check out another example of the B2C tactic to increase sales. Skiphop offers a free shipping day for all the orders.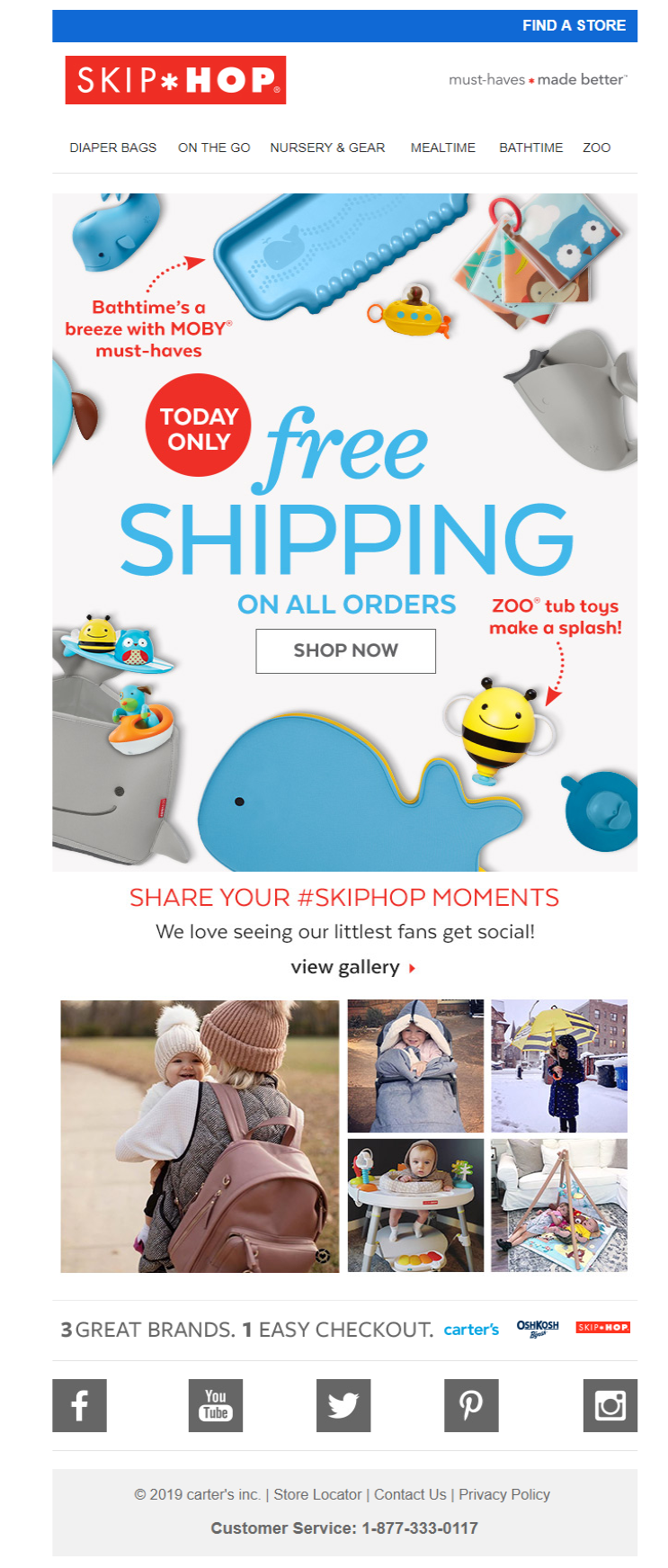 Look how True Citrus takes advantage of Valentine's Day. They offer generous, time-limited sales to push clients to make a purchase.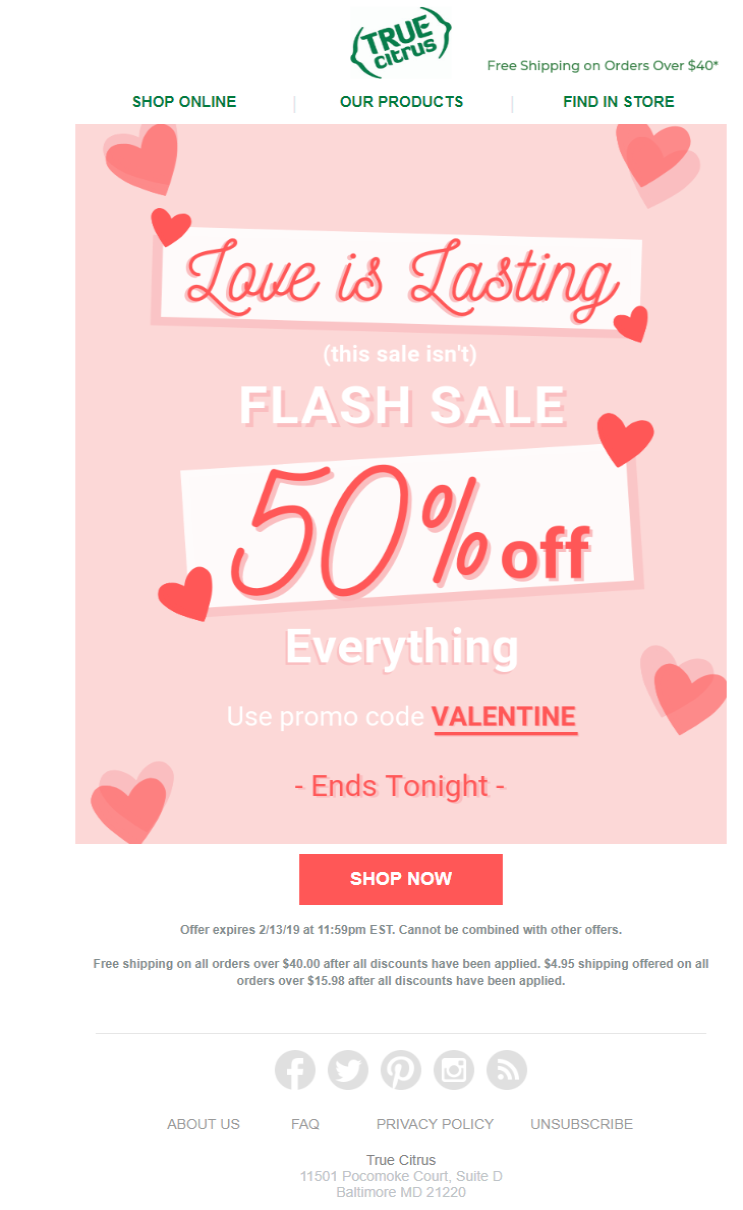 B2C Marketing Tips and Best Practices
Ethically collect recipient addresses to avoid being blacklisted. A permission-based marketing approach is the choice of a good marketer.
Categorize your leads and keep detailed buyer profiles.
Create catchy headlines on landing pages to pull in the potential buyer.
Create personalized, interactive, and engaging content to attract and enhance the customer experience with the help of segmentation.
Optimize marketing messages and web pages for mobile.
Start B2C marketing, grow brand awareness, and increase sales with the help of SendPulse today.
References
Last Updated: 2020-04-30