User onboarding is the process of users getting acquainted with an app, platform, or service and becoming proficient in it. It involves initial experience, training, and goal setting.
In this article, we'll uncover the importance of user onboarding and how to use it. We'll also review how to measure user onboarding success and provide some examples.
Why is user onboarding important?
Showing customers how to use a product is essential since it helps them realize the value of your product fast. To reduce customer churn and dissatisfaction, you should design a seamless and fast user onboarding strategy. Since the competition is increasingly high, you need to be ready to provide consumers with all the necessary materials to become proficient in using your product.
A huge number of SaaS products and low switching costs enable users to change companies without losing a thing. So, if they don't instantly see the value of your product, they can decide to search for another brand.
Effective onboarding allows users to handle the product fast and learn everything they need to obtain value. This way, you'll increase customer satisfaction and productivity. With successful user onboarding, customers won't need to spend extra time to figure out how your product works and how to make the most of it.
Now that you know why user onboarding is crucial, it's time to unveil how to do it.
How to do user onboarding?
To bring customers all the benefits of your product, you need to ensure a healthy onboarding process. We'll show you how to combine your efforts and knowledge to provide value and increase productivity.
Ask customers why they need your product. Since user onboarding focuses on customers' success and value, understanding customers' needs is your top priority. Usually, consumers have several goals they want to accomplish with your product. If you want them to stay with your brand as loyal customers, you need to help them attain their targets. There might be different goals: personal, social, and functional. To find out these details, consider interviewing existing users. Ask why they choose your product and identify their successes with it.
Find out what success means for users. To develop onboarding flows for different situations, you should know the final goals. You can't create a user onboarding strategy that meets all use cases. However, you can show customers the solution they look for. The faster you show it, the bigger the chance of them becoming your long-term users. You should be ready to provide each user with a solution. For instance, if you teach users how to use your CRM, you can help them reach several goals: monitor all deals and their statuses, store users' information securely and track the changes in orders.
Break tasks into small steps. You don't need to overwhelm users with excessive information. Onboarding should be step-by-step. Break down complex tasks into pieces so that users can finish them without feeling tired. Ask for simple actions customers can complete. During this time, your users can discover some new features by themselves. It helps them know your product better and perform tasks they need.
Show customers' progress. If you want to motivate users during their journey, share their progress and appreciate their work. Demonstrate the number of steps users have to take to finish the task. It will help you figure out the time they need to complete a specific number of steps. Ensure that your tasks are skippable. If prospects aren't prepared for the task, they can proceed to the next one. Every user wants a short onboarding, yet it's necessary to pass through several modules to reach success fast.
Ensure educational content. If you don't provide your users with engaging content, they can get bored and finally stop discovering your product. You need to find a balance. Don't leave users alone, and don't overperform with tasks and materials. You should guide your customers through your product and provide them with time to explore the features independently.
Give them some time to learn additional materials and find something useful. Once you identify your users' intent, you can ensure the information they need. Let's say you have an online course builder and want to guide your users through the process of creating appealing courses. For example, there's a user who wants to find out more about the process of designing tests. Provide this person with all the necessary materials. You can invite this user to watch a tutorial, send useful links, and share some important facts.
Track the user's onboarding process. Besides having personalized onboarding, you should also have a tracking system. It will help you understand who and when churns out. Moreover, monitoring users allows you to understand how people use your product, what issues they face, and what initiates disappointment with your onboarding. Having all these facts in mind enables you to improve your user onboarding strategy and reduce the churn rate.
Now that you know how to onboard, it's time to find out how to measure it. The following section will help you figure out whether the process you design satisfies your customers.
How to measure user onboarding success?
You need to track multiple metrics to understand whether your user onboarding strategy is healthy and successful. We'll list crucial measures you need to ensure an excellent experience discovering your product.
Identify engagement rate. The engagement rate highlights the percentage of active users of your product. To calculate the measure, consider segmenting users into groups based on the date they started onboarding. Afterward, find out the percentage of users who use your product every day, week, or month. You need this metric to change your onboarding strategy and see if it's successful. After optimizing it, you'll be able to increase user engagement and the quality of your onboarding process. Moreover, fewer people will churn out.
Find out the retention rate. This metric indicates the percentage of people who stay with your product over a specific period of time. To estimate the retention rate, you need to divide the number of users who signed up on a specific date and haven't churned out yet. If the percentage of users retained is low, you need to work on your short-term retention rate. Consider simplifying your onboarding and improving user experience and see the reaction of your users. If they are satisfied, your retention rate will improve.
Check out the free trial conversion rate. It's the percentage of users who joined the onboarding after signing up for a free trial. These people turn from free trial users into paid customers. After you get paid customers, you can ask for feedback and find out whether your onboarding communicates the value of your product.
Monitor the completion rate. The completion rate indicates the percentage of users who passed the onboarding. This metric tells about the effectiveness of your onboarding and the number of users who plan to convert. If you see that many potential customers don't complete the onboarding process, it means they have some complications. You need to fix the problem so that they don't leave your company.
Now that you know the indicators you should track to assess the effectiveness of your onboarding strategy, it's time to see some examples. The next section will inspire you to ensure seamless user onboarding for your potential clients.
User Onboarding Examples
You can find numerous examples of successful user onboarding. In this section, we'll review several of them to inspire you to provide an exceptional experience with your brand.
Duolingo and product experience
Duolingo has nothing similar to other language learning apps. It incorporates gradual engagement which starts with user onboarding and then invites users to signup for the platform. This is a very clever step since people can test the app before registering. Deferred account creation enables users to postpone the signup process until they are sure the app is their perfect solution. Potential customers are allowed to use the core features to learn a new language without having to register. This way, people can understand the product's benefits and obtain the desired value.
TikTok and value
TikTok unveils its algorithm during the onboarding. To improve users' experience, users have to watch, like, and comment on videos they like. This way, the platform will understand their preferences and find the necessary materials. When new users onboard the platform, they are explained how to switch videos. Moreover, TikTok doesn't require users to instantly register within the platform unless they want to like and comment.
Tumblr and personalization
Tumblr focuses on ensuring personalized experience and uncovering product value. Once users decide to sign up, they can see explanations of a platform and set their expectations. To provide a personalized experience, Tumblr asks users to choose multiple interests.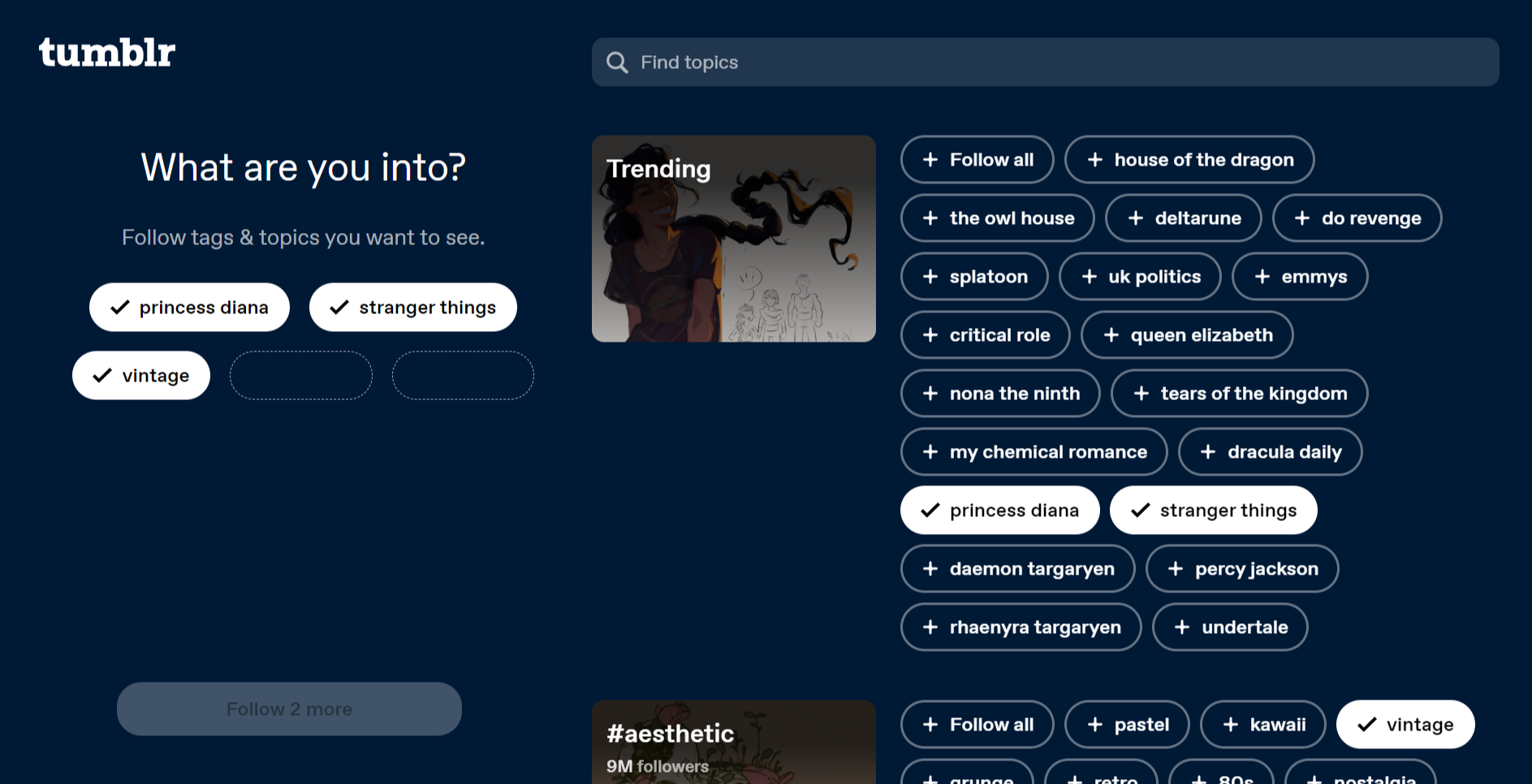 Congrats, now you know what user onboarding is and why it's essential. Use our guide to make your onboarding seamless.
References:
This article defines the term and unveils the main metrics to evaluate it.
In this article, you'll find some excellent examples.
Last Updated: 23.03.2023