Customer loyalty is a measure of a customer's likeliness to do repeat business with a company or brand. It is the result of customer satisfaction, positive customer experiences, and the overall value of the goods or services a customer receives from a business.
When a customer is loyal to a specific brand, they are not easily influenced by availability or pricing. They are willing to pay more as long as they get the same quality product or service they are familiar with and love. Other characteristics of a loyal customer include the following:
they are not actively searching for different suppliers;
they are more willing to refer a brand to their family and friends;
they are not open to pitches from competing companies;
they are open to other goods or services provided by a particular business;
they are more understanding when issues occur and trust a business to fix them;
they offer feedback on how a brand can improve its products or services;
as long as there is a need, they will keep purchasing from a business.
All businesses should strive to improve customer loyalty to keep clients purchasing and make them promote their brand to new audiences. With email marketing, brands can boost relationships with their existing customers, in turn, improving loyalty. Email marketers build relationships by sending relevant campaigns that increase retention and build customer loyalty, thereby yielding quicker growth than other marketing strategies.
Why is customer loyalty important?
Repeat customers spend more than first-time customers
Loyal customers produce higher conversion rates
It boosts profits
Retaining an existing customer is cheaper than acquiring a new one
Customer loyalty helps in effective planning
Loyal customer shop regularly
Repeat customers spend more during the holidays
Regardless of the size of a company, customer loyalty is essential. First-time customers are harder to convince because they do not have any experience with the services or goods offered by a business. As such, the brand needs a comprehensive marketing funnel to get them to purchase. However, customers who have already shopped from a particular store are more accessible to sell to because they know what to expect.
That said, here some reasons why customer loyalty is essential:
Repeat customers spend more than first-time customers. They have a way higher average order value that increases with the duration they have been doing business with a brand. 
Loyal customers produce higher conversion rates. Existing customers have way higher conversion rates than new ones. The average conversion rate of a loyal customer is 60% to 70%, while that of a new one is 5% to 20%
It boosts profits. To enjoy better profits, brands need to foster customer loyalty. Business profits go up by 25% to 95% when customer retention rates are increased by only 5%.
Retaining an existing customer is cheaper than acquiring a new one. It is cheaper to keep an existing customer than to bring a new one on board. Studies show that getting a first-time customer is 5X more expensive than retaining a loyal one.
Customer loyalty helps in effective planning. Customer loyalty enables businesses to predict growth more effectively, thus helping in financial planning. Marketing teams can identify committed customers who can be relied upon hence making it easier to make anticipatory decisions based on their budget.
Loyal customer shop regularly. Given their good experience with a brand, repeat customers have higher chances of returning. Moreover, their likelihood of making future purchases increases as they make more transactions.
Repeat customers spend more during the holidays. While all customers tend to spend more on busy holiday seasons, loyal customers tend to perform way better. 
Even though 82% of U.S. adults say they are loyal to companies, many businesses focus on acquiring new customers. Research shows that 44% of companies still pay attention to customer acquisition, while only 18% implement strategies aimed at boosting retention.
One of the things brands can focus on to build customer loyalty is meeting and even exceeding the expectations of their customers. A staggering 89% of businesses say that customer experience is critical for driving customer loyalty and improving retention.
How to Build Customer Loyalty
Reward loyal customers with a loyalty program
Make customer care a priority for the brand
Boost customer experience by introducing VIP tiers
Segment your clients
Send event-based emails
Optimize the businesses' referral program
Encourage customers to give feedback and act on it
A business needs to make its customers happy because happy customers will be willing to spend more money on its products or services more often. This and other benefits of having a good relationship with customers should make any business invest in building customer loyalty. Here are some practical ways to do that.
Reward loyal customers with a loyalty program
A reward system for the most loyal customers is a great way to keep them coming back. The simplest and probably the most popular loyalty programs use a point system, that is, customers earn loyalty points every time they buy from the brand. Then, these points, when accumulated, earn them a reward, e.g., discounts, special client treatment, freebies, etc.
Another type of loyalty program is a card-based system where customers get rewarded for loading up and spending money through the card. With a loyalty program that rewards customers — with monetary or non-monetary gifts, people will feel compelled to keep coming back.
The Merci loyalty program from SendPulse rewards customers for being active users.
Make customer care a priority for the brand
A vital part of any business is customer service. An effective client relationship management strategy translates to more focused solutions for specific customer needs. First, learn all you can about the brand's different customer segments, including their buying habits, favorites, feedback about products, or the brand as a whole. Use this information to improve the service. Also, make sure employees dealing with customers directly have the information that they need to serve customers effectively.
Boost customer experience by introducing VIP tiers
Social status is a great motivator and influencer of customer behavior and can be leveraged in a business's customer loyalty strategy. By adding VIP tiers for the most loyal customers, a company can boost loyalty among existing customers and entice new and less engaged customers to interact more with the brand. Start with smaller rewards for all customers who are in the program, then encourage repeat purchases by increasing the rewards for each step up the loyalty ladder.
Forever 21 approaches its VIP clients with a unique 50% discount offered via an email campaign.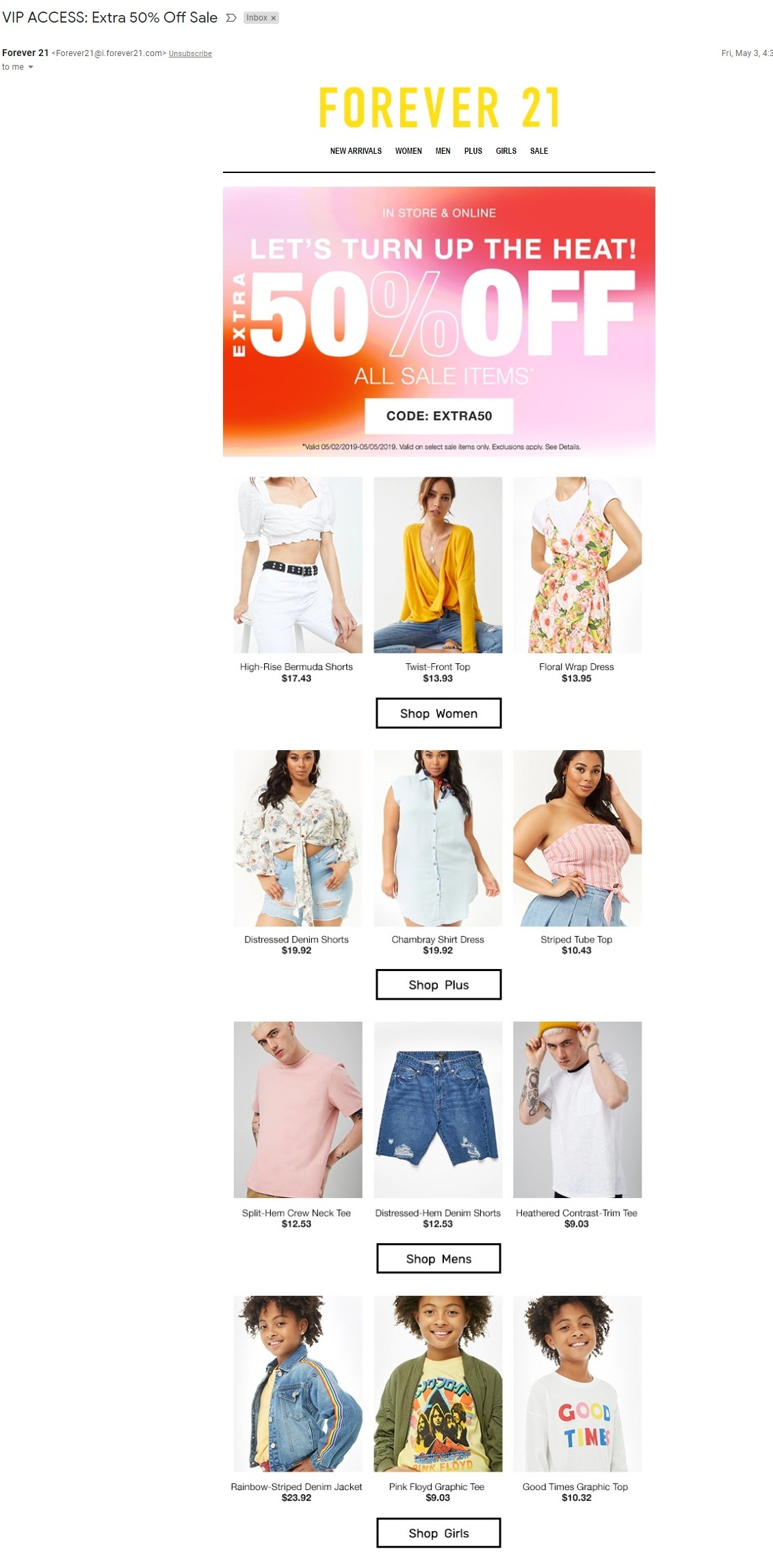 Segment your clients
It's difficult to imagine any customer loyalty program without a personalized approach. It allows every client to feel special and cared for. To be at the right time with the right message, make use of segmentation. It will enable marketers to divide their mailing list into segments according to age, gender, geographic location, occupation, preferences, interests, engagement, and so on. Then, they craft different email campaigns with relevant offers to each group. This way, every subscriber receives what they want. SendPulse offers ready-to-use segments based on user activities.
Send event-based emails
This is the best way to personalize communication with your customers. Stop sending the same email to the entire mailing list and choose event-based marketing. This means that every time a user performs a specific action interacting with your brand, you respond to their efforts with the relevant email automatically. A new user subscribes, an abandoned shopping cart, order placement, booking a tour — these are the events that trigger sending the corresponding email. No need to do it manually, rely on a marketing automation service. Automation 360 allows users to send personalized emails, web push notifications, and SMS to thousands of customers in one go. Find out more about triggered emails in SendPulse in this article.
Below is an email flow triggered by an abandoned shopping cart.
Optimize the businesses' referral program
Consumers trust recommendations from a friend or family member over other forms of markets when buying a product. That is why creating a program where customers can get rewarded for recommending the brand to other people is so important. Boost the referral program by offering rewards for both the senders and receivers, encouraging customers to spread a word about the brand on different channels, and creating motivating and shareable referral messages.
Example of a referral program from SendPulse:
Encourage customers to give feedback and act on it
Make it easy for customers to reach the brand and encourage them to provide feedback. Ask them why they prefer to buy from the brand as opposed to competitors and areas they think the business could improve. Also, set up a dedicated line of contact for customers who have an issue to get assistance with. Lastly, always thank customers after they give feedback and use it to identify problem areas in the business.
Bonobos give subscribers a 10-minute survey to improve the service.
How to Measure Customer Loyalty
Lifetime value
Churn rate
Referrals
Net promoter score
Marketers can measure loyalty by looking at customer behavior. Repeat customers make more purchases, stay customers for a long time, and make referrals. All of these things can be easily measured. So, here are the metrics for determining loyalty.
Lifetime value (LTV). Lifetime Value refers to the total amount of money shoppers spend on a brand right from their first to their latest purchase. Marketers can get this metric from various subscription payment systems. Increasing Lifetime Value is a good indicator of loyalty. To boost lifetime value, brands need to develop relationships with customers, cross-sell, and upsell. 76% of companies see LTV as an essential concept.
Churn rate. This is all about customers who cancel or disengage. Marketers determine this metric by calculating the percentage of customers lost based on the number of customers at the start within a specific timeline. To get the user churn rate, divide the number of customers churned by the number of customers at the beginning. The percentage can help marketers understand the number of customers lost monthly or quarterly. Another more critical churn metric is revenue churn. It allows businesses determine churn in terms of lost revenue as customers cancel. Revenue churn presents a more accurate picture of how business is going.
Referrals. A business that runs a referral program can keep tabs on the number of new customers who register based on recommendations. By measuring referrals, a brand can track not just new conversions but also customers who are satisfied enough to tell others about it.
Net promoter score. NSP estimates a customer's intent to tell others about the brand. Though this metric does not tell the business if the customer recommends the product or brand, it helps the company to find out the general loyalty rate of its users.
Customer Loyalty Examples
Below is an email from Starbucks offering a reward (food or drink) to a customer after they collected 125 stars from their interactions with the brand.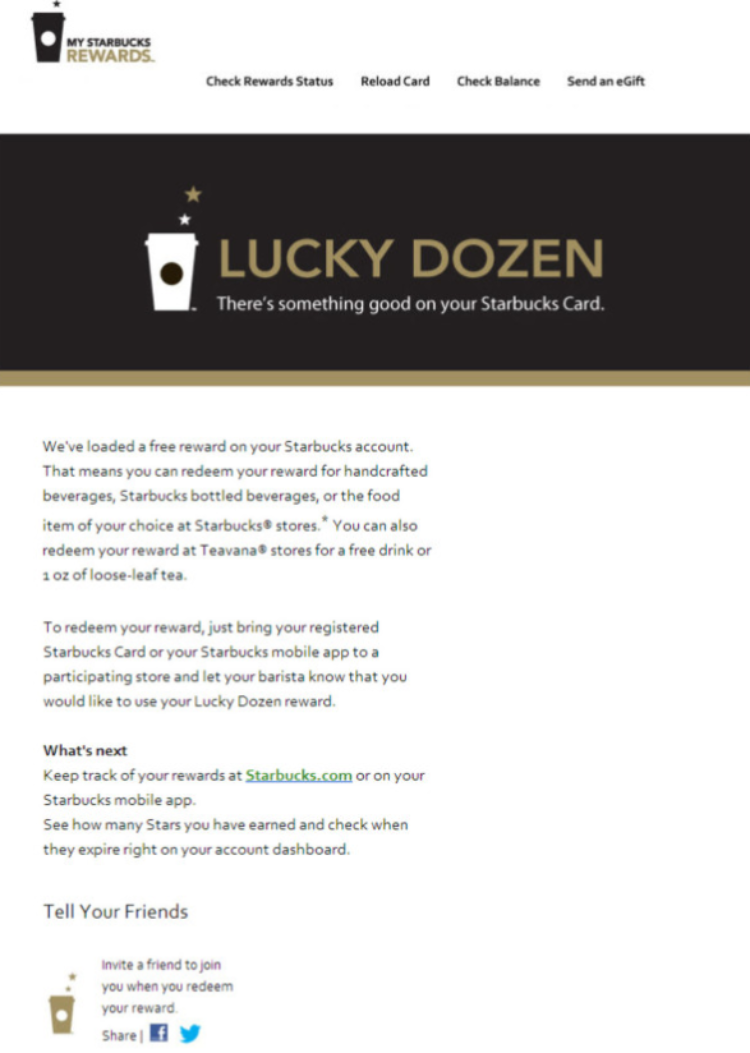 This email from David's Tea appreciates the customer making them feel valued and loyal to the brand.
Below is an email from Uber providing a discount offer to a customer.
Additional Tips to Increase Customer Loyalty
Make the loyalty program visible on the site: the more visible and accessible it is, the more likely that customers will engage and value it.
Speak the customer's language to make the brand relatable: use words and emoji that your audience can understand.
Offer flexible payment plans: for example, customers can pay for a product little by little through flexible monthly plans.
Come up with ways to frequently communicate with customers: send warm birthday and anniversary email wishes, reminders, recommendations, or monthly newsletters to keep customers engaged.
Build emotional relationships with customers for long-lasting loyalty: show each customer how valuable they are to the brand by creating an experience that caters to their specific needs.
Last Updated: 06.10.2023