Web push notifications
Web push notifications are notifications that appear on the desktop of the subscriber's PC, even if the computer or browser was offline at the time the notification was sent. Web push channel is a great addition to traditional email and SMS campaigns. It is the quickest way to deliver a message to a recipient — he only needs to click on it.
Web pushes is the perfect choice for «hot» advertisements: discounts, sales, new collections – these things push a client to buy something right now. Web push is the best variant due to its delivery speed.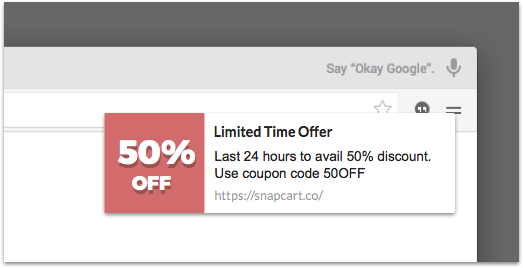 Push notifications are supported by such browsers as Google Chrome, Safari, and Mozilla Firefox.
Pros of web push notification in comparison with email
Subscriber will see a web push even if he closed a tab or a browser;
Web pushes appear on a screen without any additional actions of the user. He doesn't need to check the inbox and open a message;
The average reaction time to a web push is 2 seconds, while email needs from one hour.
A web push can contain
Link to a web-page;
Image;
Title;
Body (text).
While creating a web push notification you decide what information will be shown in the message.
To send web push notification, you need to:
Get the user's permit to receive your notifications;
Get the recipient's token – address in the systems of web pushes delivery.
Why is web push notification effective?
Opt-in – user's permit to receive web pushes. There are no bought mailing lists. Web push saves subscribers from spam and security leakage.
You can segment your audience for better results.
You can send personalized offers for every subscriber, basing on his previous purchases and products he has looked for before.
Carry out A/B tests, track the effectiveness of you campaigns: deliverability and click-throughs. Every link in the email has UTM-marks, with the help of which you can check your campaign's performance in any system of analytics.
Evaluate the best features of web pushes right now!
Also searched with "Web push notifications"
Segmentation - Segmentation is the possibility of dividing your customer base into groups according to certain criteria...
RSS-Driven Campaigns - This type of campaigns is connected directly to the blog content...
Integration - All modern email marketing services support integration with a wide array of third-party systems...
Email Newsletter sending - Email Newsletter sending is a means of sending communications, group announcements, and advertisements...
Rate this article about "Web push notifications"
Try SendPulse today for free
If you are interested in "Web push notifications" you might be interested in our bulk email service.
Sign Up