Push notification marketing is an advertising strategy whereby marketers inform their target audience about services and products via browser notifications on an array of devices. SendPulse offers absolutely free web push service if your database is less than 10,000 subscribers.
Push notification is a common advertising format that works for any service, product, and CPA offer. Marketers send both promotional and transactional messages. Transactional notifications come into play to notify clients of their order status. With promotional ones, brands advertise their goods, increase brand awareness, and maximize sales. It's a great chance to inform users about the latest news, communicate useful information concerning brand apps, new features, and so forth.
Why is push notification marketing important
Better outreach. The number of smartphone users is forecast to reach about 2.5 billion in 2019. Thus, when businesses use push notifications, they showcase their products and services to a larger section of the smartphone-using market.
Security. Google API controls push notifications, thus guaranteeing user information safety and preventing the selling of customer data.
Higher engagement. Push notifications enable brands to increase app engagement by 88 percent. Moreover, they allow businesses to drive visitors back to a website. Some of the ways brands can engage with subscribers include sending relevant information, reminders, and regular updates.
Useful insights. Push notifications provide valuable stats regarding open rate and CTR to improve your strategies.
Cheap communication channel. With push notifications, you can promote your brand at a more favorable price. However, push service is a completely free feature in SendPulse if your database is less than 10,000 subscribers.
Push notification types
Push notifications can be broadly classified into two different types. These are:
Mobile notifications
These pop-up messages are sent by a mobile app to users. Similar to browser push, mobile push notifications can be used to send news, offers and sales alerts, events reminders, prompt users to perform a particular action and so forth. A mobile user should install the app to receive mobile notifications.
Browser notifications
These are browser alerts that a visitor allows to receive while visiting a website. Marketers send them to notify of sales, news, events, promos. This type of push alerts allows brands to enjoy the benefits of push notifications without an app. SendPulse enables websites to easily set up personalized browser notifications that stand out on multiple browsers including Google Chrome, Firefox, and Opera.
Boost sales and user engagement!
You can easily create a push campaign for free to keep your customers engaged, notify about sales and new articles on a blog.
How to do push notification marketing in SendPulse
Follow these steps to send browser notifications:
Step 1 — Sign up in SendPulse
Register in SendPulse if you don't have an account by adding a name, email, phone, and password.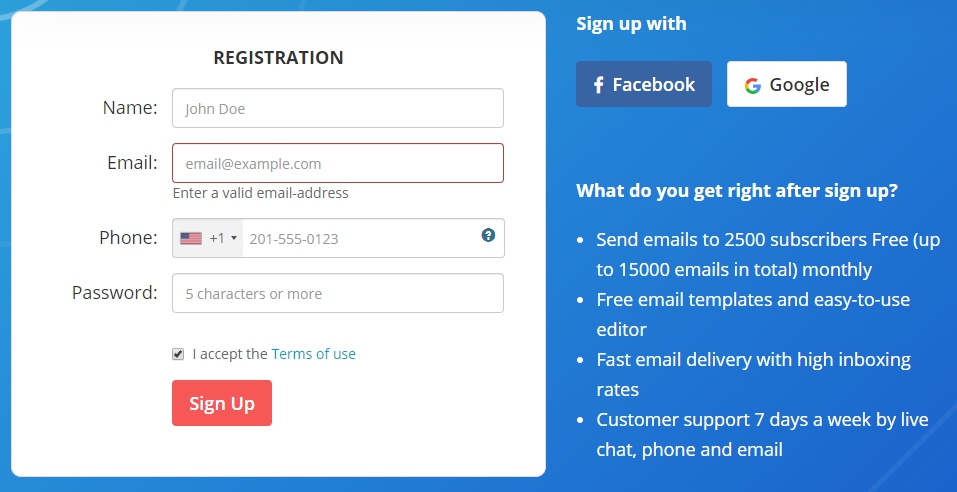 Step 2 — Add your site
Select web push and then click on "Add new website" to begin creating a web push campaign.
Provide the domain address, website image, and choose a subscription request or add a custom one.
Step 3 — Add the script generated to your site
After adding the website, the code is created automatically. Copy and then paste it to the website.
Step 4 — Send push marketing campaigns
Click on "Create a push campaign" and add a title, text, recipient list, and web push link. Then just start sending web push campaigns.
Web Push Monetization
You can use push notifications not only to notify subscribers of new events or offers. Businesses with a list of web push subscribers can monetize their sites as well.
Get additional income by monetizing your website
Websites can make additional income by allowing advertisers to send web push ads to their subscribers. To do so:
Activate web push ads in your SendPulse account
Set sending frequency
Get money per click
Advertise with Pushpush
PushPush allows website owners to make money from advertisers promoting their businesses to recipients. It is easy to set up, pays every week and gives a comprehensive performance report.
Push notification marketing examples
This is a way to inform the clients about the discounts.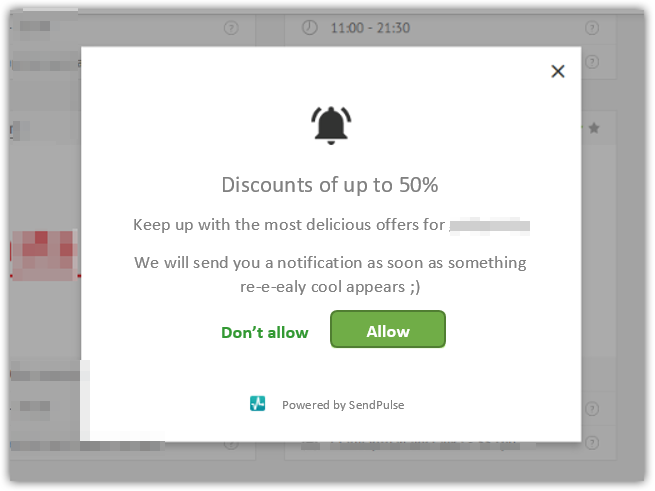 Popsugar use push notification marketing to promote their training programs.
Below is the way to inform users about new articles on your website.

Push notification marketing best practices
Use web push to send transactional alerts such as delivery notifications.
Make use of personalization and segmentation features offered by different browsers.
Use push alerts to remind customers of abandoned carts.
Add brand images and icons to attract attention instantly.
Create an account and launch a push notification marketing campaign with SendPulse!
References
Here you'll get to know how 7 companies use push notifications in their marekting to boost user engagement.
The article provides 4 tips for your push notification marketing strategy.
Get inspired by 7 types of push notifications users enjoy.
Start push notification marketing
Last Updated: 2019-11-06