Drive visitors back to your website
Message that is hard to miss
Send instant notifications to your subscribers' devices. An ideal solution to quickly inform your customers about news, sales, order status, or other important events.

Now please allow web push notifications

Looks like you blocked web push notifications from sendpulse.com. Unblock web push to send a test notification

Great! A notification is shown on your screen!
Hi there!
It's a test web push
Trigger and bulk messages
Send push messages via your personal account or set up automatic messaging when certain conditions are met.
Segmentation and personalization
Users of your site can receive personalized notifications. The messages you send out can be segmented based on each user's location or other details.
A/B testing
By testing several variants of the message, you can significantly increase your open rate.
Notifications in system
Push notifications now work on over 80% of devices, on all modern browsers, computers (Windows, macOS, Linux) and phones.
Google Chrome
(Windows, Mac OS, Linux, Android)
Firefox
(Windows, Mac OS, Linux)
Opera
(Windows, Mac OS, Linux)
Flexible platform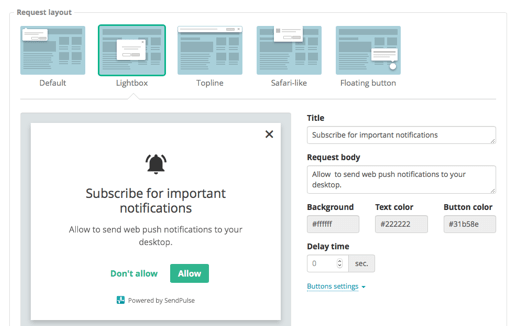 Custom subscription requests
You can set the time for showing subscription request window for web push notifications.
After a few seconds, when a user opened your website;
After clicking a link "allow web push notifications";
You can set a type of a subscription request to be appropriate for your website.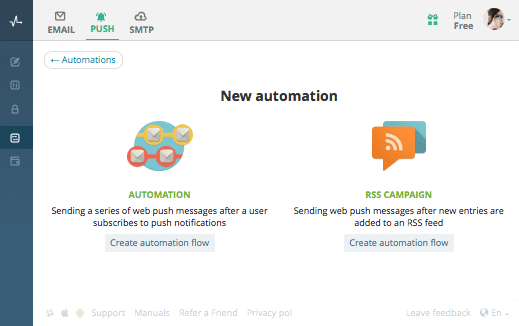 Web push automations
A flow of web push messages and messages based on RSS. Set an automation flow for new subscribers or create automatic messages based on RSS feeds.
Create web push automation
How to set up?
Add just one line of code to your site, and you're ready to send web push notification requests to all your subscribers!


API for developers
Use Rest API to integrate web push notifications into your CMS, CRM, or other system. You can automatically send personalized web push messages to your customers from the system you already use.
The easy-to-understand API and complete developer documentation allow you to quickly integrate web pushes into your business.
API documentation →
Looking for other communication channels?
Send instant web push notifications
Sign Up