Customize the subscription request window
Users can set up a custom design for push notifications in «Push-My websites» menu: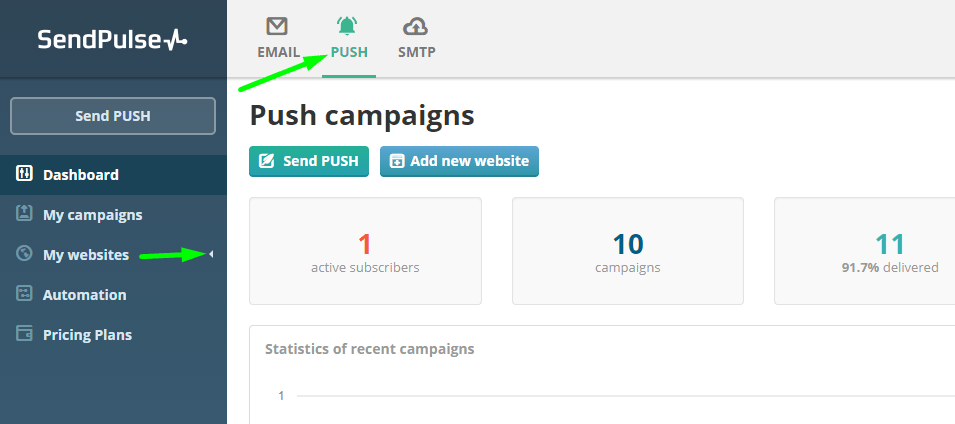 If you use SendPulse desktop notifications on several websites, open the «My websites»  drop-down menu to pick the one you will be setting up notifications design for: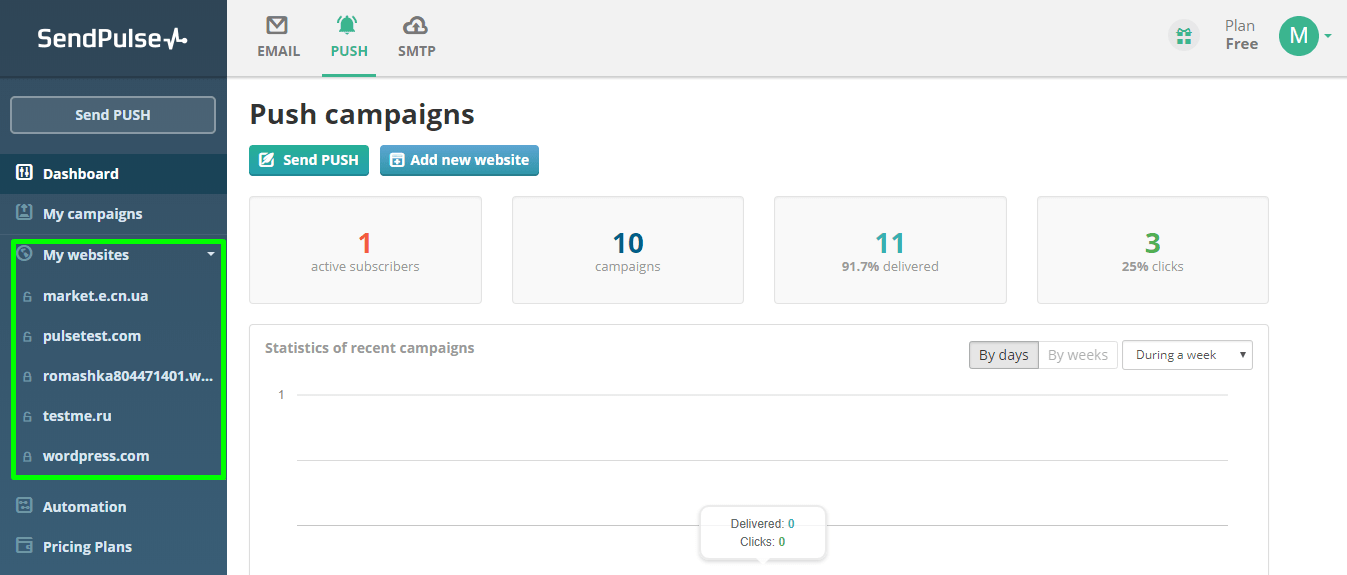 Open «Website settings»
proceed to «Subscription request» tab.

There are three types of notification requests available:
Requests that pop up when a visitor opens the website — «by opening website»,
Requests that come up when site visitors click a button or a link — «by clicking the element»,
«With a custom request» type.

If you select the «By opening website» type, there is an option to add a prompt message and to set up the notification delay time (so that the suggestion to subscribe will come up after a site visitor spends some time on the web page)
If you go with the «By clicking the element» type, the system will provide a code you will need to add to the website element:
Subscription requests «With a customer request» offer four styles of the notification:
1. «Lightbox»
Users can edit the notification title, the text of notification body, set a color for the background of the message, color of its text and color of the buttons. 
Also you can set up the notification delay time and select the language of the text on the buttons.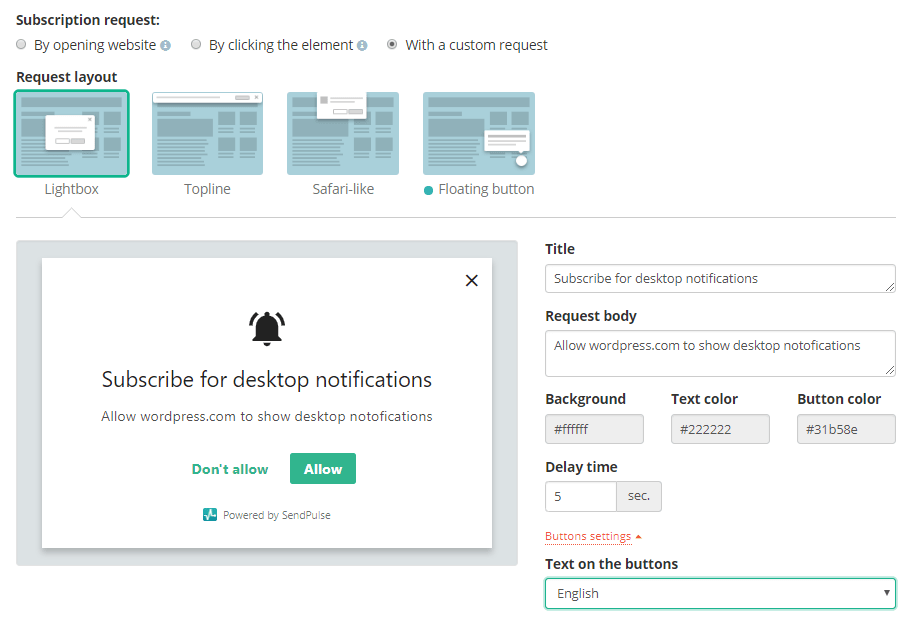 2. «Topline» type
Edit the request body, set the background, text and button colors, specify the request delay time and pick the language for the message buttons to customize subscription requests of this type.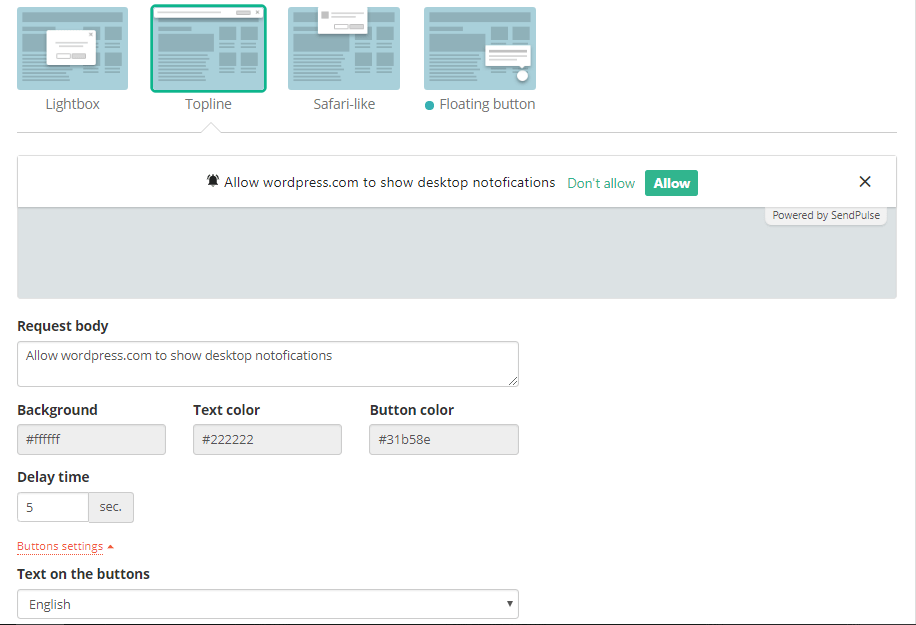 3. «Safari-like» style
Subscription request of this type can be customized the following way — edit the message title and body, set the delay time and pick the buttons language: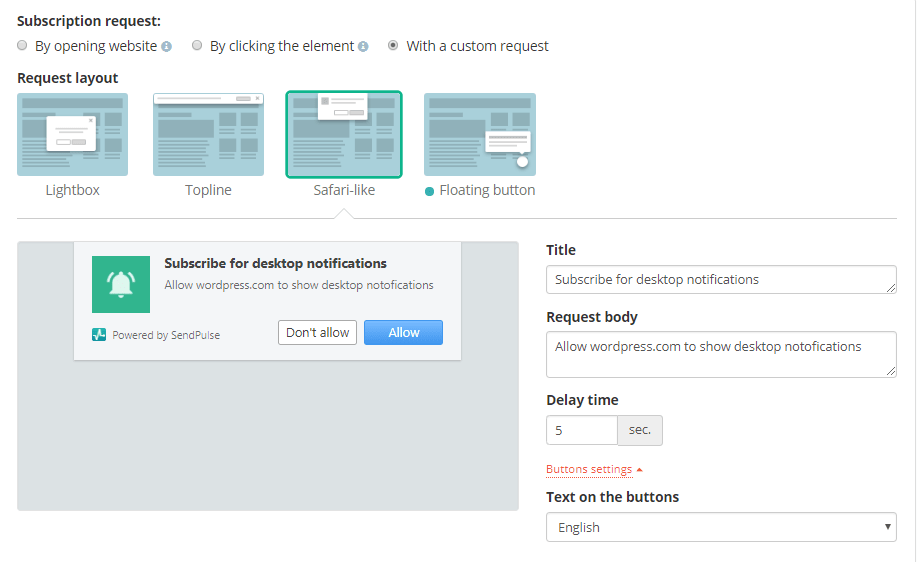 4. «Floating button» type
Users can edit the title and the body of the subscription request, set colors for the button and for the icon as well as specify the message delay time:
As soon as you finish customizing the subscription requests, click «Save» to confirm the changes.
*Note, that users of the free web push plan have the SendPulse logo added on the subscription request box, so should you want to have the logo removed, upgrade your account.
Published: 29 Jun 2017 Last Updated: 02 Oct 2018
Rate this article about "How to customize subscription request window"
Other useful articles
Popular in Our Blog
Try SendPulse today for free
Sign Up