CRM, or customer relationship management, is an approach companies use to maintain their interactions with customers and streamline business processes. The core of this approach is CRM systems – special software for managing leads, tracking customers' activities, and automating communications. SendPulse provides a built-in CRM system to effectively manage your sales process and communication channels in one place.
In this video, Caleb Smith, marketer at SendPulse, explains how to use SendPulse CRM.
Why is CRM important in marketing?
CRM software gathers data about each customer in one easily accessible dashboard. With this information on hand, your team can keep track of each buyer's journey and make the best offers at every stage. As a result, your sales cycle can shorten by 8–14%.
CRM helps define your customers' interests and preferences. Thus, you can provide personalized experiences and launch relevant marketing campaigns. 47% of companies believe that CRM marketing increases customer retention, satisfaction, and loyalty.
Eager to know how customer relationship management achieves these impressive results? Let's give a once-over to the functions CRM systems have.
What does CRM do?
The CRM software market is full of various solutions; they provide different opportunities for different types of businesses, from large enterprises to small businesses. However, there are basic tasks every CRM should perform:
Consolidate customer data. The CRM platform should gather your clients' contacts, demographic information, and other data to provide easy access to them.
Track interactions and activities. CRMs let you monitor your communications with customers via phone, email, live chats, support tickets, and so on.
Measure performance and productivity. A good CRM lets you get data-heavy yet clear reports on the efficiency of your interactions with customers.
Automate routine activities. Marketing and sales automation is the bread and butter of CRM solutions.
CRM systems may tackle different issues businesses face. Read further to unpack the main types of customer relationship management software.
Find out how a CRM system can streamline your tedious routines: «Key CRM Functionality for Small Businesses and How It Can Support Your Growth».
Types of CRMs
Across-the-board CRM is a rare thing. On average, certain software performs one task better than others. According to its main strengths, CRM software falls into one of the following categories:
Operational CRMs. This type pivots on your company's day-to-day operations and automates routine operations.
Analytical CRMs. In a nutshell, these are huge databases with detailed information about your customers and processes.
Collaborative CRMs. These solutions help improve interactions between different departments of your company.
We've quickly looked at customer relationship marketing, its functions, and the main types. It's time to delve into specific solutions and find the best options for different business goals.
Discover more about implementing CRM on our blog
15 Best CRM Systems
Sales CRM Systems
CRM Systems for Marketing
CRM Systems for Small Businesses
CRM Systems for Social Media
CRM Systems for Real Estate
Every business issue requires a specific solution; what works for marketing purposes may not be a good fit for customer service. Thus, we have divided the best CRMs into groups according to their business needs. Follow our listing of the most powerful tools for sales, marketing, small businesses, social media management, and real estate agencies.
Sales CRM Systems
Sales-focused CRM software lets you transform a complex selling process into a cinch. It simplifies lead nurturing, tracks a prospect's way through the sales funnel, and shortens the sales cycle.
The must-haves for sales CRMs are routine tasks automation and powerful analytics, which helps keep tabs on your performance and identify bottlenecks in the sales process. Let's unveil the top-3 sales CRMs we've picked for you.
Salesforce
Salesforce offers a cloud-based highly-customizable solution for even the most complicated sales processes. This CRM lets you automate tedious tasks and processes, enabling you to work from anywhere via the mobile app. The tool supports integrations with Outlook, Google Apps, SendPulse, and other services.
The strongest part of Salesforce CRM is its AI-based Einstein Analytics, which provides you with detailed data on each deal, customer, and stage of the sales process. Better yet, it predicts sales outcomes and gives precise recommendations on how to achieve your business goals.
With Salesforce, you can manage the entire sales cycle, score leads, access customers and sales details, forecast sales accurately, and more. The home tab lets you keep track of tasks, events, recent records, and activities. Here you can also see a pipeline and potential revenue source diagrams.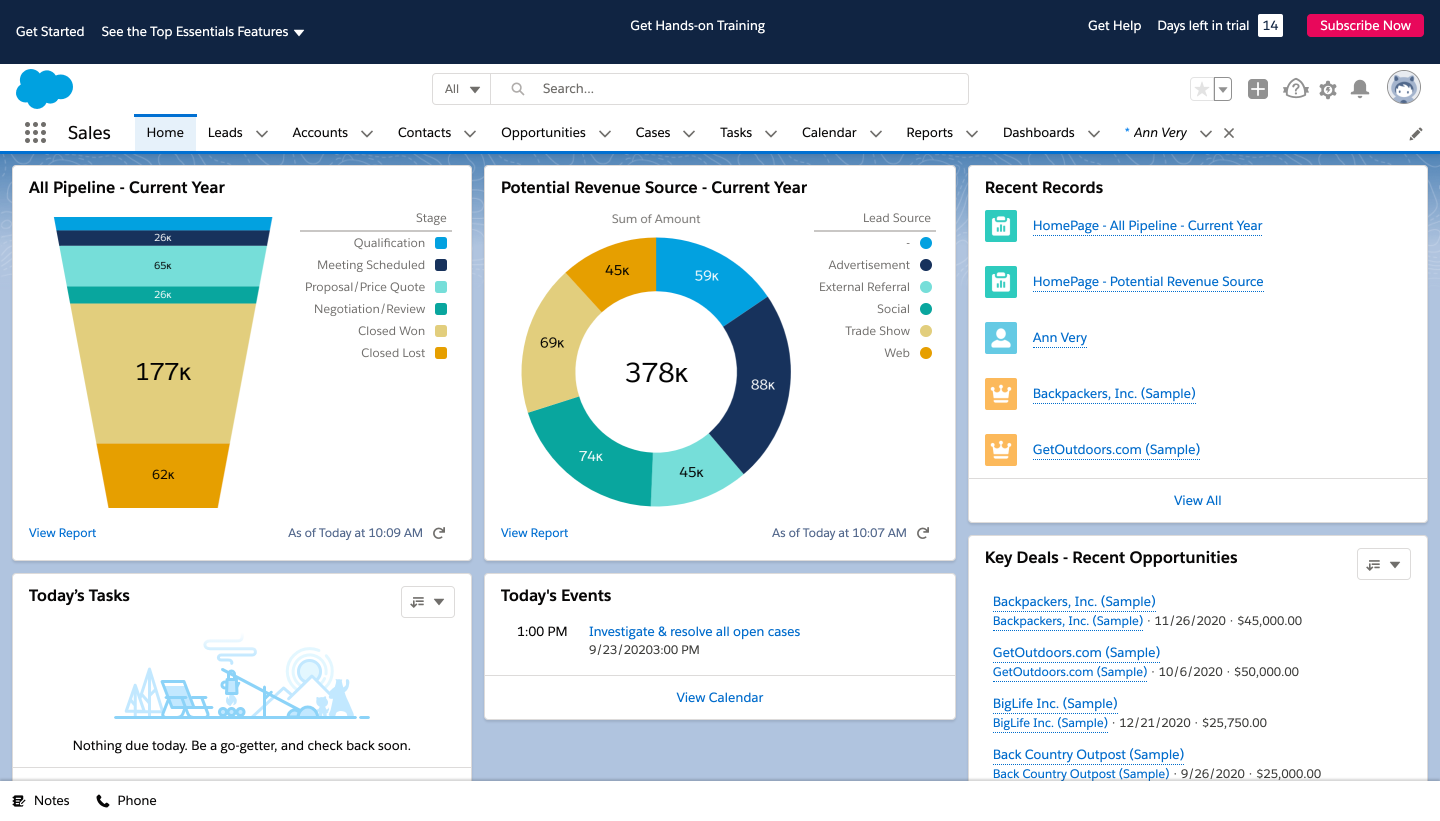 Free plan: 30-day trial.
Paid plan: from $25 per month for one user.
Zendesk Sell
Zendesk Sell is a model operational CRM that allows you to call customers, send them emails, and schedule meetings in one place. You can automate communications out of the box or with external services, such as Mailchimp, Pandadoc, and your own apps built with the Zendesk Apps framework.
This tool gives great opportunities to manage leads, from creating precise customer profiles to prospecting across multiple channels. Zendesk Sell has a built-in database with over 20M businesses and 200M professionals so that you can find leads based on your customer profiles.
Another prominent advantage of Zendesk Sell is its profound analytics, which includes 30+ ready-to-use reports and customizable dashboards. The latter lets you keep an eye on sales activity, call count, sale duration, outcomes, and more. As shown below, you can monitor and compare the most important metrics with your financial goals in real-time.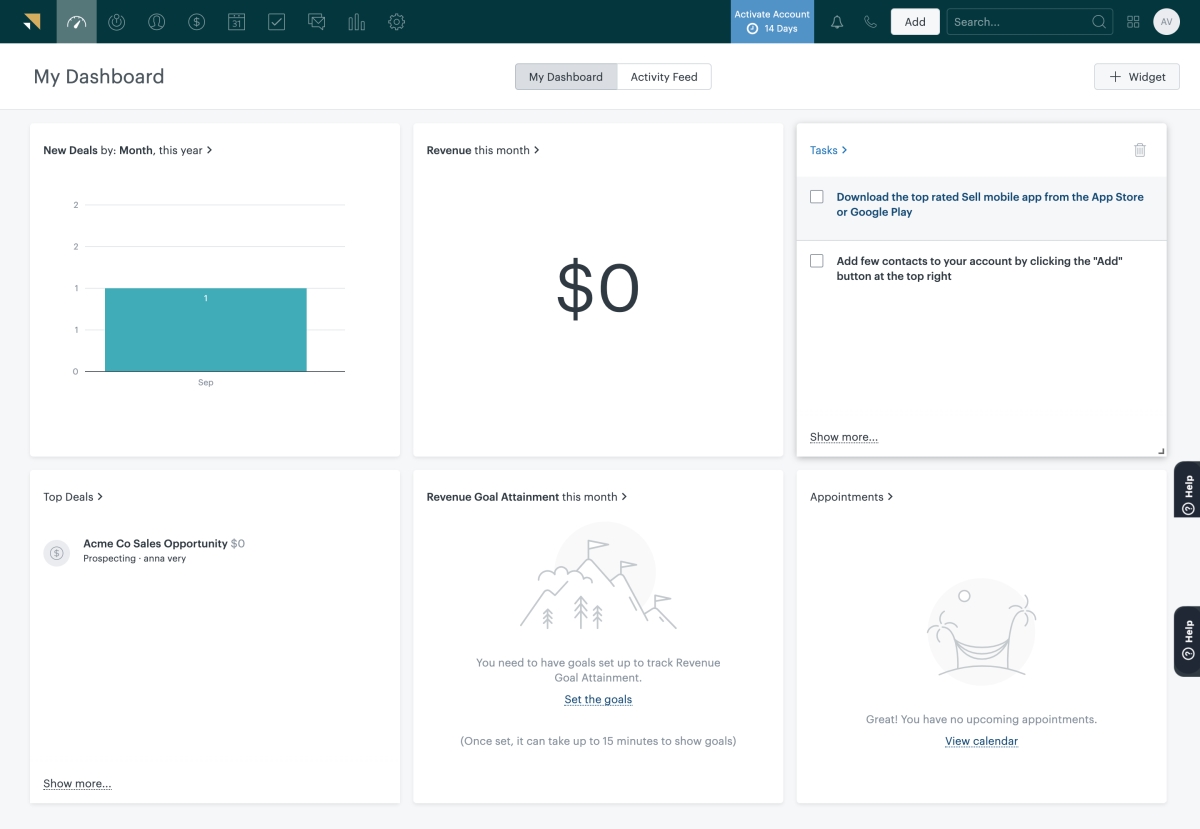 Free plan: 14-day trial.
Paid plan: from $19 per month for one user.
Pipedrive
Pipedrive is a visual, easy-to-use, and highly-customizable operational CRM. Like Zendesk Sell, Pipedrive lets you call, send emails, and plan meetings from the dashboard; here, you can also store documents for easy access.
The CRM system provides you with adjustable reports and robust integrations, including native mobile apps, Google and Microsoft services, and 150+ extraneous apps and tools. Pipedrive lets you create a chatbot for your website or connect a live chat for easy lead grabbing.
The service has an AI-powered sales assistant, which recommends ways to automate processes for more effective work. Better yet, it gives you behavior-based hints on how to boost your sales results.
Pipedrive allows you to adjust the pipelines in the CRM according to your sales cycle. For example, here is a way to organize the process according to your sales team's interactions with a lead.

Free plan: 14-day trial.
Paid plan: from $12.50 per month for one user.
CRM Systems for Marketing
If you consider using CRM for your marketing needs, you can ignore sophisticated pipelines or built-in calls. Focus on detailed data about interactions with customers and the robust automation of marketing processes instead. Discover the best CRM systems for marketers.
SendPulse
SendPulse is a great choice for anyone looking for a tool with effective marketing automation features. You can create professional multichannel subscription forms, pop-ups, and chatbots on social networks to generate leads. Build automated workflows to nurture leads, send messages in response to users' actions, and save time. The service enables you to create a live chat for your website to communicate with your visitors to support them and convert them into customers.
The SendPulse CRM is perfect for those who have not tried using CRM yet and keep records of sales on paper. You can start using our CRM for free for 5 users in your account. An intuitive interface in the same style as other services will help you easily understand how things work if you have used SendPulse before.
In our CRM, you can store and update customer information, create deals and, control the process of their conclusion, add the statuses you need to visualize the processes on the Kanban board.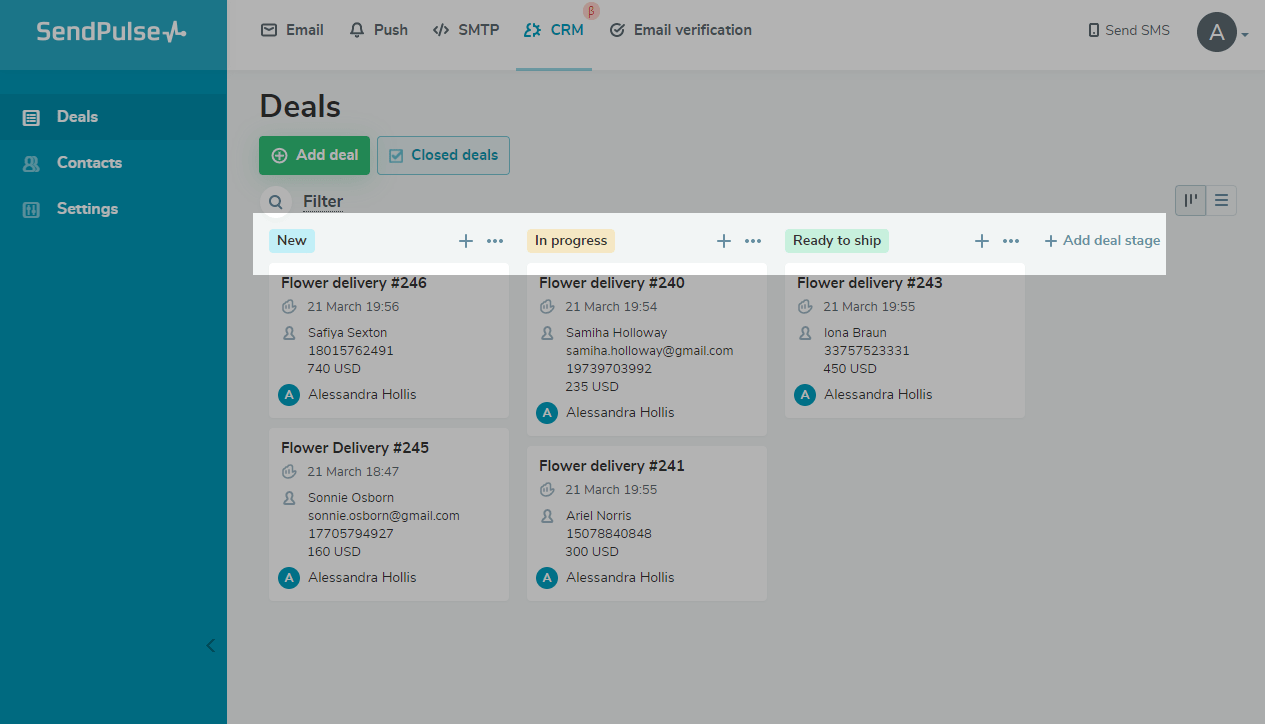 By clicking on the deal card, you will see full information on it: data about the client, about the deal (when it was created, manually or automatically, the history of its movement by stages), the specialist responsible for its conclusion, and comments. You can edit it and add the required fields, leave comments, and contact the client via email or chatbot if they initiated communication through this channel. Tags will help you quickly find the right contact and segment customers. 
If you send email campaigns via SendPulse and use chatbots, you can send automated messages directly from the CRM by a trigger. This can be the creation of a deal, that is, when the user clicks the "Buy" button in the chat with your bot, or the transition of the deal to a new stage, for example, "Waiting for payment" or "Ready for shipment." You can also add your team members to the CRM to assign specialists responsible for each deal. They will see and work with all deals, but you can restrict their access to other SendPulse services.
HubSpot
HubSpot CRM tries to embrace the needs of different departments, including sales, service teams, and operations managers. For marketers, the company offers tools for lead generation and management.
Among this powerful set of additional features, HubSpot offers live chat and chatbots, email, an ad management system, and more. On-site analytics allow you to track offers and traffic sources that drive the most conversions.
To obtain new customers, HubSpot lets you craft attractive landing pages with its landing page creator and set up PPC campaigns with ad management tools. HubSpot will automatically convert all visitors into qualified leads, organize them inside the CRM, and track each contact, as shown below.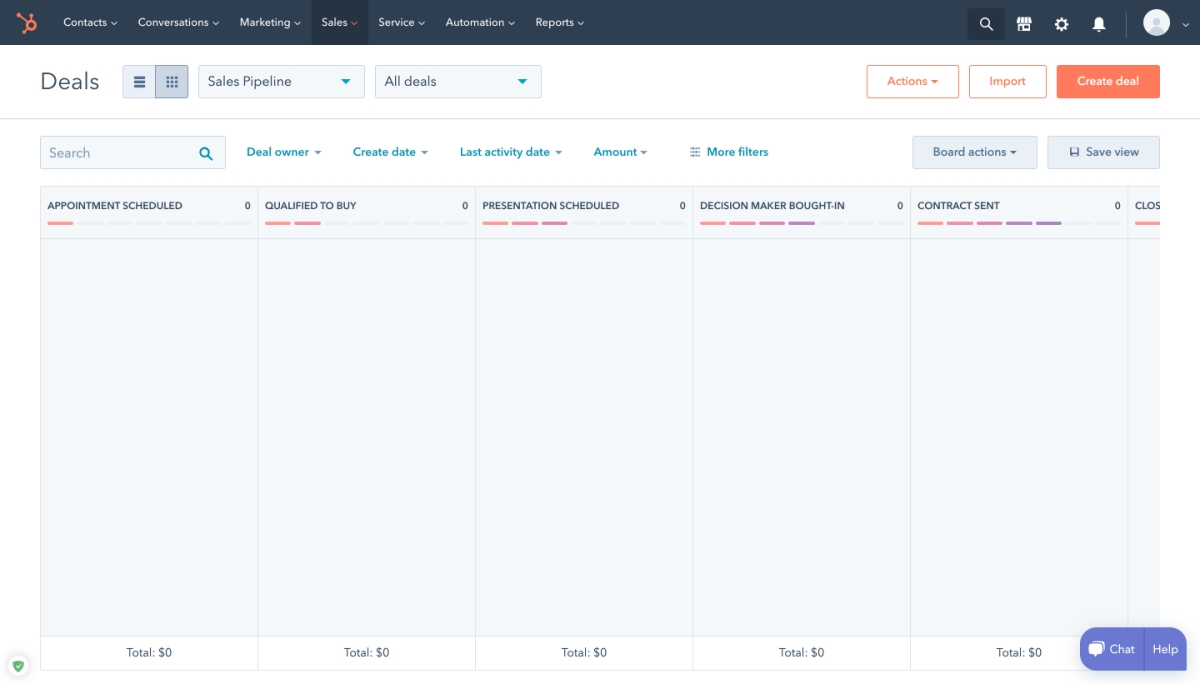 Free plan: Available forever.
Paid plan: From $40 monthly.
Agile CRM
The cornerstone of Agile CRM is its web engagement tool, which grabs website visitors with subscription forms or exit-intent popups. The CRM automatically segments them according to their behavior and responds to their actions, such as clicking links or filling in forms.
To take lead acquisition to the next level, Agile CRM personalizes messages both for anonymous visitors and known contacts. The system automatically pulls a new lead to the right campaign. For instance, if a visitor views a pricing page, they will stick to a selling campaign in CRM.
The service also allows you to craft, launch, and track social campaigns on Twitter, Facebook, and other social platforms. Among other Agile CRM features are automated email personalization, A/B testing, and visual analytics. For instance, the service shows reports on deals, contacts, tasks, revenue, and email campaigns in this picture.
Free plan: Available forever for up to 10 users and 1000 contacts.
Paid plan: From $8.99 per month.
CRM Systems for Small Businesses
Not only enterprises take advantage of CRMs. Small businesses and startups benefit from this tool too, as long as it helps them tackle their special issues. CRM systems for SMBs should fit the following criteria:
affordable price;
simplicity;
high customization opportunities;
integrations support.
Let's zoom in on the three best CRM solutions for small businesses and find out what opportunities they offer their audience.
Apptivo
This CRM wins SMB with its affordable price and ease of use. The most prominent part of Apptivo is integrations and customization opportunities. This simple yet well-working tool gives you ready-to-use apps to expand your opportunities. You can add contract and competitor management tools, a sales planning app, resources handling add-ons, and more.
Apart from that, Apptivo offers integrations with 40+ third-party services to cover business demands end-to-end. You can connect this CRM to G Suite, PayPal, Dropbox, Slack, WordPress, and plenty of other tools.
Apptivo users get a standard set of lead-capturing and tracking features out of the box. They can provide automatic lead creation, flexible pipelines, sales forecasts, and team performance analytics. Here is an example of the results and prediction report in the performance tab.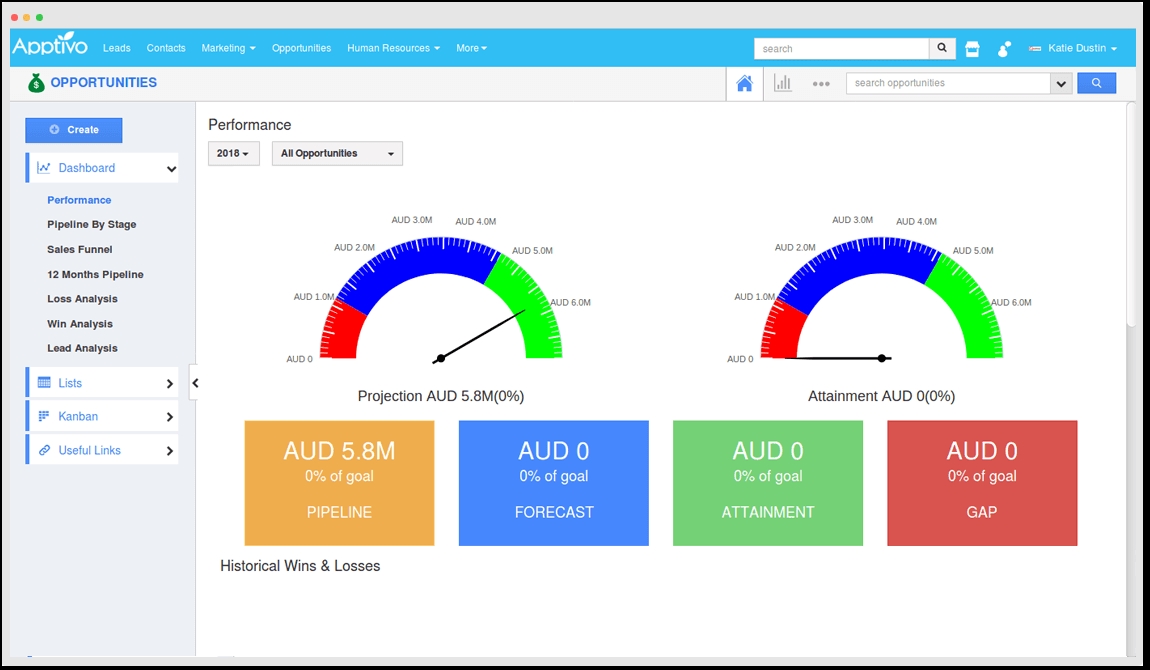 Free plan: Available forever for 3 users.
Paid plan: From $8 per user.
Freshsales
This tool combines an easy-to-use interface, a reasonable price policy, and numerous customization opportunities. Freshsales' unique feature is their adorable AI assistant Freddy. This little buddy focuses on closing deals faster and helps you prioritize leads and forecast revenue.
Freshsales has built-in mailing and phone options, a comprehensive lead management system with scoring, and simple lists of tasks and appointments, as in the picture below. The service also offers well-working analytics with visualized reports and integrations with Trello, Mailchimp, Zapier, Facebook, and more.
Free plan: 21-day free trial.
Paid plan: From $12 per month per user.
Less Annoying CRM
The Less Annoying CRM founders are a team of salespeople, so they tried to create the most stress-free customer relationship management software. This tool is perfect for collaboration. You can add as many users as you want, give them various access rights, and let them work simultaneously on the same page.
This CRM software offers an easy-as-pie mobile website implementation to let you work from anywhere. You can log into the system from any device without syncing or installing anything.
The main advantage of Less Annoying CRM is its intuitive interface. The system aggregates everything a salesperson needs in one place, as you can see in the example below. After a quick glance at the dashboard, a user knows their schedule and tasks for the day, current pipeline results, and additional sales activities.
Free plan: 30-day free trial.
Paid plan: $15 for a user monthly
Perhaps, the solutions listed above still seem too pricey for a small business that operates on a tight budget. If that's the case for you, check out our compilation of free CRM software.
CRM Systems for Social Media
Adding social networks to CRM boosts the sales team's productivity by 26.4%. However, the marketing and service teams benefit the most from applying social CRM. This tool allows them to schedule posts, obtain reports on their SMM efforts, react to users' queries rapidly, get insights about the brand reputation, and more. We've picked three CRMs, which enrich your leads and help manage social media activities.
Sprout Social
Sprout Social is a market giant with a robust set of features both for social media and customer relationship management. This tool works with Twitter, Facebook, Instagram, LinkedIn, Pinterest, and Google+, allowing you to collect contacts from these networks into a smart inbox.
The CRM notifies you about incoming messages and bursts of activity to help you respond to urgent situations. Out of the box, you can assign tasks to specific team members; for instance, you may delegate a certain message to the system administrator. The system enables you to build a chatbot for quick responses to customers' queries.
Sprout Social has a powerful tool for scheduling posts and monitoring social media with keyword, hashtag, and location searches. This CRM provides your team with in-depth analytics on each post and overall team performance. For instance, here is a report on Instagram business profiles. The tab shows data about impressions, engagements, clicks, and followers and a graph of audience growth.
Free plan: 30-day free trial.
Paid plan: From $99 per month per user.
Zoho
The paramount advantage of Zoho is its lead acquisition options. You can define certain social activities, such as likes or comments, and automatically get new connections based on them. Add these connections to your CRM as new leads or contacts and segment them. The system will provide you with suitable offers for these leads according to their behavior.
This platform focuses on Facebook, Twitter, and Google+ but allows integrations with other services, such as Slack, Zapier, and Zendesk. Zoho offers social monitoring, quick responses to customers' queries, and profound analytics. Zoho helps you identify the most profitable social channels by showing the revenue you get from them, as in the example below.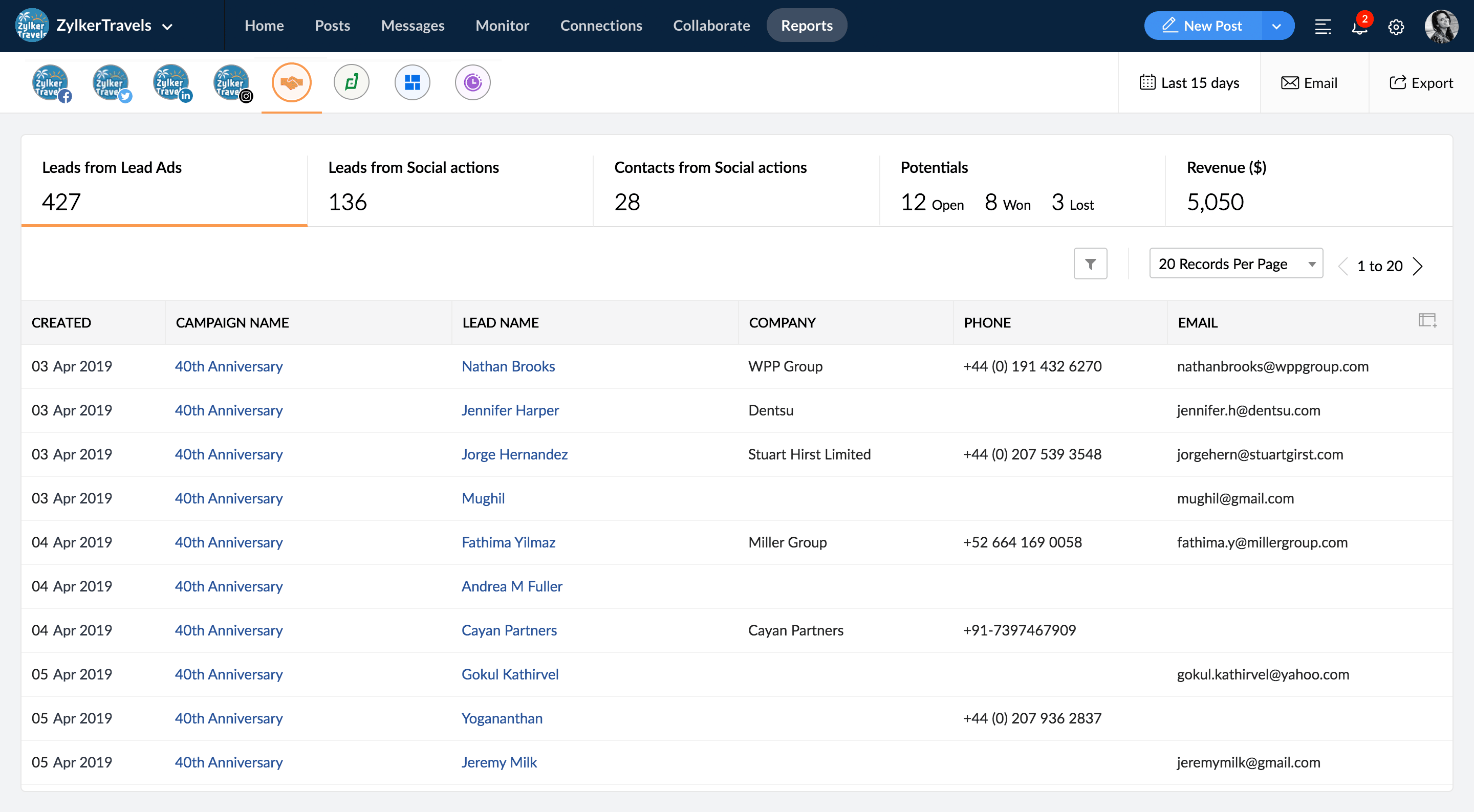 Free plan: 15-day free trial.
Paid plan: From $10 per month. Includes 1 brand (7 channels) and two team members.
eClincher
eClincher's number one priority is simplifying social media management. This CRM tool covers Facebook, Twitter, Instagram, LinkedIn, YouTube, Pinterest, Google My Business, Yelp, and Blogger.
The CRM's helpful features include connecting with influencers and getting content suggestions. To enter this service from anywhere, consider using the Chrome extension or a mobile app.
eClincher provides the standard set of tools, encompassing a post scheduler, social monitoring, comprehensive analytics, social inbox, and more. In the publishing tab, you can see the list of connected accounts, the entry field for a new post with its preview on various social networks, and a calendar.
Free plan: 14-day free trial.
Paid plan: From $59 per month. Includes one user brand and ten social profiles.
If you haven't found the perfect solution for your business in the list above, consider reading our fresh guide on the best social media marketing tools. To expand your social media presence without paying a dime, get to know SendPulse's chatbot builder. It allows you to create Facebook and Telegram bots and send up to 10,000 messages per month for free.
CRM Systems for Real Estate
CRM systems for real estate should allow you to create flexible pipelines adjustable to specific purposes, enable top-notch team collaboration, automate routine processes, and let a realtor work on a road. Any CRM that provides these opportunities will do, but there are tons of real-estate-specific solutions on the market. Let's discover the best of them.
The Wise Agent
This CRM system underlines its ease of use, automation options, and pre-designed materials. The Wise Agent offers plenty of real estate marketing opportunities, including a bundle of ready-to-use adjustable email templates, flyers, and newsletters.
The Wise Agent has a contact and lead management system, which adds new prospects to a call list, and sends them automated email campaigns or SMS. The system automatically matches property with clients' specific requirements.
Among other useful features are property alerts, an appointment calendar, document storage, a landing page creator, social media enhancement, real estate reports, and more. In the picture below is the dashboard The Wise Agent users see at the beginning of their day. Realtors know their schedule for the day, week, or month, see a daily calling list, and get notifications about new leads.
Free plan: 14-day free trial.
Paid plan: From $29 per month.
Propertybase
The Propertybase aims to simplify the real estate business and help you build lasting client relationships. The system gathers and scores all your leads from different sources in one place. You can send email campaigns based on property views, saved searches, your buying timeline, and more.
Propertybase allows you to enrich property listings with multimedia content, including videos, 360˚photos, and virtual tours. You can promote them on popular real estate portals or social media easily.
Propertybase adjusts your dashboard to meet your needs. In the picture below, you can see the interface from the agents' perspective. They have analytics on lead activity, upcoming tasks, and recent listings in one place. The dashboard version for business owners also shows website performance reports and commission volume.
Free plan: Demo.
Paid plan: On request.
Respacio
Built with real estate professionals' needs in mind, Respacio focuses on increasing sales. This end-to-end solution offers a simple and powerful interface, customizable pipelines, and integrations with websites, property portals, MLS systems, GSuite, Facebook, and more.
With Respacio, you can create a well-designed website to grab more leads. The service offers a huge range of automated marketing tools, such as email campaigns and social media. Among other opportunities are routine task automation, responsive property lists, customizable processes, analytical reports, and more.
In Respacio, you can keep your prospects' contacts perfectly organized, as shown in the example below. The table contains a customer's name, email, phone number, and lead source.
Free plan: 14-day free trial.
Paid plan: From $29 per month for one user.
We've unpacked fifteen CRM systems perfect for various business needs. Keep in mind that even the most robust solution may not be ideal for you out of the box. Enjoy the benefits and usability of our CRM. Create your first deal now!
Last Updated: 30.11.2023