Despite the rapid growth of eCommerce, there is still an array of challenges for online entrepreneurs. Consequently, businesses require perfect marketing automation tools to amplify their eCommerce game and stay competitive.
That said, in this post, we've featured a list of the automation tools each eCommerce store needs in 2022 and beyond. We'll check them out together. But first, let's clear up what marketing automation is and why businesses need it.
What is marketing automation?
Marketing automation is the software or a service that automates everyday marketing challenges, streamlines the workflow, and assesses the effectiveness of marketing campaigns. Such tools offer solutions for an array of marketing issues like generating leads, managing the pipeline, monitoring the interactions, supercharging marketing analytics, social media promotion, email advertising, and others.
What is marketing automation primarily used for?
Small businesses and big enterprises use marketing automation to implement, manage, monitor various marketing activities. Companies replace routine and time-consuming tasks with dedicated tools for better productivity.
Here are some specific uses of marketing automation tools:
measuring the success of marketing campaigns;
reducing the duration of running marketing programs and finishing actions;
boosting conversion rates with timely engagement;
improving messaging and brand consistency on different channels and campaigns;
reducing the sales cycle with faster response time;
personalizing communication with each consumer;
developing automated activities for continuous engagement without human input.
Now, we'll walk you through some of the best automation tools for business.
The list of marketing automation tools
HubSpot
HubSpot is an industry-leading growth tool that comes with a Sales Hub, Marketing Hub, Service Hub, and a free CRM, that enable businesses to grow. Its functionality lets companies run effective inbound marketing campaigns that attract, engage, and make customers happy.
HubSpot offers solutions for:
email marketing;
data collection and customer retention;
lead scoring;
lead nurturing;
prospecting tools;
contact management;
marketing automation.
The service provides two different types of email automation: the first one designed for 1:1 sales interactions and the second for 1:many marketing emails. The company offers some limited automations available within the free version. It allows you to send up to three emails generated from a subscription form on your website. It may be a welcome email and two other lead nurturing follow-ups of your choice. The Pro Package enables a much more robust automation tool called workflows.
HubSpot allows you to create contact-based workflows to automate your communication with leads. You can either create it from scratch or use a template. The screenshot below demonstrates how to get started with creating a flow.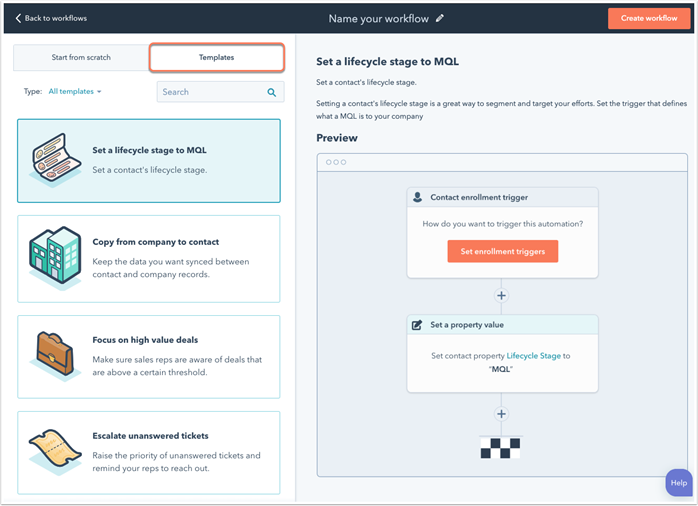 Pricing: Users can access free HubSpot CRM if they want to try out the platform. With paid plans, there is the HubSpot CMS at $300 per month. To use marketing tools, business owners should choose the Marketing Hub product with three plans: Starter at $50/month, Professional at $800/month, and Enterprise at $3,200/month. Email marketing automation is available on any paid plan within Marketing Hub.
SendPulse
SendPulse provides marketing automation solutions for multiple channels of communication with prospects and customers — email, SMS, web push notifications, Facebook chatbots. The main benefit is that users can easily combine all these channels together to reinforce their strategies.
SendPulse features can be of help for managing
trigger campaigns;
automated emails;
subscription forms;
A/B testing;
free email templates.
Automation 360 allows businesses to automate their marketing by sending emails, web push notifications, and SMS triggered by various predetermined conditions. Marketers can set email sending according to various events — subscription, registration, abandoned cart, purchase, or any other custom event. With an automation flow, business owners can track the path of each subscriber.
Below is an abandoned cart email flow created with SendPulse. One can set conditions to increase the chances of their customers completing the purchase.
Pricing: SendPulse offers a free plan that allows marketers to try out the features provided. If you have up to 500 subscribers, you can send up to 15,000 emails for free monthly. To access more advanced features, marketers can upgrade to a paid plan starting at $8 per month. For companies with over five million subscribers, there is a VIP plan available. This package comes with custom pricing, so businesses have to contact SendPulse representatives to receive a pricing quote.
Marketo
An Adobe company product, Marketo provides an excellent Engagement Platform that enables marketing departments to promote their brands and boost revenue. Usually, users view it as an innovation pioneer. Moreover, it is trusted by many CMOs thanks to its scalability, openness, and reliability.
Marketo can help with the following:
email marketing;
online marketing;
consumer marketing;
customer-based marketing;
lead intelligence;
campaign management;
engagement tools (coupons, promotions, and others);
reporting and analytics.
This tool allows marketers to develop and measure automated marketing campaigns on different channels. Businesses can send triggered emails based on users' actions such as social shares, form completions, web visits, or custom events. Below is a workflow created with Marketo: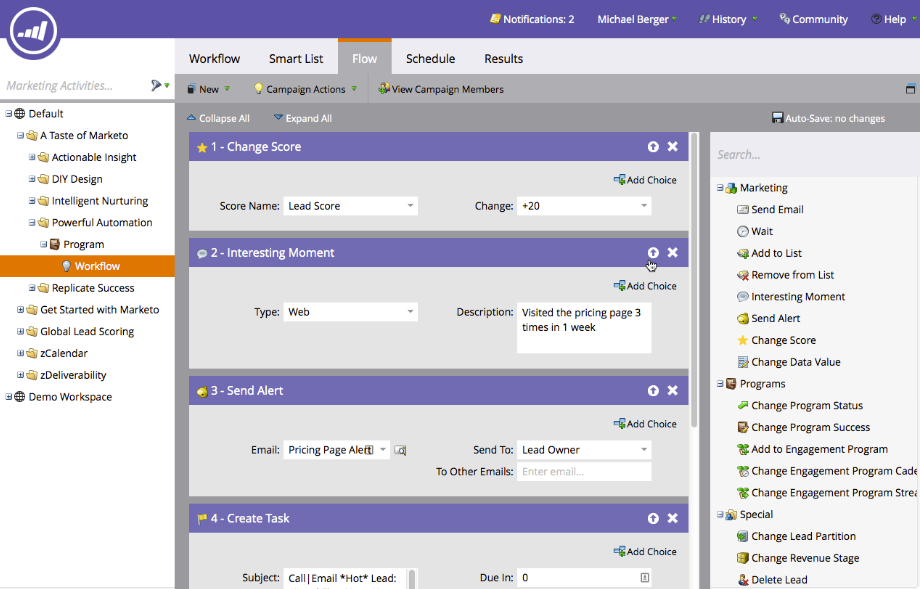 Pricing: Businesses have to talk to the company to get a customized quote.
RD Station
RD is a marketing automation tool that can be useful for small and medium enterprises in managing and automating their digital marketing approach. It works well for driving traffic, converting leads into prospects, and increasing sales. There are a lot of adjustable settings for building automated marketing campaigns, so you can create a complex marketing strategy and automate it in a few clicks.
RD Station tool can be useful for
reporting and analytics;
social advertising;
campaign management;
lead management;
online marketing;
email marketing.
The procedures undertaken by marketers to create automated workflows on RD Station depend on their subscriptions. For the basic plan, you must select the leads, set your actions, and customize the workflow. Regarding that, there are two advanced functionalities, namely "Withdraw Leads marked as 'opportunities' from the workflow" and "Perform steps on weekends."
With the Pro and Enterprise plans, marketers can click on "Create Workflow" and choose one of the two types of workflows based on the needs of their businesses: Lead Nurturing Workflow (Priority) or Management Workflow (Parallel). After that, marketers proceed with lead selection and workflow settings, and set the appropriate actions of Scheduling, Save and Activate, or Save and Exit.
Here is an example of the marketing automation workflow that can be created with RD Station: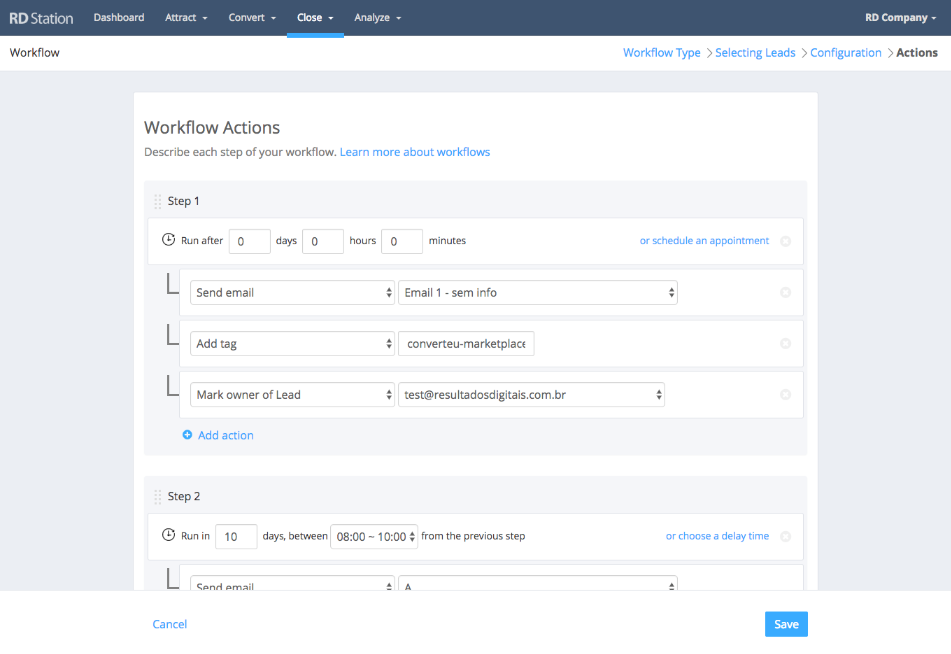 Pricing: The service offers Basic Package with some basic automation features if you have up to 5,000 contacts in your database. It costs $139 per month, but the minimum length of contract is 12 months. The Pro Package offers full-featured automation for $269 per month on the same terms. You can test both plans within a free trial. You may also create the ideal package for your business.
Pardot
Pardot allows sales and marketing teams to work collaboratively to get and nurture more leads, close more deals, and optimize ROI. With this tool, businesses can quickly qualify leads, reduce the sales cycle, and monitor their marketing ROI. Pardot allows automating email marketing funnels based on different triggers such as actions, statements, or custom events.
Pardot works great for
sending outbound emails;
automating email responses;
building landing pages and forms;
managing and nurturing leads;
scoring leads;
social listening.
Marketers can create code-free workflows on Pardot using the Engagement Studio. The common types of workflows one can make are the prospect activity workflow, nurture workflow, or upselling/cross-selling workflow.
Below is an example of the automation flow created with Pardot.
Here, the user has set an automation rule that adjusts the prospect's profile to Executive Buyer if they are located in Texas, employed at a midsize organization, and have a specific score for corporate culture.
Pricing: $1,250/month for Growth, $2,500/month for Plus, and $4,000/month for Advanced pricing plan. The choice depends on the number of automation rules you need.
GetResponse
GetResponse is a marketing automation tool that allows enterprises to grow while leveraging different marketing functionalities. Many marketers rely on GetResponse to develop targeted marketing strategies that yield a high return on investment. It is possible to create several automated marketing funnels depending on the range of actions a potential customer takes.
This tool is designed for
landing pages;
email marketing;
marketing automation;
surveys analysis;
webinar notifications;
data and analytics.
To create a workflow with GetResponse, click on Menu and then select Automation and go to Create workflow. Alternatively, you can use the Quick Actions functionality that allows you to pick either of two ways of making a workflow:
from scratch using various actions, conditions, and filters;
using an existing template with pre-selected conditions and pre-configured elements.
Here is an example of the flow created with the GetResponse platform: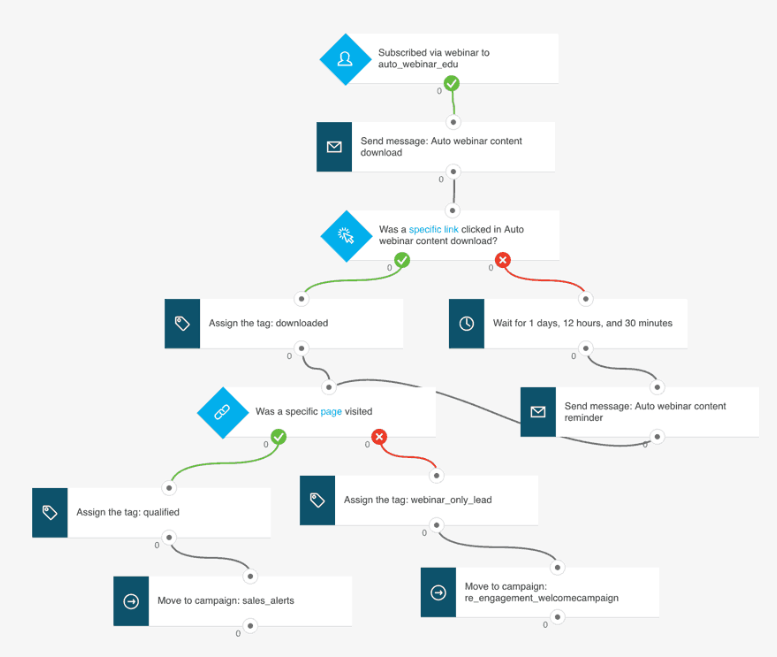 Pricing: GetResponse offers its users four pricing plans — Basic, Essential, Professional, and Enterprise. The amount a customer pays for the chosen pricing plan depends on the monthly sending volume and database size. For example, a Basic plan users that has a database of 2,500 subscribers should pay $25/month, while a user of the same plan with 50,000 subscribers should pay $250/month.
Klaviyo
Klaviyo helps eCommerce enterprises create strong connections with consumers. Unlike other tools, Klaviyo will not make you choose between powerful functionality and usability. As such, marketers can leverage the full power of Facebook and email marketing strategies without any hassle.
The features of Klaviyo are great for
email marketing;
online marketing;
lead management;
campaign management.
Klaviyo offers a number of options for email automation, allowing businesses to create customized automated email flows that once set up will run for the long-term. Besides, there are pre-built email flows to ensure companies start sending automated emails fast and easily.
Here is an example of an abandoned cart email marketing flow created with Klaviyo: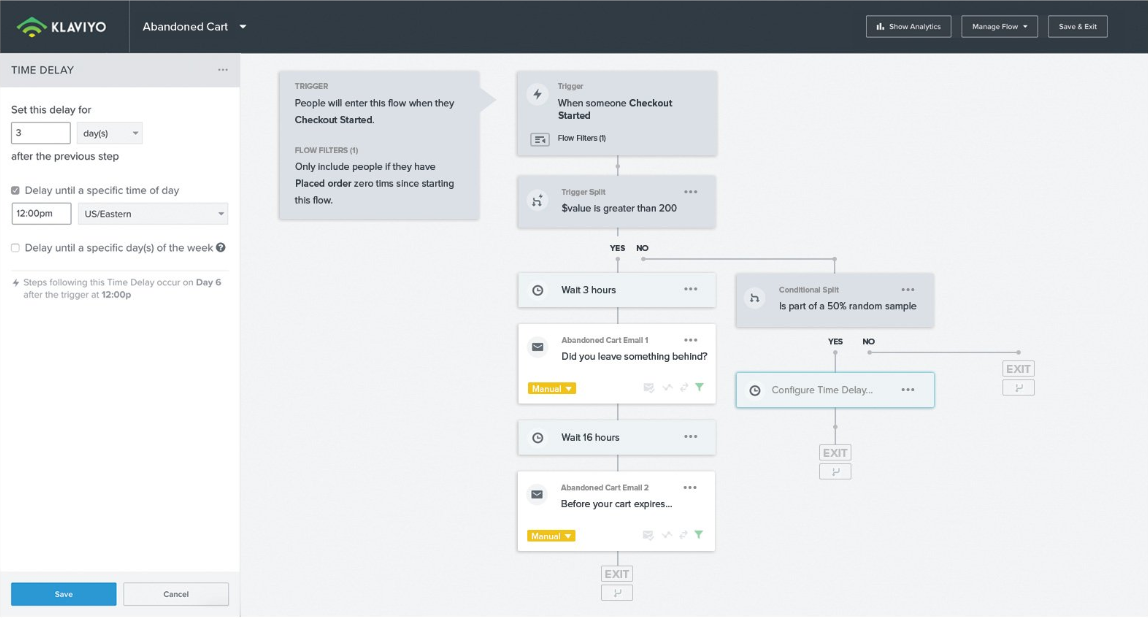 Pricing: Free for up to 250 contacts. For databases that contain from 251 to 150,000 contacts the pricing varies from $20 to $1,750 per month. Businesses with 150,000+ contacts should contact Klaviyo team to get a price quote.
Omnisend
Omnisend is an eCommerce marketing automation tool that helps online businesses engage, convert, and retain customers. It allows marketers to nurture relationships with customers at all points of the sales funnel by sending them automated messages. You can pick email, web push, SMS, Facebook Messenger, Viber, or WhatsApp as you preferred channel or combine them in your workflow.
Some of the key features of this platform that can be helpful for eCommerce businesses are
segmentation;
email, SMS, web push, and Facebook Messenger notification automation;
welcome message automation;
abandoned cart email automation;
confirmation email automation;
reactivation series;
A/B testing;
customer behavior tracking and reporting.
Here's how an email marketing workflow looks in Omnisend: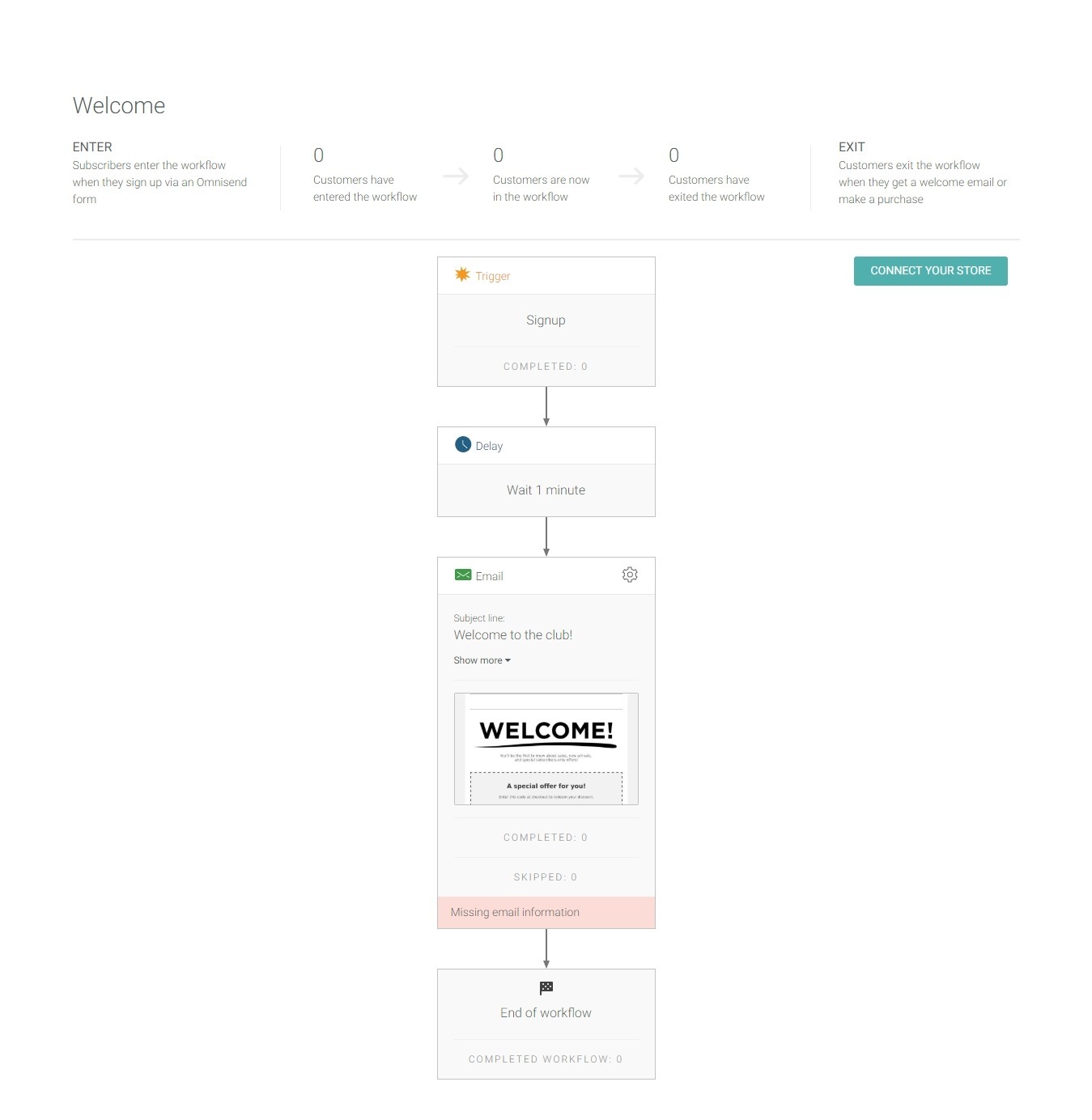 Pricing: Free with up to 15,000 emails/month or 2,000 emails/day. Paid plan pricing varies based on the number of subscribers on the list. The standard plan starts at $16/month, Pro at $199/month, and Enterprise at $2,000/month. Each plan comes with a 14-day free trial.
Autopilot
Autopilot is a straightforward, visual marketing automation tool that features multiple channel messaging capabilities. With the help of a powerful workflow tool, users can create customer journeys based on the target audience and determine actions at every stage. You can also add multiple channels to your automated flow, track customer progress, and many more. Autopilot is a useful tool that lets clearly picture user behavior and build flowcharts for automated marketing actions.
Autopilot's standout features include
contact list segmentation;
workflow creation;
auto-responders;
event-triggered emails;
subscriber management;
drip campaigns;
visitor behavior tracking.
Below you can find an example of an automation flow created with Autopilot:
The screenshot shows a series of actions and triggers from the moment a customer registers for a free trial. Each action and trigger is customizable and can be set based on the company's marketing strategy.
Pricing: Autopilot offers a free one-month trial, after which you can upgrade to either Silver plan at $49/month, Gold at $149/month, or Platinum at $249/month. You can also pay for optional add-ons such as custom IP, Salesforce CRM integration, and VIP support.
SharpSpring
SharpSpring offers comprehensive behavior-based email marketing automation solution. This tool has powerful automation features that enable businesses to manage lots of clients. It also offers built-in and third-party CRM integrations. SharpSpring's automation tool helps users to build dynamic content based on customers' interests.
Standard features of SharpSpring include
lead scoring;
segmentation;
sales & CRM automation;
targeted emails;
visual workflow capability;
site tracking and reporting.
Below you can see an example of an automation flow showing actions and triggers created with SharpSpring. You can set actions for different time and add triggers that can change the initial workflow. This way, you can build and elaborate workflow with this marketing automation tool.
Pricing: SharpSpring prices range from $450 to $875 per month based on the number of contacts on the list. All plans include full features and unlimited support.
Act-On
Act-On is a cloud-based marketing automation service that provides a number of marketing features. It serves a wide range of customers, including small businesses, medium-sized companies, enterprises, and big industries. This tool can be used for automating email marketing, lead management, visitor tracking, analytics and reporting, event planning, social media management, and much more. Besides, you can create automated programs, list maintenance programs, track webinars, and plan your further activities in the marketing calendar.
The main features of this tool are
automated lead scoring and profiling;
list management and segmentation;
email scheduling;
triggered campaigns;
social media campaign creation, management, and optimization;
A/B testing;
auto-responders.
Here is how an Act-On automation flow looks:
Pricing: Professional plan, which includes full marketing automation features for businesses starts at $900 a month. Enterprise plan, which adds capabilities for teams and businesses with more advanced strategies starts at $2,000.
Drip
Drip CRM is a marketing automation software that allows you to see how your visitors and customers interact with your business. This way, you can understand their needs and deliver experiences that they will be more likely to pay for. With Drip CRM, you can track pages visited, emails clicked, and more.
The tool has a plenty of useful features, including
lead segmentation and scoring;
drip campaigns;
automated workflows and email sequences;
marketing automation integration;
segmentation and lead scoring;
visitor tracking;
dynamic content;
A/B testing;
campaign and website analytics.
Drip campaign flows look really simple. Here is an example of an email marketing workflow created with this software:
Pricing: Free 14-day trial with full functionality available, $49/month for Basic, $122/month for Pro, custom prices for Enterprise.
Exponea
This cloud-based marketing platform provides marketing automation and analytics to help eСommerce businesses improve their marketing strategies, results, and customer experience. Exponea employs artificial intelligence and detailed customer data to help businesses in automating, optimizing, and evaluating marketing campaigns.
The main features of this tool are
scheduled campaigns;
A/B testing;
segmentation;
lead scoring;
customizable email templates;
cross-channel marketing campaign management;
tailor-made reports;
social media marketing.
The software has a user-friendly design and a lot of triggers, actions, and operators to build marketing automation campaigns. You can see an example of an automated flow created with Exponea below.
Pricing: Exponea Core, Omni-Channel Orchestration, and Web Optimization Platform, whose cost is available upon request. However, you do get a free trial.
Iterable
Iterable is a growth marketing automation tool that helps marketers understand their subscribers' actions, demographics, and event data. Then, you can use this information to create relevant and personalized messages and send them automatically across multiple channels.
This platform is well-suited for growth marketers at B2C companies in retail, education, recruiting, entertainment, and delivery.
Its main features include
auto-responders;
triggered emails;
drip campaigns;
mailing list management;
reporting;
easy-to-use email editor;
A/B testing;
segmentation;
social marketing campaigns.
Here's how an automated flow on Iterable looks:
The user decides when the flow starts and what to send — email, SMS, in-app, push, or web push. Besides, you can add different user actions, subscription actions, and additional actions to build the workflow you need.
Pricing: You should contact the sales team to get a quote.
iContact Pro
iContact Pro is an advanced marketing tool that performs marketing automation functions effectively and simply. It accommodates high-volume sending and is compatible with businesses of all sizes.
Some of the main features of iContact Pro include
behavioral segmentation;
responsive templates;
landing page editor;
lead scoring;
triggered workflows and messages;
split testing;
auto-responders;
social media monitoring;
contact behavioral tracking.
Here is an automation flow example from iContact Pro: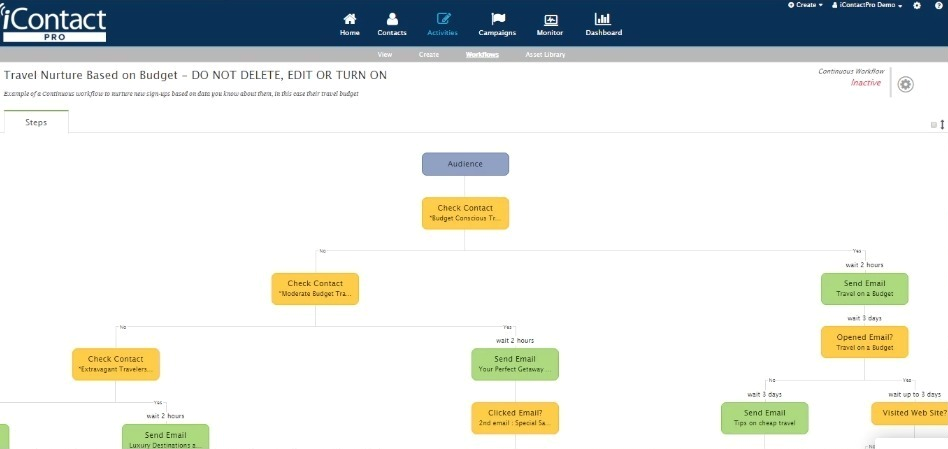 The flow was created to sell travel packages to customers depending on their budget. As you can see, it is possible to set different triggers and delayed actions to make sure all the potential customers receive the best offers.
Pricing: Free 30-day trial; paid plan pricing depends on the database size and starts at $14 per month for 500 subscribers.
Winding up
Every service and software listed here has its advantages and varies in terms of price. Choose the right automation tool by looking at the needs of your business and how much you are willing to spend to automate your marketing campaigns.
Give your business a boost with this list of online marketing tools for business!