Churn rate
Churn rate
The notion refers to the clients who have left the company, thus the fall of the incomes. It is usually expressed in terms of interest or money. Calculation of this indicator is extremely important for business, because of its influence on the sphere of activity, which allows to detect losses in the competitiveness of the enterprise's offer; it is connected with an implicit change in the quality of services, miscalculations in accordance with the needs of competitors.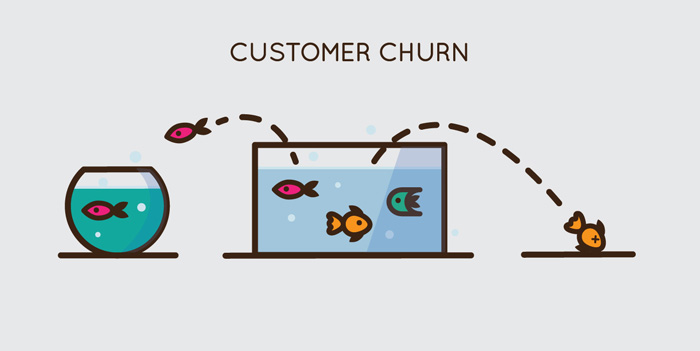 The process of churn rate calculation is relatively simple if the company has a clear definition of a lost client and accounting for this indicator. For example, if your churn rate is 5%, it means that every month your active client base is reduced by 5%. Or  your churn can be $ 2000: in that case, every month you lose $ 2000 of income due to the cancellation of customers or their downgrade.
The more buyers you have today, the less of them will remain tomorrow with you and it means that the cost of each new customer, like the difficulty of their search, is steadily growing. If you continue to lose your current users, finding others will be much more difficult.
Churn rate is an indicator of problems with the product itself. You need to understand what exactly causes the churn customers and eliminate the discovered drawbacks of the product, because only this will reduce the churn. The main goal is to make your product irreplaceable. It should become a valuable element of the daily routine of users.
One of the ways to raise the value of a product is a constant reminder to customers. For example, you can send your customers a regular report on the email with the data on the work done.
Also searched with "Churn rate"
Sales cycle - Sales cycle is a sequence of predictable stages, which are necessary to sell a product or a service...
Cross-channel marketing - Cross-channel marketing is the interaction between different channels and sales tools, their integration to increase the conversion and improve the customer experience...
SpamСop - SpamСop is a spam reporting service...
IP address - The IP address is a unique address in the network, which is necessary for finding, transferring and receiving information from one computer (crosspoint) to another...
DNS - DNS (Domain Name System) is the largest database of information about every website on the internet...
If you are interested in "Churn rate" you might be interested in our bulk email service.
---
Try SendPulse today for free