An anniversary email is a message sent out to an individual or a mailing list to celebrate a special date or occasion. These occasions can be birthdays, newsletter sign up anniversaries, first-purchase anniversaries, etc.
In this video, the SendPulse marketer shares milestone email ideas that you can easily put into practices with the service.
Anniversary emails are usually scheduled to be sent on the month, week or day of the anniversary that is celebrated. These are triggered emails created in advance and sent when a user performs the triggered action. Sending anniversary emails is a chance to keep subscribers engaged and turn them into loyal clients.
Why should one send an anniversary email
Anniversary email is great at retaining existing customers, boosting brand loyalty and encouraging repeat purchases. Providing customers with a special gift to celebrate the day they made their first purchase can go a long way in building trust with the business. This message makes them feel special and builds better customers relationships.
How to write an anniversary email
Using the right automation tool, you can create customized anniversary emails. Here some basic things to follow.
Make it look and feel special. From the design and images used to the gift offered, the email should make each subscriber feel warm and appreciated. For this purpose, craft an outstanding email template to fit your brand style.
Remember the times together. Get personal by prompting the recipient to think back their time with the brand. It's an excellent way to remind them why they joined you in the first place.
Use the email to collect customer feedback. Instead of giving a gift, a business can also use this chance to collect customer opinions and reviews. After all, good communication creates stronger relationships.
Keep the message sincere. Apart from showing appreciation, an anniversary email should be honest and straightforward. Use a warm and friendly tone.
How to send an anniversary email in SendPulse
In SendPulse you can set sending of the anniversary email campaign. Here is the example of the way to congratulate subscribers on one year since their first purchase. Follow this 3-step guide!
Step 1: Select Automation360
Register in SendPulse if you still don't have an account. Go to "Automations" and choose "Automation360".
Step 2: Add the general information
Enter your automation name, choose an email sender, days and time for sending, select unsubscribe form language.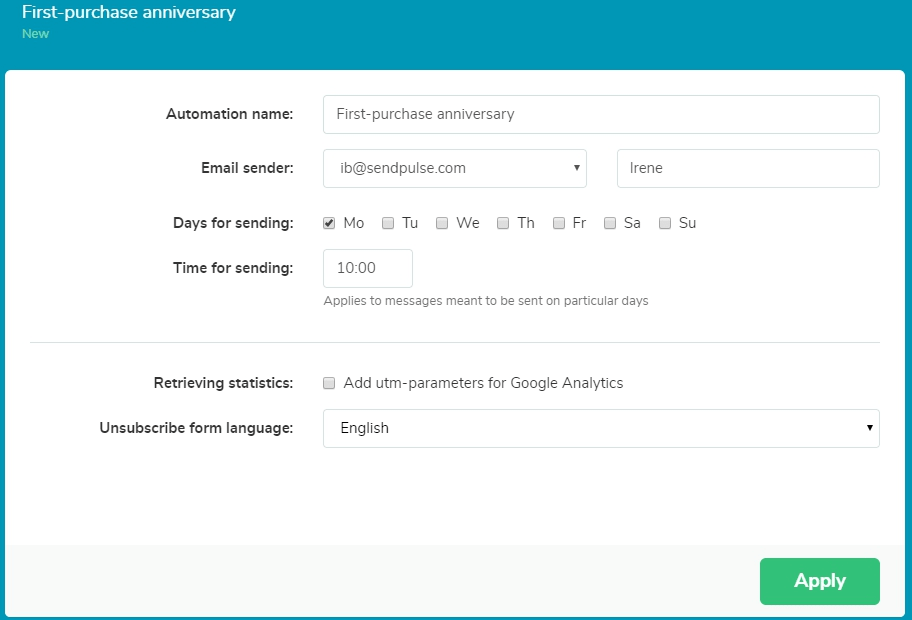 Step 3: Create an anniversary email campaign
Choose the event "Purchase" that will trigger the email sending. After that, drag "Email" to the working field. Set the number of minutes/hours/day to send it in, write a subject line and select an email template. Apply and save. That's all!
Get more insights about sending triggered emails in this guide.
If your mailing list has less than 2500 subscribers, send 15000 emails every month for free!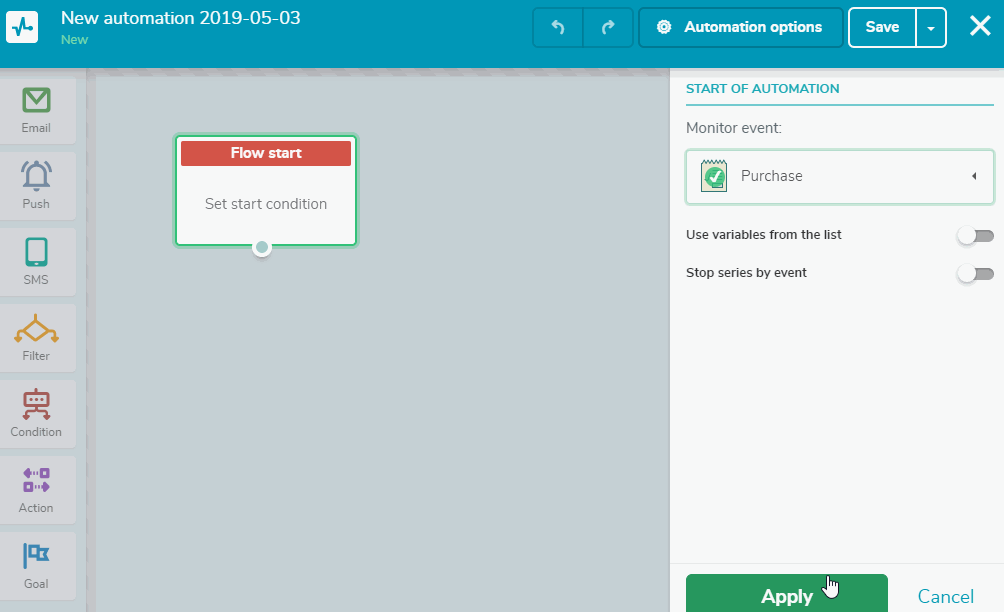 Anniversary email ideas and tips
To perfect that anniversary email campaign, here are some few tips as well as ideas to keep in mind.
Send anniversary email to congratulate subscribers on various events like a year after the sign up, three years after the first purchase, ten orders made in your store.
Segment your audience and send different emails based on the customer's gender, age, lifecycle, preferences, and other important factors. That will ensure personalized approach.
Offer different gifts based on customer interaction. Provide your most loyal clients with significant offers to keep them highly engaged.
Provide customers with time-limited offers to increase impulsive sales.
Use the customer's past buying history to cross-sell products they have recently bought.
Increase brand awareness with the help of contests. Offer your customers a special gift for taking part in the contest, encourage them to share photos on socials and tag your brand. Thus, you will not only make fun but grow your audience as well.
Anniversary email examples
Asos offers a client to celebrate one year since the first purchase and presents a 10% discount.
Grammarly's email celebrating the recipient's one year of subscription to the service.
Zumiez offer free shipping on selected orders to celebrate Mickey Mouse's 90th anniversary.

Habitat sent this email to celebrate 1-year anniversary since they had launched their Click & Collect delivery service.
Last Updated: 2019-11-11