Mailing templates
An email template is an HTML preformatted email that you can use to create your own unique email template by changing proposed content to your own. SendPulse offers more than 130+ free ready-made templates to any taste.
An email template allows you to quickly and easily write and create email campaigns because all you have to do is replace pictures, texts, fonts, and other elements of the email. In SendPulse, the gallery of email templates is divided into thematic sections to quickly find the suitable option. You can choose the most appropriate topic among these, whether it be ecommerce, holiday, restaurant, business, travel, healthcare, education, or something else.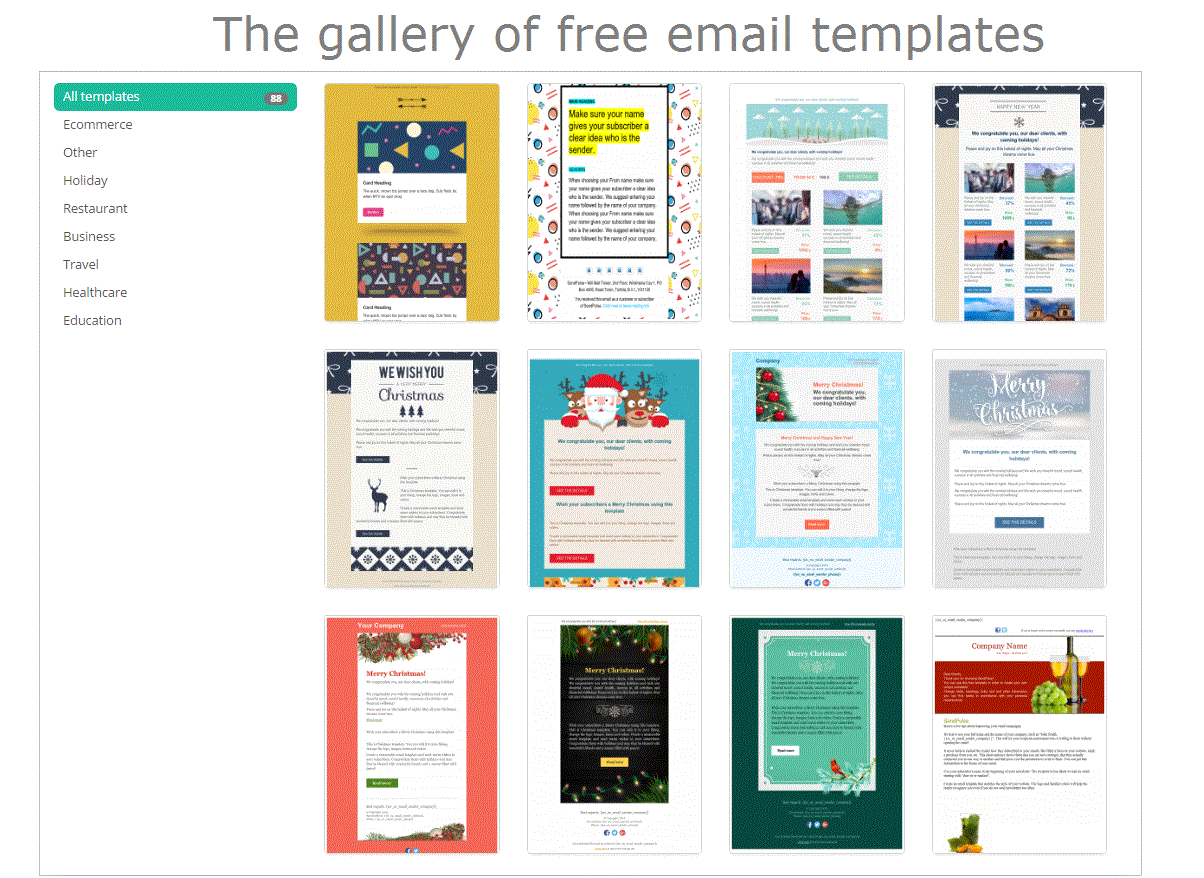 Benefits of using an email template
It saves you time and effort
Rather than having to create the email template from scratch, you can easily upload your pictures, change the text, and select relevant and new content for your subscribers. You don't have to choose what parts of the email to include, where to insert the images, and where to write the text. Instead, with the ready-made template you will have more time to search for unique new content.
You don't need to check the formatting
Each time you create a new email template from scratch, you should check it for errors, because working with a large amount of data you risk leaving out important sections or making mistakes with formatting. Using a template ensures your email has exactly the same look as in previous newsletters.
Also searched with "Mailing templates"
Newsletter - To inform already existing, and also potential buyers about any new plans of your organization; Inform about what is going on in a particular sector of industry and in whole  in the sphere of interests; Promote goods and services; Newsletter allows to:...
Conversion - Conversion is the ratio of the number of visitors who have completed any target action inspired by advertisers, marketers, merchants, and content creators to the total number of visitors to the site...
Unique Clicks - The measure of unique clicks of the first newsletter will be much higher than unique clicks of the following newsletters, because subscribers open and read the newsletters with pleasure and curiosity after they recently signed up...
Phishing - Phishing is network fraud...
Personalized email - Arousing interest in communication...
Rate this article about "Mailing templates"
Try SendPulse today for free
If you are interested in "Mailing templates" you might be interested in our bulk email service.
Sign Up