Email list management is a set of actions to collect information about subscribers, analyze their behavior, ensure their email addresses' validity, clean an email list from inactive users, etc. These actions will help you maintain a healthy email list, which is crucial for gaining success in email marketing.
Why is email list management important?
Healthy relationships with your audience
Resource saving
More accurate results
Companies that seek instant benefits overlook the importance of email list management. It's hard to build long-term relationships with subscribers unless you manage your email list by paying attention to every member of your audience. It is better to have an email list that consists of genuinely interested subscribers to get the most ROI.
Here is what your business can get in return for using sensible email list management practices:
Healthy relationships with your audience. Email marketing works best when companies take into account subscribers' interests. The more quality content and relevant offers you share with your audience, the better long-lasting relationships you'll have.
Resource saving. An appropriately managed email list consists of interested people with valid email addresses. It results in better email deliverability, sender reputation, level of user engagement, and fewer bounces. Your goal is to spend less time and money by avoiding sending emails to people who don't want to receive them.
More accurate results. You can track your email campaigns' efficiency by analyzing metrics like open rate, CTR, unsubscribe rate, etc. With a healthy email list, you can rely on these metrics since you only communicate with engaged subscribers.
As you can see, email list management is worth your time because it allows you to better control your email marketing strategy. Let's learn where email list management starts.
How to Build an Email List
Create a subscription form
Use a lead magnet
Go viral with giveaways
Use an opt-in page
You need to create subscription forms, lead magnets, giveaways, or opt-in pages so that users can leave their email addresses and initiate communication with your company. To attract more people, marketers add valuable incentives that encourage users to join their email lists.
Let's see what you can do to gather subscribers.
Create a subscription form
You can place it on your website or blog and ask users to share their email addresses in exchange for relevant and engaging content from your brand.
Creating a subscription form is easy with SendPulse. Just choose the layout of your form, add all the necessary fields, insert text, an image, and a CTA button. Follow this guide to create a subscription form, like the one below, in half an hour.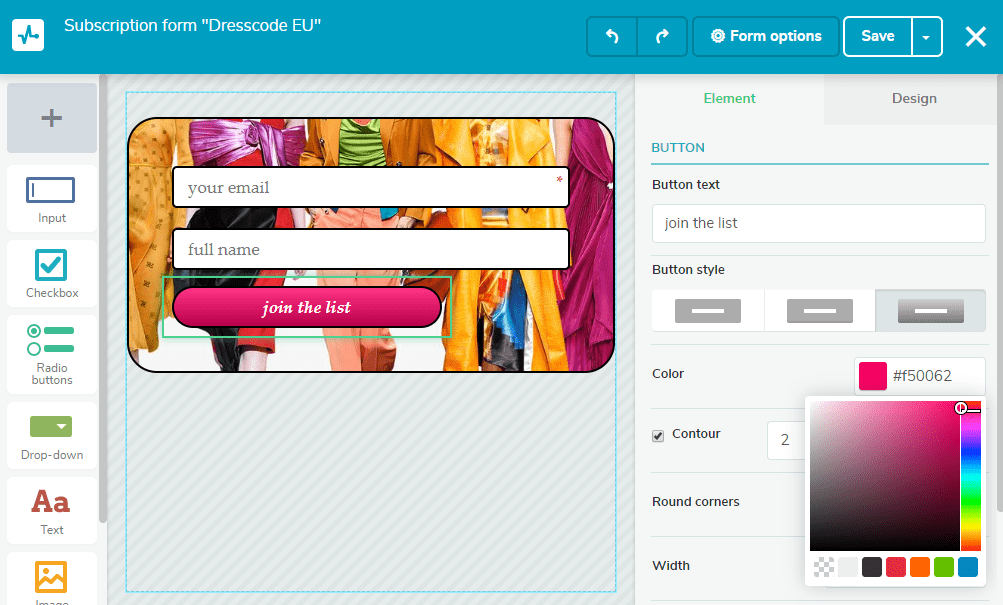 Use a lead magnet
A lead magnet is a lead generation technique that adds more reasons to join your email list. Marketers usually offer something valuable, like a free e-book, guide, product sample, etc., in exchange for a user's subscription. It is a sort of a modified subscription form, but it can be more interactive and eye-catching.
This pop-up wheel of fortune is a magnificent lead magnet on Neil Patel's blog. It draws attention and encourages users to try their luck.
Go viral with giveaways
A giveaway is designed to attract attention and encourage sharing on social media. To run a giveaway, a company puts something valuable at stake, like an online course or a new product, and announces the rules for participation. Usually, they are simple: users leave their email address and share the giveaway post with their friends to win a freebie. After that, the company sends giveaway emails to share more details and later announce the winner.
Here's an example of an email from AppleMusic. The company allows subscribers to win a music festival ticket, get exclusive interviews, behind-the-scenes access, and artist-created playlists as bonuses for participation.
The challenge here is attracting interested people and preventing them from unsubscribing after the giveaway is over.
Use an opt-in page
It's a landing page that is explicitly designed to convert visitors into subscribers. The opt-in page is similar to a lead magnet, though it takes a separate webpage to say more about what users will get after subscribing.
Below is an opt-in page from Hitenism. The company offers an e-book and uses social proof to encourage visitors to subscribe.
Now that you've learned how to create an email list legally, let's finish this guide with some crucial best practices!
Email List Management Best Practices with Examples
Only communicate with opted-in users
Use a double opt-in method
Create smooth onboarding
Segment your email list
Allow users to manage their preferences
Send re-engagement campaigns
Verify email addresses
Encourage subscriber loyalty
Here are eight actionable tips that will help you improve your relationship with your subscribers.
Only communicate with opted-in users
Let's review: the opt-in approach is not an option, but a legal requirement. The most common way to collect subscribers legally is by placing a subscription form, like the one below, on your site.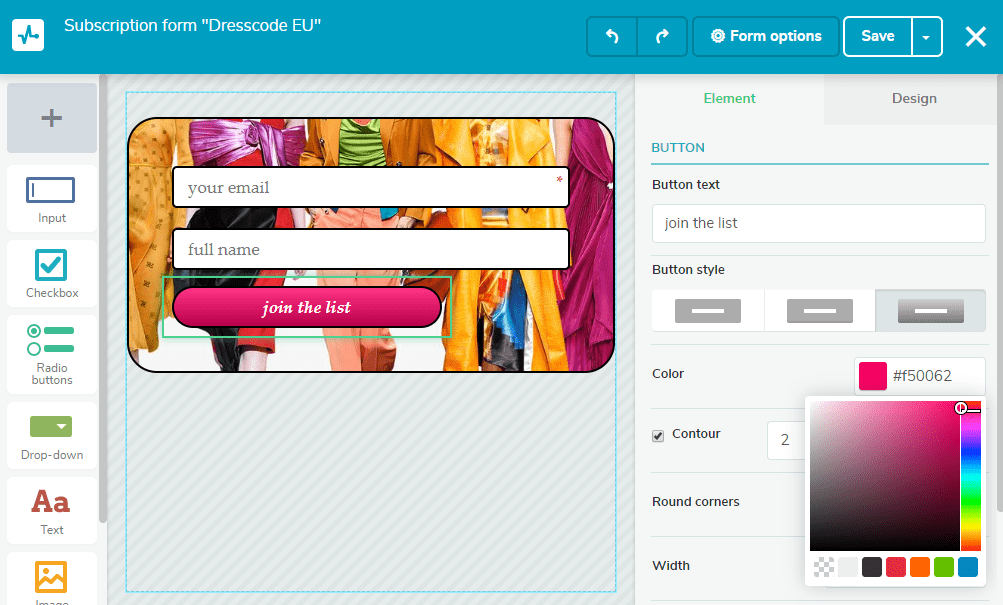 Use a double opt-in method
A double opt-in approach requires users to confirm their subscription via a confirmation email. Since they need to complete one more action to subscribe, only interested people will join your list.
Here's an example of a subscription confirmation email from Leica.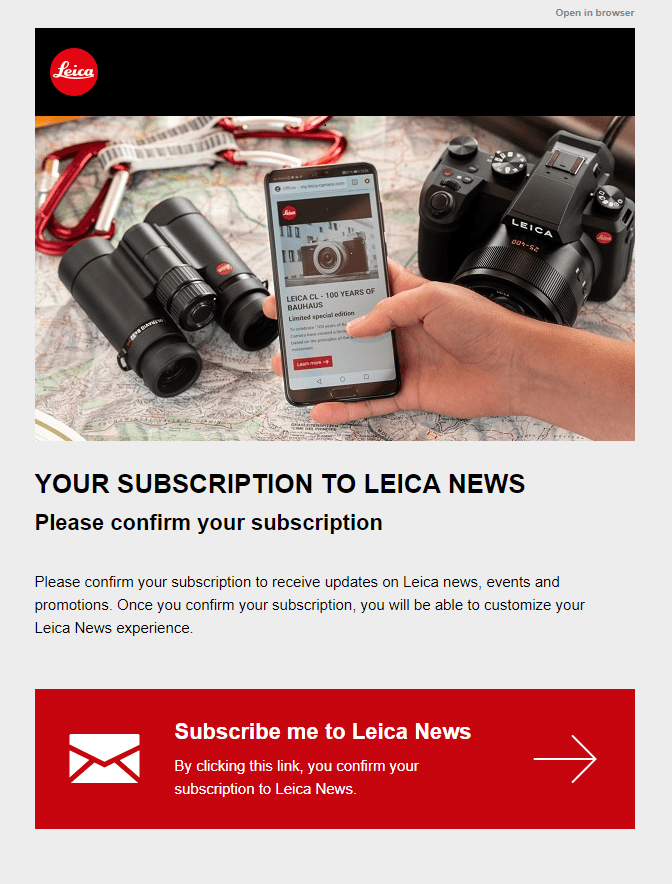 Create smooth onboarding
This is the way you greet new subscribers on your email list and get them acquainted with your brand. You can easily set up sending automated emails, including onboarding emails, with SendPulse's Automation 360.
Check out the example from FairyGodBoss. It highlights the brand's expertise in the field and specifies how it helps women find the right job.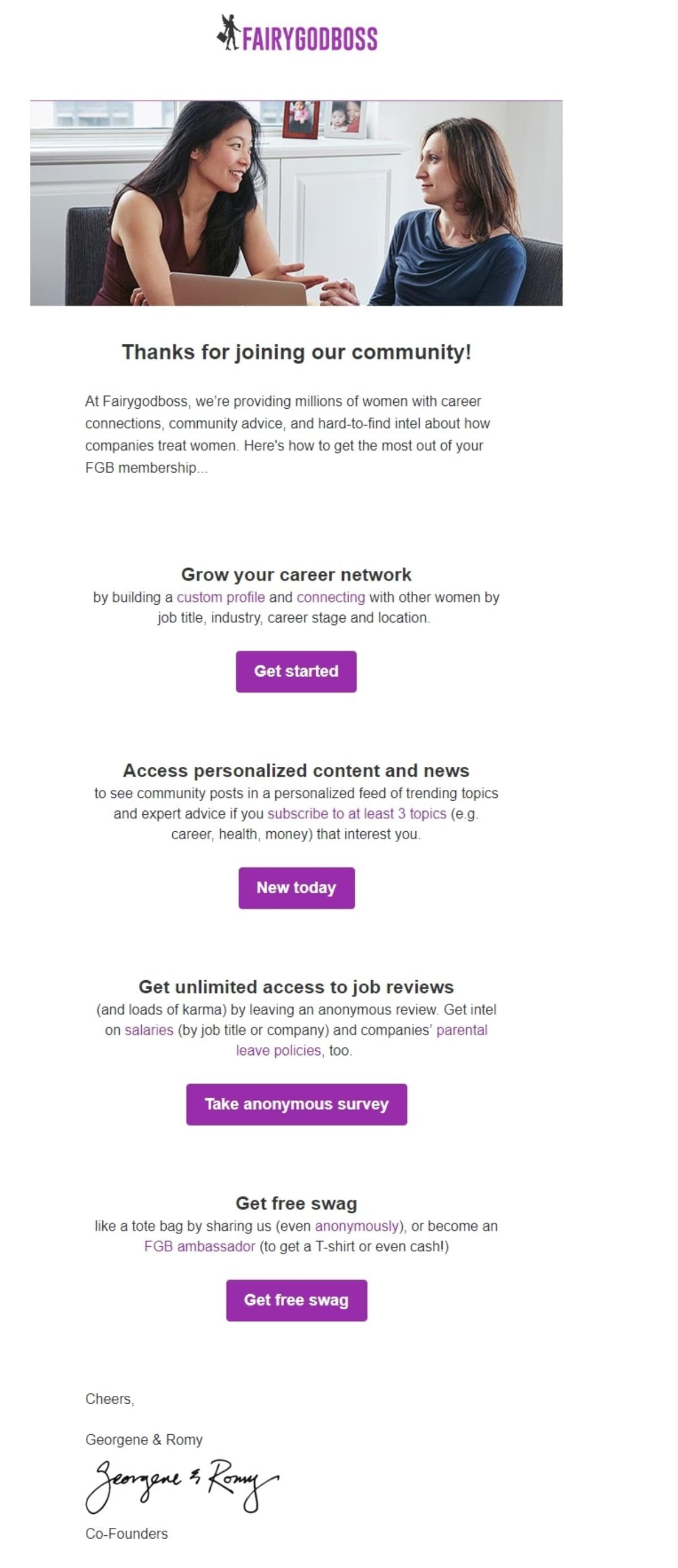 Segment your email list
Segmentation allows you to divide your email list into groups based on common characteristics, like age, gender, location, etc. It helps you provide the audience with personalized emails and improves user engagement.
The email from National Geographic below is based on users' interests. During the subscription, recipients of this email specified that animal life is one of their interests.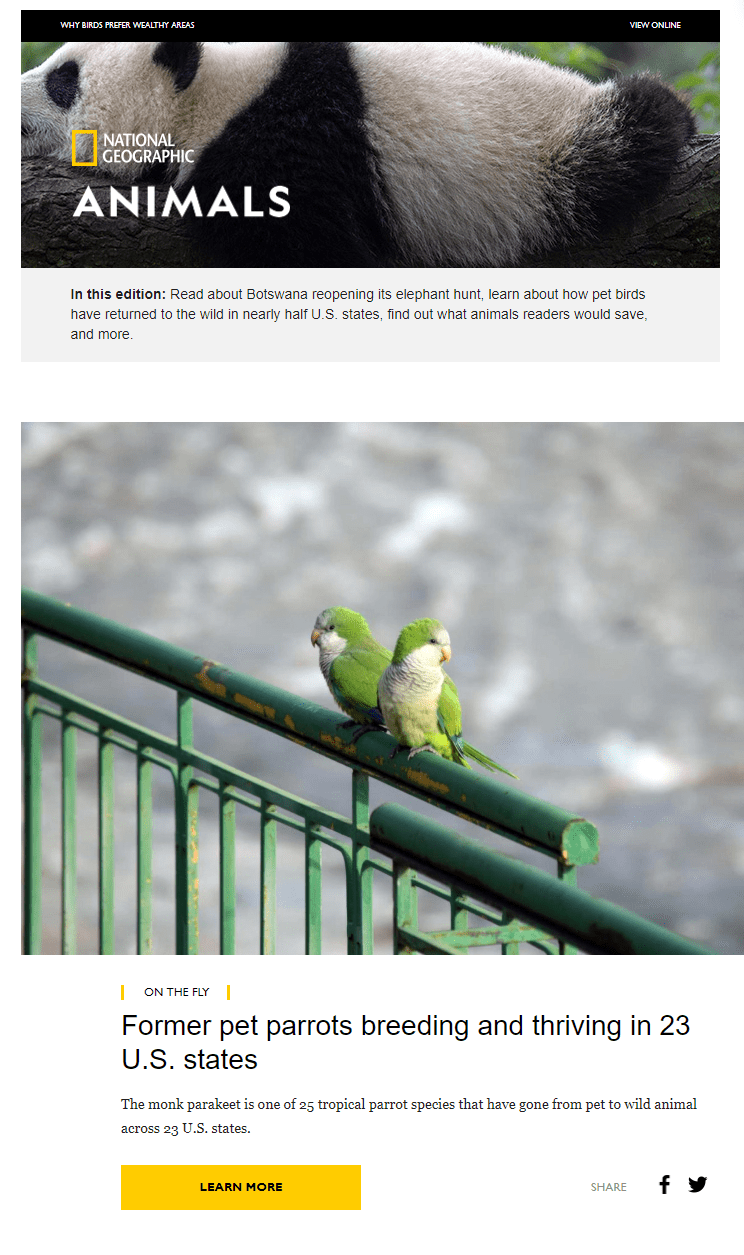 Allow users to manage their preferences
This is equally beneficial for both senders and recipients. Preferences management allows your subscribers to have control over the frequency and types of emails they receive. At the same time, it allows you to tailor your messages to specific segments of your audience.
Below is the Email Preference Center of UncommonGoods. Subscribers can choose the type of content they want to receive and share their interests with the brand.
Send re-engagement campaigns
Send these emails to re-engage users who have ignored your campaigns for 3-6 months. Some people return after you remind them about the value you share. However, there's no point in keeping users who ignore this email. It is best to remove them from your email list immediately.
Check out this brilliant example of a re-engagement campaign from GrowthRocks. It's simple, funny, and unique.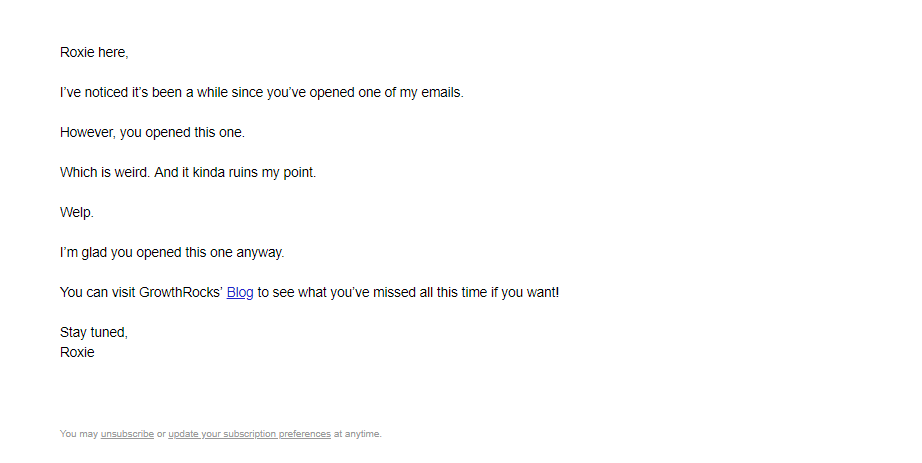 Verify email addresses
Your subscribers may abandon or change their email addresses for various reasons. An email verifier is a tool designed to ensure your email list consists of valid email addresses. It's easy to use: you just need to upload your email list, and the service will run numerous validation checks in a minute. Once the validation is over, you can remove invalid email addresses from your list and spend less on email delivery.
Here's how the Snov.io email verifier works. It runs verification checks for a hundred email addresses in a blink of an eye.
If you use SendPulse for email marketing and don't want to use a third-party service, check your mailing list with our in-built Email Verifier.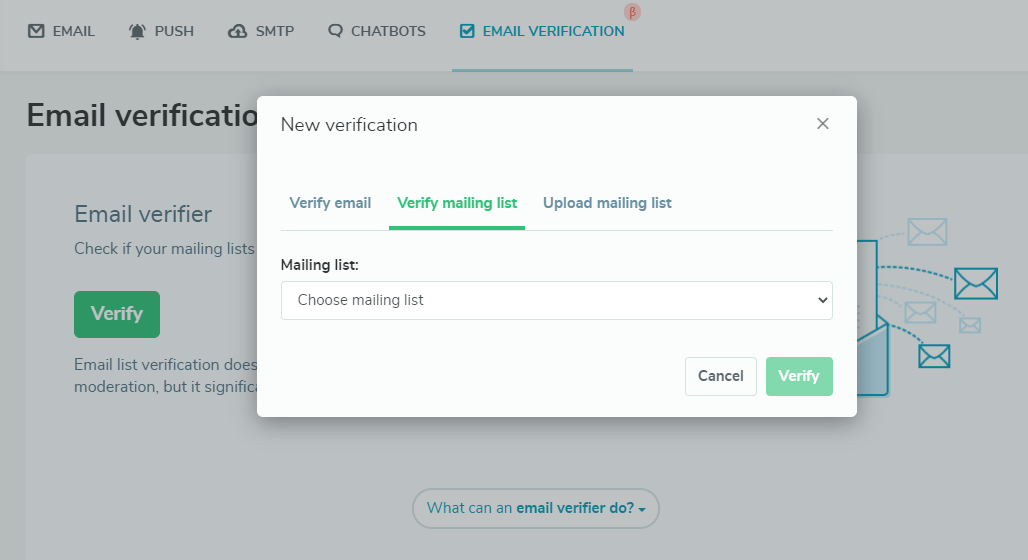 After the validation, you'll receive a list of valid email addresses.
Encourage subscriber loyalty
It's much cheaper and easier to sell to a loyal customer than it is to acquire a new subscriber. Being on your email list should be a privilege, so you need to make subscribers feel special. Send anniversary emails, say a few warm words on your subscriber's birthday, and offer exclusive discounts for loyal customers.
Here's an anniversary email from Asos. It is sent a year after a user joined their email list.
Congratulations, now you know how important it is to do email list management. Start building your healthy email list and send relevant email campaigns with SendPulse today!
Last Updated: 22.03.2023