An email service is a company that provides businesses with tools to send bulk emails and implement email marketing. Email services offer user-friendly features to manage mailing lists, email design, and metrics to monitor your success.
Why is email service important?
Fits any business
Provides useful tools for creating emails
Gathers a lot of data
Results in high ROI
Offers an inexpensive or free trial
Simplifies sending emails
Fits any business. Whether it's a small business or a large enterprise, any company can use email services to reach different marketing goals, like nurturing leads, sharing news and updates, making valuable proposals, building trusting relationships with subscribers, and more.
Provides useful tools for creating emails. Reliable email services have user-friendly tools for creating emails. You can use a drag-and-drop editor, which requires no coding knowledge, or an HTML-editor, for more savvy marketers.
Gathers a lot of data. Email services provide users with a lot of helpful information about subscribers' reactions and behavior. There are metrics like open rate, click-through rate, bounce rate, etc., which give practical insights and clues, improving an email marketing strategy.
Results in high ROI. An email service is a tool for email marketing. It brings the most significant return on investment, among other digital marketing approaches. An email campaign can reach up to 4000% of ROI, which means that $1 of investment pays off with $40.
Offers an inexpensive or free trial. Some email services provide their users with a free plan. So there's time and space to learn and test an email service's functions, send a couple of email campaigns as a training, and move to a paid plan if necessary. SendPulse gives a free plan without time limitations.
Simplifies sending emails. Email services make it easier to send transactional emails such as registration validation, order confirmation, password recovery, etc.
How to Choose an Email Service for Business
Pricing plan
Domain reputation
User experience
Mailing list management
Statistics gathering
Tools for automation
Support team
Before you make a decision, check how email services address the following items:
Browse the web to know what other people and companies think about an email service. Read user reviews about features, usability, pricing, and compare this information with your observations. Choose a service that can help you achieve your business goals.
Send professional emails!
Blow up sales and build relationships with customers by sending email campaigns. Make use of the flexible drag and drop email editor, segmentation, subscription forms, A/B testing, automation.
What tools does SendPulse provide?
Subscription form builder
Email Verifier
Mailing list segmentation
Instruments for creating emails
Scheduler
Automation 360
Resend to unread
Web push notifications
SMS Campaigns
Facebook chatbot
Split-testing
Subscription form builder
A subscription form is a vital tool for lead generation. SendPulse provides a convenient drag-and-drop editor to create subscription forms. You can use data you collect for the segmentation and personalization of your email marketing campaigns.
If you have chatbots in Facebook Messenger or Telegram, create multichannel subscription forms. This way you will grow your subscriber base and communicate more effectively with it. Just add links to your chatbots. Check out such a form created with our builder.
Email Verifier
This tool helps your emails land in the inbox and keep your sender reputation high. If you collected addresses long ago and haven't sent any email to them yet, this tool is right for you. Upload your list and in minutes you'll see the status of each address on your list and receive a new, absolutely valid mailing list.
Follow this guide to verify your mailing list.
Mailing list segmentation
Segmentation enables you to smartly manage your mailing list, dividing it into smaller groups based on country, gender, age, behavior, place in the sales funnel, and so forth. Segment your audience to provide subscribers with valuable and relevant news and offers.
Instruments for creating emails
Users either design email templates to apply in multiple campaigns or choose among many predesigned email templates. A smart drag-and-drop editor enables them to create email campaigns in no time. For marketers with coding knowledge, there is also an HTML editor. All emails in SendPulse have a responsive design, so your email campaign will look professional from desktops, laptops, and smartphones.
Scheduler
This tool enables you to send an email campaign at any time you consider the most convenient time for your subscribers. SendPulse allows email scheduling for all marketing campaigns.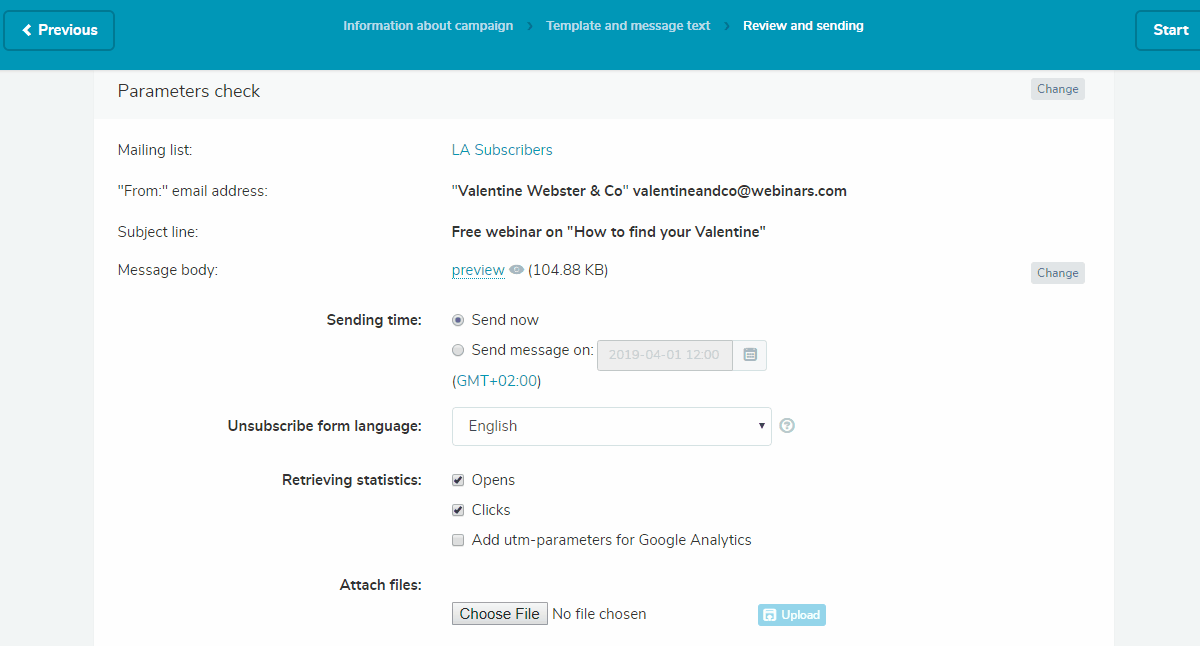 Automation 360
Automation 360 is an excellent tool for reaching more sophisticated marketing goals. With Automation 360, you can create an email workflow to confirm registration, send abandoned cart emails, say "thank you" after the purchase, and manage custom events, like Black Friday, Cyber Monday, or your company's anniversary.
Resend to unread
SendPulse gives an option to resend emails to those who never opened your previous emails. You need to сhange the subject line, so the recipient won't recognize it's the same message and schedule the time for redelivery.
Web push notifications
You can reinforce your email marketing efforts with web push notifications, which are hard to miss. Web push is a message your subscribers receive in their browser. It notifies them about sales, new content, and updates on your website.
SMS Campaigns
In this case, an email service is no longer just for email campaigns. SendPulse allows you to send SMS campaigns, as well. You can personalize and automate your SMS marketing efforts.
Facebook chatbot
This tool is developed to send mass and personalized content in Messenger. No coding knowledge required, as there is a handy Chatbot Message builder.
Split-testing
This feature allows you to work out the best variant of a subject line, subscription form, image, text, etc. Our AI calculates the required number of subscribers for testing, splits them into two equal groups, and send them two different variants of email separately. After you receive data, you can observe which email worked out.
Email Service Tips
Develop your email marketing strategy. Learn as much as possible about email service's features. Decide which of them you can use for your email marketing efforts. Send a couple of email campaigns to feel how it all works. Move on to more significant tasks.
Monitor data. Check your email marketing success with open rate, click-through rate. Use A/B testing to improve the quality of your emails. Maintain low spam rates.
Stay in touch with support. If you have any issues with an email service, ask the Support for help.
Follow best practices and tips. There is a lot of information about email marketing on the Internet. Search, try, compare different methods. Implement the best of them into your email marketing strategy.
Last Updated: 22.03.2023