Facebook chatbots
Create auto reply flows and deliver bulk and personalized messages to Facebook Messenger
Сonnect chatbot
How to create a Facebook Messenger chatbot
Design and set up a chatbot without coding
Connect Facebook profile
to SendPulse

Select the "Messenger" section in your SendPulse account and log in to your Facebook account.

Choose Facebook page

You can add a chatbot
to one or more Facebook pages
that you manage.

Use a widget to grow your list
of contacts

Collect contacts for direct real-time
interaction with a single person
or a group of people.
Chatbot auto reply flows
Create message flows that imitate live communication with a representative of your company.
Organize conversational logic of your chatbot based on keywords that users type in the chat, for example, "price," "delivery," "purchase."
Develop a conversation scenario based on clicks on links and buttons.
Detailed statistics on interaction with the chatbot
Analyze the interests of your audience. Check the number of sent and read messages as well as the number of the followed links in them. Learn more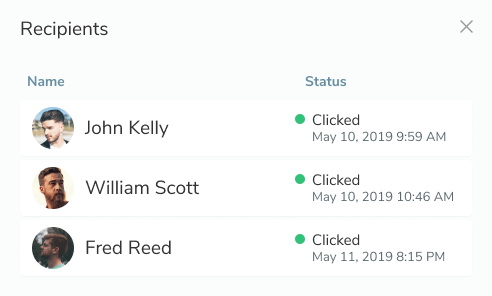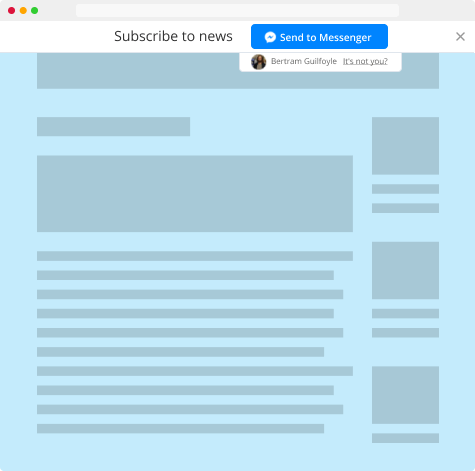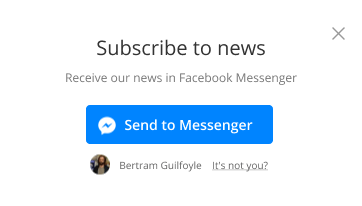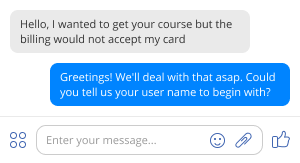 Subscription widgets
Sign up users via Facebook Messenger widgets directly on your site
You can place subscription widgets on your site and offer visitors to receive updates from you. Choose the form type of widget and add a description of your bot in the header.
Learn more
Facebook campaign is easy to create. But it's even easier to launch!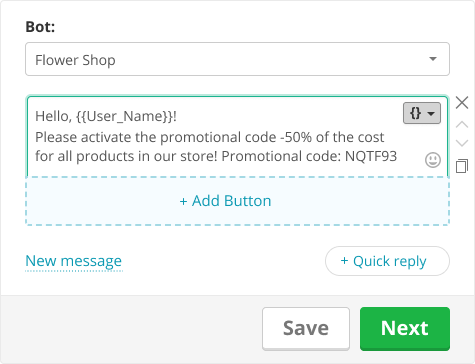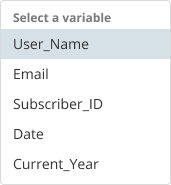 Chatbot message builder
You can send mass campaigns consisting of several messages, as well as of different types. You can insert a button with a link into a message or specify a phone number.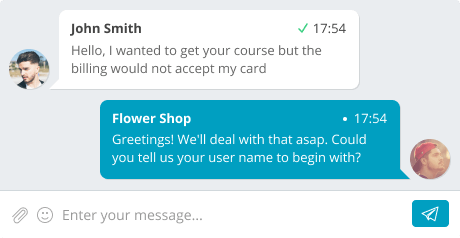 Live chat
Add a live chat to your website by installing a widget. Greet new users and answer questions based on autoresponder templates. Set up the logic of the chatbot message flow.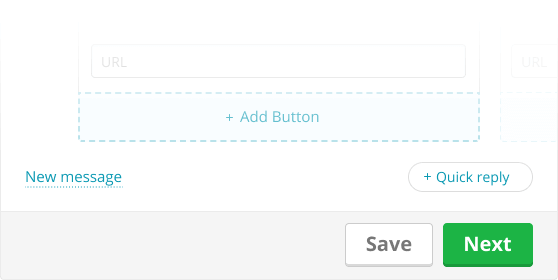 Various types of messages
Use text messages along with a variety of visual content. Insert images, product cards and file.
Tools for building an intelligent chatbot
in Facebook Messenger
RSS autopost
Send news, alerts of new posts from RSS feed.
Scheduler
Schedule messages and have them sent on a specific day and time.
Detailed statistics
Evaluate results of campaigns you send in Facebook chat.
Email and phone request
Use diverse communication channels on a single platform.
Message preview
Get a quick look at how
your message is displayed
on different screens.
Chatbot Test Mode
Select the test
mode to verify
message flow.
Chat panel
Don't miss a message.
Open the panel that allows
monitoring bots and chats.
Autoresponders
Build the logic of the bot in response to keywords in the dialogue.