Facebook marketing is a platform that offers a variety of highly targeted paid advertisements and organic posts, allowing brands to put their products and services in front of the massive audience. Over the last decade, Facebook has shifted from the most prominent social medium on the internet into one of the biggest marketplaces.
Why is Facebook good for marketing?
Has global coverage
Offers highly targeted paid ads
Makes organic reach possible
Allows integrations with other marketing channels
Digital marketing offers a variety of channels for building communication with the audience: social media, emails, messengers, search engines, SMS, web push notifications, etc. Let's get a closer look at the reasons why you should consider Facebook as a platform for growing your business:
Has global coverage. Over 1,5 billion users visit Facebook daily. About 2,3 billion — every month. More than 7 million active companies create ads for this massive audience.
Offers highly targeted paid ads. With Facebook Ads, you can tailor your promotions to a specific audience based on gender, age, location, job, interests — any demographical or behavioral data, which users willingly share with Facebook.
Makes organic reach possible. If you don't have resources to utilize Facebook Ads, build relationships organically by sharing materials that bring value to people on your Facebook page. Your posts will show up in the newsfeed, though the high level of competition will make it harder to build an audience naturally.
Allows integrations with other marketing channels. Facebook marketing is not a single isolated system. You can combine it with other marketing channels, like email marketing, mobile marketing, search engine marketing, and Facebook Messenger ads, to develop a promotion mix that will increase your brand outreach.
Formats of Facebook Marketing
Video ad
Image ads
Carousel ads
Collection ad
Slideshow ads
Lead generation ads
Facebook is not only a social media leader but also a fast-growing company due to half a million new accounts created per day. As time goes by, Facebook developers come up with new formats of ads to meet modern requirements of Facebook Ads funnel building, optimizing the time-proven ads. Here's a list of Facebook marketing formats:
Video ad
It is an excellent way to demonstrate the features of your product in action. Facebook allows using different types of video to meet specific goals: short videos and GIFs to quickly capture attention on a go, or In-Stream videos for a longer TV-like watching.
Image ads
In case your budget is too tight to make a video, image ad is a good idea for creating a high-quality ad fast and easy. This format will help you raise brand awareness and drive people to your website.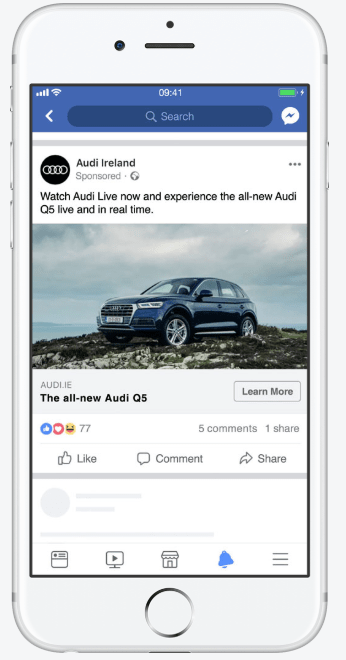 Carousel ads
This format allows showcasing up to ten images or videos inside a single advertisement — each with a link to a specific product page. It provides a vast field for creativity and interactivity since you can feature one product in detail, or a few different products, or tell a story, separated by those carousel cards.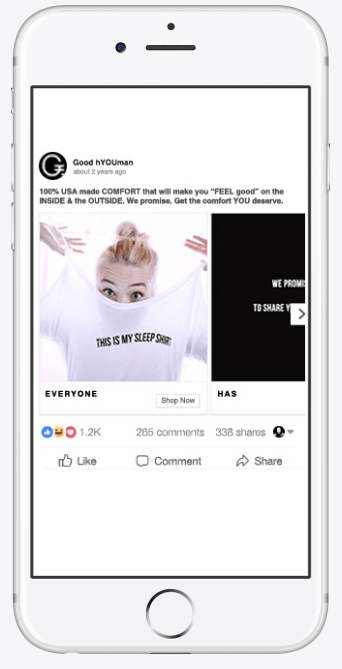 Collection ad
It is like a small catalog of your products right in a post on the Facebook feed. A Collection ad consists of one original video or image and four smaller pictures below in the form of a grid.
Slideshow ads
It is a video-like format that displays well even if the speed of the internet connection is low. You can create such an ad using a variety of stock images, some handy tools for video editing, and even music.
Lead generation ads
This format was developed to assist in generating leads, especially regarding mobile users. When a user taps on the image in such an advertisement, a subscription form shows up right in the ad, making a few taps enough to opt-in to your newsletters.
There are also three ad types for increasing engagement — Post engagement, Event responses, and Page likes.
Facebook and Email Marketing
We have a variety of marketing channels to choose from: social media marketing, search engine advertising, messenger, and email marketing, to name a few. It's great that you can combine these platforms to reach particular marketing goals with the accuracy that had never been available before.
Find out the best proportions of email marketing and Facebook marketing in your overall strategy. Let's review the ways these channels can complement each other.
What can Facebook add to email marketing?
With Lead ads, Facebook lets people opt-in to your email newsletters directly in a Facebook post. Aside from Lead ads, you can incorporate positive user feedback collected on Facebook into your email campaigns to empower the feeling of trust with social proof.
Try out SendPulse integration with Facebook to ensure that all users that subscribe to your Facebook page will be automatically added to your mailing list.
How can email marketing combine with Facebook?
Email marketing is a platform where the central communication unit is an email — the message that contains text, offers, and call-to-actions. It aims to drive sales and build long-lasting relationships with the audience. In the footer of each email, you can add social media buttons and suggest subscribers engage with your brand on Facebook. You can also create giveaway emails, providing bonuses for posting about your brand in socials.
With SendPulse, you can collect users' email addresses and let them join your chatbot in Facebook Messenger from one subscription form. To create a multichannel form, you need to add a link to your chatbot. 
References
The article "7 Ways to Use Facebook for Marketing" by Wordsteam explains how to make the most of your Facebook Business page.
The article "Facebook Marketing" by HubSpot tells how to drive demand and grow business on Facebook.
The article "Facebook Marketing: a Comprehensive Guide for Beginners" by Neil Patel teaches us to set up a perfect Facebook page and many more.
Last Updated: 2020-06-11