Social media marketing surveys, like this one from Buffer, all have one thing in common — Facebook is the number one social network businesses use marketing themselves.
You should be taking advantage of Facebook to reach your audience too, and the best way to do this is through ads. Using Facebook Ads, you can reach a huge audience instantly. But you need to make sure you follow some best practices when you create your ads to get the best ROI. Therefore, to help you get the best results, we have made this quick guide to creating Facebook ads, but first, let's discover the benefits of advertising on Facebook.

Benefits of advertising on Facebook
If you are looking for a budget-friendly marketing channel to promote your business, you should consider using Facebook ads. Below you'll find some of the benefits of advertising on Facebook.
Large user base
More than 2.6 billion monthly active users are on Facebook, making it the most widely used social network. Besides, Facebook owns four of the most popular apps of the decade, including Facebook Messenger and Instagram — apps where businesses can take advantage of the strong level of user engagement. And advertisers can use both of these platforms through Ads Manager, in addition to advertising on Facebook itself.
Almost every business can find their target audience on Facebook, as this social media network covers a wide range of active users with a bunch of interests and behavior models.
Opportunity to cater ads to your specific objective
You can assist Facebook in delivering your ads to people who are most likely to take your desired action by choosing the ad objective that best aligns with your goals. Facebook allows you to choose from 11 optimized ad objectives, from getting more likes on your posts, driving traffic to your website, to generating leads and conversions. The objective you select helps Facebook's algorithm determine the best audience and placement of your ads to get more conversions.
Opportunity to deliver ads to your email subscribers
Almost every business has its own subscriber database that they send email campaigns to. However, subscribers don't open every email a company sends them, and often, they unsubscribe from emails altogether. Considering that email subscribers are a highly interested part of an audience, it's not convenient to lose even a small percentage of them.
With Facebook Ads, you can upload your mailing list and engage your audience through ads on their preferred social media platform — Facebook or Instagram.
Unlimited copy length
Google Ads limits text ads in terms of their length, so it's always difficult to fit your catchy message into this limit and describe your offer's point. Facebook Ads, in turn, allows room for your creativity. You can add large pieces of text and use emoji for your ads to streamline audience interaction and motivate them to complete the desired action.
Four steps for successful advertising on Facebook
Let's find out how to use Facebook ads with four crucial steps with effective Facebook ad targeting tips and tricks.
Important distinction: When referring to running ads on Facebook, we're talking about going to business.facebook.com to create highly targeted ads from scratch, not using the Boost button.
Step 1. Choose a goal
If you go to the Ads Manager and start creating a new Facebook ad campaign, the first choice you'll have to make is selecting the campaign objective. Your advertising objective is what you want people to do when they see your ads. Depending on what you've chosen, Facebook auto-optimizes your campaign so that it reaches the right people.
As of now, Facebook Ads Manager offers a wide range of campaign objectives broken up into three categories.
Here's a rundown of every objective available.
Awareness objectives for Facebook ad campaigns
This category of ads is suitable to drive impressions and build your brand image. You can use them to engage audiences who are already familiar with your company and to attract potential customers. In Awareness ads, you only focus on reaching as many people as you can. You don't try to sell anything.
When your Facebook ad objective is focused on awareness, you have these two options:
Brand awareness. If you choose this objective, the chosen target audience will see your ad the maximum number of times. The same user may see your ad several times.
Reach. If you choose this objective, the maximum number of people within the chosen target audience will see your ad. You can set a frequency cap for your ads, or the minimum number of days before the same user sees your ad again.
These ads use native content such as an image or a video like this one from Smartly.io.
This is a video ad without any promotions. They just invited Rebecca Roth, a Social Media Specialist at Nasa, to offer some free advice.
Consideration objectives for ad campaigns
Consideration ads are used to warm up your audience before you sell them something. This is an important step when selling high-value products. When you warm up your audience, they will be more likely to buy your products in the future.
So, moving down the funnel, or being in the middle of it, you can use different objectives from the Consideration category:
Traffic. The Facebook algorithm will show your ad to people within your target audience that are most likely to click on your link and visit your website.
Engagement. Use this objective to get more people to engage with your ad on Facebook or Instagram — get more likes, comments, and shares.
App installs. This objective will tell Facebook's algorithm to focus on getting your application downloaded by more users via Apple's App Store or the Google Play Market.
Video views. This objective is used when you want more people to view your video. However, considering that video content is trending on Facebook, you can also use this objective to boost your website traffic. You just need to add a link.
Lead generation. Use this objective if you don't have a website or landing page, but you need to collect people's contact information. It functions in the following way: you create a form that opens once a person clicks on your ad, and they can leave their contact data there. You can set up the form in your Ads Manager — choose the number of fields and the type of data you need to collect. You can also use the SendPulse and Facebook Lead Ads integration to automatically transfer your leads to SendPulse's mailing lists and use them for future email campaigns.
Messages. Choose this objective if you want more people to connect with you. After a person clicks on your ad, they are redirected to a messaging platform where you can answer any questions they have, overcome objections, and offer product recommendations based on their needs. This objective also works to promote your chatbot.
Here is an example of a consideration ad from Leadpages that redirects users to a blog post.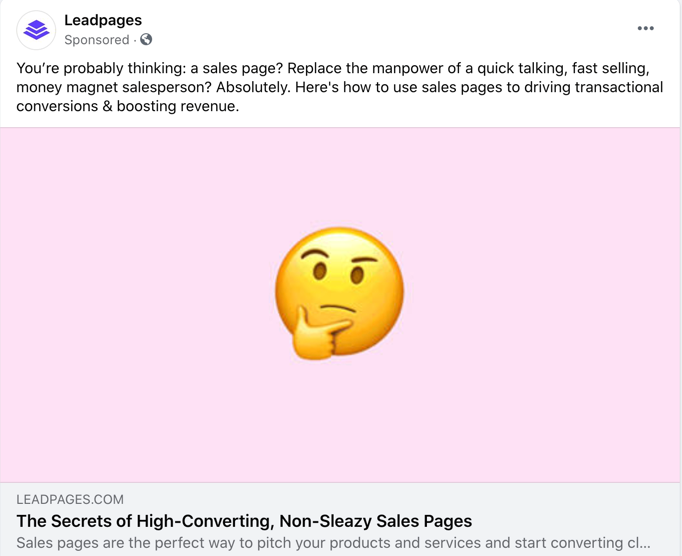 You can also encourage your leads to install a free app or watch a video. Another option is to send them to a landing page to subscribe with a lead magnet like a webinar, white paper, eBook, or report. Here is an example of a landing page lead magnet from Mention.
When you use consideration ads, other channels used through the sales funnel, like email campaigns, play a key role. So, make sure you use a good email marketing platform for this.

Conversion objectives for ad campaigns
There are three types of goals in this category:
Conversion. This is similar to the Traffic objective as it is used to redirect people to a specific website where they can convert. However, Facebook's algorithm functions a little differently for this type of goal — your ads are shown to users who are most likely to purchase or take your desired action. For this type of ad to work effectively, set up a Facebook pixel on your website, and create a custom conversion.
Catalog sales. To use this objective, you must have a product catalog on your eCommerce store linked to Facebook so that it can be added to your ads. The Catalog sales objective is suitable for retargeting — users will see items from pages and website categories they recently visited.
Store traffic. This objective for advertising on Facebook is the best option for owners of offline businesses. When launching this type of ad campaign, you need to indicate the address of your brick-and-mortar business and set a radius around your stores that includes the people you want to reach. Naturally, this means that your ad will reach people that are nearby.
So, pure Conversion ads allow you to send traffic directly to a page where they can purchase something. These are usually landing pages like this one from Package Free.
You can build landing pages like these with a website builder. Package Free, for example, was built with Shopify.
For pages like this, where the product costs $20 or less, you can send cold traffic. If your product costs more, you can create a custom audience consisting of the people you previously reached with Consideration ads and then retarget them.
Consideration ads will warm them up, and retargeting Conversion ads will motivate them to convert.
The goal you choose should depend on your overall business goals. If you aim to generate sales, you should run Conversion ads and mix in some Consideration ads. If you just want to boost your brand image, you can choose goals like Reach or Views and run Awareness ads.
Step 2. Create content for your ad
Once your landing pages are set up, you need to start creating the ad. For the best results on Facebook, you need to create photo or video ads as they stand out better in the feed. A study from Databox indicates that video ads perform best nowadays as video marketing continues to grow in popularity.
We recommend that you create multiple ads. This should include a few static images and videos of various lengths that range from 5 to 30 seconds.
Create your ads with your specific target audience in mind. This should be the same audience that you created your landing page for.
Here is a great ad example fromSEMRush. It's a 15-second ad that gets straight to the point.
Creating a video like this can seem complicated if you aren't a designer. Still, they are easy to create because there are several video editing tools that can simplify the process.
For example, tools like InVideo allow you to create stunning ads in minutes using pre-made templates for regular Facebook in-feed ads and stories.
If you prefer ads with static images, you can use Visme and their templates to create the ad images.
You should also make sure to add a logo to your ad. This should be the same logo you add to your landing page as it can boost your brand presence and improve conversions.
If you haven't already got one, you can use free tools like Zyro Logo Maker to craft a logo.
Make sure you create two extra versions of your logo along with one that contains your brand colors. The other two versions should be all black and all white as logos with neutral colors will suit any video or image without disrupting the design.
Step 3. Set up your ads
As you have already picked a goal, you can go through the rest of the ad setup process.
This should include creating the ad itself by writing a short description, headline, and choosing a button label. Also, upload your photo or video.
The information you include should be just enough to entice users to learn more.
After you add all the details, you can adjust the targeting.
You might reach fewer people with targeting, but you will be reaching the right people and bring in a higher ROI.
Important note
: Before you start setting up your core audience, analyze your target audience — study their interests and behavioral models — and
create a customer profile
.
After you choose your targeting and placement options, you can set a budget and launch your ad. You should always start with a $5 or $10 per daily budget. This allows you to ensure that your ad is converting properly. If you're not getting the performance you need, you can always go back, make some tweaks, and improve the conversion rate.
So, start off with a small budget to avoid sinking money into ineffective ads. But create multiple versions of the ad with different media to determine what works best. You can also experiment with different headlines, descriptions, and targeting. This will help you collect useful data.
Try testing out these images and videos by publishing them organically and checking their performance with a social media analytics tool.
Step 4. Scale your results
Once you know which of your ads are converting best, you can pick the winners and scale your results by increasing your daily budget. But don't stop using split tests. Instead, create more copies of your winners, make small tweaks, and test them out to see if you can get even better results. You can also create newer versions of the landing pages and split test them.
Conclusion
This is the step by step process you need to follow while creating ads. Following all the steps laid out in this guide will take a while, as you need to do a lot of research and create landing pages before you set up your ad. And after you create the ad, you need to test out new versions constantly. But they will be worth it in the long run because you will generate a higher ROI.