A customer profile includes many characteristics that allow you to understand your audience better and choose newsletter content of interest specifically to them. In fact, 77% of email ROI comes from newsletters segmented by customer profile data.
Why does it make such a difference? Because your audience is more likely to open and respond to email content that is closely aligned with their needs and preferences.
According to statistics, segmented emails improve open rates by 14% and CTR by 22% compared to non-segmented emails. So, if you are still sending identical emails to all the addresses on your mailing list, it's time for a change.
Today we will explain how to learn about your audience and where to find data so you can send out targeted and relevant email campaigns.
What does a customer profile consist of
Location
Data about each subscriber's location is essential to discover the optimal time to send emails, announce local events and provide information on promotional offers at the nearest stores. Leverage location data to create a useful, informative newsletter.
Gender
Men and women perceive information and act on it differently. Dividing your email list into segments based on gender is a reasonable solution if your goods and services are either universal or gender-specific.
In 2003, Joe Hallock carried out a study to find out the color preferences of men and women. 232 people participated in the research. The results showed that 57% of men prefer blue. The majority of women also chose blue as their favorite color. But the most interesting difference is that the second favorite color among women is purple, while the same color is the second least favorite among men.
Another experiment, performed by Anya Hurlbert and Yazhu Ling, showed that men prefer bright colors, while women prefer a softer color palette.
Decision-making processes also vary between genders. A man needs to know the benefits of an item and the problems that he will solve by buying it. If your target customer is a man, focus on the item and briefly describe its important characteristics.
However, a woman needs emotional and social proof to evaluate if a product or service is the right solution. Tell a woman more about the brand and lifestyle possibilities, while also describing the feelings the item will provide.
By using data on gender, you'll be able to send more relevant offers to subscribers and boost revenue by 50% and sales by 14%.
Age
Depending on age, subscribers show different reactions to emails. A 70-year-old woman will not respond the same as a 20-year-old student. Choose the right tone and vocabulary as well as relevant content depending on the age of your audience. Focus on the age group your proposition would be valuable for. A rock concert invitation will hardly interest people over 50, and an expensive bottle of wine won't be appreciated by a younger audience.
Age also matters in email design. A study found that orange and yellow grow increasingly disliked as both genders get older. So you would not want to use those colors in a newsletter targeted to an older audience. Another example is if you sell clothes, it would be strange to send a collection of trendy miniskirts to a mature bank employee.
Do not hesitate to use information about a subscriber's age to modify or revise the design.
Job position and income level
Statistics show that emails segmented based on job position and income level lead to a 15% increase in annual revenue. You can imagine that middle managers and employees with different income levels are not interested in the same content.
Divide the list into segments according to your subscriber's job title. This will facilitate the creation of a targeted email campaign. Couple this with information about your subscriber's income level. For the best results, load the email with goods, services, and offers that match the price interest of your customers.
How to collect data
Registration form
When a user subscribes to your newsletter, have them fill in additional information on the form including age, address, career and product preferences. Choose information that is suitable and useful for your email campaign and put an emphasis on it.
Below you can see additional questions on the subscription form for American Eagle. This box appears at the end of the subscription process and serves to generate personalized emails and to segment the mailing list by gender.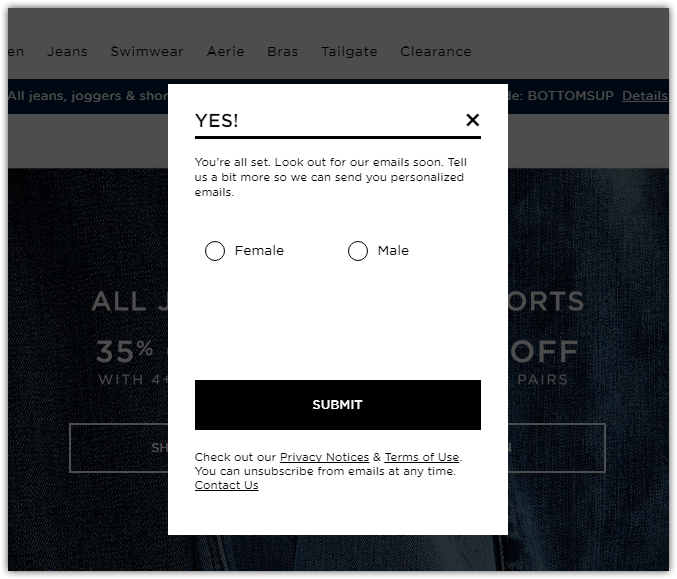 Another example is from Funfit asking future subscribers about their age.
After the subscription process is complete, send a welcome email asking for information about your recipient's interests.
Below is the welcome email from The North Face, in which, the company asks its subscribers about their favorite ways to explore the world. The answers help make the newsletter more valuable and engaging.
Remember, to ensure that the subscription process remains easy and fast, don't overload your subscribers with tons of questions, especially useless ones. One or two questions will be enough for a welcome email. Subscribers won't feel uncomfortable or get annoyed, and the process won't take much time, while you'll have the opportunity to use the data collected for future segmentation.
Don't forget to ask questions when a subscriber leaves. A user's reason for unsubscribing is also important information. Find out why they decided to unsubscribe, as The Daily Sip did in the example below.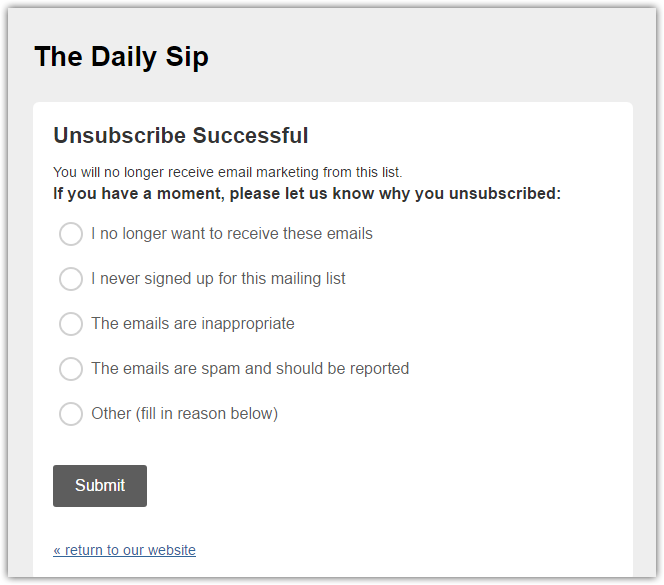 Survey
A survey is an efficient tool to receive new data on subscribers. Thanks to its interactivity, surveys bring monotonous emails to life and increase a subscriber's engagement. Statistics show that the average response rate for email surveys is 25%.
You can put surveys to good use to receive information for newsletters from your subscribers and define customer preferences. This knowledge will help you create content that meets the expectations and needs of your users.
Below you can see how Mabel's Labels invites the subscribers to take a short survey.
Google Analytics
Google Analytics includes an Audience section where you can find useful demographic data: age and gender, location. A few clicks will get you to the information.
Click the Audience section on the left bar, and you'll see the characteristics on which you can segment your list.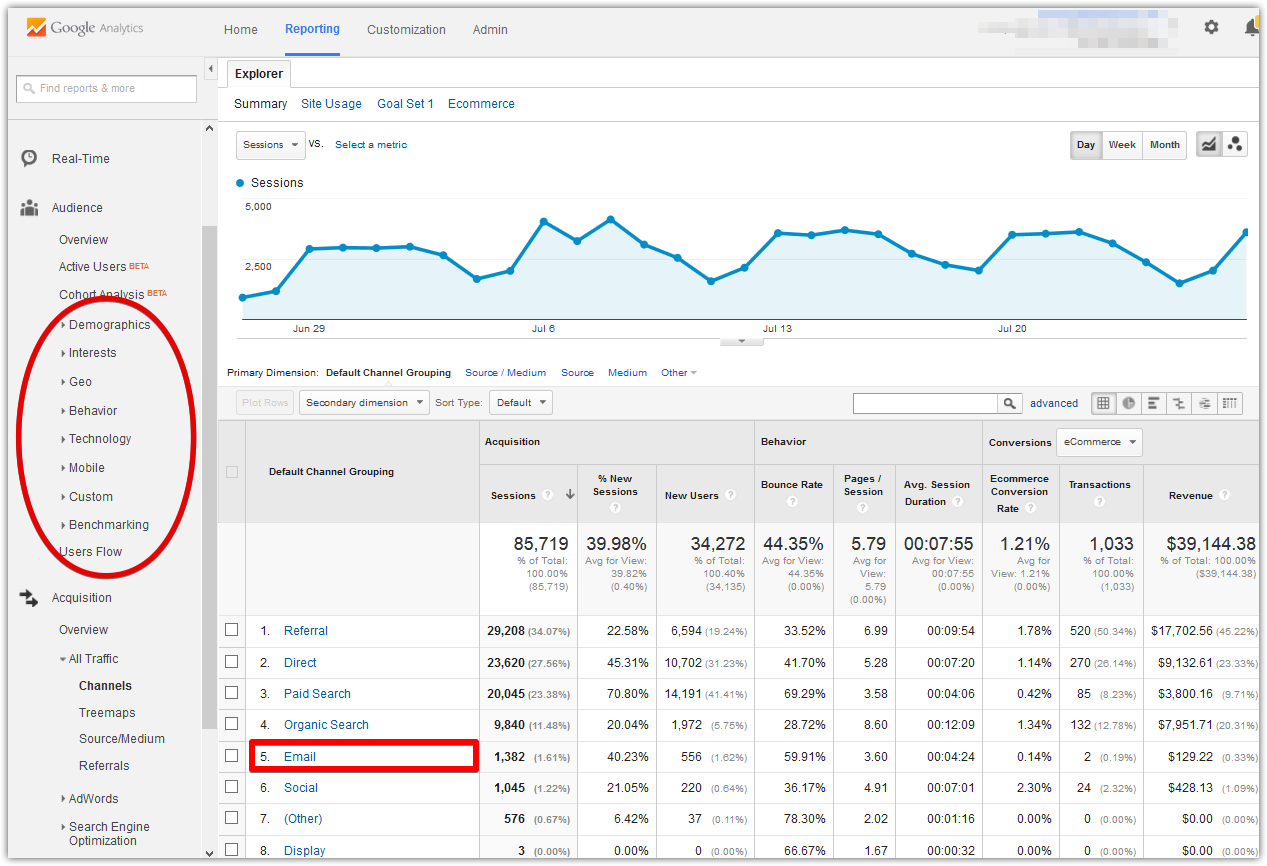 Google Analytics provides information on the browsing history of your site. Use this information to segment the list and attract potential customers. Knowing what pages, items, or services are popular will help you create a targeted email that to improve the response rate and conversions.
Google Analytics automatically creates reports on the number of sessions required at each stage of the sales funnel and abandoned carts. Collect data, study the report, and send an email to your customer with a reminder about an item in their cart, including a discount offer, and underline that the selected item is limited.
CRM, CMS systems
Data on subscribers is stored in the CRM system. Integrations between existing databases and your email platform allow you to make the most of the data already collected about a user.
Integrations transfer information automatically from one system to another. Thus, it becomes easier to create new mailing lists.
Take key subscriber characteristics and data collected for the period of interaction and use it to improve your newsletter. Use integration with CRM to select the email content for the specified segments based on interests and needs. The newsletter will be far more tailored and targeted.
Take a look at SendPulse integrations catalog.
Remember that email marketing is not just about sending updates to your subscribers. Study the audience, create customer profiles, segment email lists to strengthen the relationships with users, and send unique emails with SendPulse.