Almost all marketers use webinars as one of the best ways to engage leads and move them down the sales funnel. In fact, according to recent B2B marketing reports, 73% of total webinar attendees turn into lead generation — especially right now, when people are forced to shift to meetings and events in virtual environments.
Let's take a closer look at automated webinars and their benefits to figure out how to create one. We will also give you some pointers on automated webinar promotion and review some of the best automated webinar platforms for you to try.
What is an automated webinar, and how can it benefit you?
Automated webinars are pre-recorded and rendered webinars that run automatically on a set schedule or on demand. This type of webinars automates all the audience interactions by integrating polls, questionnaires, and CTA buttons to keep viewers engaged without having the host there answering their questions in person.
Unlike with live webinars, there is no real possibility to join a live chat or have the host answer attendees' questions in person. Still, users can rewatch automated webinars whenever, wherever, and as many times as they'd like.

What is especially convenient about pre-built webinars is that they present the opportunity to record your live webinar and present it as an automated one. This way, you will be able to kill two birds with one stone and realize your webinar's full potential.
Here are some more benefits an automated webinar offers:
reuse your content again and again if it's relevant for years to come;
establish a firm authority of an industry expert to gain more audience trust;
get more people to watch your automated webinar thanks to its on-demand availability and accessibility;
avoid tech issues, content gaps, and the need to improvise;
reduce the need for a live host;
produce a perfect presentation without the fear of a live audience;
automate the source of revenue;
receive more candid customer feedback by automating the process.
In an era of digital platforms, businesses can start creating automated webinars for the first time with free platforms that provide all the necessary basic features. These virtual events are indispensable when it comes to helping businesses market their brands, so developing an automated webinar can bring you the most benefit in a number of scenarios.
What can you use automated webinars for?
Automated webinars can serve businesses in lots of ways based on their initial purpose. Let's find out when and how automated webinars can be useful for your company.
Sharing your knowledge and expertise
Professionals often use automated webinars to develop online learning courses replacing face-to-face teaching methods and ways of sharing knowledge. It also creates a more comfortable and informal environment for students to learn new skills efficiently, which is an excellent way to start off in the eLearning industry.
The process of learning with automated webinars is mostly self-paced, meaning that users can study in their own time, as they have lifetime access to your learning materials. Along with that, learners and teachers can still interact via emails, chatbots, feedback forms, etc. This way, you will be able to spread your knowledge not just on a particular date but constantly while also providing a more convenient and comfortable way to learn.
Boosting your sales
Entrepreneurs use automated webinars to sell their products and services. For example, suppose you offer products or services that are ageless and always relevant, like makeup or skincare products. In that case, you can sell your makeup tutorials as automated webinars followed by the link to your products at the end of the presentation.
After a few years of social distancing, this format fits many other industries, including physical training courses and diet plans. Simply put, automated webinars don't just reinstate your position as an industry expert, they also offer some space for you to present your related products or services and boost conversions.
Promoting your existing products
Another option is to go down the promotion road instead of aiming for conversions right away. Automated webinars that aim for endorsement are more focused on recommendation and lead generation than selling. While you advise on a certain topic, you may include several products you are endorsing. As automated webinars are meant to be revisited later, their content must be relevant for many years ahead.

How to create an automated webinar
Now that we are done with the theory, let's move on to discover how to make your very own automated webinar. We have overhauled this process to give you a step-by-step guide, so let's get down to it.
Choose the right content type
We will level with you: there are some ideas that are better for your automated webinar. The perfect automated webinar format lies somewhere between too generalized and overly specific ideas, so it is a tough line to walk.
Still, these content formats seem to be checking all the boxes and might be just what your automated webinar needs:
in-depth tutorials with detailed examples;
informative interviews with industry experts;
relevant topics revisited from a new angle;
recorded influential discussion panels.
However, keep in mind that choosing a theme is not always straightforward when you are trying to figure out how to set up an automated webinar. It is impossible to predict how an audience will perceive a topic with certainty. Ultimately, you should select the topic you think makes the most sense and feels the most comfortable to teach.
Another possible way to go here is to create evergreen content, as it is one of the most valuable assets for automated webinars. For example, if you produced an automated webinar on how to whiten teeth naturally five years ago, it would still be accurate and valuable until now.
Creating evergreen content for automated webinars takes a lot of time and effort because it needs to be deep, unique, and high-quality to stand the test of time. Still, it's a surefire way to make your automated webinar successful and receive profit from it for years to come.
Write a powerful script
A strong script is the backbone of every good webinar presentation, and even the most skilled speakers and hosts rely on scripts. In the end, it's hard to talk for up to an hour, even if it's about something you're passionate about.
A script not only prevents you from getting carried away but also helps you manage your time. A good script should have timestamps on each section. With this technique, you can always manage to see how much time you have left for each section to cover all the necessary points. Additionally, some professionals find it helpful to work on their presentation and script simultaneously to avoid repetition and reduce the risk of simply reading from their slides.
The first thing that comes to mind when it comes to crafting a script is the topic. A good topic will allow you to build a good script. First, prepare the framework of your idea, also known as the plot. Once you have the primary idea, you should develop additional ones that link to the key concept of your automated webinar.
You can come up with side ideas by answering such questions as:
What is the main topic?
What elements relate to the topic?
How do the main topic and relevant details interact with each other?
Does the script have any holes?
What lines help make the issue more attractive?
After linking what you already have, you will create a complex and unified idea and figure out how to set up an automated webinar that works.
Take a look at this possible webinar structure to get a better idea of how it should pan out: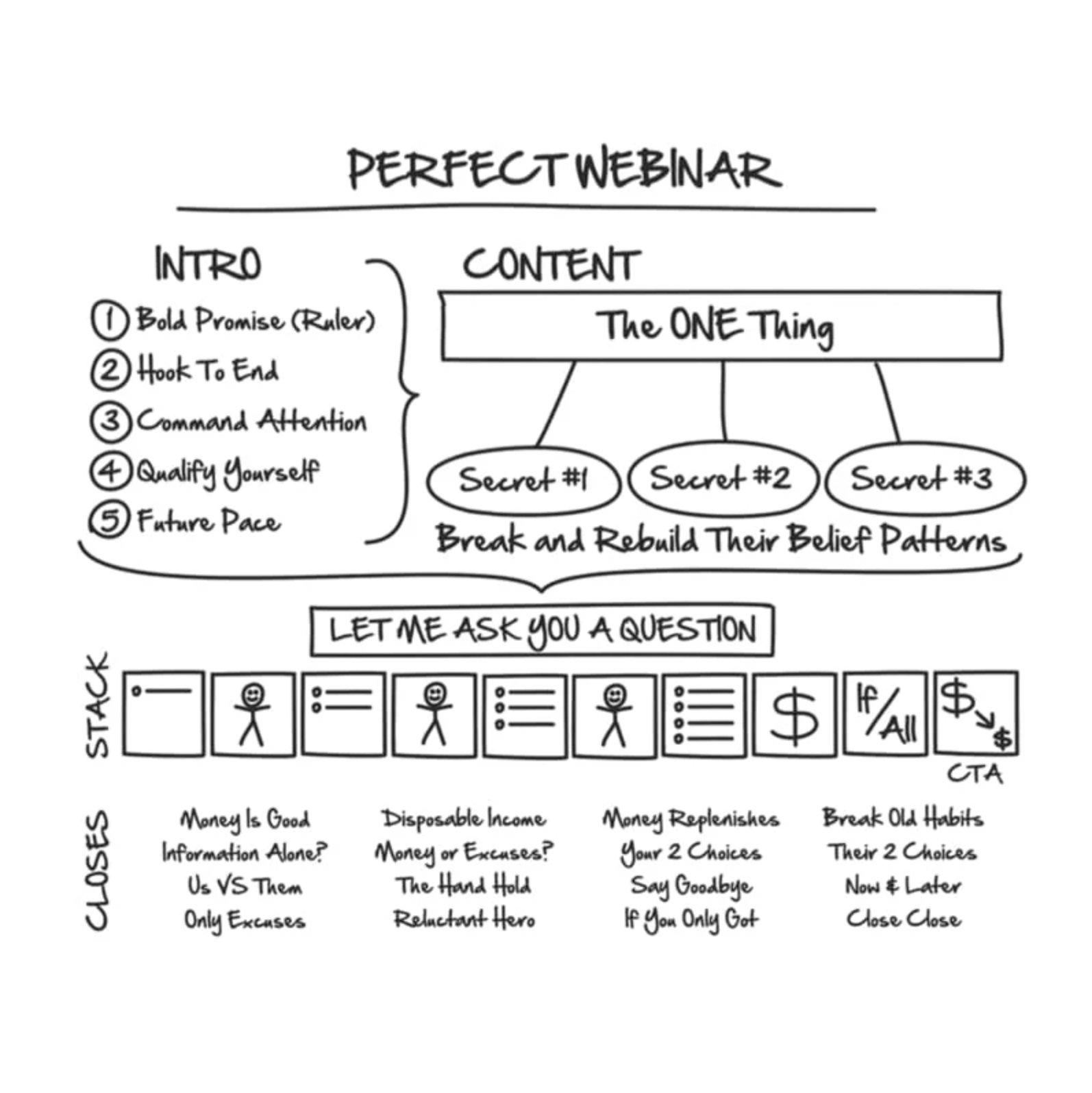 Your scripts should generally consist of three parts: the introduction, the main part, and the conclusion. Try to keep it simple and engaging with your intro — just outline your webinar structure, tell more about its goals and whom it can help, and mention why you are qualified to teach the topic.
Your content itself (a.k.a. the main part of your automated webinar) should live up to the expectations you build in your intro. This part needs to be even more structured and polished than all the other components, as it is the largest chunk of your webinar. Don't include any parts where you feel like just winging it — it does not work out well for automated webinars. You want your content to be as refined as possible, so take more time to organize, shape, and write out all the details and points.
Your automated webinar conclusion does not have to be long, but it does need to be to-the-point and comprehensive. Make sure to spare enough time to answer viewers' common questions or make a quiz to keep your audience engaged.
Work on your presentation and visual aesthetic
Once you are done with the script, the next step in creating an automated webinar is to make a presentation. Remember that this is going to be your selling product. Designing a powerful presentation can be challenging, but it will get more manageable with our tips.
When working with your presentation, use minimal text with strong visuals, as watching a series of dull slides one after another will tire out your viewers. Check out this example of automated webinar presentation slides from ChurnZero — the text here is well-structured and organized, which allows viewers to instantly identify the crucial parts.
When multiple presenters are involved, make sure they stick to the image format, and ask them to provide any materials they plan to use when recording your automated webinar. Remember to also include a slide for each person with their name, title, employer, and an image. Still, try to avoid prolonged exposure to the same slide or an extended lecture with little or no interaction.
Record a video
Use your camera. Recording your automated webinar with a voice-over as you go through your slides without a video is a lousy idea. Watching an actual person speak to their audience is more engaging than a scornful voice.
You want to position the camera so that it looks directly at your face without exposing the ceiling. You should also avoid filming with a window or backlight as your background. If you do, this might make you almost too dark to see. Make sure to adjust your lighting like in the automated webinar example below:
Similarly, make sure the backdrop is professional and theme-appropriate, such as a bookcase or elegant piece of art. Consider going for a practice session to see how your background will appear to the participants.
Select a platform to host your automated webinar
Successful webinars are gifts that keep on giving. There are so many software solutions that can be used for automated webinars or have been specially developed for them. Choose one that fits your requirements and is easy to use.
Don't know which platform to choose? Go over our list of some excellent automated webinar software to find the best one for yourself.
Your automated webinar presenters record the material and pass it over to you, and then you upload the presentation to a chosen platform. It will be available to users once they sign up. Finally, all that remains is to send out the link and promote the webinar to widen its reach.
Keep it up after the launch
Resisting the tendency to relax when developing an automated webinar can be tricky. However, follow up with personalized emails for each attendee to express appreciation and ask for their feedback. Provide a link to remind your viewers about the availability of your presentation and any related material that may be of benefit to your viewers. Many automated webinars are created solely to boost sales leads or generate leads, so remember that releasing an automated webinar is the beginning of this process, not the end.
Top automated webinar platforms for marketing and lead generation
In this section, we will walk you through the best automated webinar platforms out there and review their features to determine which one is a good fit for you.
Demio
Demio offers an intelligent webinar platform for simple tasks. Use Demio to engage, communicate, and build relationships with your customers and prospects. Learn and improve your webinar with actionable analytics and automation — great automated events features.
Demio features include API, one-click webinar access, polls and CTAs, and screen sharing. Demio is the most suitable for freelancers, small businesses, and medium enterprises. We recommend choosing Demio's Growth package ($69/month) or a special Premium package with an individual pricing plan, as they are suited specifically for automated events.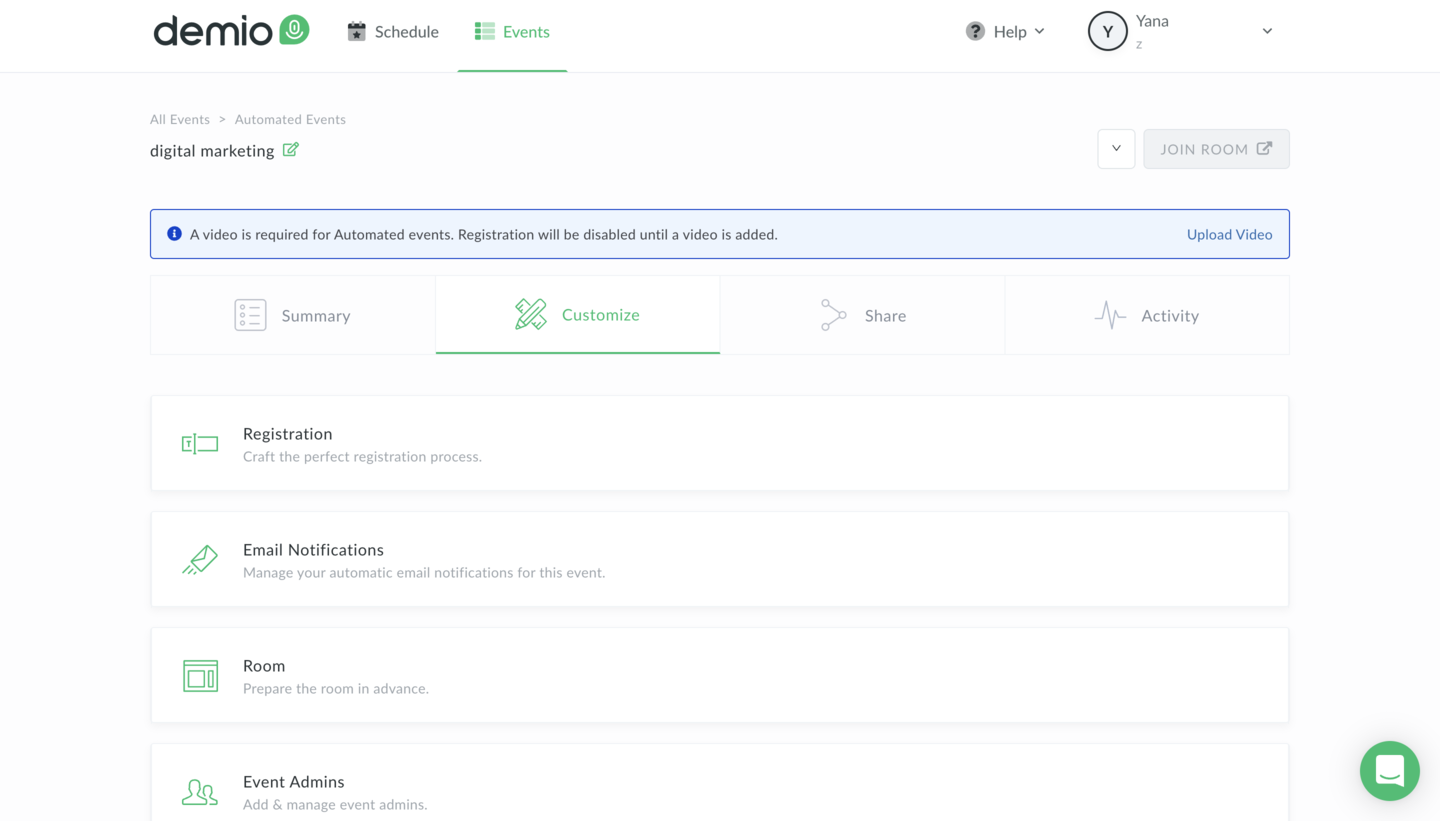 As a Demio customer, you can refer your friends or new clients and receive $100 in Demio credits for each referral. Customers will also receive $25 in Demio credits, which is a win-win situation!
EverWebinar
EverWebinar offers many valuable features, including quick and easy setup, integration with several email services, and the ability to track attendees and build relationships with them. This automated webinar software is the right choice for individual marketers and small to medium-sized companies looking to create automated webinars for lead generation.
The price for a standard yearly EverWebinar plan costs $499, but that price often drops depending on the promotion held. For example, at the time of writing this post, the price for a Biennial plan is $874, plus you can use it for three months for free.
EverWebinar integrates with other marketing tools to build mailing lists and generate autoresponders. The tracking report includes purchase rate, webinar behavior tracking, and an option to see exactly how much you've earned.
WebinarNinja
From integrations with popular CRM systems, built-in email notifications, chats, interactive questions, polls, and handouts, WebinarNinja offers a lot more as a platform for hosting successful automated webinars. The well-designed and advanced solution has many options for running automated webinars and virtual summits. It also allows you to insert your Facebook Ads tracking pixel and helps you track your overall progress from a simple dashboard.
With WebinarNinja, automated webinars are available on Pro and Business packages at $99 and $199 per month. Upload recorded webinars on WebinarNinja followed by CTAs and automated follow-up emails, and run automated webinars to move attendees closer to becoming paying students, clients, or just long-term fans.
Livestorm
Livestorm has quickly become known as one of the most elegant software for creating automated webinars. Use Livestorm's end-to-end webinar platform to schedule, host, and analyze your events.
All of Livestorm's paid plans are about premium customer support and high-security standards. The platform enables you to host as many automated webinars as you like and automate your entire webinars to deliver the best evergreen video content.
Livestorm's free Starter plan allows you to host an automated webinar. The only limits here are the session length and the number of participants. This can be useful when testing the software or if you have a small audience.
The premium plan starts at $109/month, and you can create automated webinars that last for up to 4 hours with unlimited subscriptions. Livestorm also offers users to get a quote on its Business and Enterprise paid plans.
Livestorm is powerful automated webinar software for companies that want to streamline their entire sales funnel. It's all pretty much configured for you, from landing pages to email reminders and recordings. This might not work well for companies with more specific branding or customization needs, but we think you will love how easy it is to get started.
How to promote your automated webinar
Before your automated webinar is good to go, you will need to develop and start implementing some marketing strategies to make sure that people actually watch it. Here, we will list a few webinar marketing practices you might want to try.
Create a stand-out automated webinar invitation
The first step is to design a webinar invitation that will stand out among the tons of electronic clutter. Your headline should capture their attention and encourage them to read the entire invitation.
According to Optinmonster, 33% of email recipients open their emails based on the subject line alone. The majority of viewers only read the subject line and the first two or three lines of your email, so you need to make your invitation captivating from the start.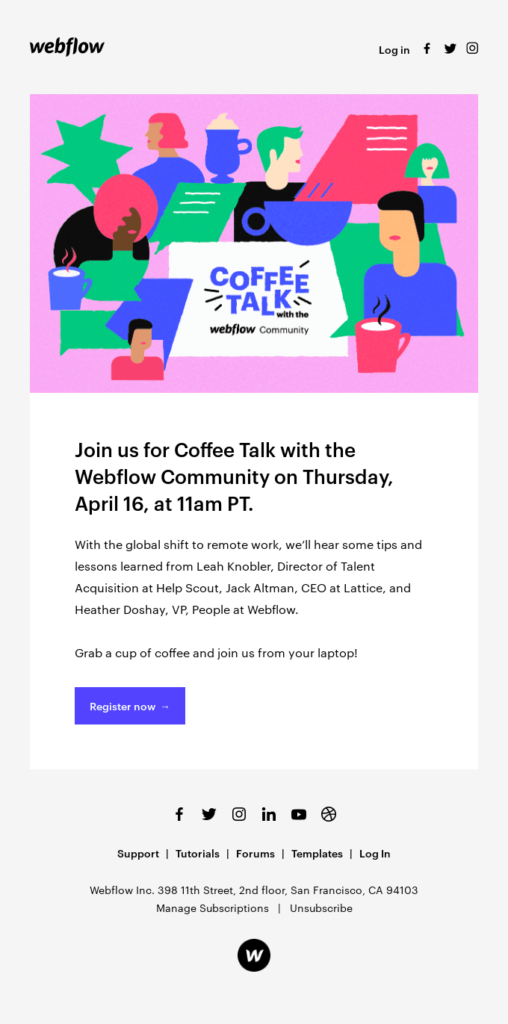 Email marketing is a tried and true way to invite more users to sign up for your automated event. Thanks to your email invitation, people will know where they can watch your automated webinar and how to sign up.
Your email invitation should be all about making it easier for people to participate. Here are all the components you want to include in your webinar invitation email:
WHAT: your automated webinar title;
WHO: introduce your presenters and guest speakers, etc.;
HOW: use a call-to-action button;
WHY: the goal of your automated webinar.
You can design and send the most stunning automated webinar invitation with SendPulse and its drag and drop email template builder. Change the background, text color, font size, and style, add images, and play with your template all you want — no coding skills required.
Develop a stunning landing page
In the digital marketing and online advertising world, landing pages are a mainstay of converting visitors into leads. A landing page targets a specific customer with a particular intent. This is the first step in building a relationship between the speaker and their potential viewer.
So how do you design a beautiful and professional landing page to attract more traffic to your automated webinar? Follow these methods:
Choose a good title. The landing page's title should outline the benefits ​​you can give to the viewer if they decide to watch your automated webinar, for example, titles including the words "On-Demand webinar" or "Study with comfort" will build the audience's expectations.
Focus on specific actions you want your viewers to perform. If you want customers to actually see your automated webinar, you need to create an easy sign-up form and encourage them to act. Still, avoid motivating them to take too many actions, as it often seems intrusive and makes potential visitors lose interest.
Design a simple but attractive sign-up form. Make sure that your sign-up form is as intuitive and self-explanatory as possible. You don't need any extra customer info — just their name, phone number, and email address. If you intend to accept payments, include this option in the sign-up form, too.
Plan your landing page content. Explain the topic of your automated webinar ​​clearly and simply, focusing only on the most influential content that will drive more visitors. At the same time, make sure to market your webinar specifically as an automated one and avoid cramming in too much information. Automated webinar landing pages are usually concise, and including the following points should do the trick:
Why will the event take place?
Who should watch the webinar?
Who are the speakers?
Where can people watch it?
Add eye-catching images and videos. Show some spoilers and what to expect from your presentation. Upload stunning images, videos, graphs, and photos. You can also use infographics to make your landing page more attractive and functional.
Build a mobile-friendly landing page version. Take some extra time to ensure that your landing page looks outstanding not just on your laptop but on users' mobile devices as well. There is a high chance that there will be users who want to sign up for your automated webinar using their phones, so you need to have a mobile-friendly and responsive landing page up and running.
Store and analyze the customer data you receive. A landing page designed with SendPulse will allow you to store all the information about your potential viewers. This way, you will have a valuable data source to reach more attendees and promote your automated webinar landing page. For example, here is what your registration page that collects users' email addresses and names can look like:
Our landing page templates enable you to send out invite links via email, SMS, or chatbot messages — all of these channels on a single page. If you want to create your landing page with the highest conversion rate and quality, choose SendPulse!
Carry on with email marketing
After your viewers have signed up, you need to send more emails confirming subscribers' registration, providing payment updates, or asking for feedback, like this one below:
With SendPulse's email builder, you can send automated emails triggered by registration, payment, and any other crucial customer action you want to track. Other than that, consider sending and creating relevant email campaigns that will nurture the interest of users who have already signed up for your automated webinar.
Additionally, email marketing automation can assist you in getting the most out of your webinars. Send personalized messages to people at different stages of your funnel and keep your ROI net positive.
Build your social media marketing strategy
When it comes to SMM, the sky is your only limit. You can leverage social media ads, develop a content plan to create useful posts on related topics and reach out to your audience, collaborate with influencers, film videos and trailers of your automated webinar to promote it, and so much more!
Being present on multiple social media channels provides you with the capacity to stay in touch with your potential viewers. You can implement chatbots as an alternative or addition to your email campaigns — send notifications and updates on your automated webinar, collect users' feedback and personal data, develop last chance campaigns, and offer customer support if necessary. Say, if a user mentioned you in their Instagram Story, you can set up an auto-reply to thank them!
And what's even more exciting is that you can create your own WhatsApp, Facebook, Telegram, and Instagram chatbot in no time with our drag and drop chatbot builder!
Final thoughts
Small businesses and entrepreneurs are increasingly viewing the production of automated webinars as a business opportunity with the potential for substantial income versus cost. Connecting many people at any location at the same time eliminates geographical distance.
Using an automated format will allow you to spare more time and resources without the hassle of preparing for a live webinar. Our online course builder can help you get the word out. Give it a try!