On the one hand, the fitness market is booming and there are more and more niches to occupy — customers are willing to try unusual sports such as adult ballet classes or aerial silks. On the other hand, it's becoming increasingly difficult to win new clients because there's always a better option just around the corner.
Let's talk fitness marketing. Whether you offer online or in-presence classes, personal coaching, or group exercises, you need a sound promotion strategy to ensure sustainable growth. This post will help you discover and fill in the gaps in your existing fitness marketing strategy or build one from scratch.
What makes fitness marketing unique?
In our era of constant distraction, it's especially challenging to keep clients interested and eager to renew their memberships. Meanwhile, renewals make a stable income stream, which is essential for business growth. That's why marketing in the fitness industry has to be focused on customer retention and building customer loyalty, not just on getting new sign-ups.
Sports clubs have become more versatile than ever — yet clients often struggle to keep making regular visits while also pursuing their career and taking care of the family and other important matters. So, you can also use marketing tools for re-engaging your clients and helping them get the most out of your offer, no matter how busy they are.
Marketing is also crucial for positioning your brand as an expert. Gym-goers gradually grow tired of generic, meaningless exercises and look for coaches that offer a more personalized, science-based training approach. You can demonstrate your or your team's deep understanding of human anatomy and an ability to design individual workout plans — marketing channels such as email and social media are great for that.
Learn how to build a charismatic personal brand and supercharge your career!
Finally, fitness marketing is a sure way to communicate what your brand lives and breathes and create a community around it. If you want your clients to spend many hours on your classes, you need them to fall in love with the atmosphere you create. Marketing tools allow you to convey your brand values and mission and stand out from the crowd.
Crunch Fitness succeeds at this — they consciously step away from the stereotype that any gym is a place where so-called bro culture thrives. Instead, they position themselves as an open, inclusive community and use various marketing tools to share that important message.
Let's sum up. An effective fitness marketing strategy is the one that helps you:
increase awareness;
nurture and educate potential clients;
win long-term visitors;
distinguish your brand from the competition;
convey the essence of your fitness brand;
keep your audience in the loop;
promote new programs and packages.
The same holds true for promoting online fitness classes. If you offer virtual sessions, you still need to win your audience's trust and engagement before selling them a year's worth of workouts.

10+ fitness marketing strategies with examples
We'll start with the basics and gradually move towards more subtle fitness marketing strategies you can use to promote your brand.
Use emails to nurture and connect with your audience
Emails are unbeatable when it comes to creating effective and personalized communication with an audience of potential and current clients. You are not limited by formatting options or whims of any algorithms — send image-rich emails, surveys, video emails, or announcements, and be sure your recipients will receive them at the right time.
If you are a small business and your resources are limited, you still can send tidy, appealing emails without having to design or code anything, thanks to drag and drop email builders.
Besides event announcements, you can also use email to send your clients:
welcome series;
educational emails;
special offers;
fresh blog posts;
live stream classes;
reminders;
studio news and updates;
re-engagement emails;
guides, checklists, eBooks, etc.
To build your mailing list, incentivize your website visitors to leave you an email address in exchange for something valuable like a download nutrition plan, a discount, a tutorial, a webinar recording, or a full online workout.
Or, use this example as an inspiration:
You can also create a cheat sheet or a top-10-mistakes PDF based on your personal coaching experience and share it as a lead magnet.

Leverage social media and influencer marketing
Pinpoint the platforms where your target audience is hanging out and start working on your presence step by step. Working with opinion leaders and fitness experts will help you attract attention to your services and gain more subscribers, but finding authentic niche influencers can take some time.
Instead of glossy photos, go for more real, practical content that ultimately improves your clients' experience and helps them achieve their fitness goals — here's how:
Social media are also incredibly effective for sharing client success stories — you can tag the author of each story to make them sound more believable and authentic.
Of course, you need to receive full consent before you publish before-after photos of your clients and mention their names online. If that's not possible, ask them if you can use their photos with cropped-out or blurred faces to retain authenticity but keep their privacy intact. If you want to find out how to get the most exciting feedback, head over to our post on customer testimonials.
Start a podcast
While everyone is going crazy about TikTok and investing money into dancefluencers, you can channel your knowledge to the audience who is deeply interested in the topics of health, well-being, active life, and nutrition and is ready to pay uninterrupted attention to you. Or, you can combine both approaches — it all depends on who your target audience is.
Here is an example of a podcast hosted by Oona, a wellness space offering Barre, pilates, yoga, and dance classes.
Tools like Spreaker or Anchor can help you create, edit, and distribute a professionally sounding podcast with minimal effort.
Gradually develop your video marketing strategy
If you can't go big, go small. You can record simple exercises and publish them on YouTube using just your smartphone and, maybe, a ring light. The very fact that you put effort into that will already boost your audience's trust and curiosity. If you are not confident speaking on camera, try making bite-sized videos or record the voiceover narration separately.
Systemize your videos to create an exercise library.
You can also use videos to convey the atmosphere or show of the interiors of your studio. Explainer videos and tutorials will also enhance your text-based blog posts and make the information more digestible.
Build a strong community around your fitness brand
Community management can significantly increase your customer retention and even the customer lifetime value. As your long-term clients get more and more involved in your activities and classes and get to know each other, they start spending more and spreading the word — it's a win-win situation for both parties.
It takes as little as one question on social media to get a conversation started.
You can also encourage your visitors to team up and learn more about each other by inviting them to a range of events outside of their regular classes. It can be an informal lecture, a workshop, or a dance battle, depending on your exact niche.
Work on your SEO and invest in quality backlinks
You need to master off-page and on-page optimization to get your website to the top. Internal linking, writing effective metadata, image optimization, guest posting, broken link building — many of these steps don't require deep technical skills or money, but they're incredibly helpful for your SEO.
If you promote coaching and training services, get your classes reviewed by a health-and-fitness or a lifestyle journalist and earn valuable backlinks as well as some boost in online reputation. Ideally, the reports should be believable and personal, like this one written about Studio Elevate:
Third-party optimization tools will also help you along the way. For example, you can save time by automating the process of finding outdated content on your blog or reaching out for guest post opportunities.
Commit to blogging on a regular basis
Any fitness marketing strategy will be incomplete without valuable long-form blog posts. Of course, snackable content on Instagram brings faster results, but valuable content will get you more traffic and eyeballs in the long run. Tackle the topics of anatomy, nutrition, flexibility, physical and mental health, traumas and rehabilitation exercises, goal setting, and more.
Quality long-form articles allow you to target more niche keywords and help your website rank higher on Google. Aside from that, they strengthen your brand authority and prove your expertise.
Try chatbots and other conversational marketing tools
Let your brand be online 24/7 while you live your life outside of working hours. With a chatbot, you can streamline your communications and send automated responses to frequent questions in a more personalized manner. You can build different conversation flows to help your visitors find the exact info they need.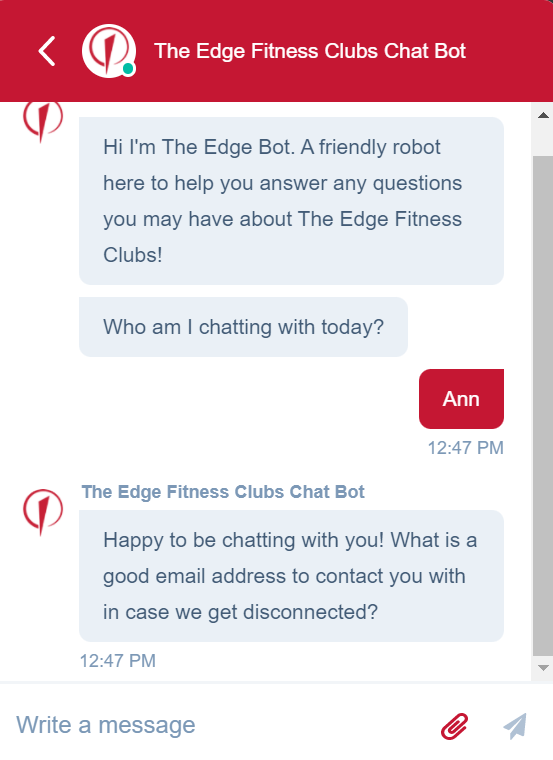 If you are ready to go the extra mile, automate your conversations with clients on Instagram, WhatsApp, and other platforms using our easy chatbot builder — no coding skills required.

Use paid channels to get noticed by a new audience
If you offer in-person services, it makes sense to target your ads to geographic locations to reach potential clients who live nearby. Make sure you clearly state your unique selling offer and advantages that make your classes one-of-a-kind.
This ad is a good example:
The same applies to ads for online classes — the competition is too steep to advertise "just another flexibility course," so you need to specify the benefits your clients won't find in any other online school.
Are you looking for an online course creation platform? Check out our list!
Any ad inadvertently becomes more click-worthy and relatable when you use powerful you-language and describe the tangible results your offer brings. The example above perfectly illustrates that.
Add free trials and special offers to incentivize new sign-ups
You can treat a free trial like a lead magnet — offer it in exchange for contact info, and you'll get new visitors and email subscribers simultaneously. More and more fitness studios start to acquire this practice because it's a chance for them to create a great first impression and convince doubting website visitors to try their offer, with no strings attached.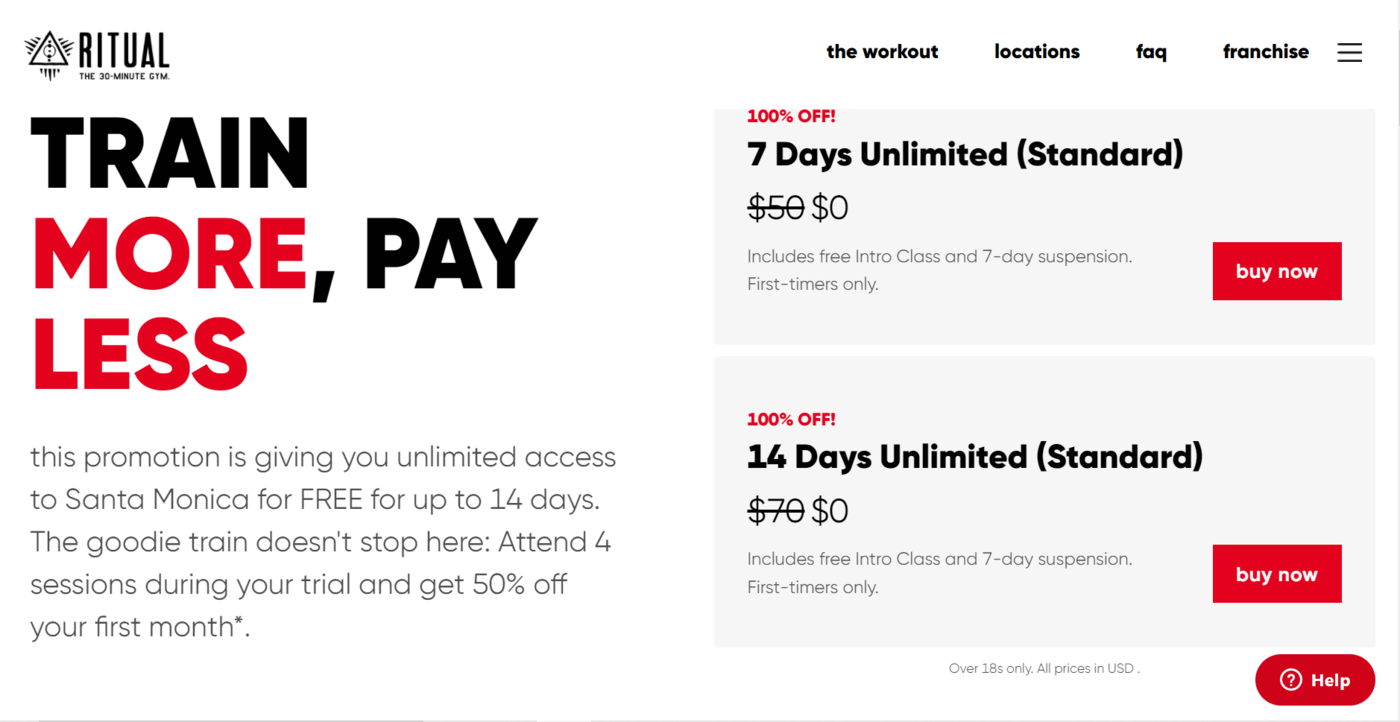 Oftentimes, one personal visit is enough for a gym-goer to ensure this particular venue suits their needs. You can't capture every detail with photos, and even virtual tours sometimes give a wrong impression. That's why offering a free trial is a good idea — many people absolutely need to experience the atmosphere of the place and test the equipment before paying for a long-term membership.
Make merchandise your clients will genuinely love
Another subtle way to expand your reach is to make and share your branded products.
But we are not talking about useless keychains or cheap towels here — only high-quality merchandise will get a chance to be displayed, so, in this case, it's better to "go all in or go home."
For example, Crunch Fitness gives its new members an iconic, eye-catching T-shirt.
Well-made merchandise encourages user-generated content and attracts additional attention to your brand. Of course, you don't always have to give away your merchandise for free. Some fitness brands open their own shops, usually virtual, where they sell their unique pieces and earn additional UGC and endorsements from their clients.
Flexspace Studios, a Canadian stretching studio, has decided to produce high-quality, limited-edition garments and equipment because the founders of the studio were simply not satisfied with the products currently available on the market.
It's a fantastic way to demonstrate your expertise and incentivize your clients to visit your classes. Well-designed merchandise also contributes to the overall atmosphere of your space, be it virtual or offline.
Start a referral program
By incentivizing your clients to share their positive experience with friends, colleagues, and family, you can increase the frequency of their visits and tie them even tighter to your classes. It's always more fun to exercise with a friend, and sometimes a nice discount is all it takes to acquire a new loyal member.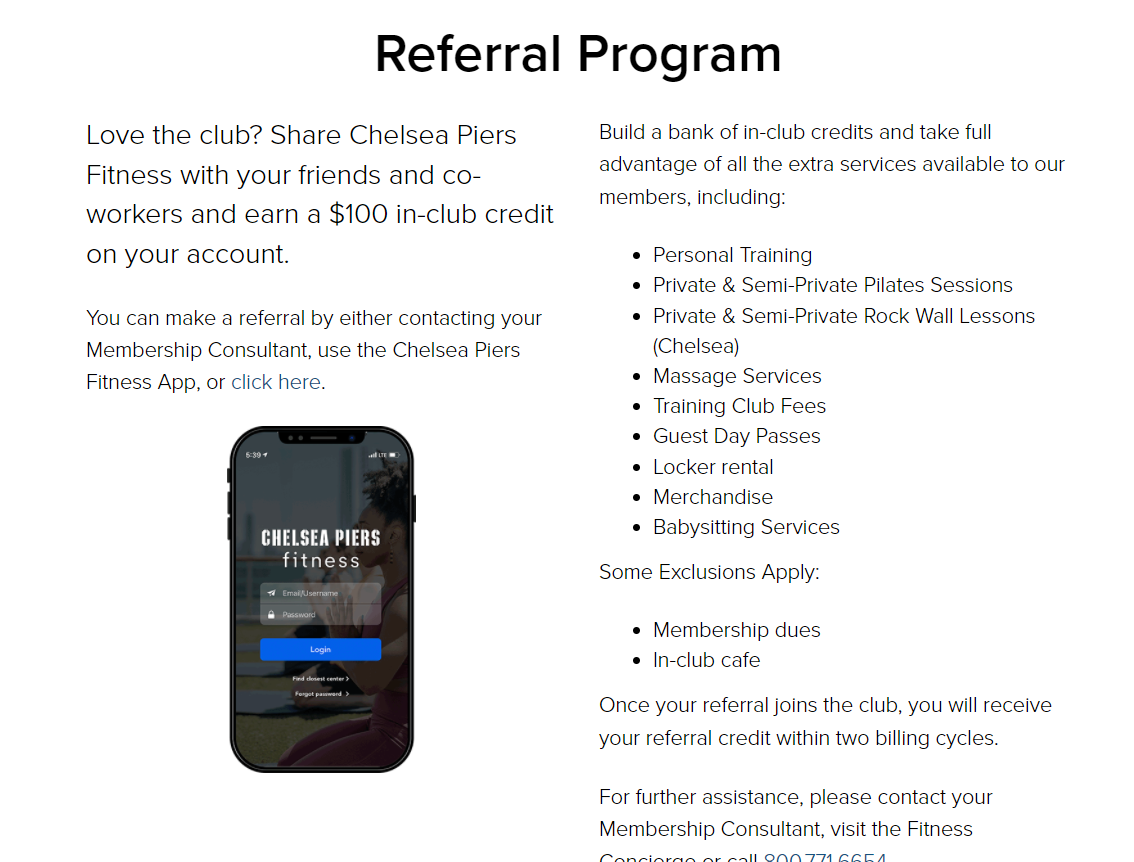 This is an example of a more complex referral program that allows members with large networks to invite multiple people to get the advantage of the VIP perks this club has.
Try these strategies now — no heavy lifting required
SendPulse offers the exact marketing tools you need to bring your fitness marketing strategy to the next level. Send automated email campaigns, keep track of deals in CRM, set up push notifications, share lead magnets, distribute surveys, create landing pages, and build chatbots — you can manage it all from one place. We are also about to launch our online course builder, so make sure to sign up for early access!