Targeting is an advertising mechanism, which allows to segregate the visitors from the general audience, who meet the set criteria. It helps increase the effectivity of the campaign. Targeting is also used in email marketing for segmentation. Find out more.
This video made by tutor2u considers 3 marketing strategies along with its benefits and explains the way to combine them effectively. 
Targeting mechanism
The audience is monitored on the stage of gathering information. On this stage of targeting, a marketer monitors consumers' tastes, finds out which stores are visited, what actions are carried out on the Internet, what the users are interested in etc.
The information analysis stage allows to make a conclusion about the preferences of the target audience, tastes, ways of communication, ways of purchasing from a significant amount of data about a large number of users etc. Accordingly, only those target groups are selected for the advertising campaign, to which the largest number of potential addressees of your advertisement belongs.
On the next stage, it is possible to present an information message, a product, a service profitably for the target audience. After the audience is determined, an advertising and information message is created.
Advertising is placed only on those information resources that are visited by a potential audience (certain sites, pages, sections of stores, departments of the stores, television broadcasts).
Targeting types
Theme-based targeting. Advertising and information messages demonstration according to a certain topic.
Contextual targeting. Messages demonstration according to users' interests.
Geotargeting. Advertising demonstration according to the geographical principle, limited by a definite  geographical region, chosen by the advertiser.
Behavioral targeting. One of the most promising types of targeting. The essence of behavioral targeting is the introduction of a mechanism for collecting information about users' actions: routes of travel, favorite places of visits, ways of shopping etc.
Sociodemographic targeting. This is a concentration on a certain age, gender, income, social status etc.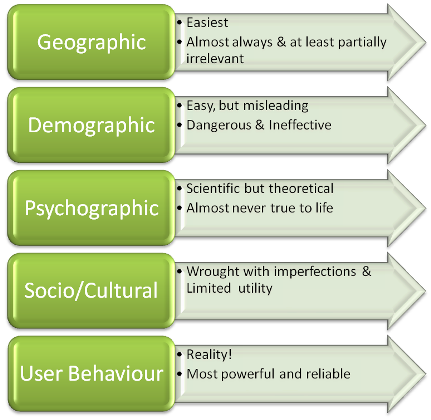 Targeted email marketing
Marketers use targeting to craft relevant and personalized email campaigns. This mechanism allows to divide your mailing list into small segments with common interests and offer them different goods and content. Doing this, you'll get higher ROI and ensure customer retention.
Convert prospects into leads with SendPulse!
Carry out segmentation to send relevant emails with valuable offers to each client. SendPulse offers ready-made segments and advanced options for better performance.
After the registration in SendPulse, you can group your clients by their rating, age, location, occupation, gender and based on their actions — the way they interact with your emails. We provide ready-to-use segments available for free.
If your client base is less than 2,500 subscribers, try segmentation within free pricing plan. Send up to 15,000 emails absolutely for free to less than 2,500 subscribers monthly.
References
Last Updated: 2019-11-12