A landing page is a separate web page created for marketing or advertising purpose and aims at increasing conversion rates. People land on the page after clicking an email link, following one from the search engine results page or social media advertisement. With SendPulse, you can build a landing page , online store link, or a link page for your social media bio for free in just 15 minutes.
You don't have to be a developer or know how to code to create a beautiful landing page. Watch the video below and follow the instructions!
A landing page is designed to turn your site visitors into leads. By offering something relevant to page viewers, you can get their contact information in return. So, you can nurture your leads and turn them into loyal customers in the future. The main challenge is to provide users with a valuable and appealing offer so that they leave their contact details. 
Why is a landing page important?
Landing pages are critical to increase brand visibility, drive more sales, enhance SEO practices, and generate new leads. This page is a perfect way to grow your customer base.
Here are some statistics that demonstrate the importance of using many landing pages to improve your practices:
Benefits of a Landing Page
Easy lead generation
Collecting customer data
Improved SEO ranking
A perfect way to promote a new product
Simpler decision-making process
Let's dig deeper and discover what the main benefits of creating and using a landing page are.
Easy lead generation. Sending your potential clients to a regular homepage instead of a targeted landing page is ineffective. An engaging and relevant landing page will interest visitors and persuade them to give you their contact details in return for something valuable. You can collect leads' data via a subscription form, popup, or live chat.
Collecting customer data. Via landing page visits, it is possible to collect valuable information and demographics that will significantly help your team improve marketing activities in the future. You will get to know your potential customers better and get more in-depth insights into their needs.
Improved SEO ranking. A landing page should target a particular set of search phrases and terms to be promoted with Google Ads or another paid advertising platform. Targeted pages can significantly increase your SEO ranking so you can easily stand out from competitors.
A perfect way to promote a new product. With a landing page, you can lead your visitors to a single page that describes a new product. This way, you can concentrate their attention and promote new products or services.
Simpler decision-making process. On a landing page, you have to provide visitors with some exclusive offers, which streamlines their decision-making process. They can focus on the relevant information with no other distractions and decide whether they want to go further.
How does a landing page work?
The way a landing page works is quite simple. After following the link, the user is taken to the landing page that has a special offer or describes a particular product. The main component of a landing page is a strong CTA, an image, button, or a piece of text that spurs a person to fill in the form. To get access to the special offer, a person has to fill in the form, and in turn, becomes your lead.
The form usually includes fields for an email address and a user name. This is enough to store this info in your database and use it for future marketing activities. After a visitor has filled in the form, they receive a thank-you email.
What is the main difference between a homepage and a landing page
The thing which makes a landing page different from a homepage is its purpose — to convert site visitors into clients. Unlike a homepage, a landing page is a single detached web page that is not connected to your website and is designed to generate more leads. A landing page has no navigation and usually includes only basic information about a product or service with a contact form that aims at capturing essential personal data to turn visitors into customers in the future.
While homepages are created for a wide audience, a landing page catered to narrow segments of users who are very likely to convert. That's why marketers make use of case studies and video tutorials to show the value of the product offered.
Key Components of an Effective Landing Page
Outstanding headline
Relevant copy
Eye-catching images
Features and benefits
Subscription form
A strong call to action
Here are the essential components of an effective landing page.
Outstanding headline
This is the first thing people will see, so it should be short and sweet, but as relevant as possible. Come up with an engaging and compelling heading that will keep your visitors interested in reading and filling in the form. Tell people about the product or service you are trying to promote and grab readers' attention with a few catchy words.
This example is a perfect demonstration of how brevity and simplicity can engage visitors. It took MOZ six words to convey the purposes they help to achieve.
Relevant copy
An effective copy can either support your headline or provide users with additional value. Use this component as another chance to attract user attention. Explain your headline and tell about the benefits of your service but don't be too wordy — cover the basics in a few words.
Check out the example below. HubSpot explained the essence of their product for marketers in three lines.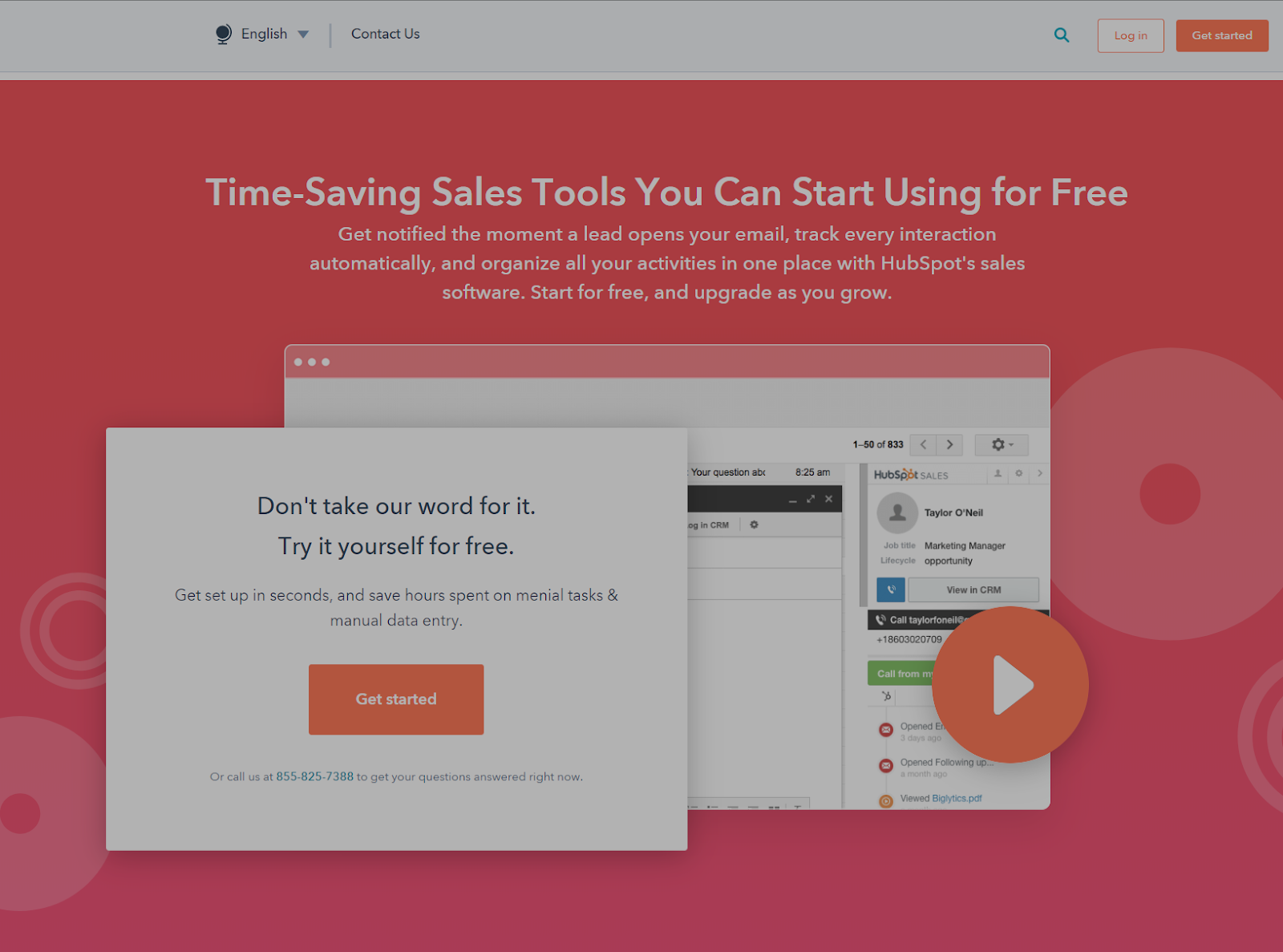 Eye-catching images
Including relevant images enhances the overall idea you are trying to convey on your landing page. Quality eye-catching images and GIFs, like in the example below, will draw people's attention, and they will be more interested in exploring the page and leaving you their contact details.
Make sure that the images are relevant to your landing page content and describe your product from the best angle. Let users see the results they can achieve using your service.
Intercom uses a nice GIF above the fold on their landing page to attract user attention and provide screenshots describing how their service works.
Features and benefits
These two components complement one another. The best way forward is to provide a bulleted list of your features and explain how your clients will benefit from using YOUR service. Compare your features with any similar features from your competitors, find advantages that make your brand better and mention them on your landing page.
Look at the example below. Snov.io not only describes the features of its email finder but also explains why it's worth trying.
Subscription form
A subscription form is a core thing to include on your landing page. It's the main component you need because people leave their contact info you can use for your future marketing activities. It can be a short form that might require only entering a visitor's email address or a longer form where a visitor should include their first name, email, phone number, or other details relevant for your product or service.
Remember, the more fields you add to the form, the more bounces you will have since people avoid filling in long forms. So, the best option is to ask for a name and email or at least make the fields not obligatory to fill in.
SendPulse offers its users pre-designed subscription forms and a flexible form builder that requires no HTML knowledge. Create multichannel forms to collect not only users' email addresses but let them contact you via a chatbot in Facebook Messenger and Telegram. Check out such a form below.
Below is an example of a subscription form that collects only an email address. Besides, it eliminates typical users' pain points and offers an incentive for young, growing companies.
Live chat
You can set up a live chat widget on your website to assist leads during their journey. Provide them with help, answer FAQs, tell them about your brand, and showcase your product. This will help you build strong relationships and convert your website visitors into customers. Look below at the example of a live chat.
With SendPulse, you can create a live chat for your website in no time and for free.
A strong call to action
An active call to action is another important element that needs your attention. A CTA can decide whether or not a person will give you their contact information. Your CTA must be as relevant and captivating as possible. The text of the button has to be straight to the point and show a person what they will get in return. Do not be vague but stay concise and specific.
Below is a standard but effective call-to-action for a SaaS company's landing pages.
Now that you know about the key elements of an effective landing page, it's time to learn how to create one. You can do this with SendPulse for free.
How to create a landing page for free with SendPulse?
SendPulse provides an easy-to-use drag and drop landing page builder that allows you to create an online store, mobile landing page, or link page for your social media bio in less than half an hour, and without any technical skills. If you have the inspiration and the time, you can create a landing page from scratch. SendPulse also offers pre-designed templates that you can customize to your liking.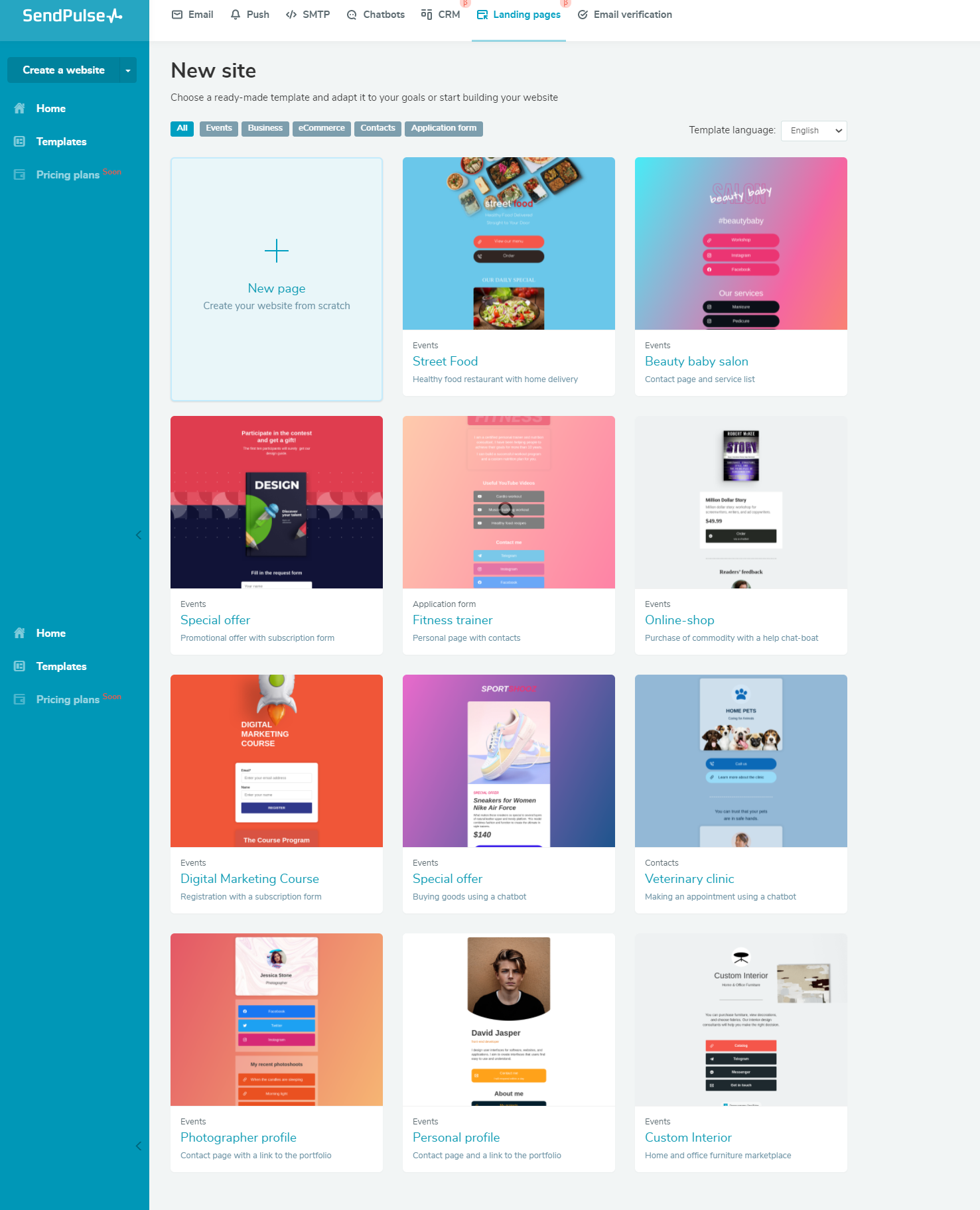 You can add buttons with the links to your chatbots, as well as a subscription widget. Integrate a payment system to convert leads into customers. Track key performance indicators and improve your site's search engine rankings with SEO settings. The builder is available for free.
Below you can see how the process of creating a landing page looks like. Drag the necessary elements from the left to your layout and edit them with the help of the right panel.
You can also see the statistics of your page, namely the number of views and clicks.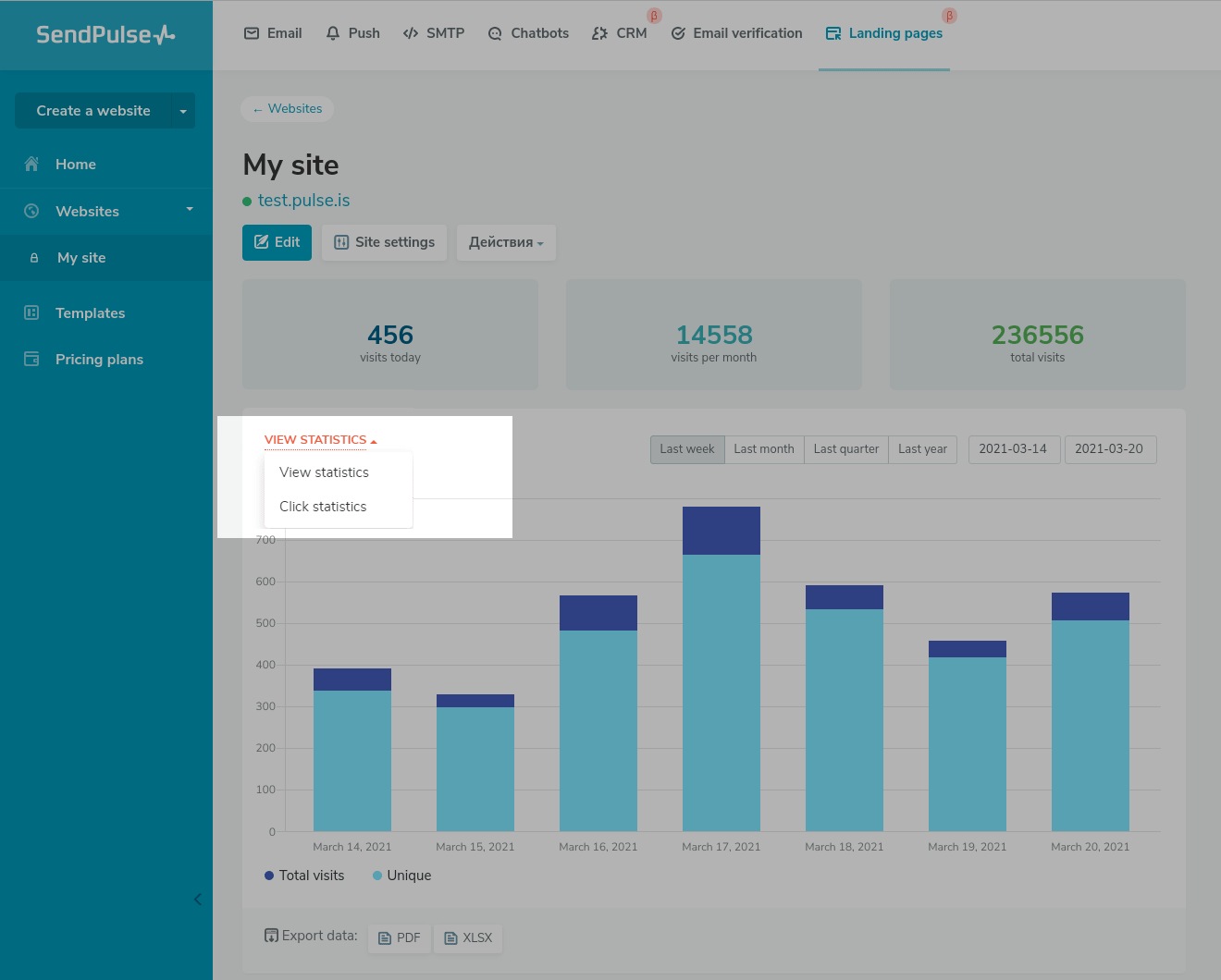 Follow this step-by-step guide to create a landing page with SendPulse.
Tips to Create a High-Converting Landing Page
Invest in a user-friendly and responsive design
Use social proof
Incorporate reviews, testimonials and case studies
Make use of rewards
These tips will help you enhance your practices, so you can create a high-converting landing page that will bring you more leads.
Invest in a user-friendly and responsive design
If your landing page doesn't render well on users' smartphones and they have to use horizontal scroll bars, they won't even try to use them. A responsive page design is a must to provide customers with the best user experience.
To increase brand awareness, invest in an original and unique landing page design. Make sure all of the elements like the page's color, font, and text size are uniform throughout your website. Leave enough white space to make the text easy to scan.
When considering an original page design, Apple is likely to be the first brand that comes to mind. Their landing pages look like a short movie, however, the design remains minimalist. Take a look!
Use social proof
When landing on a new page, users consider whether that brand is worth trying and here social proof does the trick. You may show how many people have already registered or show a pop-up with real-time registrations. This way, potential users will see that lots of people use your services and the fear of missing out on something valuable won't let them leave your page.
Check out the example of social proof below.
Incorporate reviews, testimonials and case studies
All of the elements of customer feedback belong to social proof as well. They play a special role for users who are considering using your service. Nothing works better than customers' experiences of working with your brand. So, ask your clients to leave a review and place it on your landing page. That will motivate potential customers to give your service a try.
Look how Moz adds their customers' testimonials to their landing page.

Make use of rewards
Certifications awarded by authoritative third parties make people trust your brand as well. Add the logo of the company that awarded your brand along with a link and you'll have +1 to your brand authority.
Below you can see how Serpstat includes their rewards on their landing page.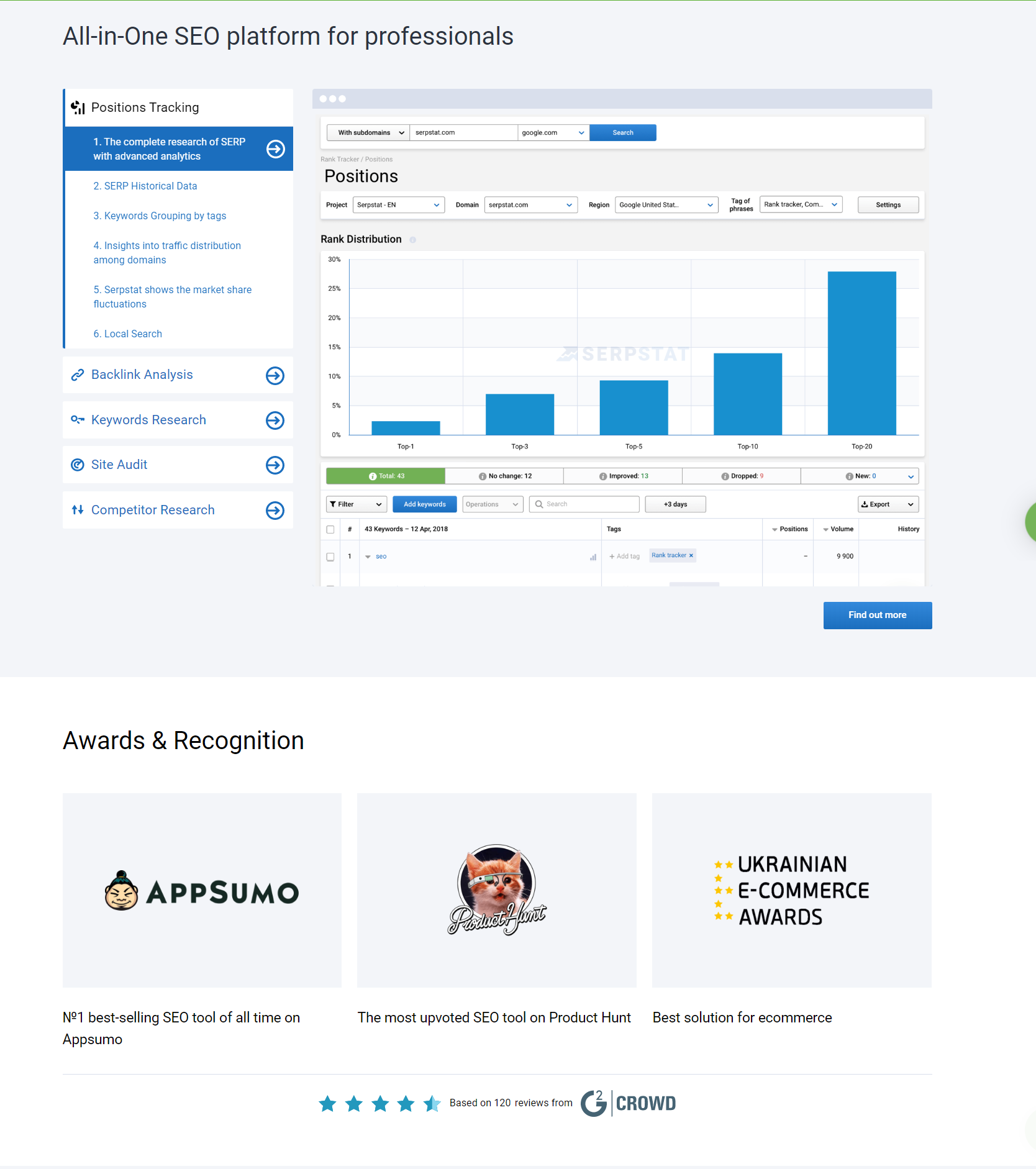 Ways to Promote a Landing Page
Organic search
PPC
Emails
Paid social media advertising
Guest blogging
By implementing these tactics, you will be able to promote a desired landing page throughout the Internet easily.
Organic search
To make an effective landing page, it's imperative to include relevant keywords and phrases in your title, so a more targeted audience can find your page. With a search engine optimized page, chances are much higher that people will stay on it and give you their contact details.
Using long-tail and specific keywords, and a relevant meta description will help users easily find a relevant page.
The results of a search are displayed under sponsored ads and the keywords a person users are bold. Check it out below!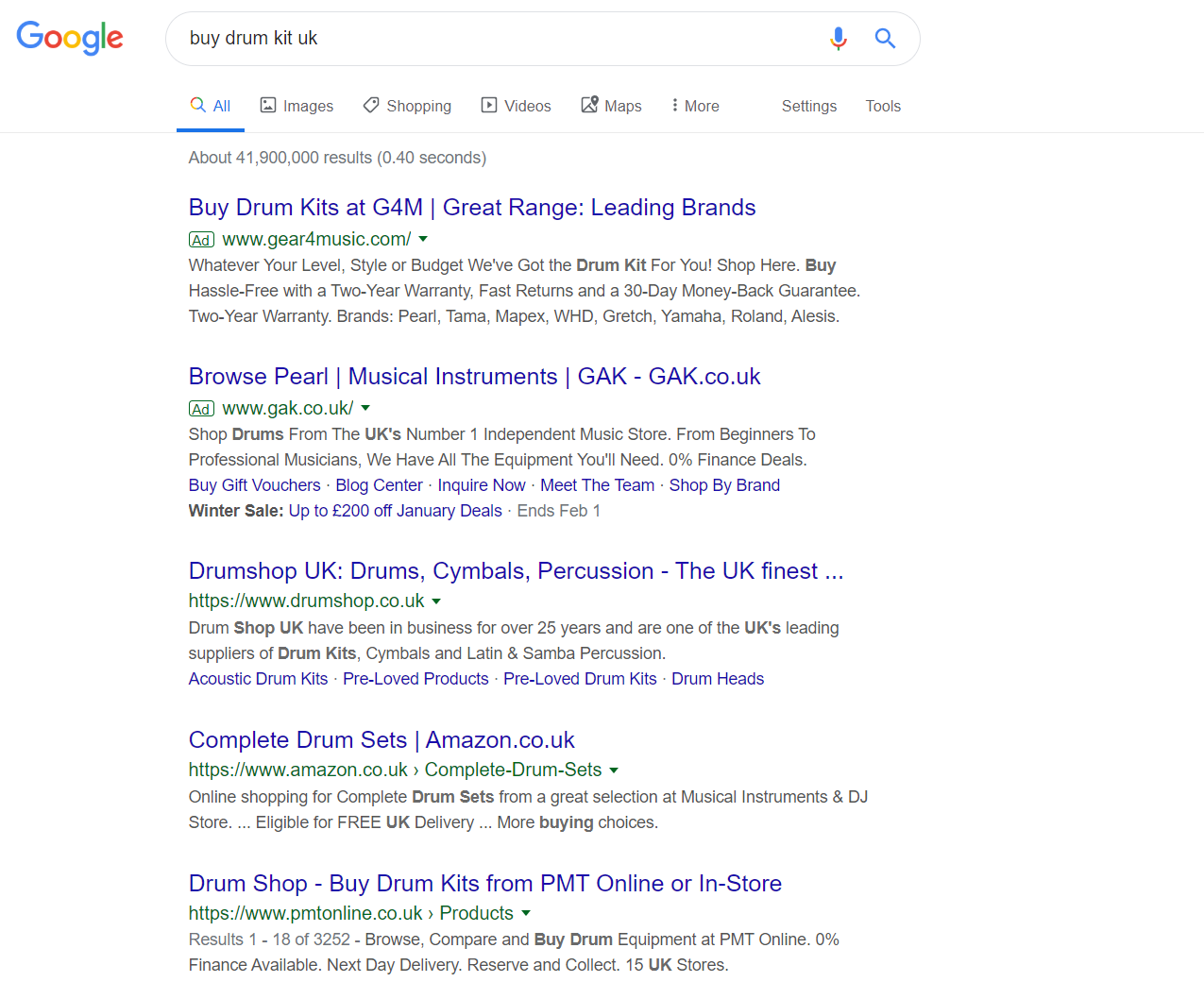 PPC
With this type of online advertising, you pay only for ads that were clicked by users. So, the main challenge is to choose the right audience segment that is very likely to need your product and set your budget wisely. To have more chances for conversion, set concrete goals and make sure that your landing pages answer all the questions that a user may have.
Look below to see how promoting a landing page with the help of PPC looks.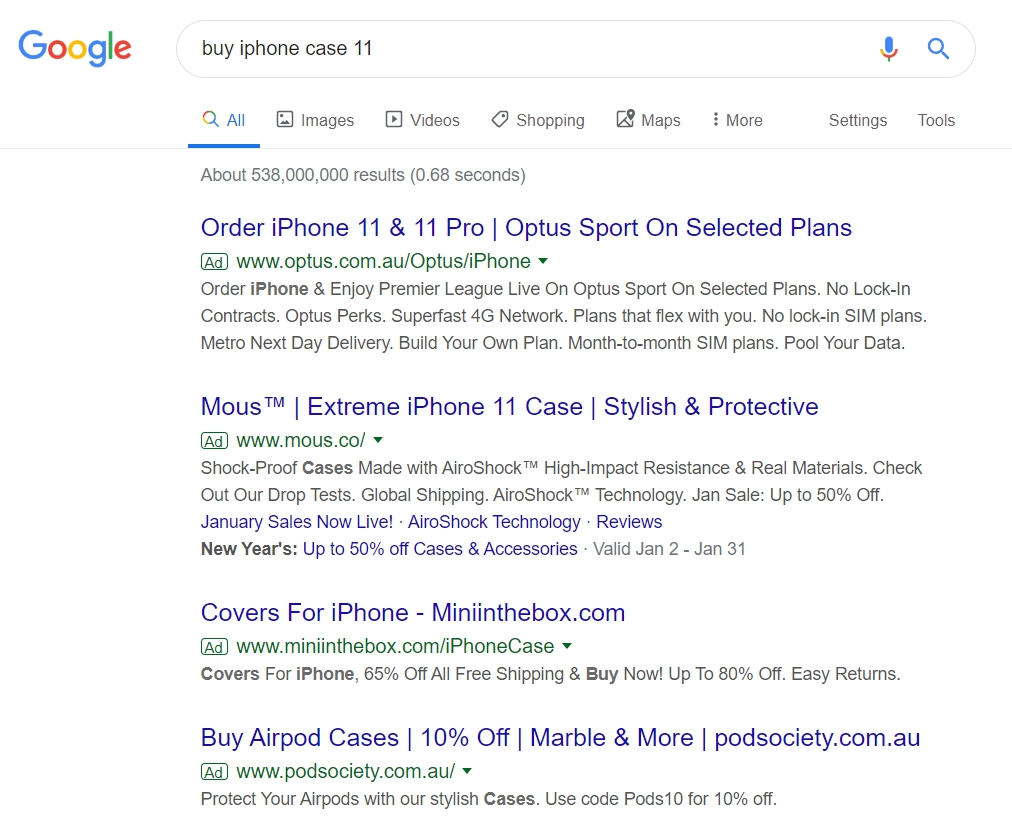 Emails
Emails are a great way to promote a certain landing page. In this case, it's a great way to turn your leads into customers. By sending an email with a landing page to a targeted group of people from your database, you can easily promote your landing page. This approach works best for promoting new products and services and upcoming events.
Email services, like SendPulse, facilitate the process and also allow you to track the effectiveness of your email campaigns so you can improve them in the future and drive more sales. Create an eye-catching email from scratch or use pre-designed templates to save time. Here's a step-by-step guide to getting started.
Сheck out how Tilda promoted its new feature via an email campaign. The brand provides the link to the landing page and offers a how-to guide.
Paid Social Media advertisement
Social media platforms are great channels to promote your landing page since you might have an audience there. You can easily launch an advertising campaign on Facebook, Instagram, or other platforms relevant to your business. Define your target audience and start promoting your landing page. To get more conversions, you have to be specific about your targeting and take into account as much data about users as possible like gender, age, country, occupation, interests, and hobbies, etc.
Then, all you need is to write an eye-grabbing headline and add beautiful images that describe your product from the best angle.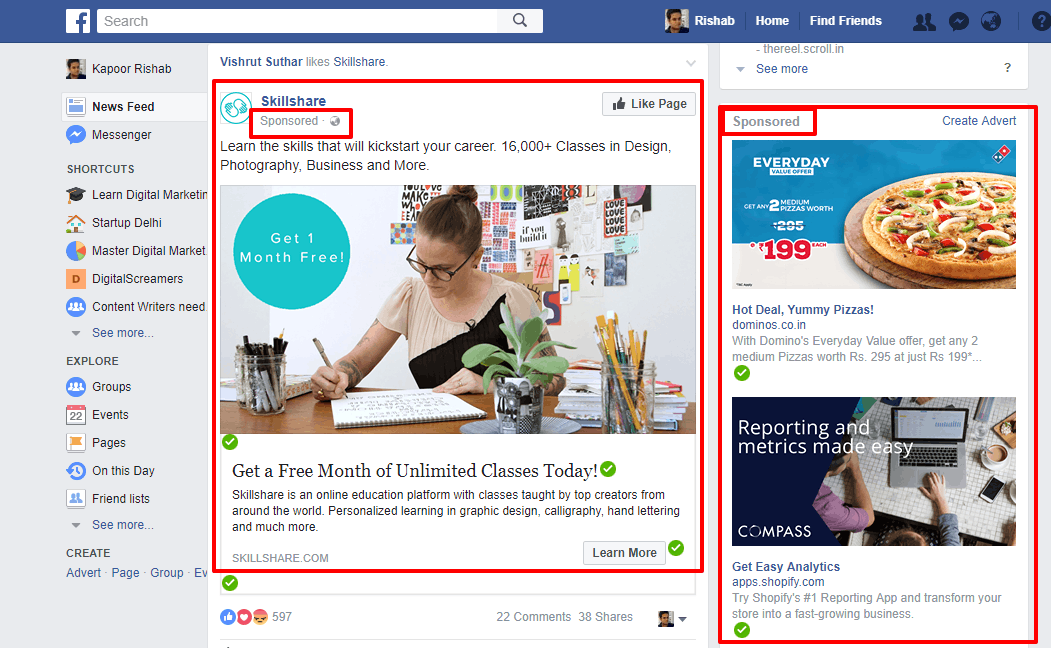 Guest blogging
This is one of the most effective ways to look for new audiences and promote a brand new product that users won't search for on Google. To make this method work, you should make the right choice of platform. Look for top influencers and authoritative bloggers in your field, analyze their audience to make sure it will be interested in your product.
Contact these people, ask them to try out your service for free, and share feedback with their readers or write a guest post on their blog with a link to the relevant landing page. The higher their authority, along with user engagement, the more conversions you'll have.
As you can see, a useful landing page is an integral part of business development and growth. This beneficial yet straightforward aspect can help you attract more people, raise brand awareness, generate leads and drive sales.
By implementing the tips provided in this article, you will be able to create a highly appealing and efficient landing page that will allow you quickly to acquire leads and turn them into clients. SendPulse can help you increase your landing page performance with the subscription forms.
References
The article "What Is a Landing Page? All Your Questions, Answered" on HubSpot defines a landing page, states its purposes, explains why it is essential and offers tips to follow while creating one.
The article "Beginner's Guide to Landing Pages" on Neil Patel's blog explains what a landing page is, describes its goals, and provides best practices to follow.
The article "What is a Landing Page?" on Instapage considers the following aspects: what a landing page is, why every promotion needs it, the anatomy of a landing page that converts, how to pick the best type of a landing page for your campaign.
FAQ
Last Updated: 06.09.2023