Paid advertising is an online placement of ads on relevant platforms for which an advertiser pays. It works based on a bidding system. This is an auction where an advertiser ready to pay more money for an ad space wins. Advertisers pay either for impressions or for clicks.
In this article, we'll tell you the truth about the efficiency of paid advertising, cover its benefits, consider the most profitable types of paid ads, and provide examples. So, stay tuned!
How effective is paid advertising?
The efficiency of paid advertising for your company depends on your industry, type of business, and goals. To make an informed decision, consider the statistics below.
So, paid ads do help businesses increase their brand awareness and revenue. Let's take a closer look at the benefits of this advertising type.
Why are paid ads important?
Implementing paid advertising doesn't guarantee success for your business. It requires investments and thorough planning while organic promotion only requires time. So, the best approach is to combine these strategies effectively. Discover the benefits of using paid ads below.
Immediate results. Compared with organic promotion, which requires months or even years to see the results, paid ads let you quickly evaluate their efficiency right after the launch. For example, if you promote your product via Instagram Stories, you'll be able to see the results instantly.
A perfect choice for startups. Startups and new businesses that haven't been online yet need paid ads to find their target audience, demonstrate their product to the public, bring innovations to the market. Without ads, new it'll be difficult and time-consuming for new businesses to get promoted.
Targeting options. While organic promotion offers no targeting opportunities, platforms providing paid ads let marketers choose the necessary demographics, gender, age, interests, preferences. Setting all the options, you'll manage to speak to the right audience and blow up your campaign results.
Global outreach. Paid ads allow you to collaborate with businesses from similar industries all over the world since the main ad placing factor is its relevancy. Besides, you can easily find new audiences working with publishers from different niches. As a result, your audience grows.
An additional advantage in a highly competitive market. Shopping, hospitality, travel, and logistics are considered the most competitive industries in the world. It means that it's challenging to appear organically on the first page of the SERP, especially if your market share is low. Paid ads let you bring your company in front of its potential clients.
Retargeting opportunities. With the help of paid ads, you can bring users back to your website. If a big percentage of your site visitors ads items to their shopping carts without buying, views the same product from time to time, and navigates the site, you can launch retargeting campaigns according to their interests and drive more sales.
Analytics. All the advertising platforms make it easy for their clients to measure the success of campaigns. You can monitor the number of users who saw your ads, clicked through, and converted into clients. This way, you will have a clear picture of your marketing efforts and change your strategy on the go.
Now that you know about the efficiency of paid advertising and its benefits, it's time to get acquainted with the types of ads.
Paid Advertising Types
Social media marketing
Search engine marketing
Display marketing
Influencer marketing
Today marketers have a wide choice of ad types at their disposal. They include social media marketing, search engine marketing, display marketing, influencer marketing. With their help, companies bring in new leads, increase awareness and recognition, blow up sales. So, let's take a closer look at each one.
Social Media Marketing
In 2021, 4.48 billion people used social networks which is 13% more than the previous year. On average, every user spends 145 minutes a day on different social networks. If your target audience is made up of young people 18-29 years old, you should know that 84% of this group are using social media every day. 71% of satisfied social media users would recommend the company they had any experience with to their friends.
All these facts make us believe that social media networks have become an integral part of everyone's life, and you as a marketer can't underrate their power. So, let's take a closer look at their advertising opportunities.
Facebook
Facebook is the leader among social media users. 2.5 billion people use the platform every month. They not only look through the feed and check out their friends' profiles but look for the necessary products and services, search reviews and testimonials, examine the profiles of their job candidates.
Facebook provides excellent options for paid advertising. It offers a platform with a big choice of features available. These are Facebook targeted ads, and they work based on a bidding system. Advertisers place bids on several ads with the necessary target audience, and the winner is chosen through a lottery.
Facebook provides 3 tools for ad targeting: Core Audiences, Lookalike Audiences, Customer Audiences. With the help of the first tool, you can pick up the right audience based on its demographics, location, interests, behavior, connections. Lookalike Audiences allow you to reach people similar to your existing customers. Custom Audiences let you get in touch with people who have already interacted with your brand below. These contacts may include people from your mailing list, Facebook, CRM, app users, and site visitors.
Below you can see an example of a Facebook ad targeted by location. DoorDash offer delivery and takeout from local restaurants. It promotes their free delivery campaign and lets users order it right from the advertising.
Follow a quick guide on our blog to create Facebook ads that work.
Instagram
This social network has more than 1 billion active users every month. They spend half an hour on the platform per day on average. 81% of users use Instagram to look for products and services. 130 million people click on buying posts monthly.
With the help of Instagram, you can bring in new leads, increase your brand awareness, demonstrate your products, help customers via a chatbot, show some behind-the-scenes, and blow up sales. This social network enables clients to promote their Instagram posts, Stories, Highlights, and profile.
To create an advertising campaign for Instagram, you need a Facebook business page and switch your Instagram account to a business one. Then, you can go to the Facebook Ads Manager and start creating your campaign. Follow the official instructions.
Below you can see an example of promoted content on Instagram. Zara encourages users to check out their new collection via a Story. After clicking the link, users will be redirected to the website.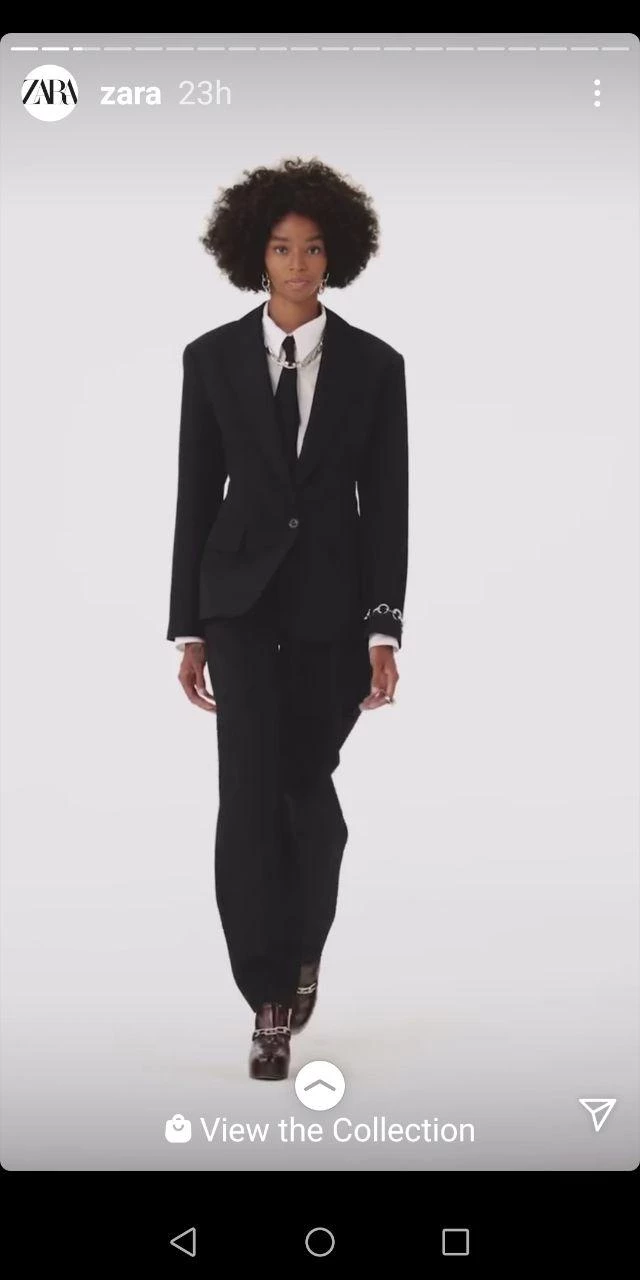 LinkedIn
310 million people are active LinkedIn users monthly. According to HubSpot, LinkedIn is 277% better for generating leads than Facebook. 55 million brands are on LinkedIn. This social network is a great place to find like-minded people, hire top specialists, and look for jobs. With the help of LinkedIn, you can get in touch with senior managers, influencers, and decision-makers which makes it a perfect platform for building business connections.
You can create an advertisement with a Campaign Manager. Firstly, you need to choose a goal. It can be awareness, consideration, conversion. Then, you need to select your targeting criteria. LinkedIn offers more than 20 categories to target the right audience. They include company name and size; job title and seniority; member schools, interests, and groups; skills, etc. Then, choose the format of your ad. It can be an image ad, video ad, or carousel ad. Lastly, set a budget and schedule.
Below you can see an example of paid advertising on LinkedIn. Salesforce promotes its brand by sharing a downloadable playbook for success.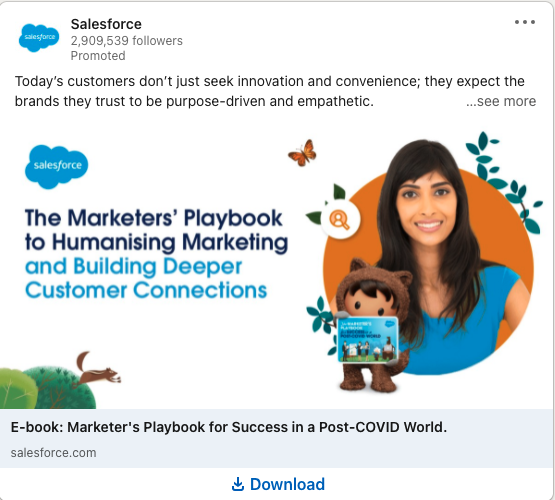 So, every social media platform provides various profitable options for effective promotion. Identify where your target audiences hang out and start creating your campaign.
Search Engine Marketing (SEM)
Search engine marketing aims to promote your website on the search engine results page. It lets you generate more traffic to your site, build brand awareness and recognition, get immediate results, and blow up conversion rates. Compared to SEO, SEM drives results faster. You can experience these benefits by creating Google Shopping ads, text ads, responsive ads, and local service ads.
Search engine ads work based on an auction system. Advertises carry out thorough keyword analysis before participating in the bidding. They choose the most relevant keywords for their business. For better performance, advertisers consider keywords with lower competition but high volume. One of the most important factors for evaluating the quality of an ad is a Quality Score. Google wants to provide users with the best experience so it analyzes if your ad can satisfy their search intent. Advertisers with the highest Quality Score and the maximum bid (the amount of money they are ready to pay) get the highest ranking positions. Note that a high Quality Score also allows you to pay less for your ad.
To launch an advertising campaign on Google, you need to create an account in Google Ads manager. Google also provides a variety of targeting options. So, follow this step-by-step guide to create an advertisement.
Below you can see an example of the search engine results page. Ads are placed at the top and have the corresponding label.

Display Marketing
It means display advertisements shown on relevant websites. They can include text, images, or video. Advertisers encourage users to visit their website, buy a product or take any other desired action.
You can reach new audiences and promote your company on relevant websites with display ads. And increase conversions. Google Display Network allows companies to get started with display marketing. To create a display ad, you need an account in Google Ads. Set your goal, choose the bidding strategy and budget, and find your target audience. You can also make use of targeting options. Follow the instructions from Google.
With the help of display advertising, you can launch retargeting campaigns to bring back users who viewed specific items or added them to their shopping cart on your site. Below is an example of a retargeting display advertisement.
Influencer Marketing
This type of paid advertising implies collaborating with influencers and opinion leaders from your industry who have many followers. These people have expertise, knowledge, trustful relationships with their audience, and authority. People trust their recommendations and want to have a similar lifestyle, products, etc.
Influencer marketing allows companies to reach new audiences, boost their awareness, enhance lead generation, and enrich their content strategy since it's up to an influencer to choose the promotional methods. You need to find the right influencers to create a successful campaign. These people should have expertise in your industry. Make sure that their audience is active and loyal. For this purpose, check their subscribers and comments for bots. You can use special tools like trendHERO. If you're on a tight budget, consider partnering with micro-influencers.
A skincare brand Biossance collaborated with a famous actress Reese Witherspoon to promote its products. She creates videos and shares sincere recommendations on her Instagram account.
Check out our tools and tips on how to find niche influencers for your business.
Now that you know about the most effective types of paid advertising, let's inspire you with more examples.
Examples of Paid Advertising
Let's find out how famous brands reap the benefits of paid advertising. Check out their formats and visuals to identify the most appealing for you.
A famous marketplace for tourism and vacation rentals, Airbnb asks users via a Facebook ad whether they're looking for a second home or having a holiday. This is a way to attract attention to their campaign. The service offers customers to earn extra money by sharing their homes when they're away.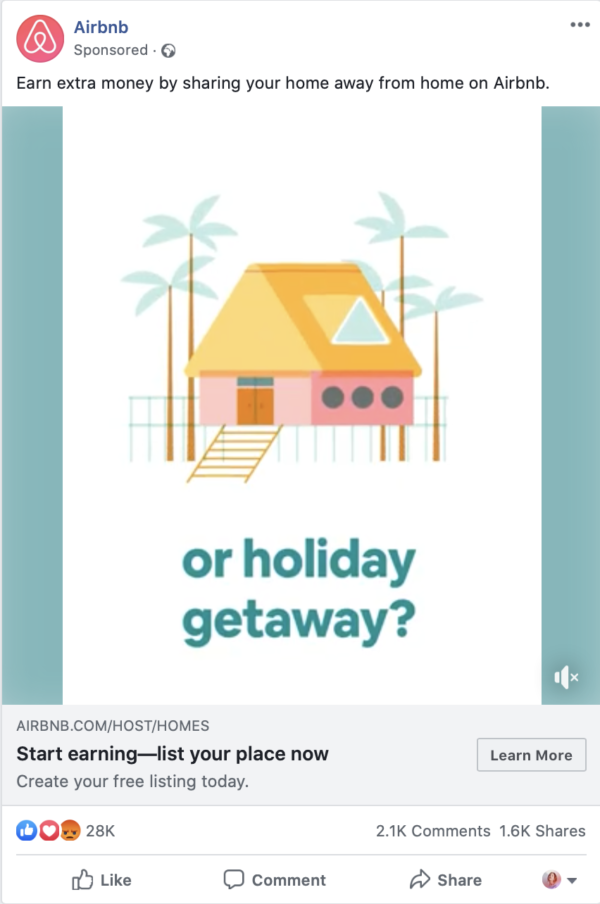 BoltFood chose an attractive way to promote its delivery service at a pleasant price. They added a photo of a delicious biscuit that immediately attracted attention and encouraged them to swipe up to get the offer.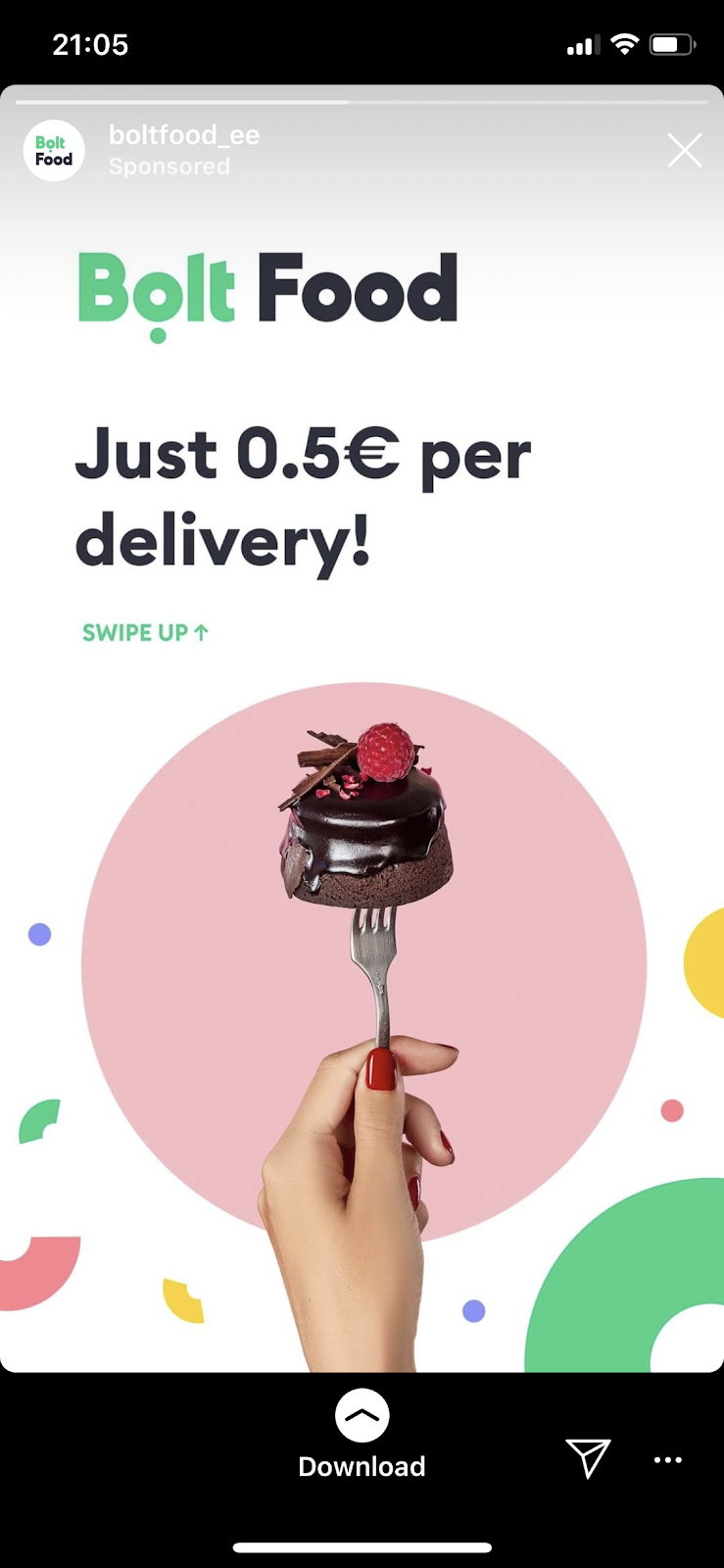 Puma collaborated with a famous singer Dua Lipa. She demonstrates their sneakers, presents new collections, and acts as the brands' model.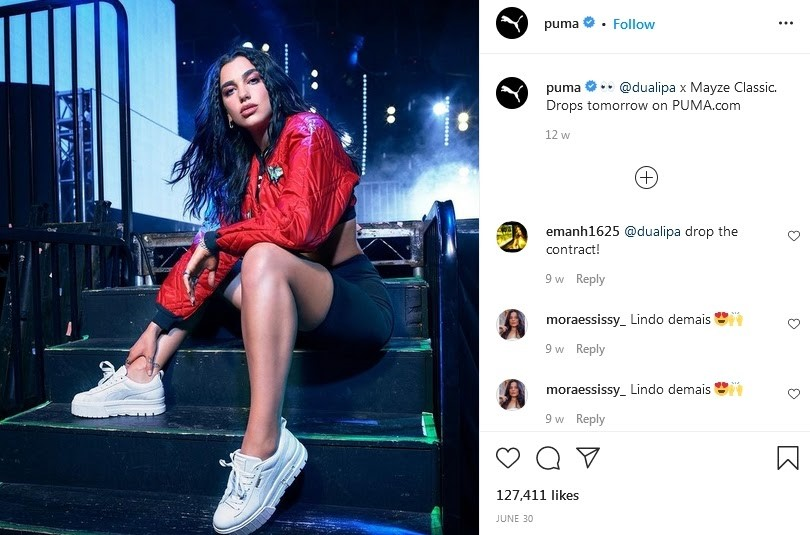 Congrats, now you know the benefits of paid ads, the way they work, have some inspiration from world-known brands, and can start creating your campaign right now. Attract new audiences and blow up sales!
Last Updated: 22.03.2023