Brand awareness is a marketing term that refers to how easily potential customers recognize and recall your products or services. Brand awareness is a key marketing concept and a primary goal of brand marketing.
In the video below, Digital Resource explains what brand awareness is, why it's crucial for the success of your business, and how to build it.
In this post, we'll explore how brand awareness differs from brand recognition, why it's important for your brand, and how to measure it. We'll also unpack some tactics to increase brand awareness and learn from examples.
Brand Recognition vs Brand Awareness
When exploring brand awareness, you will likely run into the expression "brand recognition." Marketers often use these terms interchangeably. However, there are significant differences between them.
In a nutshell, brand recognition is how your target audience recognizes your brand. This concept includes an easy-to-recall brand name, corporate colors, logos, and symbols. Put simply, brand recognition is about your brand's visual identity.
Brand awareness is a more complicated notion. It refers to the soul of your business and encompasses your unique value proposition, company culture and reputation, your product features and benefits, and so on. In short, brand awareness makes the public recall emotions and general impressions about your brand.
As you can see, brand awareness encapsulates your brand and the emotions it provokes in the target audience. Now, let's move on and find out why you should care about brand awareness in the first place.
Importance of Brand Awareness
The importance of brand awareness boils down to the possibility to generate more revenue. According to Global banking and finance review, customers prefer to buy from brands they know. 71% of interviewees claimed that they must recognize a brand before making a purchase. No wonder 89% of marketers say that brand awareness is their top goal.
People believe they rationally choose between similar products on the market. They do research, collect information, read reviews, compare, and so on. However, in the end, they often make a purchase decision based on the acceptability and reliability of the brand.
Brand awareness makes your target audience choose you over your competitors. Read on to get into detail and explore what benefits it brings your business.
Benefits of Brand Awareness
Increased Sales
Emotional connection building
Customer loyalty growth
Acquisition through referrals
Let's take a once-over on the benefits that strong brand awareness provides. They might be more or less expressed in your case. The key is to combine efforts on boosting brand awareness with other marketing tactics, which address particular issues your business face.
Increased sales
We've already mentioned that people prefer to buy from brands they know or recognize. The more customers are aware of a brand, the bigger market share this brand wins.
Companies with bigger market shares on average generate more sales than their less fortunate competitors. It boosts their revenue. According to Forbes' contributor Gabriel Shaoolian, consistent brand presentation across all platforms can increase revenue by up to 23%.
Emotional connection building
Brand awareness plays a big role in retaining customers and making them purchase from you repeatedly. A familiar brand creates a sense of trust and optimism. Thus, customers are more likely to return to a brand they've heard about or bought from before.
Better yet, brand awareness builds a strong emotional bond between a company and a customer. Over 65% of people feel connected with specific brands. This emotional link provokes customers to buy from a brand repeatedly and pay more.
Customer loyalty growth
Strong brands can not only build more robust edges in the market, higher revenue, and create emotional connections with customers. They get another privilege – making occasional mistakes.

According to PwC, customers are tolerant of the errors their favorite brands make. Only 17% of clients refuse to work with their favorite company after a single blunder. If customers don't have an emotional connection to a brand, their tolerance drops. 39% of buyers would not return to a company after a negative first experience.
Acquisition through referrals
Strong brand awareness is likely to bring you referrals. 94% of people, who are emotionally engaged with a brand, would recommend it to their friends, colleagues, and family. This leads to an increase in sales, as referrals from acquaintances are important when making a purchasing decision.
Better yet, referrals make your brand awareness even stronger than it was initially. 84% of people believe recommendations from friends to be the most credible source of information.
These benefits make businesses constantly try to increase their brand awareness. It brings up the question of how to measure this metric correctly.
How to Measure Brand Awareness
Traffic to your website
Backlinks
Social listening
Surveys
Google services
Unfortunately, brand awareness isn't a metric you can calculate with a formula. However, you can judge it by other indicators. There are three of them you should consider.
The volume of mentions in traditional media and on social networks will help you understand how discussable your brand is.
Reach is a number of people who could potentially see the publications your brand is mentioned in.
Engagement allows you to judge how effective your brand awareness actually is.
Now let's move on to the concrete ways you can measure your brand awareness.
Traffic to your website
There are two types of traffic you need to track to determine your brand awareness. First is direct traffic, which occurs when a user types your URL into the address bar or enters from a browser bookmark. When people go to your website directly, it means they knew about your brand beforehand.
Also, overall website traffic comes in handy, as it shows how many people from the internet interact with your content daily and monthly. Measuring these metrics over time helps you track your brand awareness growth.
Backlinks
Backlinks are links to your website from other resources, such as social media, blogs, websites, and so on. If the traffic from these backlinks consistently grows, so does your brand awareness.
However, make sure the referral traffic is high-quality. For instance, links from untrusted sources can harm your search visibility, which eventually negatively affects brand awareness.
Social listening
This is one of the most effective ways to measure brand awareness. With special tools, such as Agorapulse or Mention, you can track every conversation about your brand on social media.
This tactic allows you to evaluate not only the number of mentions, but the quality of them as well. It provides valuable insight on how to improve your brand or product to fit customers' needs and increase your brand awareness.
Surveys
A classic way to measure brand awareness is to conduct research. You can survey both your current and potential customers to find out what they think about your company. Create these surveys with such services as SurveyMonkey or TypeForm and share them on social media or via email.
Take special care of the questions you include in these surveys. If you poll potential customers, try to find out if they are familiar with your brand. When communicating with your current customers, ask how exactly they heard of your brand at first.
Google services
Some Google services will come in handy to measure your brand awareness. Start with Google Adwords or Keyword Planner to get an idea about the volume of searches for your brand name.
Another tool is Google Trends – a service that analyses the popularity of top search queries in Google Search across various regions and languages. It helps you understand how many people have googled your brand.
Measuring something is key to understanding it. By understanding your brand awareness scope, you can elaborate on a plan to increase it.
How to Increase Brand Awareness: Strategies and Tips
Give your brand a personality
Focus on values and emotions
Hold and attend events
Employ social media marketing
Collaborate with influencers
Use search engine marketing
Boosting your brand awareness is a complicated process, which can encompass a great many strategies and tricks to leverage your goal. We've collected six ways to increase brand awareness, both online and offline, to help you out.
Give your brand a personality
When it comes to brand awareness, you can't downplay the importance of your brand's personality. First of all, it helps your brand stand out from a line of look-alike competitors. Secondly, a well-formed brand personality increases customer trust and engagement.
Your brand should have an easily-recognizable color scheme, tone of voice, and a main trait, such as sustainability or joviality behind it. You can embody all of these characteristics in a company mascot, as Marlboro did with their famous cowboy character.
Another way to give your brand a personality is to hire a brand ambassador – find a celebrity congenial to your brand's values and tone of voice. For instance, if you're advertising a sportswear brand, go for a sports champion, fitness guru, or a celebrity famous for their perseverance or staying power.
Finally, if you have a distinctive and charismatic leader or representative behind your brand, you can make them the embodiment of your brand personality. Remember Apple and Tesla, which are inseparable from Steve Jobs and Elon Musk.
Focus on values and emotions
Consumers may be rational, but they make final choices with their hearts, not with their minds. People unknowingly consider their favorite brands an extension of their own individuality. 89% of shoppers stay loyal to brands that share their values.
To increase your brand awareness, make sure your brand articulates its values clearly and consistently. It's possible and easy when you have a well-formed unique value proposition. If you're struggling to define your brand identity, start by answering the following questions:
Why was your brand created?
What future does your brand want to create?
How will it achieve this goal?
What principles underlie your behavior?
Give short answers, that will shape your brand's mission and identity. The latter should be concise yet clear-cut.
Hold and attend events
Both big and small brands stick to promotion through holding, attending, or participating in events. Event marketing provides them with a golden opportunity to create useful business connections. 75% of business owners say that events are the best networking channel.
Better yet, events help brands build deep personal relationships with their customers. Roughly half of the marketers believe that events are effective for deepening customer engagement.
By improving relationships with potential customers and partners, you increase your brand awareness. However, if you hold an event, it needs promotion as well. Employ various channels, such as social media, landing pages, or email marketing, to gather attendees. Follow our guide on creating event invitation emails that nail it to attract more participants.
If you're at the first setout of creating your brand awareness, you may want to participate in events as an attendee. In this case, choose niche occasions that bring together the audience most interested in your products. At the event, be proactive and prepare a short pitch about your business.
Employ social media marketing
Social media marketing is one of the greatest options to increase your brand awareness. Facebook, Instagram, and other networks provide access to an enormous audience, as 3.8 billion people use social media every day.
Better yet, 54% of people research products through social networks. No wonder, over half of online brand discoveries happen in this channel.
Finally, people expect businesses to be there for them and return this care — 71% of users recommend a company they had a positive experience with on social media. To make the most of this brand awareness bonanza, stick to the following rules:
post content consistently and frequently;
make use of entertaining posts;
experiment with different content formats;
be sociable and interact with your audience.
Staying open for customers around the clock and taking advantage of various content formats may seem time consuming. To cut the cost at the start, try employing chatbots. They can handle your customer service on social media, keep your followers engaged, collect email addresses, and more. Sign up with SendPulse to create a chatbot for Facebook or Telegram for free and without coding.
Collaborate with influencers
Sometimes, you need just one recommendation from an opinion leader to double or triple your brand awareness. Thus, businesses implement influencer marketing into their marketing strategy willingly. Working with bloggers helps companies reach an audience that is unavailable through other channels.
The primary advantage of influencer marketing is the unlimited trust it creates in your brand. People believe recommendations from opinion leaders almost as much as they believe their friends and family.
To benefit from influencer marketing, you need to check the opinion leader you're going to work with thoroughly. Make sure their follower base consists of real people, who are highly engaged and fond of them. Use services such as trendHERO to find bots and examine the comment section of a blogger's profile carefully.
Another rule you should stick to is prioritizing engagement rate over the follower base size. Thus, prefer influencers with less than 100 thousand subscribers, as they have higher engagement than social media stars with over 1 million followers.
Use search engine marketing
The place business has on a search engine results page is crucial. The further your website is from the top, the less chances to be noticed you have. To get your place in the first lines, try paid promotion on search engines, or search engine marketing (SEM). This tactic can boost brand awareness by up to 80%.
SEM can be even more effective than traditional SEO, as it drives results immediately. Better yet, users perceive search engine marketing well; 75% of them said paid search ads help them find the information they need.
To do effective search engine marketing, follow trends like voice search optimization. It means you should make your paid search ads more conversational. Look at how people communicate in real life and transfer these patterns to ads. Remember to include more long-tail keywords; they will help your content appear more frequently on the results page.
The tactics listed above can be more or less effective for a particular brand. Moreover, their usefulness changes depending on the way you implement them into your marketing strategy. Read one, to learn how other brands use these tricks.
Brand Awareness Examples
Let's look at the use cases of big companies working on their brand awareness. You'll find examples of situational marketing, SMM combined with promotion through influencers, and amazing awareness increases due to social proof and top-notch customer service.
Coors Light
The beer brand, Coors Light, did a great job with their brand awareness campaign on social media. In April of 2020, a woman quarantined at home posted a picture where she is posing with a sign asking for more beer in one hand and a Coors Light can in the other. The image went viral, and the brand sent Olive —that is the woman's name — 150 cans of beer.
This situation inspired Coors Light to launch a giveaway. Under the terms of the competition, contestants had to post a tweet with the #CouldUseABeer hashtag to receive a six-pack of beer. During this short campaign, the brand gave away 500 thousand cans of beer.
In return, the company got enormous outreach on social media combined with drastically increased brand awareness. Better yet, Coors Light engrained a positive association with their brand into customers' minds.
Slack
The cloud-based messaging tool, Slack, knows a little something about increasing its brand awareness via growth hacking techniques. The brand started as a startup with 15 thousand users, now Slack is the fastest-growing business app.
To achieve its current success, Slack put everything into customer relations. The company prepared the ground before its launch and generated a ton of reviews from media outlets like VentureBeat, TechCrunch, and Inc. Each publication emphasized customer satisfaction with the messenger.
To make the most from word-of-mouth marketing, Slack also created the "Slack Wall of Love," where the company shares tweets from people who love this messaging tool. These techniques coupled with thorough work on customer satisfaction improvement provided Slack with amazing brand awareness.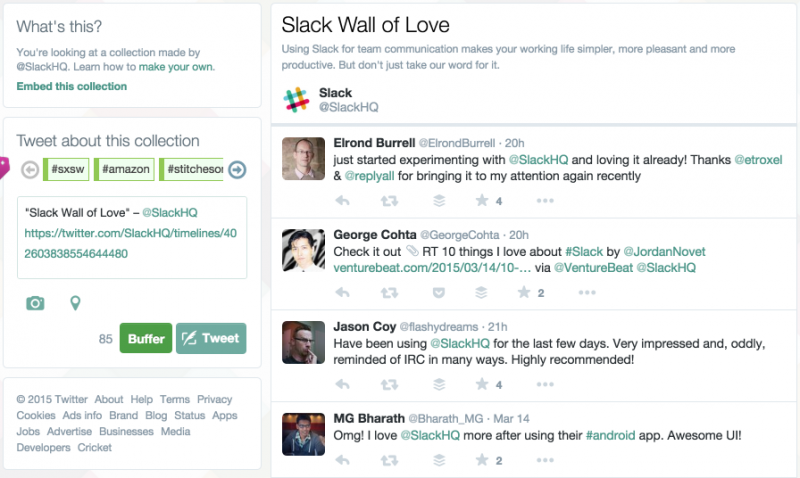 Spotify
The music streaming service, Spotify, increased its brand awareness by showing users their annual results. Since 2017, the company shares year-end outcomes and compiles the most-listened artists, albums, and songs for each user individually.
This mechanic works great because people love seeing personalized statistics. Better yet, they love sharing it on social media. So, the main trick Spotify uses here is making these results easily shareable. Thus, the service gets enormous outreach on social media every year.
Apart from it, Spotify goes a mile further and creates wrapping up for artists. This intricate move allows the service to employ the power of influencer marketing as well. The best part – Spotify spends next to nothing on promoting through this channel.
Brand awareness is a crucial element of your success on the market. It influences every single part of your business, including lead generation and customer acquisition. However, you need to nurture these leads and retain customers to generate stable revenue. For this purpose, try email marketing, web push notifications, chatbots, and SMS campaigns. Sign up with SendPulse to make the most of these marketing channels.
References
In "The ultimate guide to brand awareness," Hubspot sheds the light on the importance of brand awareness and tactics to improve it.
If you want to learn more about strategies to boost your brand awareness, consider reading "18 sneaky ways to build brand awareness" by Wordstream.
Last Updated: 05.07.2023