A digital marketing strategy is a set of planned actions performed online to reach specific business goals. In simple terms, this means performing consistent actions at the right time via the most suitable online channels to increase revenue and improve relationships with your audience.
In this video, Alex, a marketer at SendPulse, shares creative ways to make your business digital.
The complexity of a digital marketing strategy primarily depends on the size of your business and your long-term goal. If you have just launched your business, you may only need to make a few simple steps using one or two digital channels.
So, let's discuss why you should plan your digital marketing activities.
Why Do You Need a Digital Marketing Strategy?
It motivates you to learn more
It provides real data
It structures your actions
It helps to increase ROI
It helps you reconsider your relationships with the audience
Generally, making a strategy helps you move more consciously and thus more confidently no matter what you do. When it comes to digital marketing, building a strategy can help you in the following ways:
It motivates you to learn more. When you start to develop a digital marketing plan, you need to think through every aspect of your business. You also have to thoroughly analyze your audience, competitors, trends, and neighboring niches to create a polished and up-to-date digital marketing strategy. Developing a plan is an amazing chance to get more in-depth knowledge of your business!
It provides real data. During the analysis, and after turning your strategy into action, you will get a lot of comprehensive data about what works well for your brand and what doesn't. Empowered with that information, you'll have a catalog of options for improving your business.
It structures your actions. Developing a digital marketing strategy avoids the chaos of making blind guesses that you have to make without having a plan. If you create a strategy, you will get a better understanding about how to combine various marketing channels and realize the full potential of your company.
It helps to increase ROI. Once your actions are structured, you make fewer actions and fewer mistakes. With a well-crafted plan, you will be able to detect your weaknesses, predict problems, and quickly react. You will save time, money, and efforts to increase margins as a result.
It helps you reconsider your relationships with the audience. A digital marketing strategy gives you a fresh look at your communication with prospects and customers during all of the stages of the buyer's journey. When you make a business plan, you need to focus on your customers, find ways to add more value to your relationships, and develop new ways to engage with them.
So, now you know that you need a digital marketing strategy, let's sketch a general digital marketing strategy.
How to Create a Digital Marketing Strategy?
Research and define your goals
Collect data about your audience
Generate leads
Nurture leads
Take care of returning clients and advocates
Set up marketing automation
There's no one-size-fits-all approach for developing a digital marketing strategy. Keep up with your critical thinking while following our suggestions and choose tips that resonate with your brand the most.
Here's a step-by-step scheme.
Step 1: Research and define your goals
First of all, ask yourself if it's possible to optimize your existing content to rank higher on Google. Here's what you can do with it if we focus on SEO strategy:
Structure your content according to Google's algorithm to rank higher;
Reduce the weight of your images to make your page load faster;
Get linked by relevant and authoritative websites to signal that you have a good reputation.
Then try to compare your content against the competitors'. Perhaps they've covered relevant topics that you didn't think existed. With the help of tools like Ahrefs or Moz, you can analyze which of your competitors' pages rank in the top 10 for specific keywords and use these insights to cover these topics yourself.
Perhaps your observations will tell you to share more video content or add more customer feedback throughout your pages.
By the way, It's okay to ask people to share their feelings about your brand and what they'd like to see changed in your mutual relationship. Yes, you won't have a 100% response rate, but chances are you will get a lot of fresh insights to use in your digital marketing strategy.
Importantly, be sure to choose digital marketing channels that best fit your business. Don't work with too many channels from the very start, but gradually implement one channel after another only when necessary.
So after you've done your research, set up your realistic goals based on the insights it gave you.
Step 2: Collect data about your audience
The second thing you should think about is the target audience for your product or service.
Develop your business's buyer persona — a portrait of your regular customer, that includes data regarding their preferences, behavior on your website, and habits as consumers. You can combine your assumptions with real data collected using Google Analytics, for example.
All the data you gather can help you create highly relevant display ads, use personalized email campaigns, and perform behavioral segmentation.
Step 3: Generate leads
Your next step will be to optimize lead generation and search for new ways to do it.
You can start by gathering subscribers with the help of SendPulse's free subscription forms. This form allows you to get users' email addresses, names, phone numbers, and other personal information for further communication. Create multichannel forms by adding links to your messengers. Here's the layout of our intuitive subscription form builder: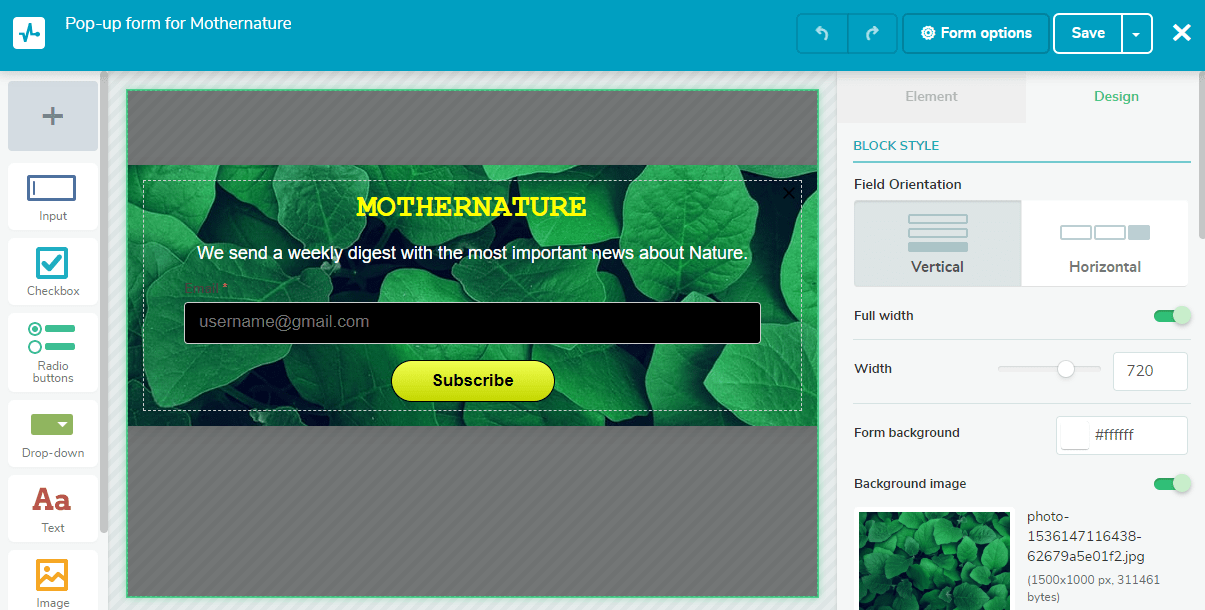 You can also collect subscribers using highly targeted display advertising with Google Ads. This service allows you to display relevant ads based on the user's search history, which is called retargeting.
Below is an example of such an ad, it is displayed because the user previously searched for copywriting courses on Google.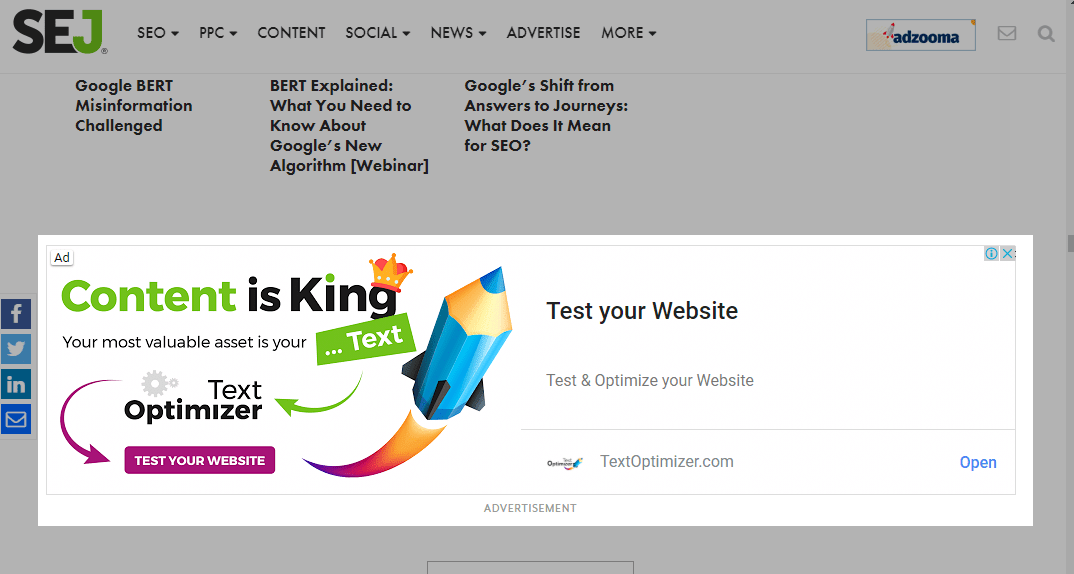 Facebook is another great channel for growing your audience. It allows you to show relevant advertising in the Newsfeed and Messenger Chats based on the large amount of data Facebook collects about its users. Below is an example from the Masterclass ad based on the previous website visits.
You can also suggest that your existing audience communicates with you on another medium to refresh your relationships. For instance, you can ask your Facebook audience to share their email address in a chatbot. Alternatively, you can suggest that they subscribe to your Facebook chatbot in an email newsletter.
There are also some ways to generate leads based on virality. For instance, you can run giveaways that target interested people and incentivize them to join your mailing list.
Maybe a combination of Facebook or Instagram with giveaway emails to serve the giveaways and send notifications. Below is an example of a giveaway held on Facebook used to increase the number of subscribers and make the brand more recognizable.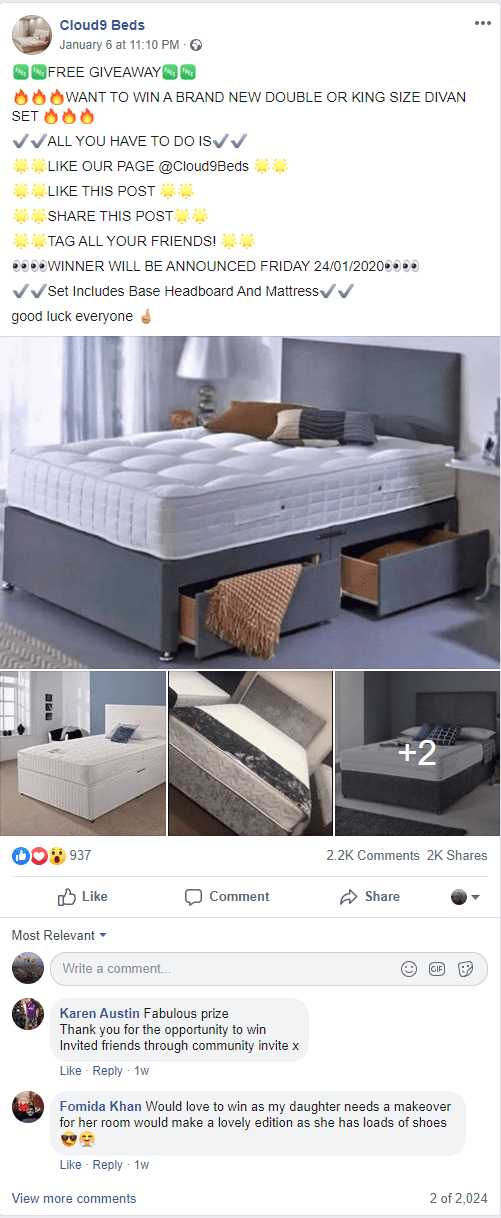 Another way to build your audience is via influencer marketing. This is when a popular person, respected by thousands of subscribers, shares information about your brand and encourages their audience to check it out. It is an effective marketing approach because people regard it as a recommendation from someone that they trust more than advertising. Below is an example of an influencer marketing post on Instagram.
Learn more lead generation best practices here.
Step 4: Nurture leads
Lead nurturing moves leads towards a purchase after they've started communication with your brand. You can do it with the help of emails, chatbots, socials, but what matters most is how you do it.
You need to educate your audience, add value to their presence in your contact list, and at the same time, try to promote your brand in a non-intrusive manner.
For example, try to ease their onboarding with a welcome email, like in the screenshot below.
You can also ask your audience to share more data in exchange for better-personalized content and offers. Sending a survey email, for instance, is a great way to engage, entertain, and nurture your subscribers. Just ensure the recipients know that they won't need to spend too much of their time on the survey, just like MobileMonkey did in the screenshot below.
In addition, it is wise to share content based on the user's stage in their buyer journey. Gradually change the purpose of your content from educational to conversion-focused based on how close people are to making a purchase.
Here are some essential lead nurturing best practices.
Step 5: Take care of returning clients and advocates
Once a user has made a purchase from you, it shouldn't be the end of your relationships. Be sure to thank your client for their purchase, ask for feedback or a review, and try to cross-sell in the follow-up email.
To generate return customers, provide an excellent customer experience and quality products. Make them feel like a VIP with exclusive personalized offers and unique content for loyal customers.
You can also motivate customers to become brand advocates by offering them discounts for referring other people.
Here are some customer retention strategies to ensure that you keep your customers for life.
Step 6: Set up marketing automation
When you realize what works, and what doesn't, for your digital marketing strategy, you need to optimize processes by automating them.
You can easily create automated email workflows to send sequences of emails to support subscribers at various stages — onboarding, purchasing, cart abandonment, etc. The example below shows how to deal with an abandoned cart.
You can create an email workflow with SendPulse in less than an hour by following this guide.
Chatbots are also a great tool in terms of releasing stress from your sales and customer support teams. Chatbots in Facebook Messenger and Telegram can answer FAQs, help users book a room in a hotel, or even support a job application.
SendPulse allows brands to create a chatbot for Facebook Messenger and Telegram without having to code. With our intuitive builder, you can easily design auto-replies for your chatbots.
Here's a great example of a chatbot from booking.com, where a virtual assistant helps you choose a place for vacation and book a room.
Scheduling may also be beneficial. On the one hand, you can schedule SMS and web push notifications and always be prepared in advance, without creating campaigns in a hurry. On the other hand, you can set up auto-posting in socials and in a Facebook Messenger chatbot. It allows you to plan your marketing campaigns.
If you are searching for a marketing automation tool, SendPulse provides all the features mentioned earlier and more. Learn more about our features here.
Final Thoughts
A digital marketing strategy can do a lot for your business. There are plenty of online channels to choose from. They all vary in price, outreach potential, usability, and purpose. What you need is a solid combination of channels that best fits your business.
Whatever the channels and approaches are, we recommend not sticking within the bounds of a single plan, especially if it doesn't work as expected, leave lots of room for experiments, so stay open-minded.
Last Updated: 28.03.2023