Personalized email marketing is sending emails based on user's personal information. Companies collect this data with the help of subscription forms, surveys, or analytical tools like Google Analytics.
Watch this video to import a personalized email list to SendPulse.
Today, people are a bit frustrated with receiving emails without personalization, which means they are irrelevant. To satisfy that customer's demand for a personalized experience, brands strive to get data from users to build personalized email marketing.
Benefits of personalized email marketing
Improves communication with subscribers
Increases sales
Saves money
Motivates to create better content
Improves communication with subscribers. There's no one-size-fits-all approach in email marketing, but personalization allows finding individual keys to different people. When personalizing email marketing efforts, you build a loyal audience and a trusting brand image.
Increases sales. According to Forbes, 40% of US consumers admitted that due to personalized nature of the offer, they'd bought more expensive goods than they planned. Personalized email marketing makes it easier for people to decide because it provides more benefits along with content relevant to subscriber's interests.
Saves money. Since personalized email marketing helps to give people a positive experience, this approach results in building loyal customers. Keeping existing customers engaged is cheaper than aсquiring new ones, so this method is cost-effective.
Motivates to create better content. To do personalized email marketing, you need to make your content fit various segments of your audience. It is an excellent incentive for business owners to get a closer look at their customer's needs and combine providing value and selling.
How to do personalized email marketing?
Collect relevant data
Use segmentation
Pay attention to behavior-based data
Use personal data responsibly
Let's check the things you should remember when implementing personalized email marketing ideas to the overall business strategy.
Collect relevant data. It's okay to gather more information than just a user's name and email address at the beginning of communication. Ask for a phone number, gender, or location, but make sure the subscription process is still smooth and fast. As your relationships progress, ask for more data like phone number, birth date, interests, etc. to send special SMS offers, birthday emails, and more relevant content.
Use segmentation. Divide your audience into different groups based on common characteristics they share: age, gender, location, etc. Segmentation comes in handy for ecommerce as it helps to provide women and men, teens and adults with relevant offers.
Pay attention to behavior-based data. That is information based on previous purchases, customers' lifecycle stage, their engagement with your emails, etc. This data will help you send highly personalized emails at the most convenient time for the customer. Triggered emails that make up personalized email marketing include abandoned cart, reactivation, welcome email, etc.
Use personal data responsibly. Explain why you need user's personal information and how you are going to use it. It will help you avoid odd situations that may harm your reputation and credibility.
Personalized email marketing examples
CodeAcademy. It is an example of a personalized update on the course the user was studying — "Introduction to HTML." This email incentivizes to get back to the course.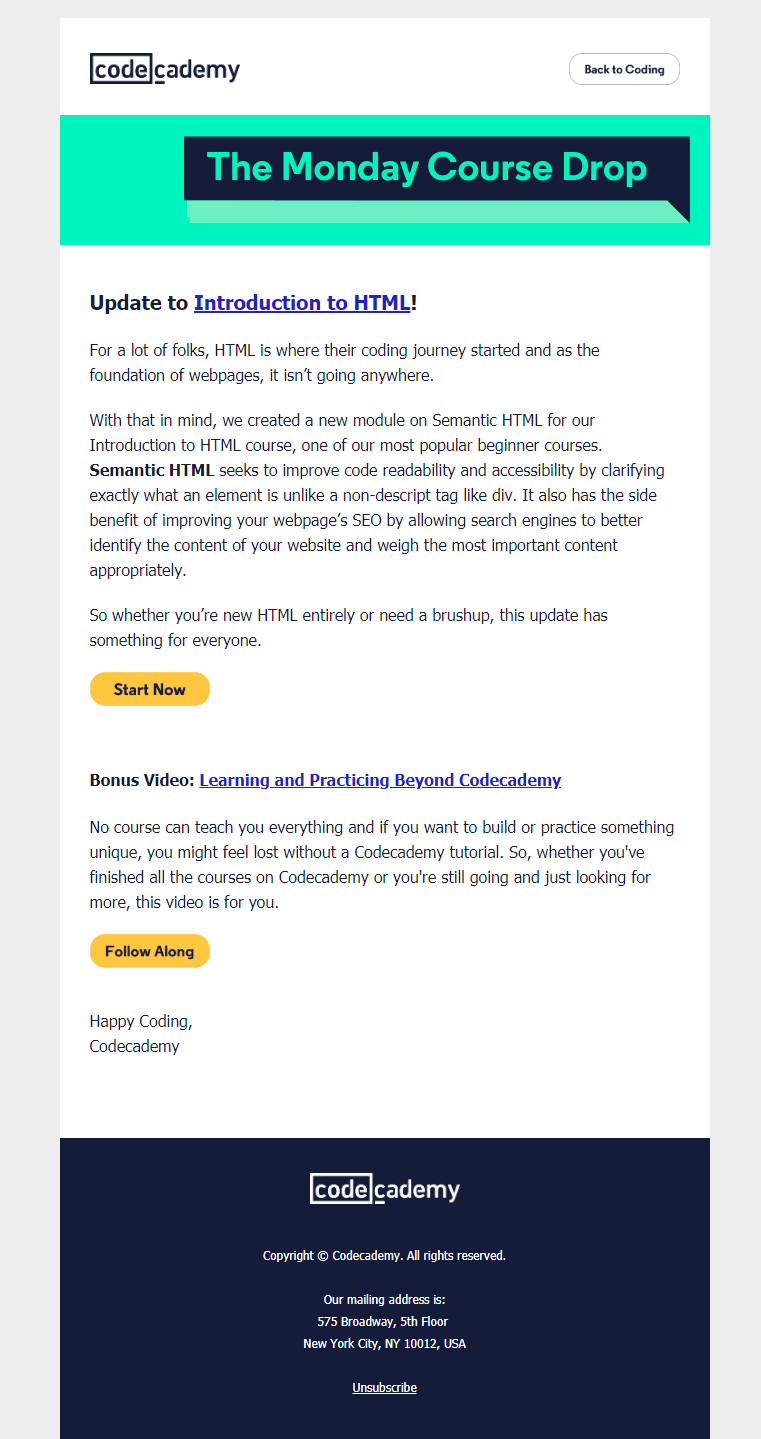 Quora. It is a personalized digest, which Quora regularly sends based on user's preferences and interests.

Grammarly. It is a weekly report of the work that has been done using this tool. Such emails are personalized based on the user progress and level of engagement. Reading these emails is very inspiring and motivating.
References
The article "Winning at Real-Time Personalization" by Medium gives fresh insights on today personalized email marketing.
The article "8 Personalization Techniques" by Neil Patel offers various modern tactics that go beyond just using subscriber's name
Read also on the blog
Last Updated: 24.08.2023