Reactivation Email
Reactivation email
A reactivation email is sent in situation where the subscriber hasn't opened your emails for a long period of time. The aim of this email is re-engagement in your emails. In other words, it's a method that helps to awaken subscribers and encourage them to read your newsletters and place orders again.
Here is one example of a reactivation email: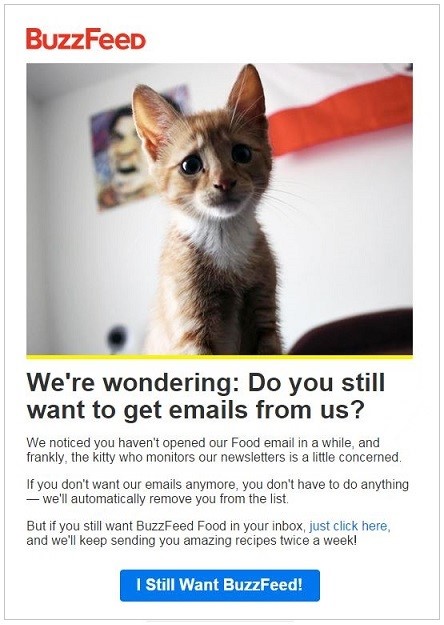 What tactics do marketers use to create a successful reactivation email?
One of the best practices for a reactivation campaign is to include in the words "Miss you" in the subject line.
Offer a discount as a bonus. A bonus can awaken inactive subscribers and motivate them to make a purchase.
Place a survey in the email where you can ask your subscribers what you're doing wrong. It may help to improve your letters and give you a chance to refresh email cooperation.
Allow subscribers to set the frequency of emails sent by you.
Tell subscribers how useful your emails are and the importance they have, for example:

Sales on Monday
Educational webinars every Tuesday
Video review of new products every first Wednesday of the month
Quiz on Thursdays
Special offers for subscribers only on Fridays
Read more about reactivation emails on our blog in the article "How to Reactivate Sleeping Subscribers."
Also searched with "Reactivation Email"
Bounce - Bounce is the percentage of email messages that failed to send...
Email campaign - Email campaign is an email that is sent to the entire mailing list...
Subscriber - A subscriber is a person who chose to opt-in for your mailing list...
Double opt-in - Double opt-in is a type of email subscription where a user should confirm his or her wish to be added to the mailing list twice...
Editor - Editor is a user status that gives access to the email campaign's statistics reports and mailing books...
Rate this article about "Reactivation Email"
If you are interested in "Reactivation Email" you might be interested in our bulk email service.
---
Try SendPulse today for free