Email engagement is a measure of how subscribers interact with your email marketing campaigns. You can only estimate your email engagement by monitoring the necessary metrics, like open rate, CTR, unsubscribe rate, etc.
Email Engagement Metrics
Open rate
Click-through rate
Click map
Unsubscribe rate
Website traffic from email
Let's have a closer look at the metrics that will help you measure your subscribers' engagement.
Open rate
This metric indicates the number of opened emails from the total number delivered. You can track it with the help of a transparent 1x1 pixel, which informs your bulk email service that the email has been opened.
The average email open rate depends on the industry. It's over 25% for lifestyle, art, and non-profit organizations, and around 15% for the beauty industry and eCommerce. Your subject line is a significant factor that encourages users to engage with your emails. It should be eye-catching to stand out from the rest of the emails in the inbox and relevant to your email's content.
Learn more about the open rate here.
Click-through rate
This shows the number of clicks on the links in your email from the total number of delivered emails. Bulk email services add a UTM tag to every link in your email, so when users click through, the email service collects that data and provides statistics.
Like the open rate, the average CTR depends on the industry. It's around 5% for hobbies and news industries, and close to 1% for restaurants, real estate, and beauty care businesses.
Unsubscribe rate
This metric indicates the number of unsubscribed users from the total number of delivered emails. The unsubscribe rate is crucial to show email engagement, and it also influences your sender reputation.
You can't satisfy everyone with your content, so consider a 0.05% unsubscribe rate healthy. It means that no more than five people out of a thousand unsubscribe from your brand's emails. If the metric is increasing or higher than 0.05%, you need to find out what is causing people to unsubscribe. Among the most common reasons are poorly formatted content, irrelevant information in the emails, and an overwhelming messaging frequency.
Luckily, you can track the open rate, CTR, and unsubscribe rate without breaking a sweat with SendPulse. We provide detailed real-time reports for every email campaign you send, including the number of delivered and bounced emails, as well as opens by location to keep an eye on your efficiency. Here's how the statistics section looks in your SendPulse account: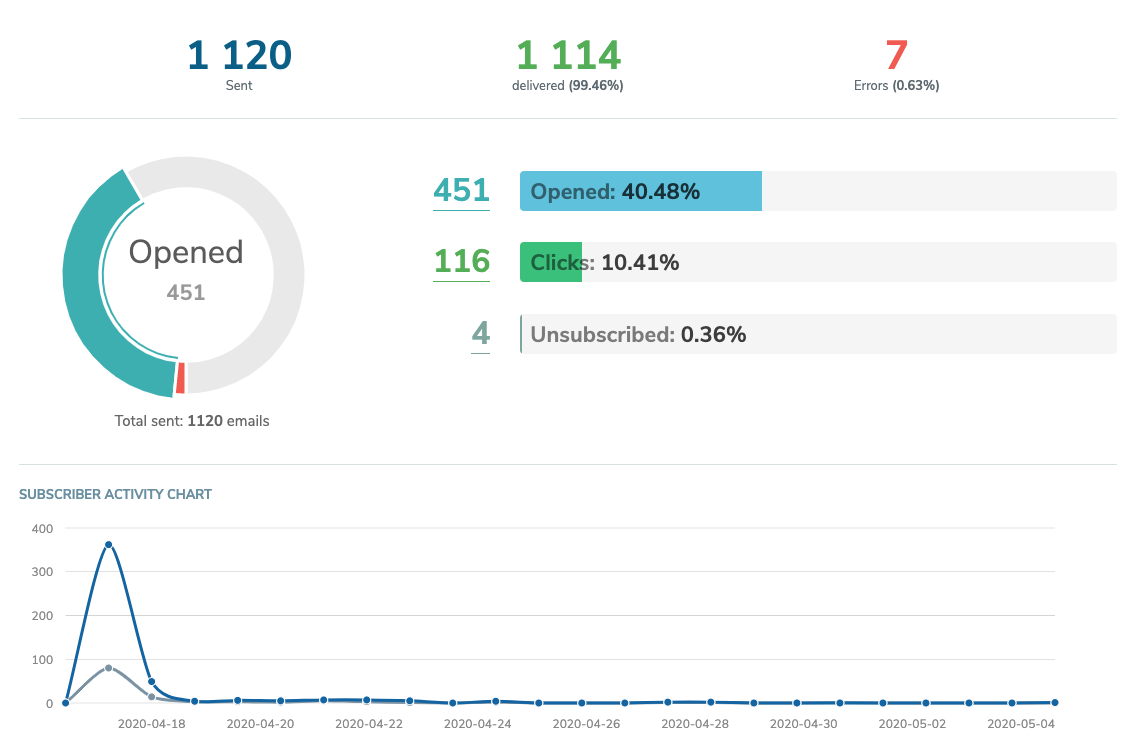 Click map
This feature helps you monitor the number of clicks on each specific link in your email. It allows you to clearly understand which parts of the content in your email are most engaging for your audience.
Check out this example from a SendPulse email campaign. "The Marketing Strategy in 2020..." has the most clicks from subscribers, meaning it's the most exciting bit of content in this email.

Website traffic from email
Basic email analytics may not be enough to get the full picture of how engaging your emails are. It's best to combine the most common metrics with reports from Google Analytics or other tracking tools. Your goal here is to analyze how much time users spend on specific pages on your site after clicking-through your email. You can also find out what actions they take and how many of them bounce or make a purchase.
You can easily integrate your SendPulse and Google Analytics accounts.
Now you know how to monitor your email engagement. Let's learn how to create quality, engaging emails.
How to Make Engaging Emails
Create eye-catching subject lines
Use personalization
Design professional templates
Share relevant and exciting content
Creating emails that subscribers are looking forward to receiving and reading is not an easy task. There are some keys to success that no email marketer should overlook. Let's review each one.
Create an eye-catching subject line
Your subject line determines whether subscribers will open your email. 47% of recipients decide to open your email based on the subject line. At the same time, 69% mark emails as spam only because they don't like the subject line.
Make your subject line a summary of the email's content. It should be short enough (around 41 symbols) to look good on mobile devices since 61% of users read emails from smartphones.
Here's a subject line of Yale University's event email on a mobile phone. It tells subscribers the date, type of event, and the speaker.

It's a good idea to combine your subject line with a preheader text. In Pitchfork's example below, the subject line reflects the most important information in the email, while the preheader text adds more value to it.
Subject line personalization is another simple yet effective technique. According to MarketingDrive, personalized subject lines bring 50% better open rates. With SendPulse, you can easily add a user's name to the subject line to make that difference.
Here's Mitsubishi's personalized subject line. "Hey, Romis..." sounds as if a friend sent this email.
Learn how to create effective subject lines here.
Use personalization
You can go beyond subject line personalization and send emails with dynamic content. "Dynamic" in this context means that some parts of your message change depending on the recipient's location, gender, preferences, place in the sales funnel, etc., to better fit every subscriber.
Here's Brooks' personalized email based on location. Users from the Western and Southern regions of the US receive a message that promotes jogging products for the hot climate. For the Northern and Eastern states, it offers goods for jogging in the rain. Both emails, so different in content, are based on a single email template.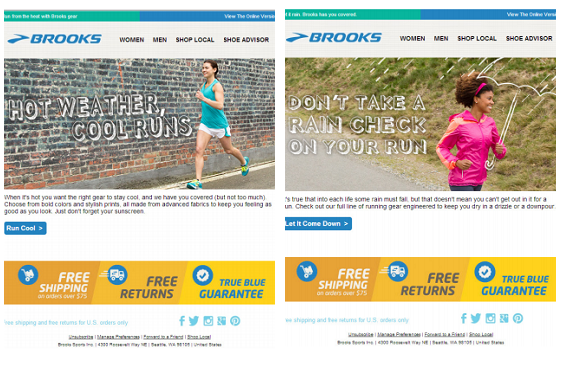 Share relevant and exciting content
A crucial part of making your emails engaging is to share relevant, exclusive content that your subscribers can't find anywhere else. Even though the content differs between companies and industries, some universal things boost engagement in emails:
Social proof in your email. Adding customer feedback appeals to emotions and makes your content offer look more valuable. You can also utilize user-generated content in your emails.
Industry expertise. You need to continuously remind your recipients about the value they gain by being on your email list. Share your knowledge, provide exclusive insider tips, and users will paying attention to your messages in return. You can send curated newsletters to share your expertise by sifting through all the new information from your industry and sharing the essentials with your audience.
Consistent email sending. Make sure users get emails from your brand on a routine basis. It's vital to create sort of a habit so that your subscribers wait for your next email to get more insights or discounts.
Design professional templates
Make your emails look professional, or people won't trust your brand. There are three ways to create perfect email templates at no cost with SendPulse:
Use our intuitive drag and drop editor;
Use one of the pre-designed templates from our library;
Save any email from your Gmail inbox as a customizable template in your SendPulse account with the help of our Chrome extension.
Check out the email template below. We created it with our drag and drop editor in half an hour. It combines images, text blocks, CTA buttons, and a footer in a well-structured email.
Let's finish this guide with some actionable tips for keeping your audience interested in your brand.
5 Best Practices to Keep Subscribers Engaged
Develop a loyalty program
Host giveaways
Provide exclusive discounts
Celebrate users' birthdays and anniversaries
Send summary emails
People get used to the good stuff fast. As times go by, they may want something more than classy weekly emails. We've collected five killer tips to keep your brand top of mind in your industry.
Tip 1. Develop a loyalty program
It's always cheaper to keep your existing audience engaged than to acquire new leads. For this reason, you need to develop a program that will encourage customer loyalty.
This email from Uber offers a 20% discount for the recipient's next five rides. With this offer in mind, the recipient is more likely to use the service even more often.
Tip 2. Host giveaways
Everyone loves freebies! You can invite your subscribers to participate in sweepstakes by sending a giveaway email. It will boost engagement around your brand and, at the same time, refresh your relationships with your existing audience.
Here's a giveaway email from AppleMusic. It gives subscribers a chance to win tickets for a concert with famous musicians.
Tip 3. Provide exclusive discounts
Another way to keep subscribers engaged is to provide them with special discounts. Check out the email from PrettyLittleThing below. It offers a 30% discount exclusively for email subscribers.

Tip 4. Celebrate users' birthdays and anniversaries
When communicating with your subscribers, it's great to provoke as many positive emotions as possible. If you have users' birth dates on hand, set up automated birthday email sending. It will add some friendly vibes to your communication. Converse's birthday email offers 15% off.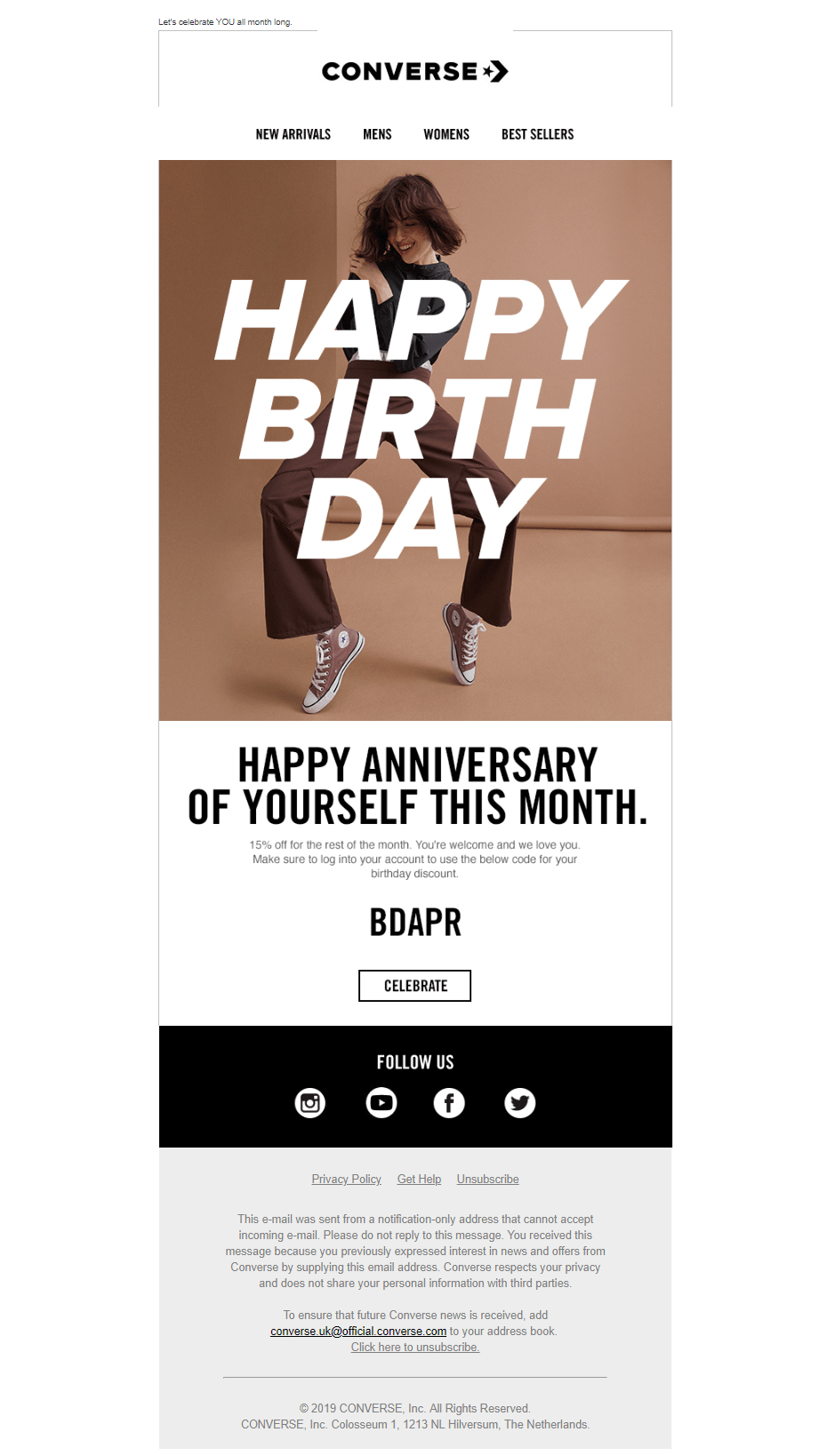 When you collect subscribers using SendPulse's subscription forms, you will have a subscription date for every user. You can take advantage of this data by sending anniversary emails, like the Asos one below does, offering a 10% discount.
You can easily set up automated birthday and anniversary emails with SendPulse's Automation 360 — a user-friendly tool for sending triggered emails. Here's how creating a flow of triggered messages to be sent automatically looks.
To develop a similar flow, you need to set up an event that triggers email sending, create the workflow, and choose the date and time, subject line, and email template for a particular message. Here's a guide on how to send automated emails with more details.
Tip 5. Send summary emails
It's a perfect way to keep users engaged with your service. A summary email is where subscribers can see their progress, which motivates them to use the service even more.
Here's a summary email from Grammarly. This weekly email notifies the user about new achievements, shows how many words were checked, and compares their progress with other users' results.
Congratulations, you've learned a lot about email engagement today! We hope it will help you keep your subscribers on the edge of their seats and look forward to every email from your brand.
Last Updated: 22.03.2023