Trigger email is an automated email which marketers send to inform customers and show that the company they've subscribed to is a reliable brand which cares. Trigger email is a reaction to a subscriber's particular action or behavioral pattern.
The SendPulse marketer defines a triggered email and shares must-have emails for ecommerce. Watch the video to draw the inspiration!
Why is trigger email important
Builds trustful relationships. Trigger email is a dialogue in a way: users make some action, and in response, they receive an email. Trigger emails move subscribers towards further communication and deeper relationships.
Fulfills customers' expectations. As email marketing evolves, subscribers now expect that placing an order, booking a room, subscribing, and other actions will be followed by an email. Trigger emails lead customers down the sales funnel. And comparing with regular promotional emails, trigger emails show higher open rates.
Informs well. Trigger email is an excellent way to let people know that their booking or subscription process is going well or if there're any issues. For instance, when people order sneakers from an online sports store, they receive an email, which confirms that the money transfer was successful and provides a link to track the shipment.
Increases customer retention. It is cheaper to keep an existing customer engaged than searching for a new one. Trigger email is a crucial tool to reach this goal with reactivation emails.
Trigger email types
How to send a trigger email
You don't need to be a programmer to send trigger emails. SendPulse takes care of the technical side of things for you to craft a strategy that strikes!
Automate everyday challenges!
You can send triggered emails automatically according to pre-defined events, conditions, and customers' actions. Keep your audience engaged, improve customer lifecycle, and boost sales.
Let's build a follow-up email campaign.
Step 1: Create an automation flow
You can trigger any user's action to send more targeted emails. For that, set up the event in the Event Manager. There are prepared events which you can use. But for creating your own go to the Event Manager.
Name the automation flow. Choose the email sender address and write the sender's name. Decide upon the day and time to send.
Step 2: Set up the start of the flow
Click the element "Flow start" and set it up on the right-hand side. Select the event which brings this automation to life. The events are "Add Subscriber," "Special date," "Contact webhook," "Change variable," or any custom event that you can create in the Event Manager.
Step 3: Create the first trigger email
Drag the "Email" element from the left-hand side and drop it under the "Flow start." Select the sending time — 5 days after the flow starts in this case, type in the subject line, and add an email template.
In this follow-up trigger email, ask if everything is okay with the purchase and kindly suggest buying a package of strings with slightly different, more "garage" sound for the emergency case.
Step 4: Continue with the second trigger email
Add another "Email" element repeating actions from the previous step. Give the recipients more time for the second follow-up trigger email.
Seven days after the previous email is okay to suggest buying a tuner. Perhaps the customer is an amateur, or his tuner doesn't work. It's high time for your shop to cross-sell.
Step 5: Get back with the third trigger email
Repeat the actions from two previous steps.
Send this email about a month after the purchase. This time offer something huge, like a guitar amplifier, for instance.
Trigger email best practices and tips
Create though-out automation. Make automation work for you, so your trigger emails will be logical and to the point. Monitor the statistics of your campaigns and run A/B tests to achieve better results.
Try different trigger emails for different purposes. Examine the opportunities of your email marketing. Be flexible, and try various trigger emails, if you have enough time and resources. The more high-quality trigger emails you send to the point, the better the buyer journey will be.
Make your message clear. The email inbox is not the right place for long philosophical sentences. Your trigger email should be short and include only that information, which is relevant to the trigger action.
Create subject lines according to the trigger action. The subject line of the trigger email should reflect the activity which causes the start of the automation flow. By following this best practice, you ensure recipients that your company is here for them.
Segment subscribers. Segmentation of your audience enables you to send trigger emails with more specific targeting of your customers.
Trigger email examples
Welcome email
This welcome email from Doodle shows small instruction on how to start using their service.
Abandoned shopping cart email
This Adidas abandoned shopping cart email reminds what beauty you've left without been purchased.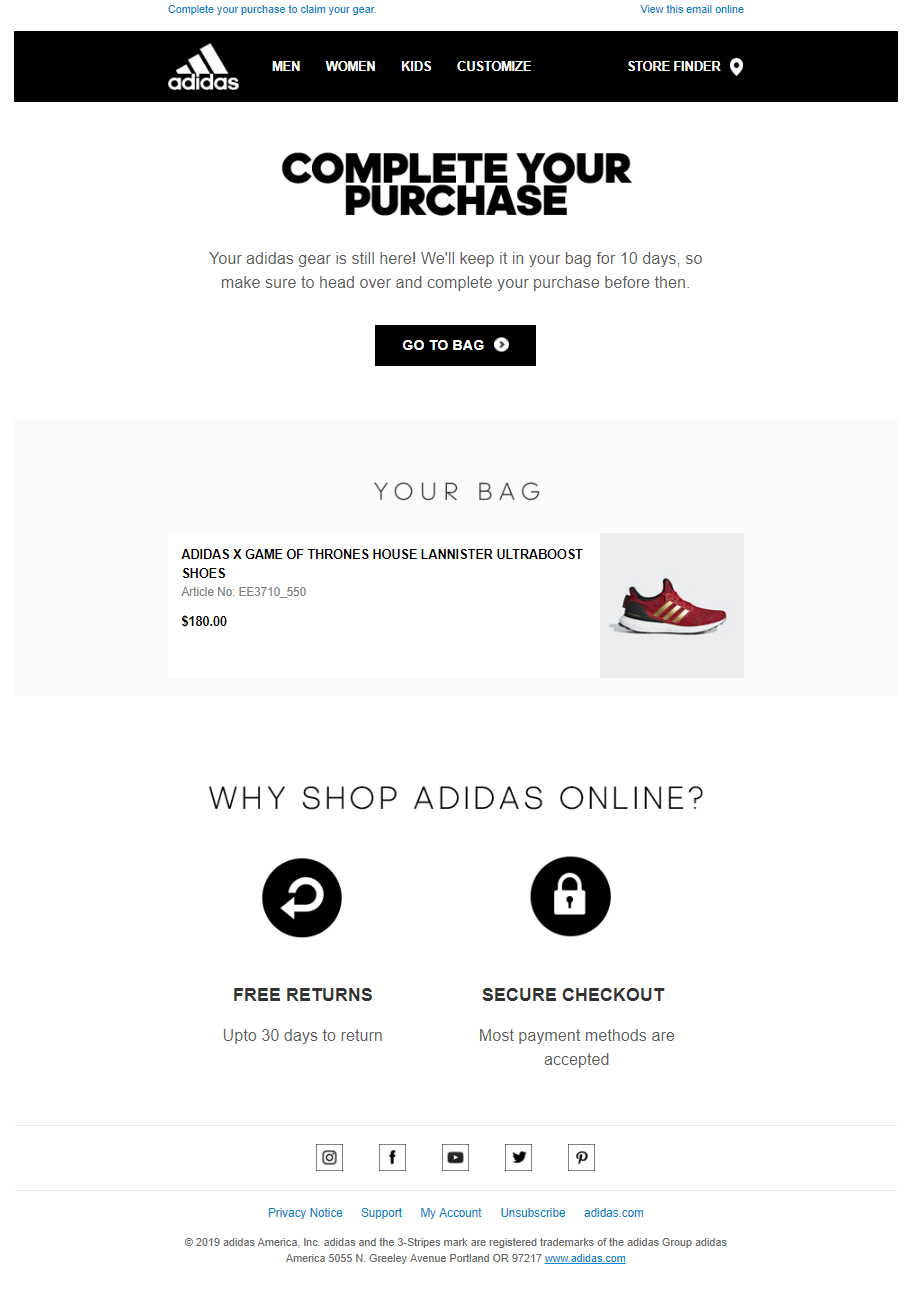 Birthday email
This birthday email by Converse engages the customer with a significant discount during the birthday month.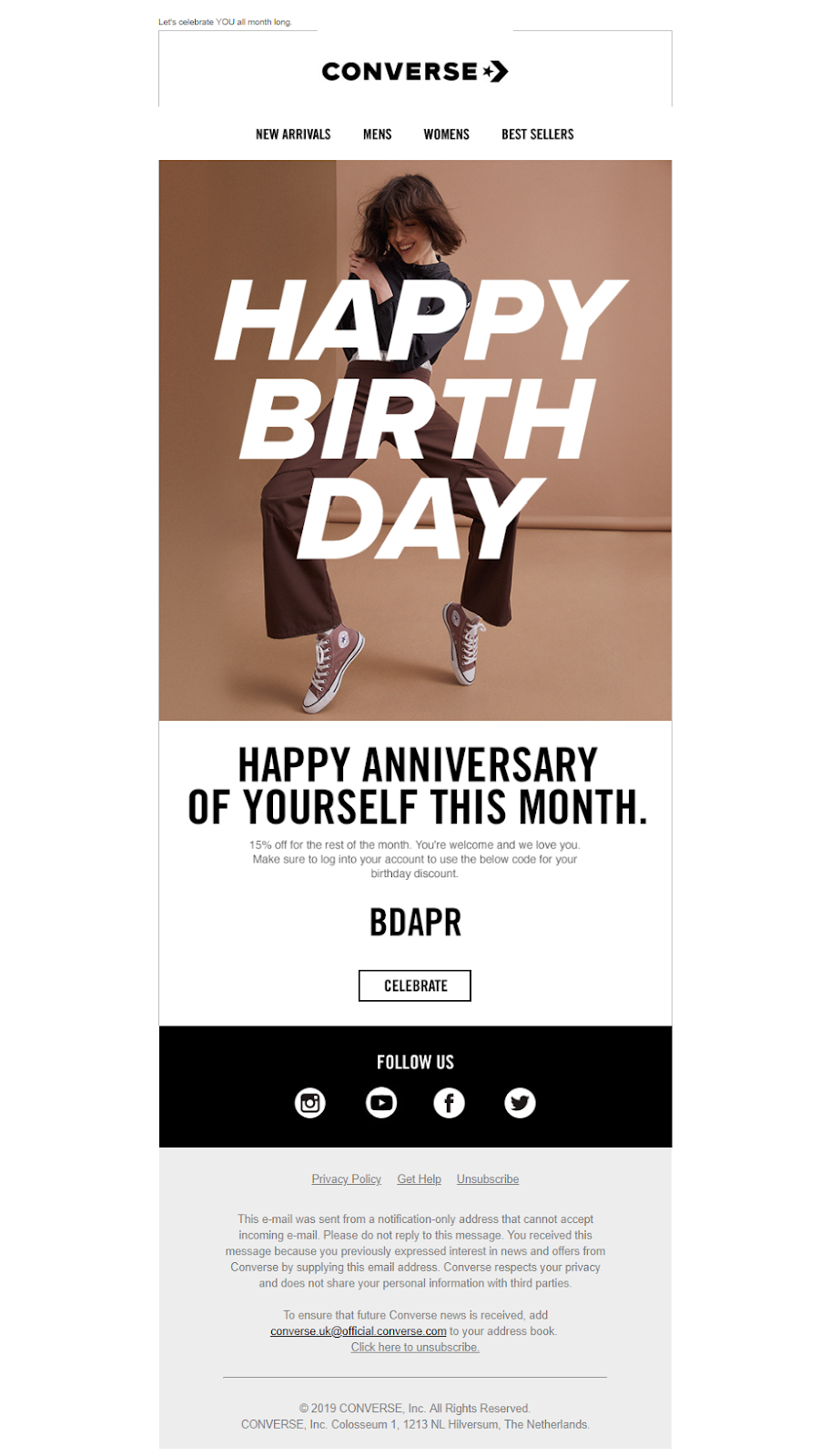 Reactivation email
This is a reactivation email from Roxie at GrowthRocks, the virtual queen of the email inbox. No comments.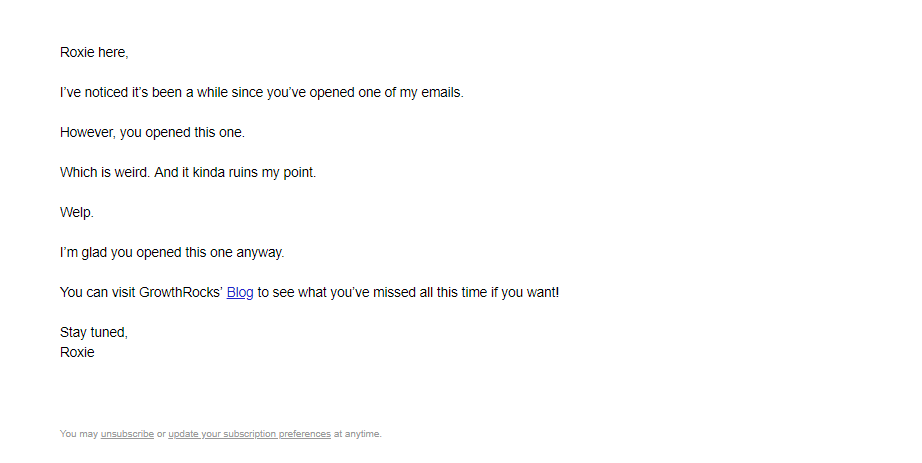 References
Last Updated: 2019-11-12