Trigger marketing is the use of a marketing automation platform to respond to specific actions of leads and customers. Email opens, viewed pages, chatbot interactions, and conversions serve as triggers for the software to automatically send a message (email, SMS, push notification, etc.) to a prospect or customer.
In this article, you'll find out why trigger marketing is important and explore its benefits. You'll also unveil the types and examples, and figure out how to create a trigger-based marketing campaign with SendPulse.
Why is trigger marketing important?
Trigger marketing helps brands reach customers with relevant messages at the perfect timing. Marketing automation empowers entrepreneurs to respond to users' actions with the right solutions. Email opens, chatbot interaction, and conversions are the triggering events for the software to act. A marketing platform is necessary to automate tasks such as sending email sequences, updating a CRM, adding customers to a list, etc.
With marketing automation software, your brand becomes more human-centric. By sending personalized and relevant messages, you can make your customer feel special. This leads to better communication with the audience and stronger relationships. Unlike mass advertising, trigger marketing focuses on clients' needs and adapts materials and tasks. Seamless customer service helps you improve customer satisfaction and loyalty to your brand.
By sending trigger campaigns to prospects, you can show them that you care. This way, you'll establish a positive first impression and encourage word-of-mouth promotion. Brand awareness will increase.
Now that you know why trigger marketing is essential, it's time to uncover the benefits you can reap after implementing trigger marketing.
Benefits of Using Triggers
Many companies have already leveraged trigger-based marketing to attract customers' attention to their products. Now we'll have a closer look at the benefits of this technique for you to decide whether you need it for your company's success.
A brand that uses triggers can obtain the following advantages:
improved customer loyalty;
higher customer satisfaction;
better customer service;
brand awareness;
cost-efficiency;
relevant messages;
competitive advantage;
business process automation;
increased conversions;
access to behavior-based data.
To reap the benefits, you need to choose the right type of marketing trigger for your event. To do it, you should know each type in more detail. In the next section, we'll review the four most popular triggers.
Types of Marketing Triggers
Many users' actions serve as triggers for sending relevant email campaigns, push notifications, SMS, chatbots, etc. In this section, we'll review the classification of triggers and examples for each type.
Event-based triggers
An event is a perfect occasion to send your subscribers an email. The following events can serve you as triggers: brand anniversary, Black Friday, Independence Day, Cyber Monday, Mother's Day, customer's birthday, etc. You can provide your clients with attractive offers, discounts, special promos, and more. Often, these offers are limited in time, so consumers have a fear of missing out and rush to buy your product.
For instance, Cyber Monday triggered MAC Cosmetics to send subscribers an email newsletter containing a 40% discount. The offer lasted for a couple of days, so customers needed to hurry to grab this attractive discount.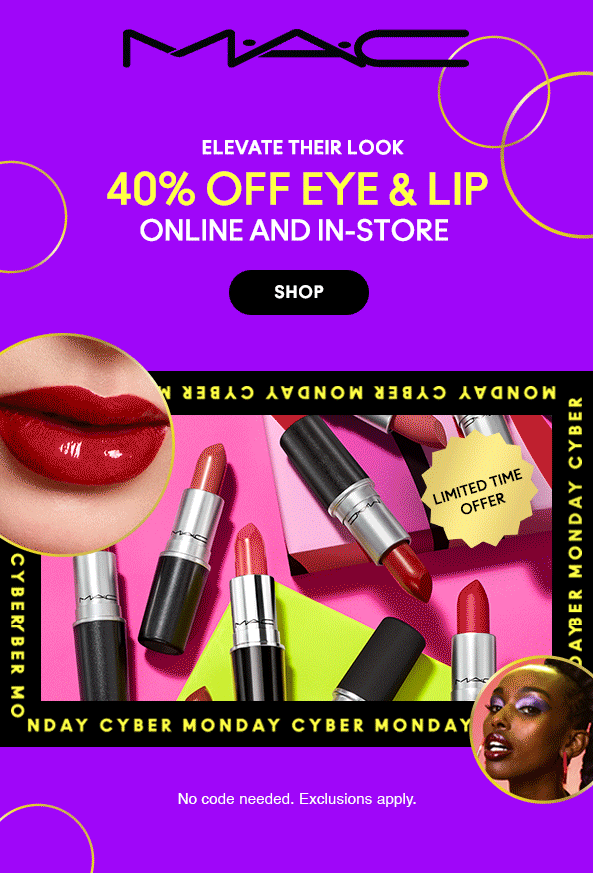 Engagement-based triggers
You can send emails, push, messages in chatbots, SMS, and notifications on social media networks based on customer engagement and behavior patterns. If users don't demonstrate a high level of engagement within your website, you can increase it with an email newsletter and messages in multiple communication channels. This way, you show your care to subscribers. Examples include welcome messages, win-back follow-ups, reactivation, and onboarding as a response to subscription, inactivity, and people's comments.
Once a user decides to create a new account and sign up for an email newsletter, the company sends this user a welcome message. With the help of an email, a company can tell its brand history, convey its benefits, share reviews, cases, and useful materials.
For example, after creating an account with Duolingo, the company sends a welcome message to its new users and gives a pro tip for starters on how to use the app and get a 7-day strike.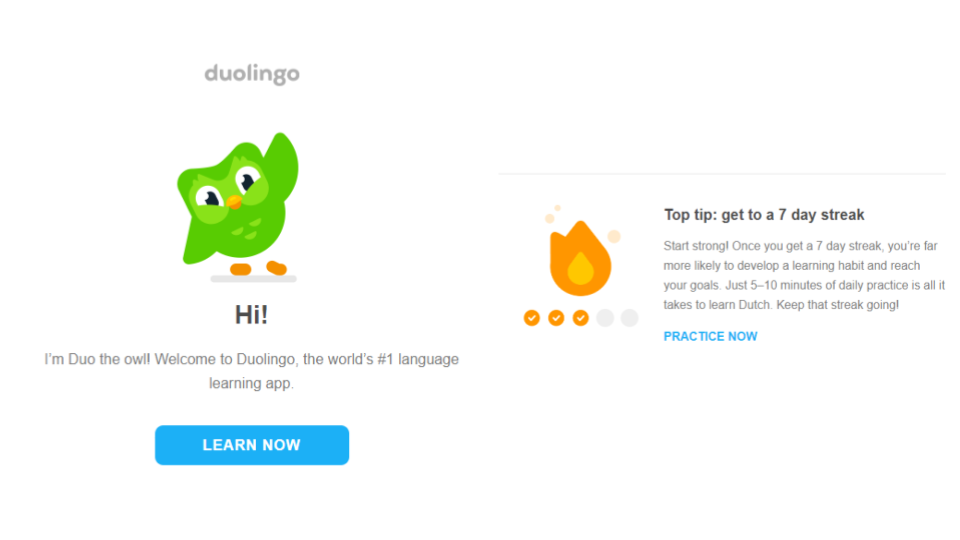 Behavior-based triggers
The trigger focuses on customer behavior and activities online. By collecting data about consumers' actions, you have the chance to meet their needs and address desires. Registration, website activity, and conversions are the causes of behavior-based triggers. The examples include downloads, getting started emails, sign-ups, abandoned carts, opt-ins, viewed products, comments, etc.
Companies use trigger campaigns to win back inactive users. You can leverage different techniques to re-engage your customers. Send email campaigns with attractive offers, new products, service launches, discounts, promos, etc. Entice users to purchase from you before they churn.
ShoeBuy does a great job. The brand sends emails with an appealing subject line "We want you back," and shows that the company cares about its consumers. The email campaign contains news about a 30% off discount and free shipping.
Emotional triggers
Your company should connect with customers emotionally to make them trust and stay with your brand. Trust, fear of missing out, hunger, self-expression, and recognition are a few examples of emotional triggers that help you appeal to your target audience and encourage them to buy. Consider rewarding your clients for loyalty for their birthdays and anniversary with your company.
You can set triggers to celebrate special occasions with your loyal customers. Your company will send the message on a specific date and time to congratulate your client on his birthday or anniversary with your brand. Send personalized messages to show you care and appreciate customers who have stayed with your company for years.
Dorothy Perkins sends an email on customers' birthdays and invites them to make use of its discount by inserting the code. The date of the client's birthday is a trigger for a system to send the message.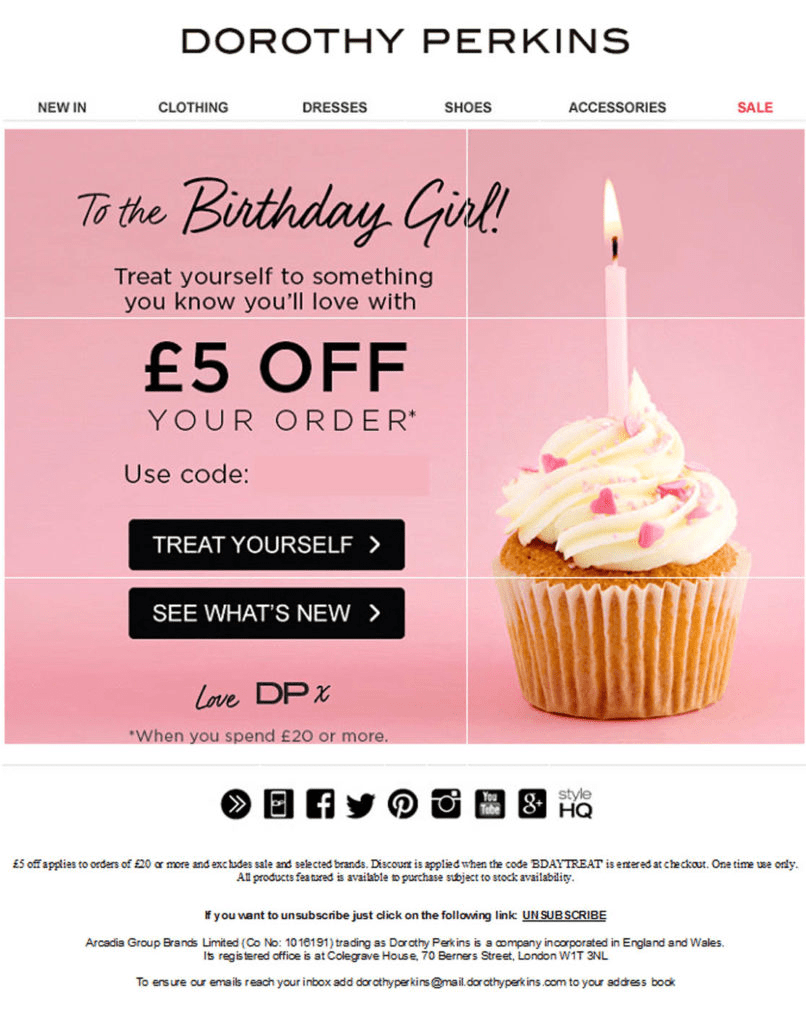 Now that you know the types, let's proceed to the next section to find out how to create a trigger-based marketing campaign with SendPulse.
How to create a trigger-based marketing campaign with SendPulse?
SendPulse empowers you to process customer data and inform consumers about an abandoned cart, registration on your site, or purchase via an email, web push, SMS, and messages on Instagram, Facebook, WhatsApp, and Telegram. Now we'll explain how to do it with our service.
Log in to your account with SendPulse or register.
Once you are logged in, proceed to the "Email" tab, click "Automations," and then press the "Create new automation" button. With our service, you can create automation for various events: a new subscriber, a special date, a webhook, a new deal, the change of a deal stage, an abandoned cart, and more. You can set up any custom event in the "Event Manager."
1. Configure automation settings
Enter data to set up email series: automation name and email sender. Connect to Google Analytics, select the unsubscribe language, and click "Apply."
2. Set the event for a flow to start
After, you'll be directed to the editor to select the trigger that will start your automation flow. Create email series for different events. For instance, a flow to welcome a new subscriber or inform about an abandoned cart.
Select the event on the right panel. Choose the event and click "Apply." The "Abandoned cart" will be your "Flow start."
3. Add the necessary element to send a message
Automation 360 empowers you to send messages to subscribers via "Email," "Messenger," "SMS," "Push," and "Viber."
Email
When choosing the "Email" element, you need to fill in several fields. Specify the time for sending, enter the email subject and preheader, and select a template. You can create it from scratch, upload your own, or use ready-to-use templates. Click "Apply."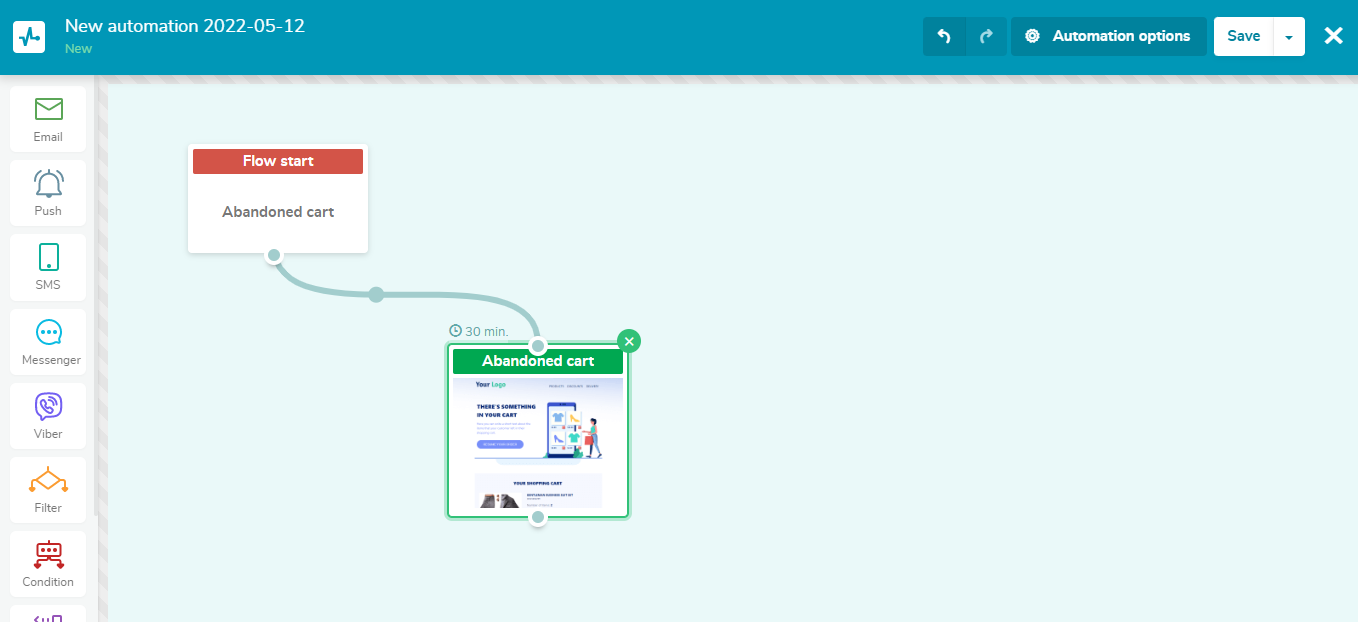 SMS
If you want to send SMS, make sure that you have users' phone numbers on the mailing list. Drag the "SMS" element into the editor field, and insert the sending time, sender name, and SMS text to send an SMS to certain customers. Personalize the message and add variables if necessary. If you need an unsubscribe link, you can add it as well. Click "Apply."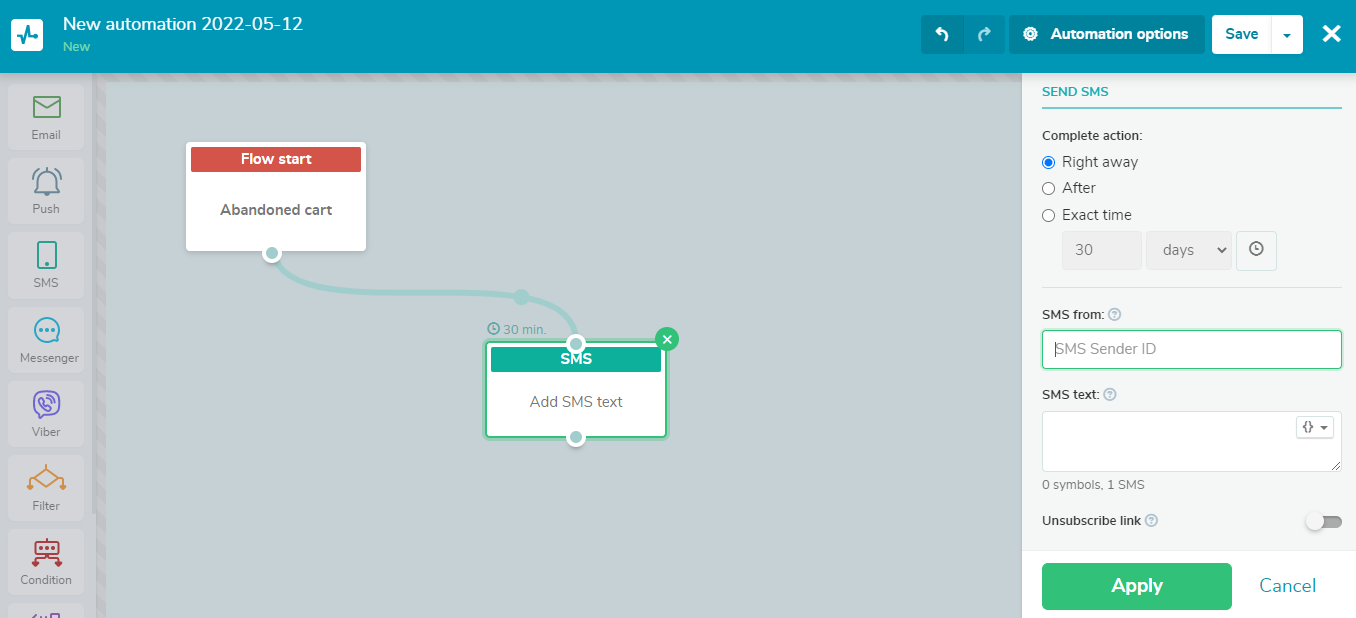 Messenger
If you want to send a message in Facebook Messenger, drag the "Messenger" element to the editor field and specify sending time. Select a bot and type the message you want to send.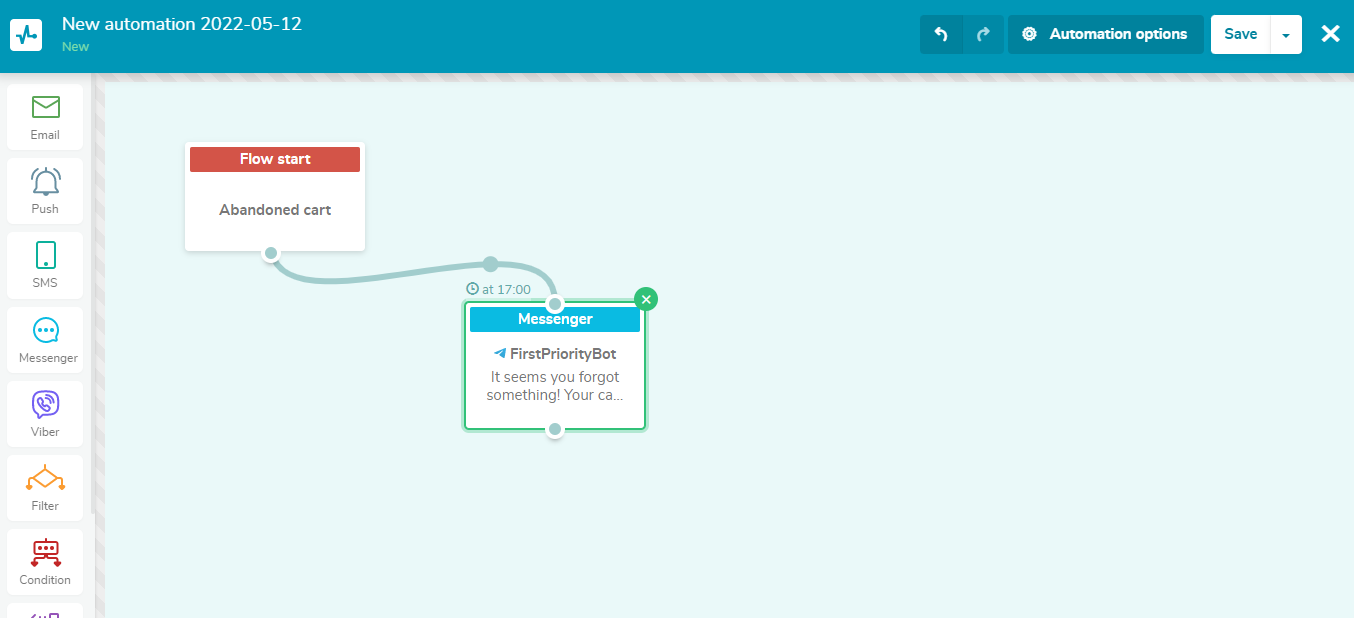 Viber
Drag the "Viber" element into the editor field, and choose the message's sending time. The message will be delivered to the phone number mentioned in the phone variable of the event.
Push
Drag the "Push" element to the editor, and select the recipients of the message. Specify the sending time, title, and text. Add the image for your push notification, if necessary. To send notifications, the website's subscriber should have the same email address as in the email variable of the event.
Choose a plan based on the size of your list. SendPulse offers free and paid plans, which start at $8 per month for email marketing. This plan covers an unlimited number of emails, 10 flows, and 10 events.
Now that you know how to create a trigger campaign with SendPulse, it's time for some examples.
Examples of Trigger Marketing
Companies use different channels to reach customers and prospects after they perform specific actions. The majority of companies leverage email services to respond to visitors' actions. Let's find out how they do it.
Wondermind — Welcome Message
Wondermind sends a welcome email to everyone who signs up for its email newsletter. The innovative mental fitness company sends an email that shows appreciation. The message provides subscribers with some short information about Wondermind and things the platform helps people deal with. With this email, the company communicates with its subscribers one-on-one to explain the main tasks of Wondermind and start building trust.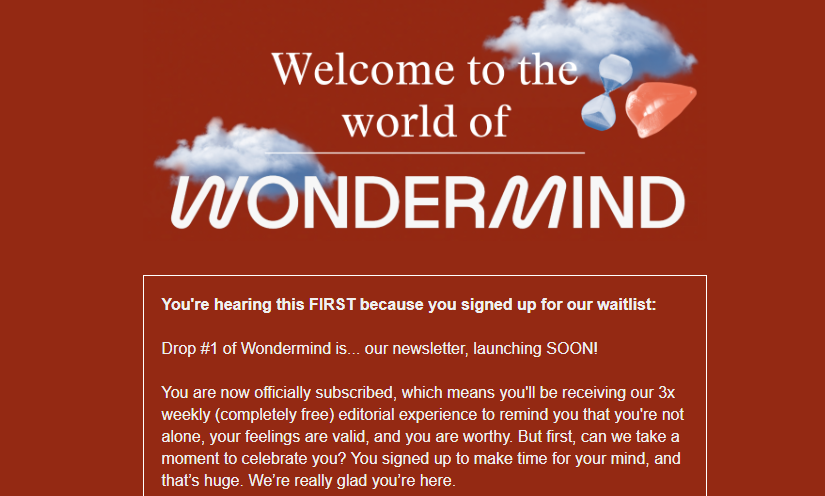 Duolingo — Re-engagement Message
Duolingo, a language learning platform, tries to win back inactive users with regular emails that subscribers receive until they are back on track. The platform uses the engagement-based trigger to win its inactive users back. People get emails with reminders about the language learning lessons they need to complete to improve their knowledge.
Spotify — Confirmation Message
Spotify makes sure that users' accounts are secure by confirming their emails. The service asks its listeners to click the "Confirm Email" button to ensure that the owner accesses the account.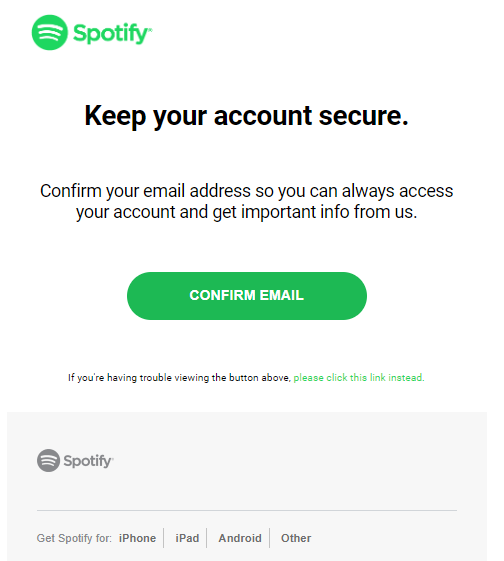 Now you know a lot more about trigger marketing. Choose the right software to automate the process and get positive impressions from your target audience. Hope our examples inspire you to create great emails for your leads and customers and respond to specific users' actions. SendPulse empowers you to create automation triggered by an event and reach subscribers through channels like WhatsApp, Telegram, Instagram, SMS, push notifications, email campaigns, etc.
References:
This article defines the term and uncovers the importance, types, and examples of trigger marketing.
In this article, you'll find out how to use trigger marketing to reach your target audience.
Last Updated: 23.03.2023