Behavioral email is an automated email sent to recipients based on their actions and behavior. These emails are sent after a user interacts with a business on social media, the company's website, email, and other channels. They help increase customer engagement and sales.
Unlike in traditional email campaigns, subscribers do not get emails out of the blue. With behavioral email, site visitors receive different types of emails depending on their specific actions.
Sending behavioral email is an excellent tactic for boosting customer engagement. With SendPulse, marketers do not need much know-how and calculated marketing strategies to benefit from this type of email. Read on to learn how to use SendPulse to create and send behavioral emails.
Why is behavioral email important
Behavioral email is useful to a business for several reasons. Let's highlight them:
Helps in understanding consumers' needs. By examining user behavior, marketers start to get a sense of their customer's preferences. Eventually, they learn what the users need at this particular stage funnel to move further.
Drives better results. Letting subscribers determine email frequency and desirable content is bound to deliver declining results with time. When marketers take charge by using behavioral email, they attain higher social media and website activity, better email engagement, more subscriptions, and so forth.
Supports continuous improvements. With behavioral email, marketers can get useful insights on how to improve their product and customer support. Users' actions may reveal brand weak points or common needs, hence, improve the strategy immediately.
To send different types of behavioral emails, you need to use a marketing service. It will help you automate sending without a programmer in staff.
Send highly personalized emails!
SendPulse helps get these emails automated after a user joins your list. We take care of the technical side of things.
Types of behavioral emails
There is a broad range of these emails. However, behavioral emails generally fall into the following categories:
Registrations. These include welcome, FAQs, onboarding, and getting started emails. Their goal is to give a warm welcome and inform about the benefits of cooperation.
Conversions. These are emails triggered by actions such as subscribes, events, purchases, sign-ups, downloads, and opt-ins. Their goal is to give thanks and notify about the details of a transaction for better credibility.
Site or social activity. Triggers for this category of behavioral emails include viewed products, abandoned cart, shared post, account activity reports, watched videos, posted comments, items added to a wishlist, etc. Its goal is to convert engaged users into buyers.
Note, it is essential to identify the particular behavior of the visitor in the customer cycle. It helps marketers determine the type of behavioral email to send, and the way to move down the sales funnel.
How to get started with behavioral email
Want to get started with behavioral email marketing? Below are the things you should do:
Onboard. Set up a triggered welcome email for all new subscribers that complete registration. Use this email to inform them about the value a business offers.
Educate. Provide users with relevant information that will improve their experience of the interaction with your brand. Industry news, tips, new product features updates can help a business maintain a dialogue with its audience while also educating it.
Capture attention gently. To reclaim lost revenue, marketers should nudge visitors to get back to their abandoned carts or wishlists with items in stock by using targeted emails with strong CTAs that won't give a chance to ignore.
Remind. Marketers should be useful to customers. Remind consumers when free trials are about to end; when there is a shortage of their favorite product; when an item from the wishlist is already in stock, etc. This way, you both care and increase sales.
Get feedback. After prospects and customers take action, provide avenues where they can leave their feedback. With this information, marketers can improve user experience.
How to send behavioral emails in SendPulse
With the Automation 360 feature, SendPulse allows marketers to send messages after a user performs a certain action. That said, let's highlight the actual process of sending behavioral emails.
Step 1: Create an event
Before you send a behavioral email, create the event that will trigger it. Go to "Automations", click "Add new event". You can either choose a ready-made event or create a custom one. Then, you may add the necessary variables to send relevant campaigns to each subscriber.
A unique URL will be generated for you. To send an event, request it. Follow this guide to create and send events.
Step 2: Create an automation flow
Go to "Automations" and select "Automation360". Add the general information about the flow. Choose the event which will trigger the start of the flow. Select the necessary mailing list. Now add the email to the flow. Decide upon the time to complete the action, write an attractive subject, choose an email template, and apply.
Below is an example of a behavioral email sent after a user joins your mailing list.
Use condition to send different offers based on subscriber behavior. For example, if a user left items in the shopping cart, remind them. If they purchase, send a thank-you email. If they still ignore, offer a time-limited discount.
In this guide, you will find out how to combine email and SMS to send an abandoned cart campaign.
This is an example of how to create a behavioral email campaign. You can create advanced email flows up to 50 blocks. Find out more in this article.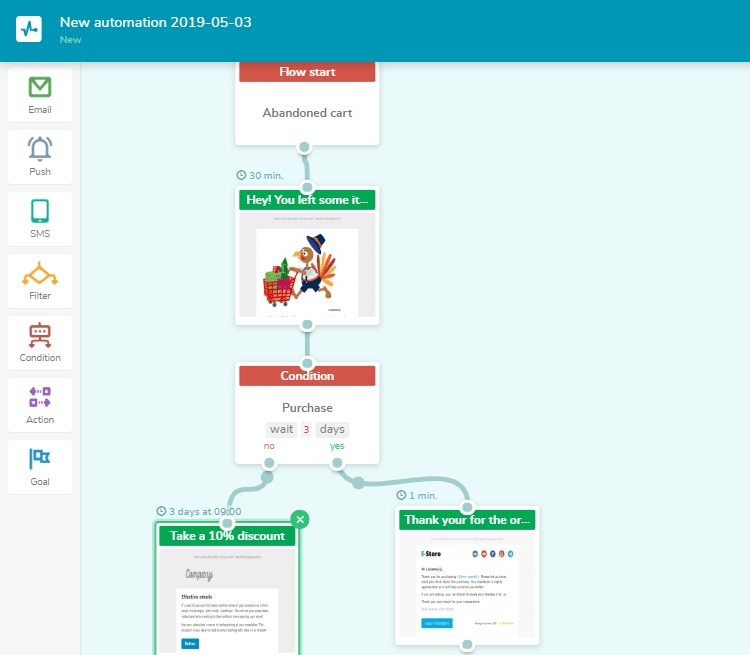 So, there's no need to send behavioral emails manually to each subscriber. Just set the automation flow once and monitor its performance!
Examples of behavioral emails
Below is a registration confirmation email from River Island. It is sent right after a user subscribes.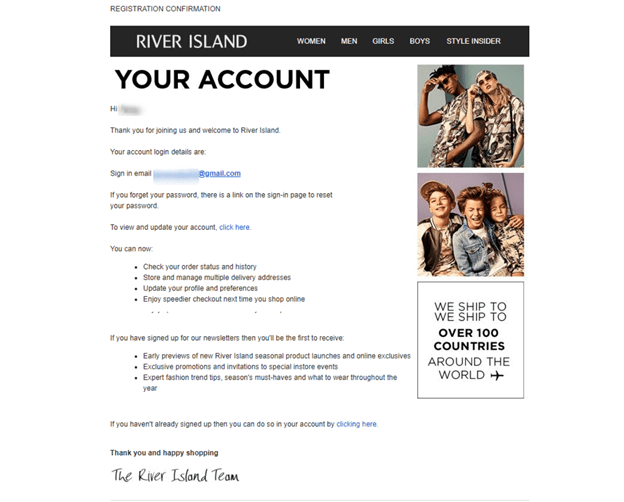 Patagonia offers users to buy a product left in the shopping cart right from the email. It's a nice chance to increase sales and customer loyalty.

Here is an email sent by Uber after a user subscribes as a rider on their website. It shows the value of using the service (getting around is as easy as tapping a button) in addition to offering a guide on how to request a ride.
Here is an account activity email from Grammarly. The brand sends it to activate passive subscribers.
References
The article "How to Create a Behavioral Email Marketing Strategy for Your Business" on HubSpot provides 3 steps to behavioral email marketing.
The article "A Behavioral Email Strategy to Kick-Start Your Email Marketing" on HubSpot defines the term, explains why it is important and provides insights into how to get started.
The article "Getting Started with Behavioral Email Marketing" on Neil Patel blog unveils behavioral email trigger opportunities to use.
Last Updated: 2019-12-04