Ecommerce email marketing is an effective marketing strategy that uses email to promote products of an online store to existing or potential customers.
Emails are one of the most popular means of digital communication, and that's the main reason why using them for marketing activities can be extremely effective. They help blow up user engagement, build customer loyalty, share useful information, announce the hottest deals, and boost sales.
The Importance of Email Marketing for eCommerce
Email marketing is crucial for achieving business success. The benefits of implementing effective email strategies are immense. Email marketing allows developing brand awareness, building credibility, and establishing trustworthy relationships with the customer. Also, it is a perfect way to generate leads, drive more sales, and boost website traffic.
The latest email marketing statistics
Here are the most recent statistics to prove that email marketing can take your eCommerce to the next level.
Email Marketing Strategies to Boost Sales
User onboarding
Lead nurturing
Mailing list segmentation
Re-engaging passive users
Cross-selling
Upselling
Let's take a look at the most effective email marketing strategies that can help you boost sales, attract customers, and re-engage passive clients.
User onboarding
A welcome email is a perfect way to show new customers your attitude towards them. You have only one chance to create a positive first impression. Therefore, you need to think about how to grab readers' attention. It's worth mentioning that 33% of clients get more engaged with a brand if they receive a welcome email from the company. Also, you can encourage customers to purchase with a unique first-time-visitor discount provided in the email.
Onboarding emails often come in a series of 2-3 messages to provide the newcomers with a smooth start. Marketers share educational content to nurture leads. It may be a welcome video from the CEO of the brand, a how-to guide, or a short checklist.
See how ShortStack greets new subscribers. They explain how the service can help users and provide a short how-to guide to get started.
Lead nurturing
It is vital to make efforts to retain the generated leads and nurture them into loyal clients. One of the greatest ways to do it is to provide them with the necessary educational content during the entire lifecycle. Find out the reasons why leads drop off and support them right when they need that.
Below is an example of a lead nurturing email. Eventbrite offers an event venue checklist to increase subscriber engagement.
Mailing list segmentation
User segmentation is an essential strategy to provide your clients and leads with a more personalized approach. All users are different and have different interests. You need to know your clients and segment them according to their needs and preferences. Then, you can come up with emails that will be more appropriate for each group of clients.
Collect the data via a subscription form, preference management center, and based on user behavior on your website. Armed with this info, create highly personalized emails that will strike.
Take a look at the abandoned cart email below. That is one of the ways to segment your mailing list and increase sales.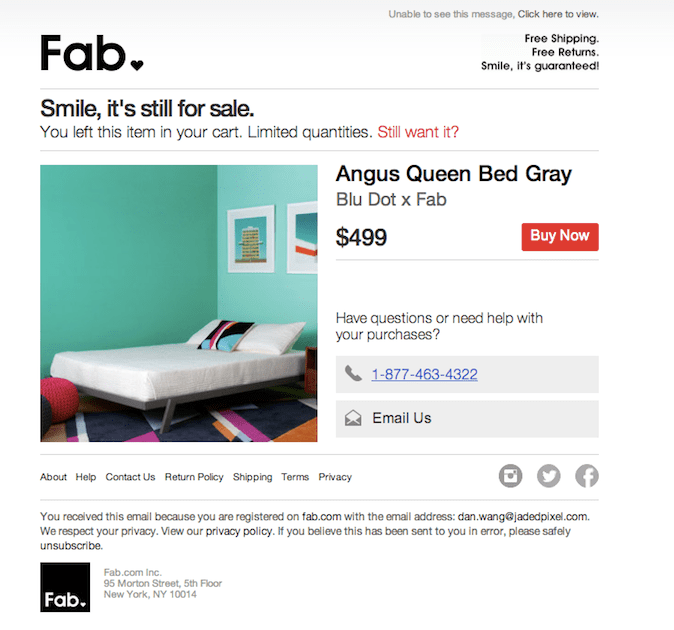 Re-engaging passive users
You can opt for this email marketing strategy if your clients start losing interest in your services or products. By sending this kind of email, you will be able to draw your customers' attention and invite them to your website to check out the latest discounts or seasonal offers. As this example shows, you can ask inactive users if they are still interested in receiving emails. Make sure that users can unsubscribe anytime.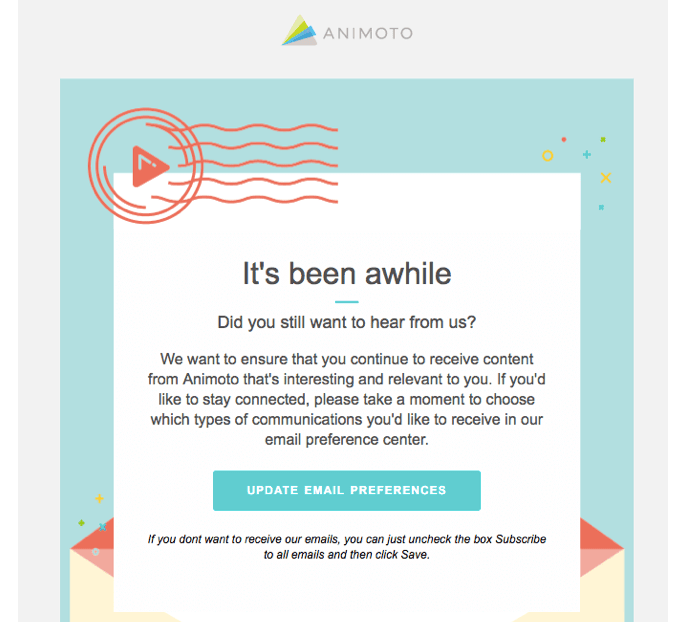 Cross-selling
To make your visitors buy more, you can offer them products that complement their orders. Offer items that are a perfect match for the selected products. Look how iHerb cross-sells to their customers.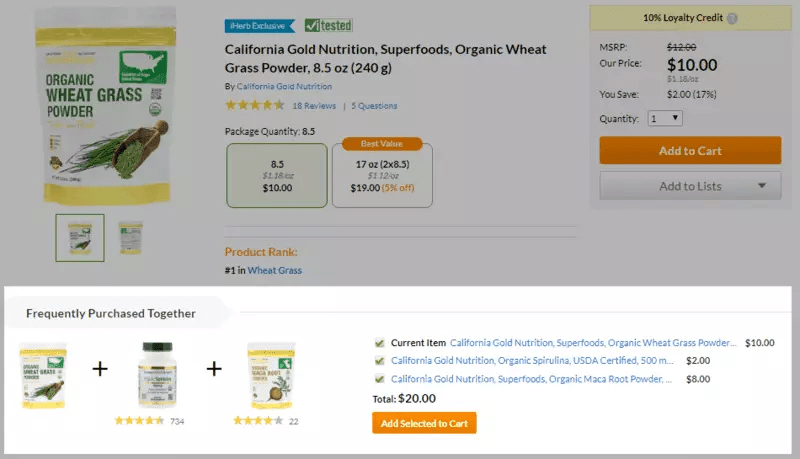 Upselling
Upselling emails work perfectly for eCommerce businesses. After clients make an order or purchase, offer some new, pricier options or different models with advanced features. If you highlight the value the customers will get after purchasing more expensive products, they will go for these products.
To motivate users to buy a more expensive product, Clinique offers free shipping and a treat at checkout.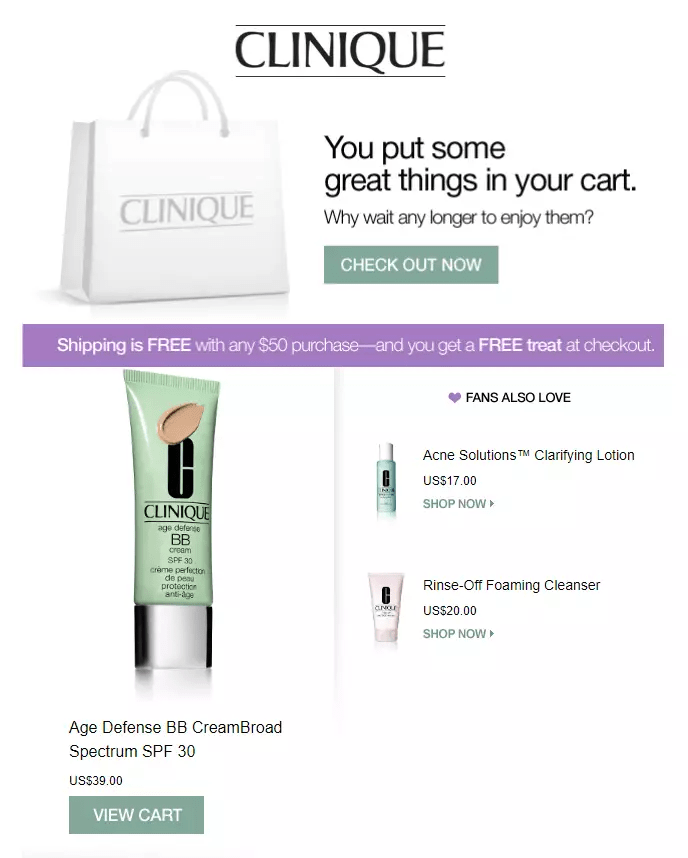 eCommerce Email Marketing Best Practices
Create eye-catching designs and use responsive email templates
Run A/B testing to know your customers better
Send extra discount emails to your loyal customers
Always notify your consumers about forthcoming sales
Send behavioral emails
Implement a referral program
Below, you can find some hints on practical email marketing approaches for an eCommerce business.
Create eye-catching designs and use responsive email templates. Make your emails convenient to read on any device and include a visible link to follow.
Run A/B testing to know your customers better. It will help you discover your clients' needs and make your email campaigns more effective and sales-driven.
Send extra discount emails to your loyal customers. It's one of the most working email marketing strategies for eCommerce business for nurturing loyal customers and building your brand image.
Always notify your consumers about forthcoming sales season, holiday-themed deals, and hot discount offers to entice them to visit your website and make a purchase.
Send behavioral emails. These messages are highly personalized and relevant to each client. They're sent in response to the user's actions. These emails include an abandoned shopping cart email, order confirmation emails, shipment status email, feedback request email, etc.
Implement a referral program. It's a highly important step that will attract new leads and nurture loyal relationships. People tend to trust the recommendations of their peers, so it's a great chance to promote your brand and attract new customers.
How to take your eCommerce marketing to the next level
Many email marketing tools can facilitate the process of email sending and allow achieving the best possible results. With SendPulse email service, you can create well-designed emails with a simple drag-and-drop editor. You don't need any technical skills to do it. There are plenty of pre-designed templates to choose from, so you can opt for the one that suits your purpose.
Moreover, you will be able to analyze the effectiveness of email campaigns, monitor subscribers' activities, and behavior. Track the results, run A/B tests, and send triggered emails to automate everyday challenges.
To improve your performance, use an eCommerce platform. It will help you build your site and manage the work of your store. Integrating it with SendPulse, you can exchange email addresses between services. This enables you to create an advanced email marketing strategy.
Final words
Email marketing has enormous potential for eCommerce businesses. You can use these best practices to attract new customers, retain existing clients, and drive more sales. There are plenty of email marketing services that can make this process easier, and SendPulse is one of the options available on the market. Give it a try and see the tangible results in almost no time. Start eCommerce email marketing with SendPulse!
Last Updated: 11.10.2023