eCommerce marketing is a method of promoting a business that sells its products or services through the Internet. The goals of eCommerce marketing are driving traffic to the online store, converting visitors to paying customers, and retaining them after a purchase.
As a complex tool, eCommerce marketing implies a lot of strategies for leveraging these purposes. Read on to learn which types of eCommerce marketing are worth using and how to incorporate them into your overall marketing strategy.
Types of eCommerce Marketing
Pay-per-click advertising (PPC)
Search Engine Optimization (SEO)
Web push marketing
Social media marketing (SMM)
Chatbot marketing
Influencer marketing
Affiliate marketing
Email marketing
eCommerce marketing comprises various actions aimed at increasing profits and ROI while reducing investments in brand promotion. Some of them work better for attracting new customers, others for retaining existing ones, or provoking a purchase. That is the main reason every business needs to try different types of marketing. We've picked the eight most appealing and effective of them for you to try.
Search Engine Optimization (SEO)
This type of marketing implies optimizing your website for further promotion in search engine rating. SEO is applicable for any kind of business represented on the Internet that owns a website.
Companies use SEO to increase their website traffic, but it has other advantages, including an increase in clicks and sales. 70% of marketers consider it to be more effective than PPC ads.
Many believe that SEO comes down to incorporating some "magical" phrases in the text on the website. Meanwhile, in 2020, effective search engine optimization includes plenty of other things, such as relevant content creation and promotion, content updates, link building, adding mentions and reviews, HTML-code improvement, and more.
H&M is an example of great work with search engine optimization. The brand is the first result for the search results for the query "women clothes online". According to Ahrefs, the website has an excellent domain rating – 87, an enormous amount of backlinks, and amazing site speed for both desktop and mobile versions.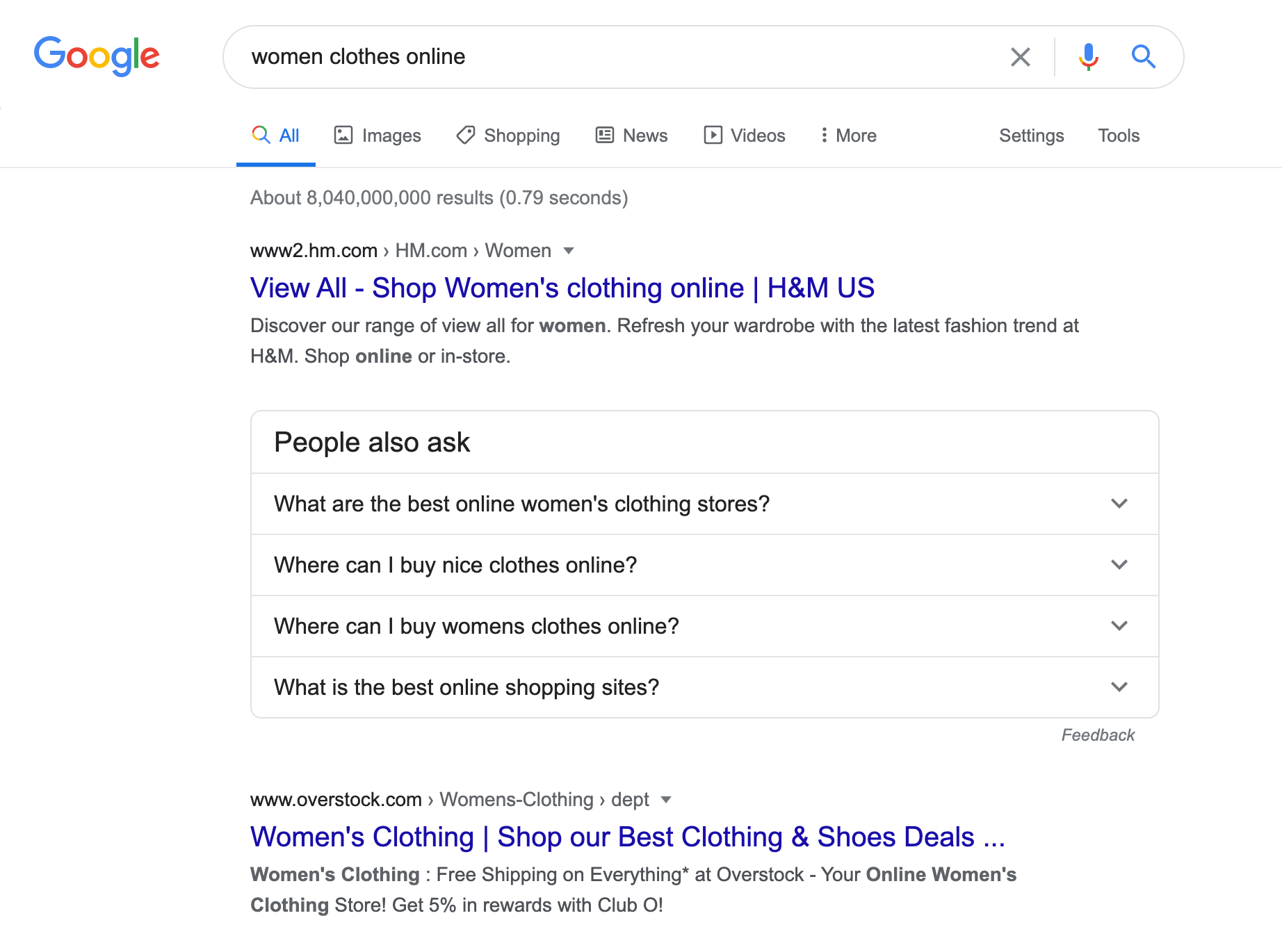 Pay-per-click Advertising (PPC)
PPC, or pay-per-click advertising is a type of digital marketing where a business pays a fee to an ad network each time someone clicks on their promoted link. This method allows companies to get new visits on their website.
Some doubt that PPC is still useful today when everyone uses ad-blocking applications. However, 75% of people said that paid ads helped them find what they needed, and 26% clicked on the ad because they were familiar with the brand. That makes PPC advertisements effective in interaction with interested and loyal customers. Apart from that, search ads can increase brand awareness by 80%.
PPC advertising positively affects businesses with high customer lifetime value (healthcare, education, cable & internet providers), high margins (lawsuits, repair jobs, cars), retailers, and producers of unique products. Moreover, each small business benefits from the pay-per-click model — it allows companies to work on tight budgets.
In the example below, you can see the text advertisement for a "running shoes" Google search. Google shows this promoted content first and marks it with an "Ad" label, so users can distinguish paid search results from organic ones.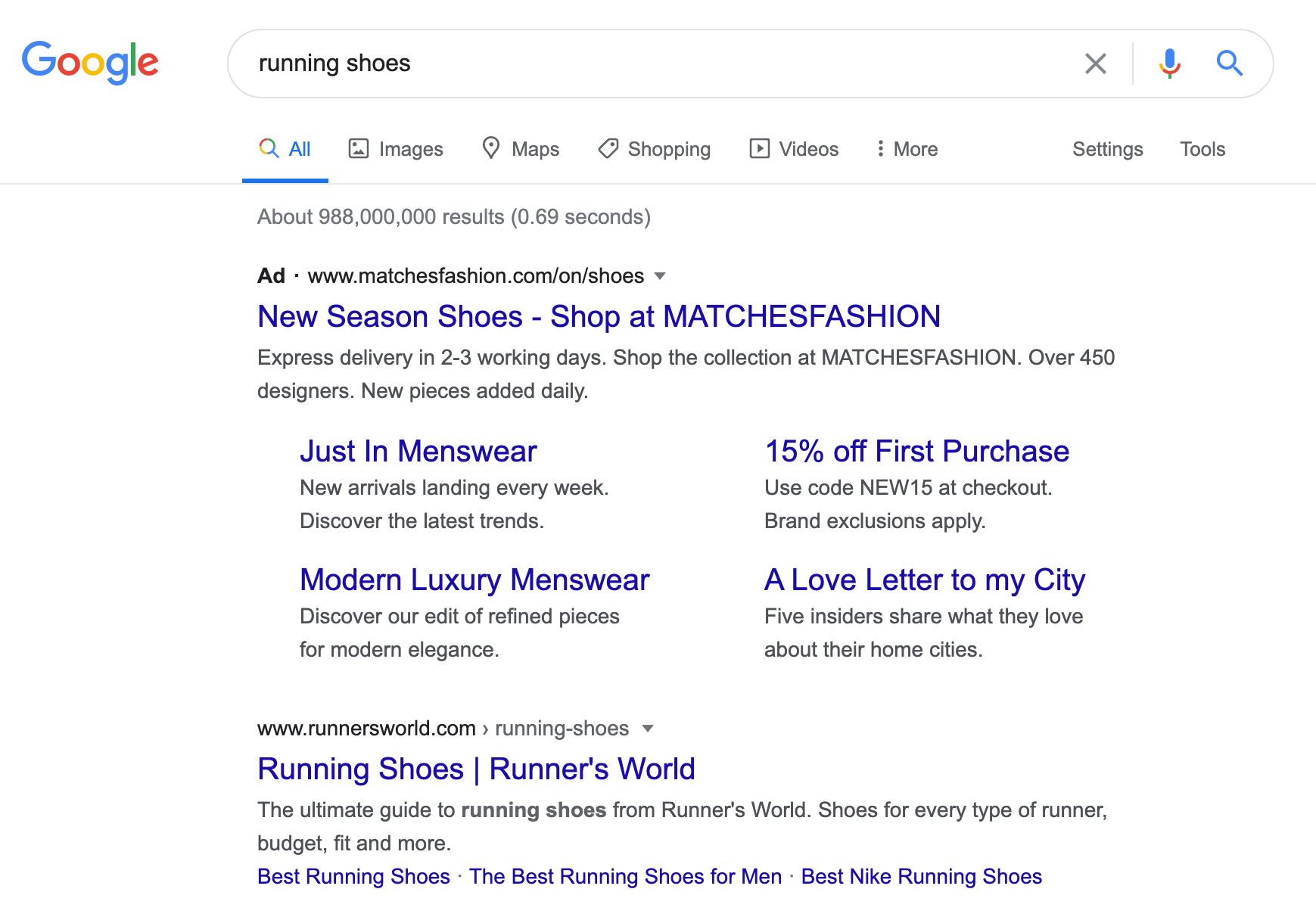 Web Push Marketing
Web push marketing is an advertising strategy that implies sending short notifications to the target audience in a browser or mobile app. As you can send both promotional and transactional messages via this channel, goals can include advertising your goods, notifying your clients about their order status, communicating your updates, and more.
The average reaction rate to web push notifications is 7.8%. Readers respond most frequently to notifications from businesses in travel, finance, and online stores. Web push notifications can be helpful for those who promote their businesses through content marketing — notify customers about new articles or videos and increase your website traffic.
Applying this type of marketing to your strategy allows you to do better outreach, get higher engagement, and collect useful statistics regarding your open rate and CTR to improve your strategies. Another advantage of this communication channel is its low price. For instance, with SendPulse, you can send push notifications for free as long as you have less than 10,000 subscribers.
Start your web push marketing with SendPulse — register and create appealing personalized notifications. Segment recipients by location or other details and send them messages automatically.
Here is a notification created with SendPulse for boosting sales of an old clothing collection. To make it appealing and clickable, we added images and a CTA button. In the notification editor, you can not only create web push notifications but also preview them in different browsers straight away.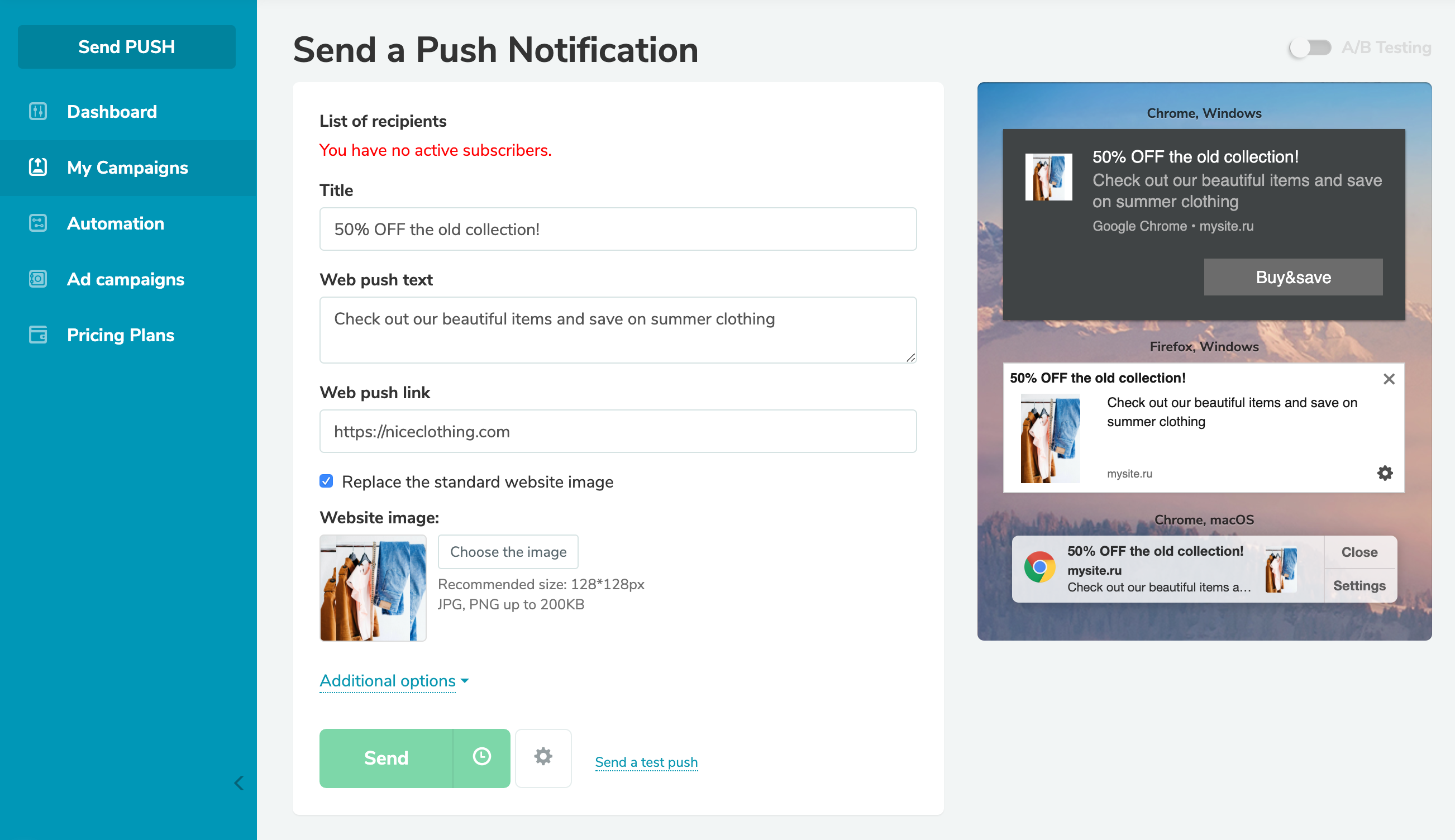 Social Media Marketing (SMM)
Social media marketing means using social platforms as channels for brand promotion, target audience growth, driving website traffic, and increasing sales. The SMM audience is enormous — 3.8 billion people. In 2019, 43% of internet users browsed h social media when researching products before making a purchase.
Social media marketing is suitable for every business, including B2B. This type of eCommerce aims to increase brand awareness, boost website traffic, improve content distribution, interact with a target audience regularly, and more. 73% of marketers believe that SMM is effective or very effective for leveraging these goals.
To nail SMM, create different strategies and content for each social media platform you use for your brand promotion. Vary the frequency of posting, themes, post formats, and so on to get the most from every social network.
Let's learn some tricks from GoPro. The brand has millions of followers and posts different content on several social media platforms. For instance, GoPro goes for user-generated pictures and videos showing the quality of their cameras on Instagram.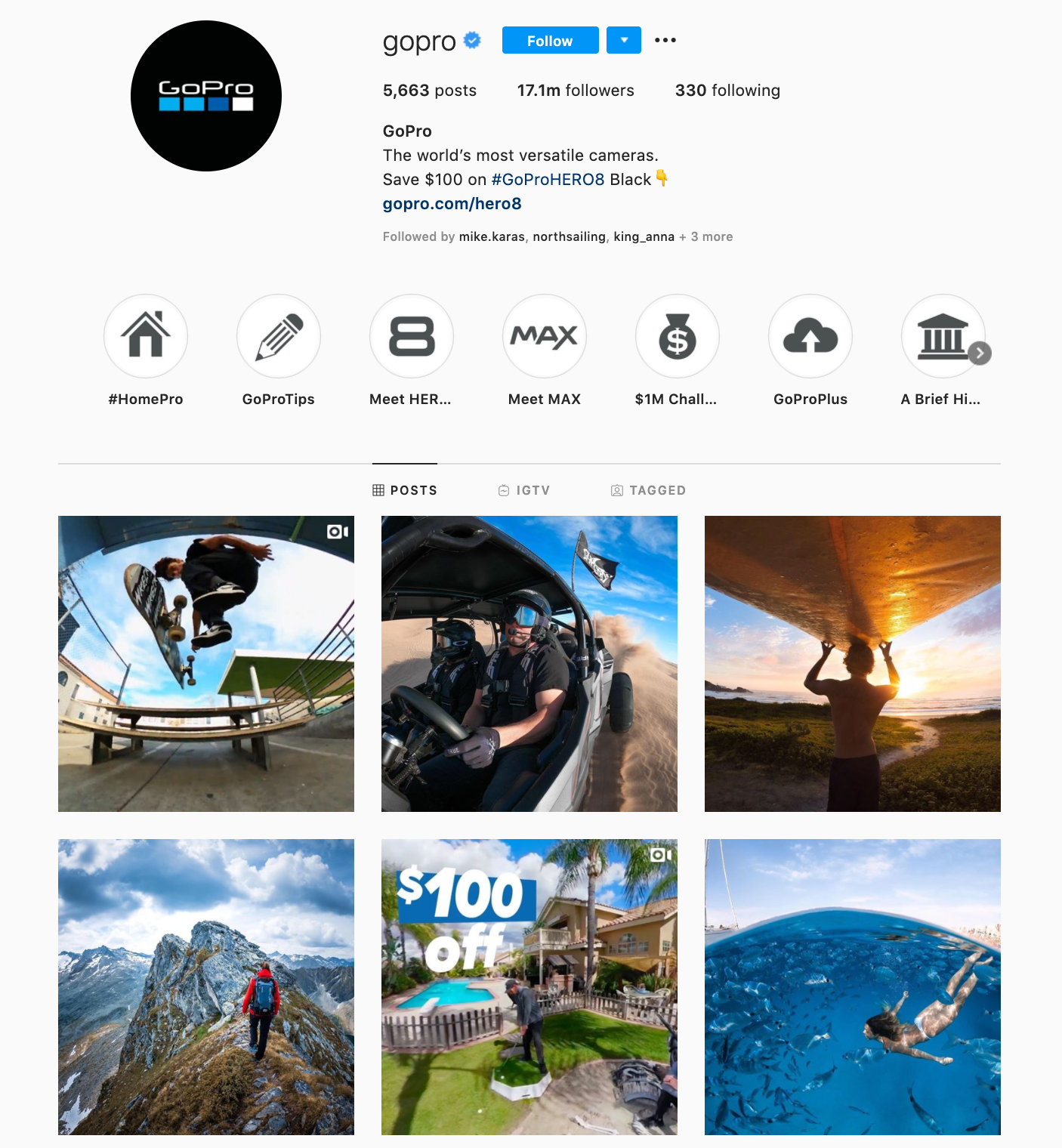 Meanwhile, on Facebook, the brand pays more attention to promotional messages, special occasions, and challenges.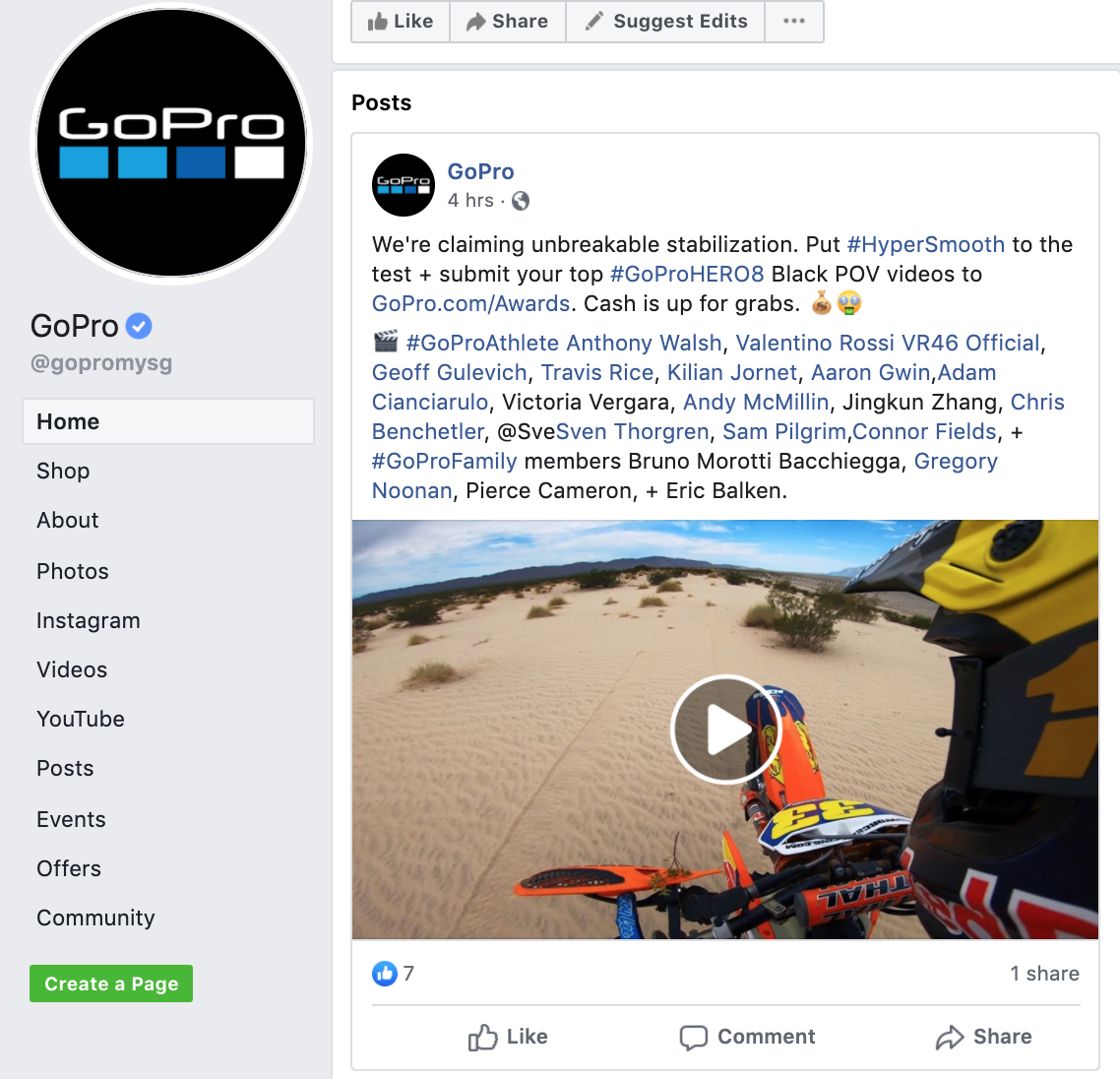 Chatbot Marketing
Chatbot marketing involves using a special computer application — a chatbot — for marketing purposes, such as supporting customers, handling orders, sharing company news, and promoting special offers. Chatbots communicate with customers based on predetermined scenarios or with the help of AI.
The biggest beneficiaries of chatbot marketing are businesses with large customer support services — bots can decrease customer support costs by 30%. Apart from that, chatbots provide round-the-clock interaction with clients, increase engagement, help with lead nurturing, and speed up the payment process.
Chatbots are helpful in eCommerce, healthcare, telecommunication, banking, food, and retail. Customers use bots to solve problems, make reservations, pay bills, buy various items, or get ideas for purchases. In the example below, a simple chatbot created with SendPulse helps clients subscribe to email campaigns and get consultations.
Start your chatbot marketing with SendPulse — create a chatbot for Facebook or Telegram, set up auto-replies, launch promo campaigns, and automate your business processes. Send up to 10,000 messages a month to an unlimited number of subscribers for free.
Influencer Marketing
Influencer marketing is brand promotion through publications made by bloggers or opinion leaders. It is a great way to attract new customers — people are more inclined to trust brands if they've seen their favorite blogger promoting it.
68% of marketers believe that influencer marketing is effective or very effective. Done correctly, this type of eCommerce marketing can increase your brand awareness, reach your target audience, help drive quicker customer acquisition, and boost sales. It is useful for every business but shows the best results for the fashion, cosmetics, travel, and holiday industries.
To benefit from influencer marketing, choose influencers correctly. Pay attention to their audience — it may be not very large but devoted, which increases your chances to make the most of the collaboration. Another key to success is to make sure your partner's audience coincides with your target audience.
Here's an example of collaboration between the pet supplies brand "I and love and you" and famous Instagram pups. The company chose the influencer perfectly — most of the subscribers are pet owners interested in providing a top-quality life for their dogs.
Affiliate Marketing
Affiliate marketing implies promoting your brand through affiliated resources while paying a commission to them for every new customer. At first sight, it may seem similar to influencer marketing, but the mechanism is different. While in influencer marketing, you pay for the ad itself, in an affiliate model, you pay a fee after a sale occurs.
This type of marketing increases brand awareness, improves SEO, boosts sales, and gives you more R
OI. Well crafted programs can increase revenues by 30%.
Affiliate marketing is suitable for businesses that strictly control their product and purchasing, for instance, in direct selling. It helps lower reputational and financial risks from such kind of promotion.
This type of eCommerce marketing works well for most niches, from online education to retail. Here is an example of affiliate marketing on a financial expert website. As you can see, the resource promotes household appliances from Dyson and offers its readers a promo code.
Email Marketing
Email marketing is pivotal for lead nurturing, sales, and improving your customer experience. This communication channel works for B2B and B2C, international corporations, local businesses, and more.
To nail email marketing, include different types of emails in your strategy. Marketing emails will help you build relationships with customers and encourage them to make a purchase. Meanwhile, transactional emails will improve your clients' experience by informing them about changes made to their account, the status of a purchase, shipping updates, and so on.
Match your campaigns with customers' interests, create engaging and good-looking emails, and always apply personalization. Otherwise, instead of boosting sales, you'll create irritated clients. Don't forget about automation — welcome, abandoned cart, birthday, and other emails sent automatically require minimal effort but enlarge your revenue greatly.
We've created an appealing email with SendPulse. It provides unique offers and contains elements of personalization — receiver's name and company's address.
To create beautiful personalized email campaigns and send them automatically, register with SendPulse. We offer a convenient drag and drop email editor, our Automation 360 tool for sending trigger and other types of automated emails, and services for adding personalization and segmenting subscribers.
eCommerce Marketing Strategies and Tips
Upsell and cross-sell your products
Reward your loyal customers
Speed up your website
Optimize your website for mobile
Add personalization
Optimize for voice search
Add social proof
eCommerce is a promising market — by 2022, sales are projected to increase to $5.8 trillion. However, it's a tough business — you have to compete with several million other companies, including giants such as Amazon.com. We've picked marketing strategies and tips to help you succeed in the eCommerce realm.
Upsell and cross-sell your products
Let's start by differentiating one from another: cross-selling is offering additional products or services, for instance, a T-shirt in combination with jeans or speaking clubs in addition to Spanish lessons. Meanwhile, upselling allows a customer to get a better or larger product — meal or a laptop component — for an extra payment.
To nail upselling, stick to some rules. Offering additional value, think about the problems that users may face with the product and ways to solve them. Compare cheaper and more expensive versions to emphasize the advantages of the latter. And finally, be wise about the price and don't ask too much — customers will rarely pay more than an additional 25% of the original price.
If you go for cross-selling, remember that your additional offer should fit well with customer's needs and interests. Asos does it perfectly, letting customers shop the whole look — chances are a buyer would like to get everything.
Reward your loyal customers
Did you know that retaining your current customers is five times cheaper than attracting new ones? Loyal customers spend 67% more in months 31-36 of their shopping relationships with the brand than in the first half of the year. So, the key to higher revenue is to retain your customers — try to reward them for staying with you. Organize a customer loyalty program and offer bonus points, which can be exchanged for discounts, gifts, or free shipping.
For instance, Sephora launched a club for loyal customers. The brand divides members of the club into several groups according to how much they've spent shopping at Sephora. Each group earns a different amount of points and spends them on cosmetics or make-up lessons. Also, members get other perks, including birthday gifts, exclusive events, early access to new products, and more features shown below.
Speed up your website
There are few things more annoying than a website that loads for ages. 70% of customers confessed that site speed affects their purchasing decisions. The acceptable time of download is five seconds or fewer. Each extra second leads to a 7% drop in conversions and affects your website's search results ranking.
Skyscanner demonstrates great website speed results in the Pingdom Tools service. The picture below shows that it takes a bit more than three seconds to load the main page, which is an excellent result.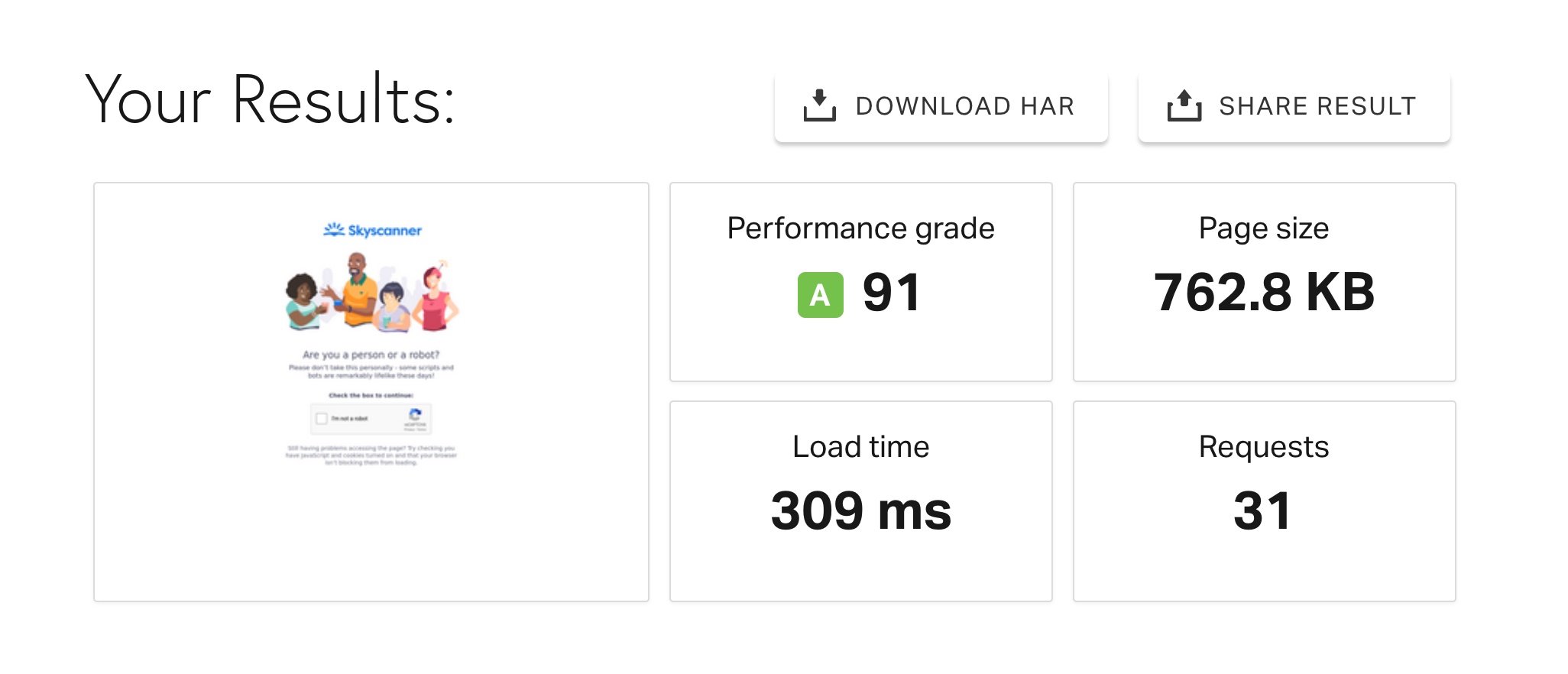 We have a precise guide on speeding up websites on the SendPulse Blog. Here are the main hacks from it:
reduce the amount of hypertext used;
transfer protocol requests;
optimize and compress your files;
reduce the number of redirects on your page;
utilize browser caching;
choose a reliable web host;
use a content delivery network.
Remember that your website will probably slow down with time, so monitor it and make adjustments regularly.
Optimize your website for mobile
In the last quarter of 2019, mobile devices accounted for over 52% of internet traffic worldwide. People not only browse through the Internet for fun, but use it for work, study, and to make purchases. 69% of smartphone users said they would rather buy from companies with informative and convenient mobile websites. Don't miss this audience — optimize your site for mobile.
Start with improving your website speed — it is crucial for mobile users to access content in seconds. Evaluate your speed with Google's Test My Site feature. However, don't fall into the trap of deleting your product images and videos — customers still need them to decide about the purchase.
Create a mobile version of your website instead. You'll have to make some tweaks with mobile users in mind. Think about their needs, whether they are using a bigger "Add to cart" button or optimized content. Look at the mobile version of cosmetics brand Lush website — the page loads in seconds, contains all the features available for the web version, and provides easy access to buttons, including "Add to basket".
Add personalization
80% of customers are more likely to purchase from brands that provide personalized experiences. You can add personalization to most communication channels, including email and messenger campaigns, web push notifications, and your website.
To nail personalization, get to know your customers' gender, location, favorite products, and other demographic information. You can segment them with a subscription form on your website or track the items they viewed. Here is an example from Net-a-Porter, that shows items similar to those the customer has browsed before. In the picture below the website recommended summer shoes according to the user's previous views.
Optimize for voice search
Voice search shopping is predicted to be a $40 billion market by 2022. To stay ahead of the curve, think about optimizing your website for voice search right now. It may encourage you to re-approach your SEO in general.
Bear in mind that voice search is not the same as type search — queries are longer and more conversational. Don't be afraid of applying a conversational style to your blog or website — create articles and other types of content to answer popular questions.
In the example below, the travel agency, Kayak, uses this strategy. As a result, their website appears in the first line of search results with several queries, such as "Book a flight to Alaska", "What is the cheapest flight to Alaska", and "How long is the flight to Alaska."
Add social proof
Social proof can do miracles for sales and ROI. 93% of consumers say online reviews impact their purchasing decisions. There are a lot of ways you can add this tool to your marketing strategy.
Add reviews to product pages on your website. Ask an expert to test and recommend your products or services on their resources. Publish showcases in your blog. Share awards you have won or milestones, such as 50,000 subscribers to your YouTube channel. Mention your customer base size or their names in your bio, as OptinMonster did on their main page. The company shows its clients' logos, names the number of websites using their service, and the number of visitor sessions optimized monthly.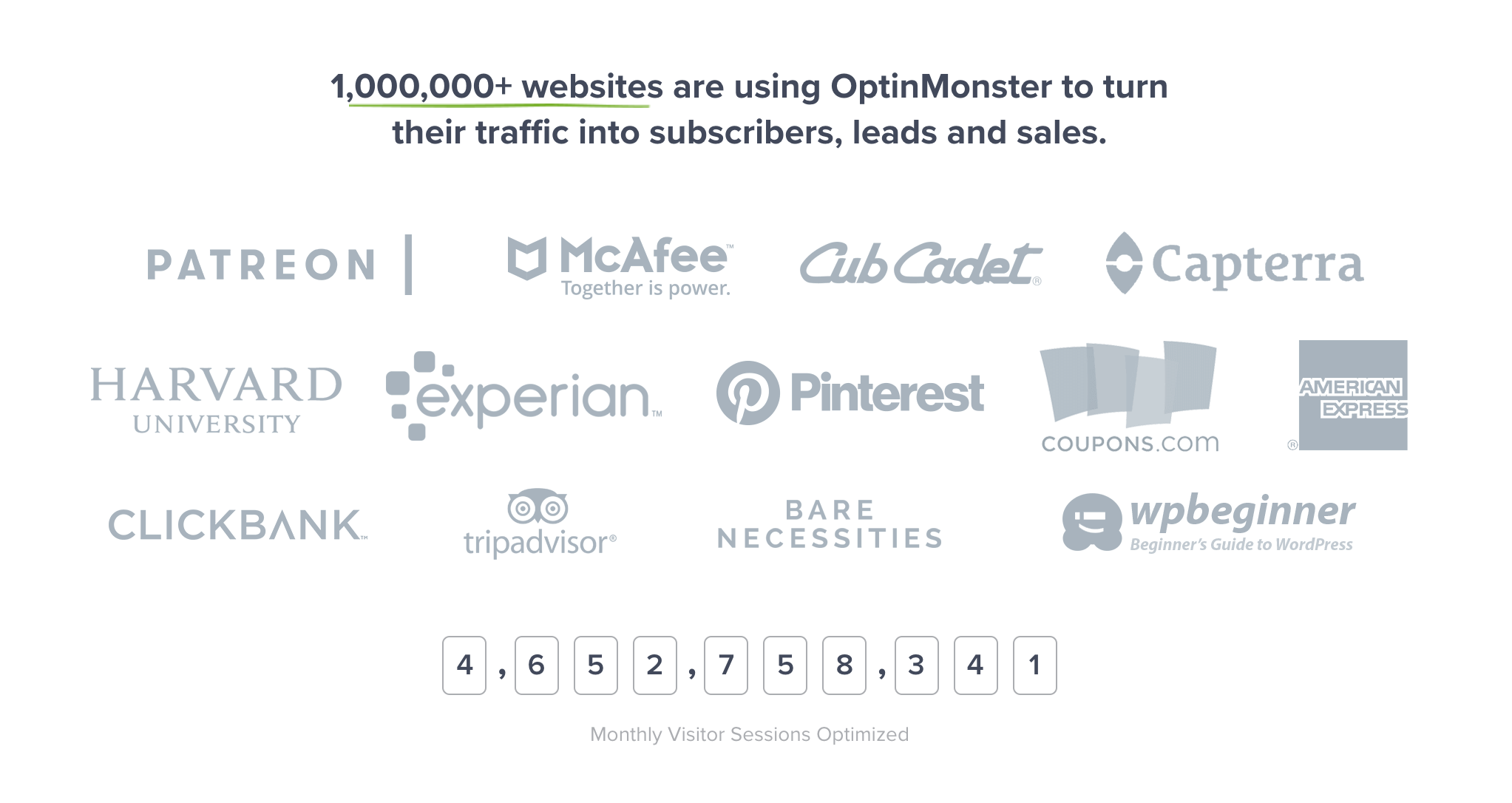 Combining sales tricks and technical methods, you can take your eCommerce marketing to the next level and skyrocket your ROI. The main secret is to use different types of eCommerce marketing and find those that best fit your business. For better performance, make use of an eCommerce platform. To apply email marketing, chatbots, web push notifications, and more to your strategy, register with SendPulse.
Read more about eCommerce marketing on our blog
Last Updated: 11.10.2023