An eCommerce platform is an end-to-end software solution that allows online retailers to manage their business. This type of service encompasses eCommerce website builders, accounting and inventory management systems, as well as customer service infrastructure.
In this video, a specialist from Printful compares 17 biggest eCommerce platforms. Check out the video to find out their best features.
An eCommerce platform is a lifesaver if you decide to launch an online shop from scratch or as an addition to a brick-and-mortar store. In this article, we'll discuss why your business probably needs this service, list the essential features of a good eCommerce platform, and give five popular software solutions once over.
Why should you use an eCommerce platform?
Running an online store is a complex undertaking that requires many processes, from building a website to accepting payments and managing stocks. Software solutions allow you to manage all of these processes and take away the headache of dealing with each aspect individually.
eCommerce platforms have all the components you need to operate and grow your online business without complicating your day-to-day operations. Using an eCommerce platform is cheaper than creating software from scratch and more comfortable than using many plugins.
Elaborate eCommerce platforms facilitate the purchasing process for your customers, prevent system failures, technical issues, and help you troubleshoot them whenever they pop up. So, you can spend less time helping your clients with shopping and concentrate on improving your sales process and boosting your revenue.
All these features make eCommerce platforms worth your investment. Let's get into the details and discover the features you should look for while choosing the best eCommerce solution for your business.
Features of an eCommerce Platform
Interface
Design options
Store management system
Payment processing
Security
Support
Promotion opportunities
Data consolidation
The number of online retailers in the world amounts to 7.1 million and continues to grow. It's no wonder that the market offers a great many eCommerce platforms. Figuring out a solution to meet your business' needs can be a tough job. To pick the best service, evaluate the following aspects of any eCommerce platform you consider.
Interface
A user-friendly intuitive interface for webstore creation is a must for any eCommerce platform. However, you may flounder with building a website on some solutions. Some of them may require technical skills, such as HTML knowledge or WordPress experience.
To find the best and most convenient for you, test several platforms and go for the one you like the most. Look for a platform that lets you create not only product pages but also blog posts. This feature may come in handy when you decide to acquire new customers with content marketing or improve your website search results with a series of SEO-optimized articles.
Design options
Most eCommerce platforms offer countless ready-to-use designs and themes so you can create your webstore's appearance quickly and easily. Pay attention to how many free and paid templates your solution provides. Look for additional designs in the platform's community. It will help you save time and money.
On the other hand, you may have a vision of your future store or develop it as time passes. In this case, explore design customization opportunities your eCommerce platform provides. The best decision is to find a platform that offers a perfect balance between design freedom and a variety of pre-made templates.
Store management system
Management systems are the core of every eCommerce website, since they differentiate online stores from any other types of websites. To operate your shop, you need three frameworks:
The product management system lets an admin upload products to your website and manage listings. A quality solution should allow bulk uploads, categorizing and mapping products, setting up dynamic catalog filters like sorting, price range, color, size, and so on.
The order management system accounts for processing customers' orders. To perform this task at a fast pace, it should include order tracking, email notifications, and shipping service API.
The return management system allows you to take care of your return policy. It should encompass return rules and types, place and approve requests, print invoices, update statuses, and so on.
Your eCommerce platform may offer these systems as part of the standard package or allow integration with services that provide them.
Payment processing
You can't do business without accepting payments, and it is not as straightforward as it sounds. You should consider the currencies you operate with, the payment methods your customers prefer, tax systems, and more.
The main difficulty here is the payment gateway your eCommerce platform uses. A payment gateway is a processor that moves money from your customers' accounts to your own. This component often limits the payment methods and determines the currencies your service can offer.
So, define the payment options your eCommerce platform supports out of the box. You can also learn which third-party services you can integrate with your software to expand its opportunities.
Security
You should protect your customer data at any cost. Data breaches and leaks will have devastating effects on your business. Thus, it's crucial to make sure your eCommerce platform offers suitable security options.
To keep your transactions protected, make sure your eCommerce platform meets the PCI security standards – a 12-piece set of requirements for websites that work with payment information. Another aspect of a secure website is its SSL certificates. They are a type of file that lets a browser securely process sensitive transactions.
The features listed above are the base your eCommerce platform should provide or allow you to integrate with ease. However, many solutions go the extra mile and offer additional options, such as protection from fraud and DDoS attacks.
Support
Operating a web store, you will inevitably face technical issues. No matter how hard you try to minimize them, they will occur at some point. Support from an eCommerce platform can help you troubleshoot these problems instantly and reduce downtime.
When exploring the support your provider offers, start with any available documentation on their site. An extensive library of FAQs, how-tos, and guides will walk you through the main issues without needing to waste time on reaching a support team member. Another indicator of good support is the presence of forums or Q&A areas, where you can ask for advice from other users.
Finally, learn more about getting in touch with the support team. See which channels your eCommerce platform offers to reach specialists and how fast they resolve questions. You can also browse through reviews on third-party websites to find out how your service really deals with customers' issues.
Promotion opportunities
The majority of eCommerce platforms offer different options to promote your web store. Many of these solutions lay beyond the standard package the service provides, so you need to figure out which of them will fit your eCommerce marketing strategy.
The main point to consider here is SEO, as 70% of marketers believe it to be a more efficient acquisition channel than PPC. Pay attention to SEO-friendly eCommerce platforms. They should allow you to use your domain name, add your blog, and collect customer reviews.
Remember the number one SEO trend – mobile optimization. As more than half of internet traffic comes from mobile devices, an eCommerce platform should provide your web store with a mobile version or mobile app.
Data consolidation
If you can't measure your webstore's performance, you can't manage it. Calculating your results is the only way to make timely changes and refine your business outcomes. However, using a bundle of tools for analytics may be tricky and time-consuming.
Make sure your eCommerce platform allows you to collect and store data, or supports integrations with analytics services. Struggling to understand what indicators to track? Follow our guide on the customer success metrics you need to keep an eye on to make sure your business is healthy.
These parameters may become inadequate as your business grows. Thus, pay attention to your eCommerce platform's scalability. Another feature to look for is flexibility – it often comes in the form of integrations with third-party services. Make sure your solution supports integration with popular CRM, CMS, marketing automation software, and so on.
We've unpacked a few components of a high-quality eCommerce platform. If you're in the market for a suitable solution, read on – our analysis of five popular services is waiting for you.
The 5 Best eCommerce Platforms
WooCommerce
Wix Stores
Shopify
BigCommerce
PrestaShop
eCommerce platforms differ tremendously, so make sure you check out a few before you make your decision. We assembled five solutions from market leaders to minor services to help create killer web stores. Let's dig deeper!
WooCommerce
WooCommerce has the largest market share of all the eCommerce platforms. As the service operates on WordPress, you need to be tech-savvy and familiar with this CMS. If you are unfamiliar with WordPress, setting up a WooCommerce web store may not be for you. Don't worry, there are lots of other options.
WooCommerce offers 23 customizable design themes. The service encompasses a wide variety of extensions so you can tailor your webstore to your most specific business needs. However, this eCommerce platform lacks scalability as the number of customers and orders grows, your website response time will slow down.
Thanks to the many add-ons available for WooCommerce, web stores made with this platform accept various credit cards, bank transfers, checks, and cash. You can accept payments with 140 region-specific gateways, including Stripe, PayPal, and Amazon Pay. Subscriptions and deposits are also available.
WooCommerce extensions cover such aspects as product and order management, shipping, automated tax calculations, mobile apps for iOS and Android, marketing integrations, and more. You can couple this platform with SendPulse to automatically export email addresses, set up automated campaigns, and send trigger, transactional and promotional emails. These tactics will improve your revenue and relationships with buyers – read our setup manual to get started.
WooCommerce supports the technical aspects of creating and maintaining a website with a knowledge base and a users' forum. You can also hire developers recommended by the platform to customize your webstore.
To help you measure your business performance, WooCommerce consolidates data on your revenue, customers, products, taxes, and so on. In the example below, you can see the revenue results for a chosen period and compare it with the previous year's outcomes on the graph.
Pricing: Free platform with paid add-ons.
Free plan: 30-day money-back guarantee.
Wix Stores
Wix is a well-known website and landing page creator that has added eCommerce features in the last several years. The main advantage of this platform is its drag-and-drop editor and the abundance of customizable design templates. The service even offers to build your webstore automatically via the Wix ADI tool.
This eCommerce platform also takes care of SEO for your webstore, offering a personalized plan. Among other useful features are in-depth site performance analytics, social and email marketing tools, and a boatload of integration options.

Wix Stores offers many payment methods including credit and debit cards, PayPal, and Wix Payments. The system automatically selects the best option for your region. You get access to order and shipping management systems, as well as a tax management tool. Better yet, Wix Stores lets you sell through several channels, such as Facebook and Instagram.
One of the downsides of this service is its relatively low storage, which makes Wix an unsuitable solution for large or rapidly growing businesses. However, the service provides on-page support during setup, as well as 24/7 phone and chat-based support.
The interface of Wix Stores is simple. The main dashboard shows you total revenue, the number of products sold, and the amount of transactions.
Free plan: Available forever for website building. The service doesn't allow you to sell anything on this plan.
Pricing: From $25/month.
Shopify
One of the best-known eCommerce platforms, Shopify, offers an intuitive drag-and-drop editor for website creation. Design options include 9 free and 64 paid pre-made themes sorted by industry, visual style, and so on.
Shopify lets you work with a wide range of currencies and accepts payments with Visa, Mastercard, American Express, Google, and Apple Pay. The service has PCI compliance and 3D Secure checkouts for data protection.
Among other advantages of this eCommerce platform are a shipping management system, special prices for carrier services, advanced analytics, and more. To help you deal with all these tools, Shopify offers a support team, help center, and a handful of forums.
Shopify tweaks your SEO a little, although web stores made with this eCommerce platform still demonstrate mediocre results on search rankings. However, the service provides you with plenty of other marketing opportunities. For instance, it supports integration with SendPulse.
SendPulse automatically exports your customers' addresses to the mailing list. This helps you set up effective email campaigns to keep your customers engaged and boost your business' ROI. Integrate Shopify with SendPulse through Zapier – follow our guide on integration or contact our support team.
Shopify gives you all the essential information about your business in real time. In the picture below, the Home tab shows todays' sales, orders, sessions, and the number of visitors. Knowing best-performing channels and top products, you can adjust your tactics to drive better performance.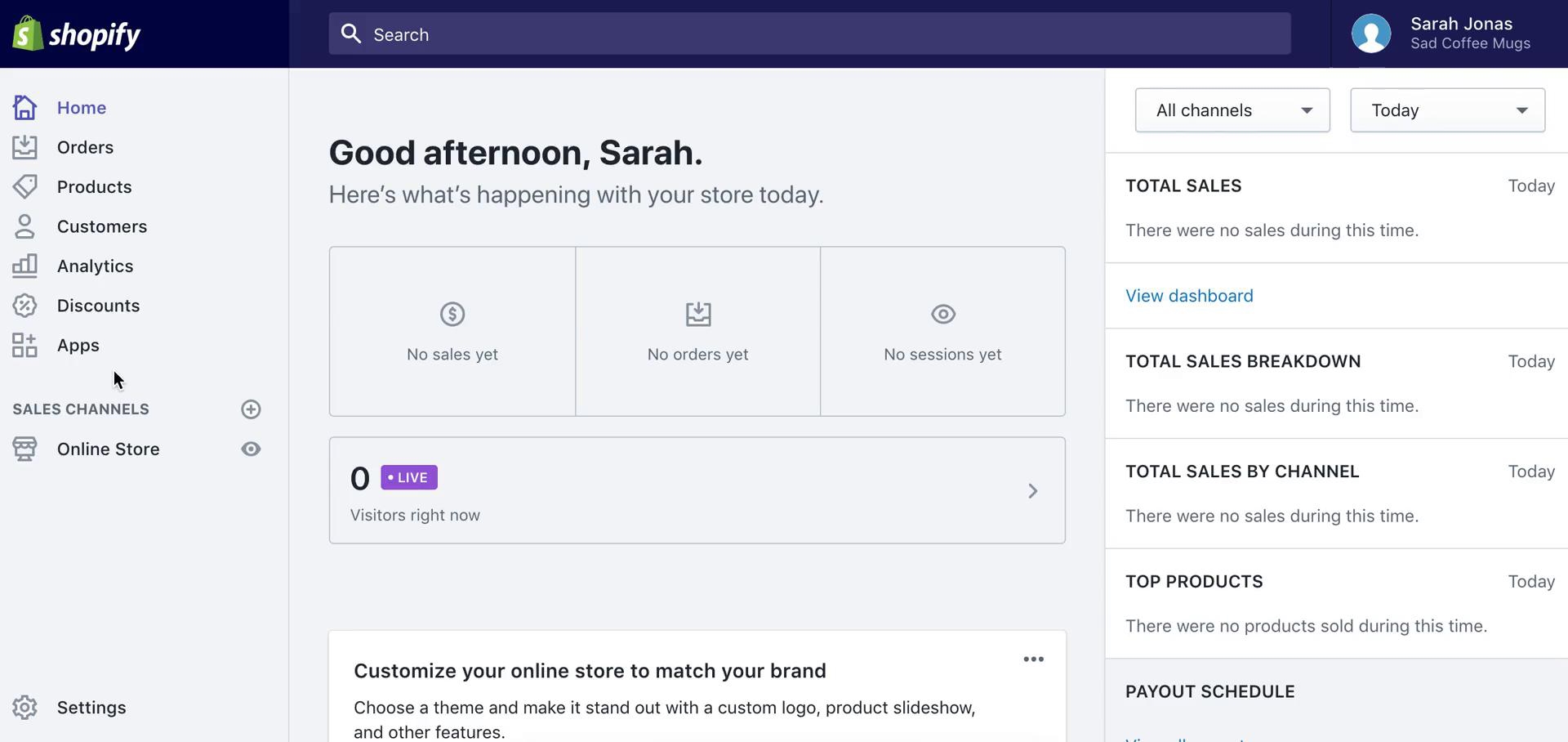 Pricing: From $29/month.
Free plan: 14-day free trial.
BigCommerce
This eCommerce platform is a great solution for larger brands and brick-and-mortar stores that want to accept orders online. The service offers a wide variety of marketing solutions out of the box. They include high-quality SEO, the opportunity to launch a blog, abandoned cart saver, email marketing features, and more.
BigCommerce lets you apply more than 55 payment solutions, including Amazon Pay, Apple Pay, and Google Pay. The platform meets the PCI security standard and offers protection from fraud and chargebacks.
The heart of BigCommerce is its order management system with inventory management tools, the possibility to create personalized shopping experiences for different segments of customers, and partnerships with shipping and payment providers.
BigCommerce users get access to community forums and live support. The platform claims that the support team solves 85% of issues after a single call. Apart from that, the service helps you get personalized business audits and advice from experts.
You can start building your website by choosing one of the many pre-designed themes. Access them through the BigCommerce interface, sort by industry or price, as shown in the picture. To adjust templates, you don't need any technical skills. However, there are advanced customization opportunities available with HTML and CSS editor.
Pricing: From $29/month.
Free plan: 15-day trial.
PrestaShop
PrestaShop is another eCommerce platform that requires technical skills. To set up a webstore with this service, you need knowledge in HTML, CSS, or PHP. Another option to consider is hiring a developer – PrestaShop provides you with partner agencies' to contact.
The strongest part of this service is its design themes – PrestaShop offers over 2000 templates, most of which come free of charge. The service lets you easily customize the colors, images, layout, and typography. To make major design changes, you need technical skills.
PrestaShop supports a great many payment options, like Visa, MasterCard, and PayPal, as well as prepayment, payment on delivery, or in-store payment. With this platform, you can manage orders in real-time, create invoices automatically, and connect with partner delivery companies.
To promote your web store, PrestaShop lets you create promo codes, product offers, a blog, and more out of the box. For better results, the eCommerce platform offers you tons of available integrations with various marketing automation services.
Integrate the platform with SendPulse to exchange email addresses between two services easily. It will help you implement an advanced email marketing strategy, create automated flows for constant engagement with customers, and drive better business results. Get started by reading our guide on setting up the integration.
PrestaShop has a technical support team, open documentation, blog, and tutorials translated into eight languages. You can also consult with other platform's users via forums.
This eCommerce service provides you with in-depth analytics, as you can see below. The dashboard includes data on sales, orders, cart value, visits, conversion rate, profit, and more.
Pricing: Free platform with paid add-ons.
eCommerce platforms enable you to create and handle your webstore without coding or hiring a team of professionals in the first stages of launching a business. These services provide you with additional marketing opportunities. For faster growth and better performance, you may need more specific and advanced marketing solutions. Integrate your platform with SendPulse and make the most of your online business with email marketing, SMS messages, web push notifications, and chatbots.
References
This article covers the types of eCommerce platforms, benefits of self-hosted and cloud-hosted services, features you should consider when choosing a platform, and provides the comparison of the best eCommerce solutions.
With this article, you'll learn the key features of an eCommerce platform.
Here you'll find the description along with the prons and cons of the most popular solutions for eCommerce businesses.
Last Updated: 22.03.2023