Lead nurturing
Lead nurturing is the process of maintaining relationships with prospects in order to earn their business at the moment they are ready for it.
Interaction with the client is carried out on the basis of two-way communication, during which you provide all the necessary information for the consumer at every stage of the buying process. When a lead first gets acquainted with your product, he is not immediately ready to purchase it. Not every visitor of your site will be your client, but after a while, most of them will get the goods from you or your competitors. Your task is to prove to a lead that it is your company and your product that is the best choice, and also the best way to achieve its own business goals. 
Very often marketers think that the nurturing of leads is nothing more than sending a newsletter, but it is wrong. This workflow consists of a series of messages in which each step has a clear and precise goal — to encourage the prospect to move to the next stage of the purchase process or to switch his attention to another desired action.
The main purpose of Lead Nurturing is to win the trust of prospects, using the high-quality content. It helps them to think carefully, evaluate and make a decision — whether your product is able to meet their needs and make a significant contribution to their own business goals.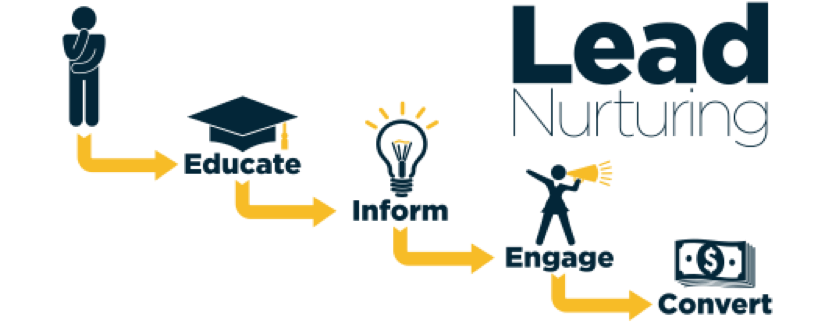 Lead nurturing goals
Sale of products and services to a new or existing customer;
Reduction of the sales cycle;
Increase in conversion rates;
Minimization of discounts.
Lead Nurturing focuses on teaching qualified sales leads (SQL) that are not yet ready for buying. The key to successful lead nurturing is based on the presentation of high-quality teaching content that will provide high value for leads, and also keep their attention. The only rule that you must adhere to is to create content that is exclusively targeted at the audience's point of view since they are your prospective customers.
How to increase sales?
Understand your customer
Visitors go through certain stages of the nurturing process. You need to understand each step and get to know which content will be the best for getting the maximum effect on each of them. You need to compose a portrait of your ideal buyer, thereby answering the questions:
What are your customers are interested in?
Why should they be interested in your products?
What benefits will they get if they make a choice in the direction of your product?
Determine what motivates your buyer
Analyze your past marketing campaigns and determine how well they worked to get the desired profit. Look at the percentage of feedback at each stage, how many leads went through all the stages and made a deal, and what information was offered at each stage.
Draw a picture of the development of the program
You need to determine the structure of your Lead Nurturing program, identify all the stages and see where there will be difficulties in implementing what was conceived in practice. You should proceed from what you know about your customer, then draw up a communication plan that will match your buyer's behavior and build a content delivery strategy.
Identify the Lead Nurturing program
Identify the purpose of the campaign, the information message that you offer to your customer, the communication channels (for example, perhaps an email channel works better than a phone call) and other components, based on your past experience. You need to think through all possible scenarios and set clear short-term and long-term goals. If the goal is to send six emails and make three phone calls within eight weeks, then what will happen if you do not receive the desired answer or someone drops out of the program?
Automate communication
 Automate feedback with your prospects. Configure automatic welcome emails for those who registered and start providing them with the educative information.
Lead nurturing can't wait, start it right now!
Also searched with "Lead nurturing"
Inbound marketing - Content...
Bounce - This group includes the following reasons why email addresses may bounce: "The domain name doesn't exist...
Personalization - One of the easiest and most basic ways to personalize your email is to include the name of the subscriber in the Subject line...
Newsletter - To inform already existing, and also potential buyers about any new plans of your organization; Inform about what is going on in a particular sector of industry and in whole  in the sphere of interests; Promote goods and services; Newsletter allows to:...
Mailing templates - It saves you time and effort Rather than having to create the email template from scratch, you can easily upload your pictures, change the text, and select relevant and new content for your subscribers...
Rate this article about "Lead nurturing"
Try SendPulse today for free
If you are interested in "Lead nurturing" you might be interested in our bulk email service.
Sign Up