A lead magnet is a special offer that you promote to your audience in exchange for their email address. The results of an effective lead magnet is typically an email list with the addresses of the existing and potential customers.
Why Are Lead Magnets Important for Your Business?
It is simple: a lead magnet is helpful for effective lead generation. Leads are your potential customers. Lead generation is an important content marketing goal.
People are not willing to share their contact information unless they are offered something valuable in return. Users will not subscribe without a good reason unless they realize that you won't be spamming them. Only send useful information, focus on the problems of your customers and offer fast and effective solutions!
How Can I Create a Lead Magnet?
Build your buyer personas
Define the value of your proposition
Analyze your competitors
Choose a type of a lead magnet
Don't start working on your lead magnet until you have clearly defined its goal. Why do you need it? How can you benefit from it? If you have answers, let's start creating a lead magnet.
Stage 1: Build buyer personas
Every business needs to create buyer personas – no matter whether you use email marketing or something else, you should really understand who you are selling to. Unlike a target audience, which means a group of all the customers possibly interested in your offer, a buyer persona is a particular individual who may become your client.
A buyer persona is a representation of the "perfect client" based on market research and data about the customers that your business already has. The things to include in your buyer persona are:
age;
gender;
social status;
job;
behavior patterns;
motivations;
goals and demands.
Do not try to appeal to everyone – it's impossible even if your product is perfect. Remember that a lead magnet should target a single buyer persona per time.
Stage 2: Define the value of your proposition
Now, why would you choose your offer if you were in your clients' shoes? What can you promise to your leads? It is much easier to develop a powerful value proposition if you know your target audience and the benefits of your product.
Think about things that your buyer persona may actively need, to avoid being too pushy with your offer. Then, think of a couple of features to make your offer the best offer available.
For instance, you may look at the SEO positions of different pages of your blog to identify the top pages — they will show the topics and keywords that your users are most interested in. Sort by traffic, and make a list of ideas for your future offers that relate to the highly searched keywords.
Stage 3: Analyze your competitors
Never copy the strategies of your rivals, but be aware of them. They may inspire you to do things better, taking the best from both your offer and their products. Define ten competitors using SEO tools like Ahrefs and Moz. Insert their primary lead magnets in an Excel sheet and get inspired, proceeding to the next stage of lead magnet creation.
Stage 4: Choose a type of a lead magnet
Think of a title that corresponds to your value proposition. This process may remind you of creating an email subject line.
The next step is selecting the type of lead magnet to use. First of all, make it simple and concise. Focus on your strengths and reveal them to your leads. Finally, prioritize speedy consumption – show that you can solve their problem very fast, for example, deliver the required goods quickly via the fastest shipping method.
Specific types of lead magnets include:
guides and reports;
a free trial or a demo version;
a resource list;
a quiz, survey, poll, questionnaire, mini-game;
a cheatsheet
a video tutorial;
a discount or special offer;
sales materials.
That is it! The last stage is creating a lead magnet. Once you complete the first four steps, you're ready to create your lead magnet. Don't sweat it, having a plan will make the process even easier.
Lead Magnet Ideas and Examples
Checklists and bullet points
Quizzes and polls
Toolkit
Tutorial or a video lesson
Discounts for sales promotions
Giveaways and competitions
Expert advice
Free trial
It is simpler to understand how something works when you have an example. We have collected the best lead magnet ideas and supported them with visual examples for you.
Checklists and bullet points
How-to guides are better off when they are presented as checklists. For example, they are great for students to ensure that they have completed every step of an essay writing or business people who want to check whether they have considered all the necessary steps for launching a marketing campaign.
Quizzes and polls
Quizzes or polls are used to define how well the users know a specific topic. You can also offer tips and recommendations in return for users completing your quiz or poll. Other common types are psychological tests or just fun quizzes. You can even use a beauty quiz to help customers detect the best cosmetics for them!
Ipsy suggests taking a beauty quiz before completing your subscription. Based on their results, users receive personalized tips and offers. To finish creating a profile, users have to share their email address.
Toolkit
It is always great when a successful person shares their secrets with you. Several tips are not enough – it's better to attach an entire toolkit to develop. It works well for businesses that offer training and coaching, for instance.
Free trial
Companies that offer digital products and services may benefit from allowing their users to "test drive" their offer for free. Free trials boost your customers' confidence in your brand. It's a good idea to provide a free sample of your product instead of a 30-day free trial. Both alternatives work well when it comes to capturing email addresses from potential leads.
Tutorial or a video lesson
You may come up with a valuable piece of content in the form of a blog post or a video guide. What you may do is to use a so-called exit-intent pop-up. It is a pop-up that predicts when the user is going to leave your page and shows a relevant offer. It is not annoying or disturbing at all, unlike constant, and permanent pop-up windows that irritate visitors.
Discounts for sales promotions
Consider offering free shipping or generous discounts for your goods. In most cases, a 15-20% discount is great for making your brand look trustworthy. High-quality goods are usually not offered at 50% off or more. It is possible to simply inform a user about a discount or encourage them to sign up or enter their email address to get their discount.

Giveaways and competitions
Mostly, companies that offer specific products like beauty goods or mobile devices make use of competitions. Giveaways are also a popular theme among game developers and online casinos. The idea is to gain more subscribers and likes in social networks by offering something to win.
A $1,000 giveaway might seem like a pricey option, but it will bring your business back more if used wisely.
Expert advice
Show that you have experts on your team, and make them visible to customers! Insert photos along with names and positions and provide brief descriptions of your experts. Either briefly explain that your experts will consult and help customers and share their stories of success. Making qualified and successful people visible and available to your customers will significantly increase your credibility.
How Can I Create a Subscription Form with a Lead Magnet with SendPulse?
To create a form with a lead magnet, follow the four steps below.
Select a type of a form. Register with SendPulse and go to "Subscription forms." You can find a pop-up window as well as embedded, floating, and fixed forms to choose from. You may test several kinds of forms and choose the most appropriate one. You can also use a pre-designed form.
Pick a mailing list. After users give you their personal information to receive your lead magnet, their email addresses will be added to your mailing list. It will significantly ease the process of working with your customer base.
Design the subscription form. Use a convenient drag and drop building solution to create your design. Come up with a heading, add images, and insert various fields to gather the info you need. Visual elements are important!
Decide the criteria to display the form. Select the time for your form to show up on the site. Then, choose the specific page and location to display your form. You may decide to hide it from mobile users.
That's it! Once you are done, add the subscription form with a lead magnet to your website. Save the link from SendPulse to use the form for any purpose.
Here's a detailed step-by-step guide to creating a unique subscription form with SendPulse.
Tips to Сreate an Effective Lead Magnet
Make sure your lead magnets are targeted
Stress the speed of your work or shipping
Only ask relevant questions
Do you need a couple of extra tips on creating an efficient lead magnet?
Make sure your lead magnets are targeted
If your business offers a generic free feature on your form, you risk gathering leads that have nothing to do with your industry. For instance, it does not make much sense to release your guide on how to look after your beard or mustache on Pinterest, as almost 80% of this platform's users are females. It is better to implement something like Unbounce offers below.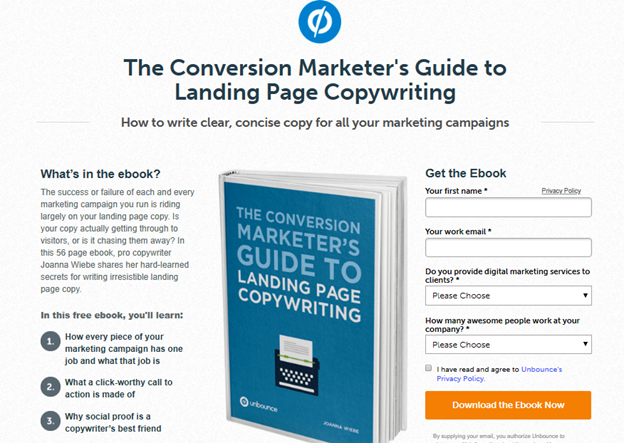 Stress the speed of your work or shipping
No one likes to wait – keep it in mind because you can benefit from this fact! The best idea is to specify the time that it takes your team to write a piece of content.
Just like in the example, provide an approximate estimation. The phrases like "We do it /faster than anyone else" will not work anymore.
Only ask relevant questions
In the subscription form, make sure you ask all the questions required for productive cooperation with your clients. For example, B2B businesses might want to know more than only your name and email address – industry, company name, and website information are often required.
In summary, a lead magnet is an integral part of marketing content. We have provided some of the top examples from successful online companies and offered a bunch of effective tips, so get inspired and rely on SendPulse!
Last Updated: 07.09.2023