Lead
Lead
A lead is when a user expresses an interest in your services or products. In other words, it is a person who is a potential sales contact. Due to the skillful hard work of the marketing department, the leads are converted into active clients.
There are two types of leads:  
Marketing Qualified Leads or MQLs
Sales Qualified Leads or SQLs.
Marketing Qualified Leads 
These are users that usually have completed the registration process on the website or have signed up for a webinar. You also may collect these contacts during trade shows or other events. However, these people are still not ready to cooperate with you and purchase your products or services. In this way, MQLs are transferred to the sales or marketing department for further work.
Sales Qualified Leads 
These users are ready to make purchases. They not only complete the process of registration on the website but also place their order in the shopping cart.
What tactics does the marketing department usually use to acquire new leads?
To make your site appear on the first pages of the search engines you need to find the most common words used to conduct the search of the products or services in your particular business. On the basis of these words, select your keywords. 
Webinars or virtual events
This method for acquiring leads has a number of advantages. You don't need to rent apartments and make all the arrangements for participation because all you need is a laptop, a webcam, a microphone, headphones, and/or loudspeakers.
This is an opportunity to ask your potential clients about their opinion, to read their comments, and investigate their suggestions and criticism.
If you write original content, search engines will help your site and blog get more visitors who may convert into leads. 
The statistical report Ascend2 says that the most effective online tactic used for acquiring new leads is email marketing. This channel allows you to not only acquire MQLs, but also to convert them into SQLs. According to another stats report "Mailigen," 89% of marketers say that email is the primary channel for lead generation.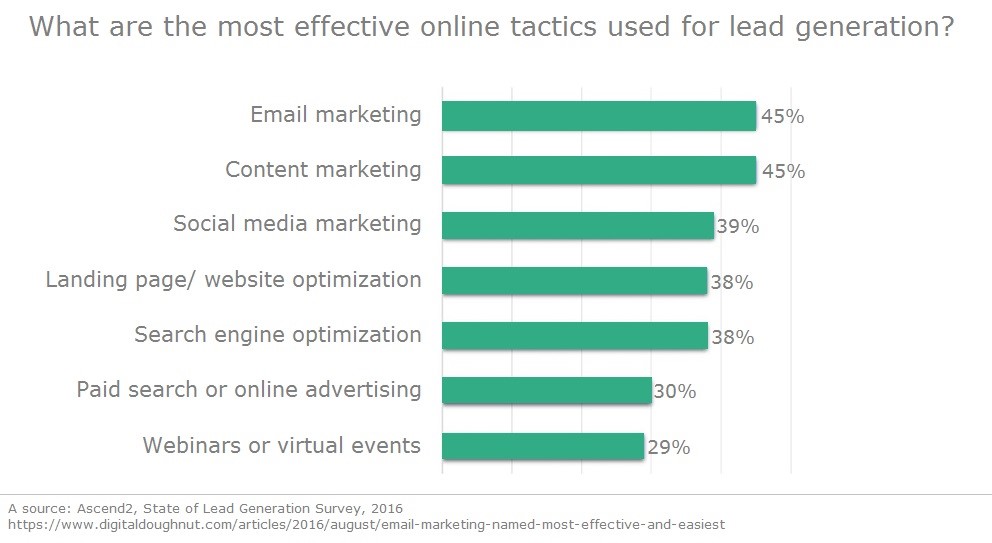 Also searched with "Lead"
Analytics - Analytics are a feature that helps you evaluate the effectiveness of your campaign...
Opt-in - Opt-in is one of the ways for companies to shape their mailing list for further marketing...
Subject Line - The subject line is the part of the email that the subscriber sees when landing in their inbox...
Personalization - Personalization is a way to tailor content so it becomes relevant to different subscribers...
Bounce - Bounce is the percentage of email messages that failed to send...
Rate this article about "Lead"
If you are interested in "Lead" you might be interested in our bulk email service.
---
Try SendPulse today for free