What is a lead magnet?
Lead magnet is an incentive that you offer users in exchange for their email addresses and other contact information. Lead magnet usually represents a piece of free downloadable content like a checklist, eBook, toolkit, consultation, or discount. As demonstrated in this case, a lead magnet can bring over 35,000 new subscribers to your mailing list in 60 days.
How the lead magnet works
Any company can add a lead magnet to their website to improve the subscription rate
Here is how it works:
Decide what content will be valuable for your users
Your lead magnet should help users to easily achieve a goal or solve a problem. Offer them a list of methods and steps, give recommendations, and share your experience. Read our blog post to find more ideas for your lead magnet.
Create a subscription form to deliver your lead magnet
Tell your users what they will get from opting in, for example, "Join our mailing list and get an eBook straight to your inbox." You can include this call to action right to the title of your form. You can also specify how often you will send emails to subscribers.
Give users access to the content you promised
You can add a download link for the mentioned content in a notification about subscription or in a confirmation email.
How to create a subscription form to deliver a lead magnet
In SendPulse, you can create a form which will not only deliver your lead magnet to users but also subscribe them to your emails. First, log into your SendPulse account and navigate to "Subscription forms." Here are the next steps:
Choose the type of subscription form. The service offers an embedded form, a floating form, a fixed form, or a pop-up window.
Select a mailing list. As soon as users download your lead magnet, their email addresses will be added to this list.
Design the form in the builder. Write a title, upload an image, and add fields to collect email addresses or other information.
Set up the criteria to display a subscription form with a lead magnet. You can choose when the form will appear on your website, place it on a particular webpage, or hide it from mobile users.
Add a link to upload your lead magnet. Insert the download link into the notification about subscription or confirmation email.
Now that the form for your lead magnet is ready, you can add it to your website. It can also be accessed through the link provided by SendPulse. Even if you don't have a website, you may offer users a lead magnet by sharing the form link with them in social media or a private message.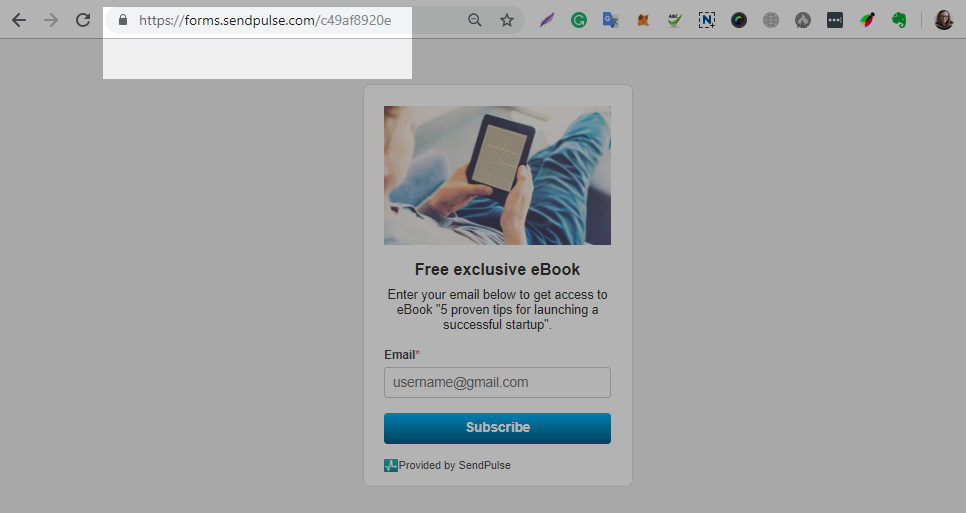 Want to build your mailing list quickly? Watch our video on how to do it with free customizable subscription forms.