A subscription form is a form located on any page of the website or blog where the users can fill in the fields with their data to receive emails on topics related to their interests. The primary purpose of the subscription form is opting-in subscribers to the mailing list.
The video demonstrates how to create a subscription form in SendPulse.
Why is subscription form important?
Generates leads. In internet marketing, a subscription form is a crucial tool for lead generation. When subscribers fill in the form placed on a website or blog, they express interest in the company and its products and services. They are not just cold leads, who accidentally run into a webpage, — they want to receive the newsletters.
Collects subscribers' information. Subscription forms is a universal and standard way to get users' data, which is handy for future lead nurturing and for building strong win-win relationships between a company and customers. It is possible to collect the following information: name, email addresses, gender, age, country, etc.
Easy to create and set up. It takes little time to create a subscription form with SendPulse. You can construct subscription forms in a handy drag-and-drop editor and customize the elements to your liking. The subscription forms editor is a free tool.
Convenient to customize. It is convenient to change fonts and colors when creating a subscription form relevant to the brand's identity.
It's legal. Subscription form is a legal way to get emails as opposed to buying email lists, which falls under the "spam" category and goes against the law.
All you need is to choose a marketing service which provides a form buider so there's no need to code.
Let's generate subscribers!
You can create a subscription form that suits your brand style in 30 minutes for free. No technical skills are required.
How to create a subscription form
State your objectives
Determine the aim of creating a subscription form and find a place where you want to have it.
Choose subscription form type
Select the "Subscription forms" menu. Click on "Create subscription form." Choose one of the preset "Form templates" or the drag-and-drop "Form builder." In the drag-and-drop editor, choose whether you want to create Embedded, Popup, Floating or Fixed structure of subscription form.

Select a mailing list
Decide which mailing list new subscribers will belong to. When the leads fill in the fields in the subscription form and then confirm it in the email, all their data automatically goes to a specific mailing list(s).
Use drag-and-drop editor
Drag the elements from the left-hand side and drop them where you need. The building components available are Input, Checkbox, Radio buttons, Drop-down, Text, Image, and Spacer. Customize them on the right-hand side, switch over Element and Design options, to come up with a subscription form that meets your objectives.
Get the code
Copy the code generated and insert it on your website.
Subscription form best practices
Make it as short as possible. The more fields a subscription form has for filling in, the harder it will be for people to complete. Аsk only for the most necessary information — you will have other chances to get more data. For instance, you can offer subscribers to manage their mailing preferences or ask for additional data to send more personalized emails directly.
Place the fields in one column. Use one vertical column which reminds of a funnel, because multiple columns confuse the users. It will ease a subscription process. Though, it is practical to place name and surname fields one after another.
Design in your brand's style. Use the right set of colors and fonts which apply to your brand's style. Leave enough area between the text fields to ensure everything is readable and clear.
Create a visible CTA button. A call-to-action button usually locates at the bottom of a subscription form. Use colors that contrast to the background — it will be more eye-catching. Put brief and strong CTA text to the button.
Clean the area around your subscription form. Mind that any videos, ads, and huge bright images will distract people's attention from your subject matter. Make sure that the areas where you add a subscription form on your website are free from any visually disturbing elements.
Give a clear idea of the subscription value. Let your contacts realize what will happen after they subscribe. The best practice is sending them an automated welcome email to complete a double opt-in process and to say "thank you" for providing with their personal information.
Launch A/B tests. You can examine which variants of the text, fields, background images, and CTA buttons are getting on. 
Examples of subscription forms
Pampers. It is an example of an embedded subscription form at the bottom of the webpage. It has a lot of air in it and only requires an email address to fill in.
BrainPickings. It is an unusual example, where two subscription forms are used at once. This kind of move intends to leave as much room as possible and to reduce the number of fields for users.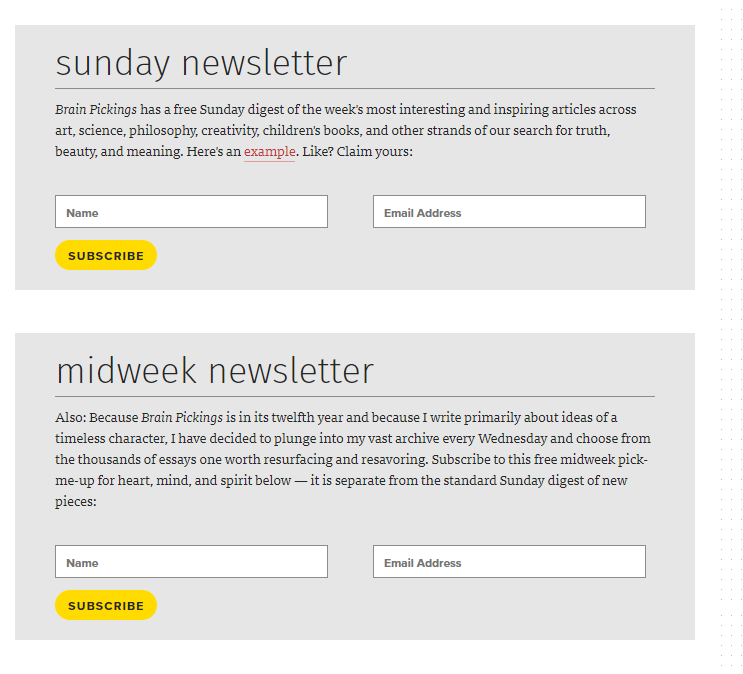 Accessaly. It is an example of a pop-up subscription form. It is clear what value the subscribers get in exchange for sharing their data.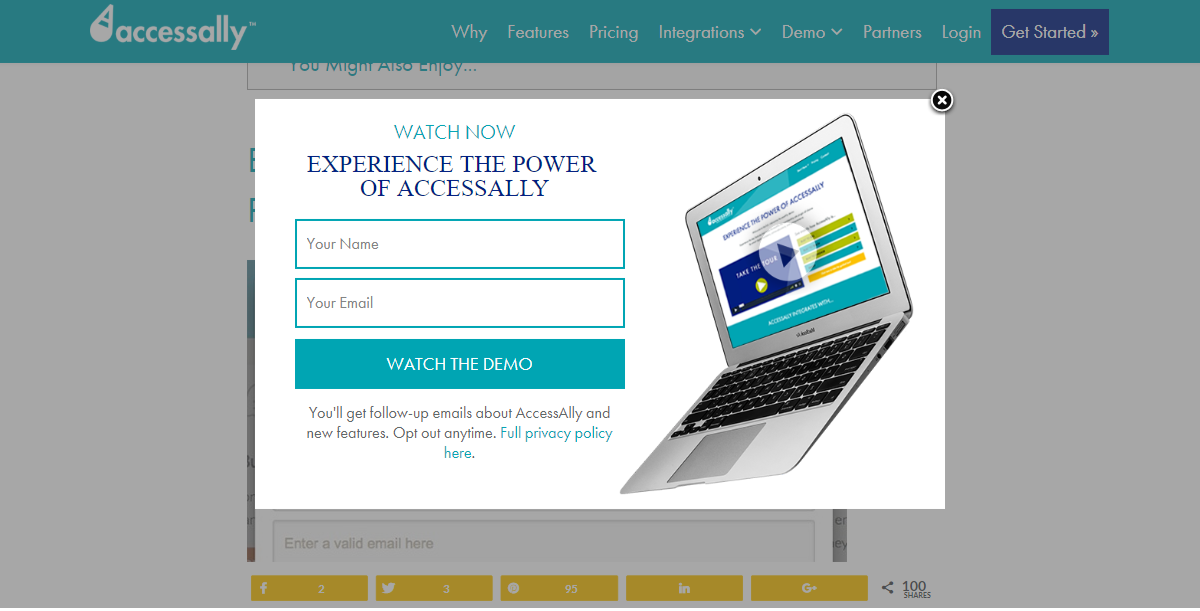 If for some reason the free subscription form builder in SendPulse doesn't meet your requirements, check out this list of alternative subscription management services available in the market today.
Last Updated: 2019-11-12