Bulk email permit is your subscribers' permission to receive your emails.
Why do you need bulk email permit?
Legal creating of target audience for better conversions;
Guarantee that your email will be delivered by email services.
Your email risk to get into the spam folder if you don't have a permit. User's permit shows that he is interested in your work. Only interested and involves users will bring your conversions and ROI. That's why, take care of your clients' engagement.
Mailing list growth methods
Interesting, useful and regular content;
Special offers announcements;
Loyalty system;
Discounts and sales;
Gift for registration.
Let's consider what email permit is and what is not.
Email permit is NOT
Bought mailing list. It will never be to your advantage as people didn't give you their permission to receive your email and they won't be interested in your work.
Email addresses taken from Internet. If a person left somewhere an email address, it doesn't mean that you can send emails.
Email permit IS
User registered on your web-site and filled the form to receive your emails;
User filled an offline-form and stated his desire to receive your emails;
There is a great method in email marketing – double opt-in. It is a kind of email subscription, when a user shows his desire to join your mailing list on the subscription form on a web-site, and then he receives a confirmation email, when he confirms his desire.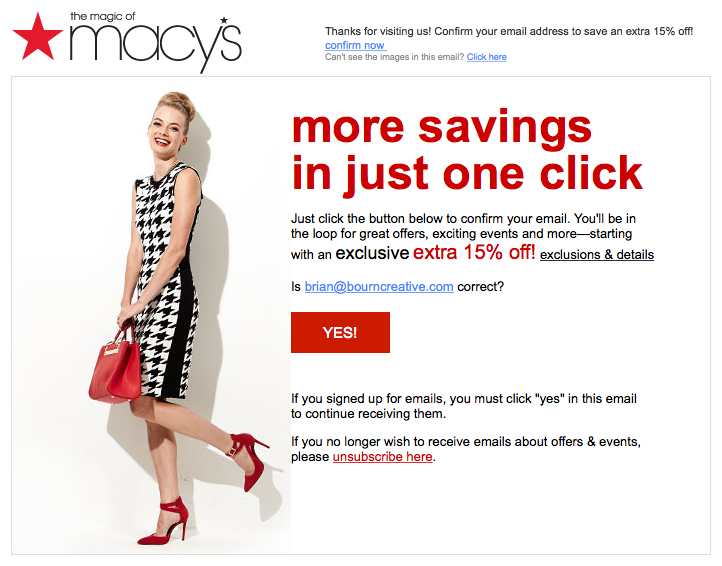 This is really a great method since a subscriber is aware of his actions, he shows his desire twice. Such subscribers are extremely valuable, they are not likely to send your email to spam folder.
Besides, be sure, that every your email includes opt-out, which is visible. Opt-out is an easy way to unsubscribe that prevents from getting into spam folder. The example above is really effective because it includes double opt-in and visible opt-out, it gives a chance to choose, but not mark as spam.
So, make use of double opt-in, opt-out and make your mailing list of loyal clients grow!
Last Updated: 2019-01-21