A bulk email permit is your subscribers' permission to receive your emails.
Why do you need a bulk email permit?
Legally creating your target audience allows for better conversions;
Guarantee that your emails will be delivered by email services.
Your emails risk going into recipients' spam folders if you don't have a permit. A user's permission shows their interest in your work. Only interested and involved users will increase your conversions, and ultimately, your ROI. 
Methods for Growing Your Mailing List
Provide interesting, useful and consistent content;
Make special offer announcements;
Create a loyalty system;
Use discounts and sales;
Give a registration gift.
Let's consider what an email permit is and what it is not.
An Email Permit is NOT
A purchased mailing list. Buying a mailing list will never be to your advantage because people didn't give you their permission to receive emails from you and they won't be interested in your work.
Email addresses taken from the Internet. If a person left their email address somewhere online, it doesn't mean that you can send them emails.
An Email Permit IS
An online subscription. Users that registered on your website and filled out a subscription form want to receive your emails;
An offline subscription. Users that filled out an offline-form and stated their desire to receive your emails;
There is a useful tool for getting email marketing permission – double opt-in. Double opt-in is a kind of email subscription when a user shows their desire to join your mailing list on a subscription form from your web-site, and then they receive a confirmation email, where they are asked to confirm their subscription.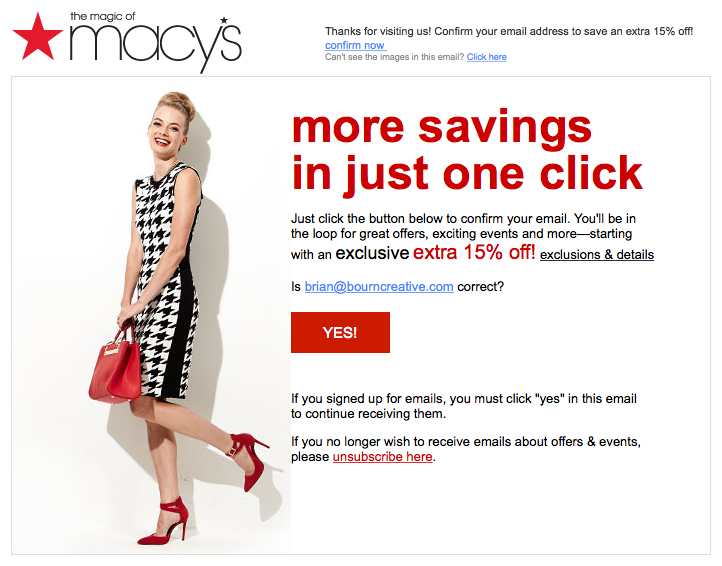 This is an excellent subscription method since a subscriber is reminded of their choice to subscribe to your emails. Subscribers who complete a double-opt in subscription are extremely valuable because they are unlikely to send your emails to their spam folder. Besides, with SendPulse you can increase your audience in socials and communicate via messengers. Create multichannel subscription forms by adding links to messengers. Check out below.
To create such a form for free, follow the guide.
Besides, be sure, that all of your emails include a highly visible opt-out section. Opting-out is an easy way to unsubscribe users, and prevents emails from being marked as spam. The example above is really effective because it includes double opt-in and visible opt-out, it gives user's a chance to choose, but not mark the email as spam.
So, make use of double opt-in, opt-out and make your mailing list full of loyal clients!
Last Updated: 21.03.2023